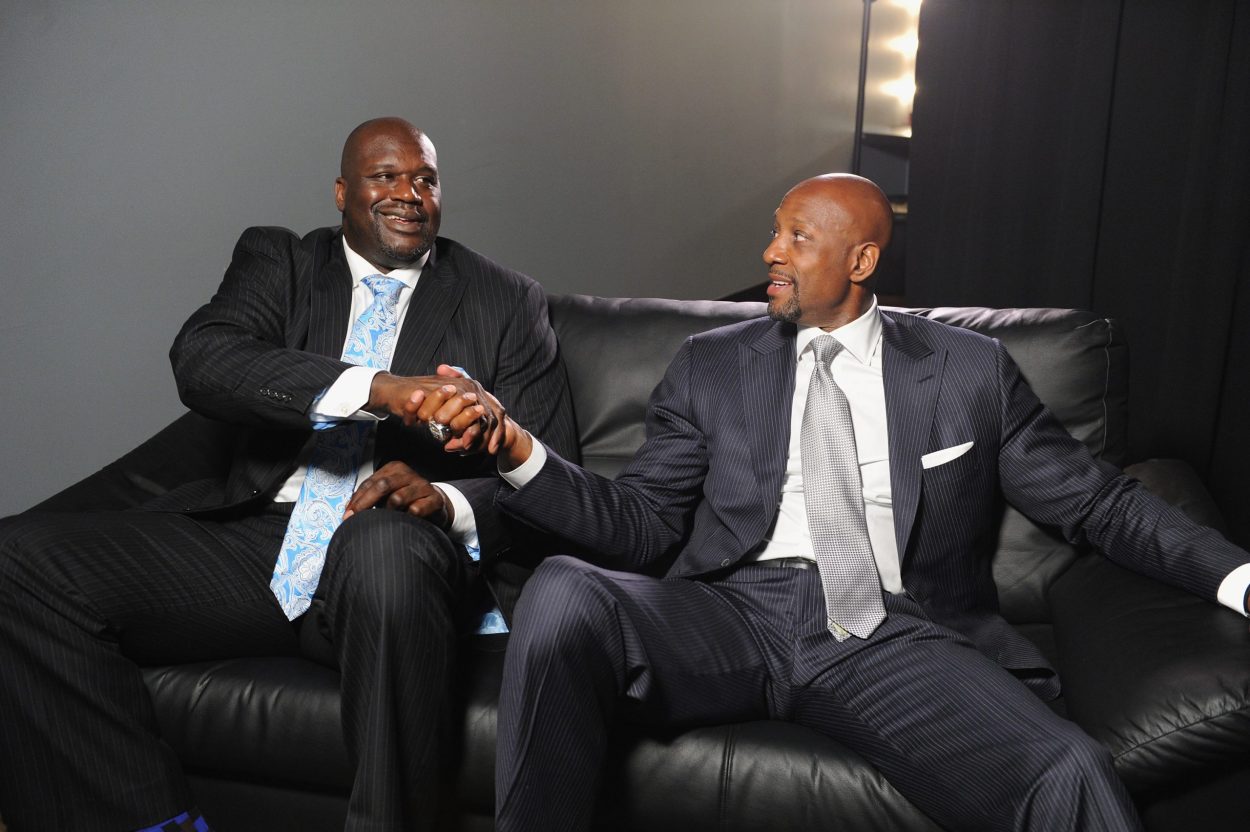 Shaquille O'Neal Compared His Rivalry With Alonzo Mourning to Wilt Chamberlain and Bill Russell But Appropriately Buried the Hatchet: 'When It Comes to a Life-and-Death Situation, It Doesn't Matter'
Hall of Fame centers Shaquille O'Neal and Alonzo Mourning went 1-2 in the 1992 NBA Draft, and O'Neal's citation of Wilt Chamberlain and Bill Russell sparked an individual rivalry that lasted for years. However, the two became friends after Mourning recovered from a near-fatal kidney disease and won a ring with Shaq in Miami.
Bill Russell and Wilt Chamberlain have arguably the greatest individual rivalry in NBA history. As for Shaquille O'Neal and Alonzo Mourning? Well, Shaq used to liken his dynamic with Zo to Russell and the Big Dipper.
O'Neal and Mourning went 1-2 in the 1992 NBA Draft. The two centers felt an intrinsic drive to be better and traded petty insults for years. But a scary health diagnosis changed things between the rivals-turned-teammates.
Shaquille O'Neal and Alonzo Mourning had similar drives that sparked the rivalry
Shaquille O'Neal and Alonzo Mourning actually shared several similarities before making the jump to the NBA.
Shaq has been candid about his admiration for fellow Hall of Fame center Patrick Ewing through the years. Meanwhile, Mourning tried to follow in Ewing's and Dikembe Mutombo's footsteps as the next great center at Georgetown University.
Both guys were dominant forces in college. O'Neal averaged 27.6 points, 14.7 rebounds, and 5.0 blocks when he was a sophomore. That season came to epitomize the immovable object-type player he'd be in the NBA. Mourning put up equally dazzling numbers with the Hoyas, particularly in his senior year. Zo averaged 21.3 points, 10.7 boards, and 5.0 blocks. He appeared to give Shaq a run for his money in terms of being the No. 1 pick.
The Diesel ultimately earned that distinction, with Mourning going second to the Charlotte Hornets. The draft order set the tone for years of pettiness. In fact, O'Neal might have lit the match for the rivalry by citing play styles to compare himself and Mourning to Wilt Chamberlain and Bill Russell, respectively.
Shaq compared his offensive dominance to Wilt Chamberlain, while Mourning's defensive presence was reminiscent of Bill Russell
Shaq and Zo were tied together as the top two picks in the 1992 draft, and when asked to compare himself to his fellow draftee, O'Neal brought up one of the most notable rivalries in NBA history.
The Diesel had a quote in an NBA video entitled NBA Legacy, Living Legends to Rising Stars (h/t the South Florida Sun-Sentinel) in which he likened his game to Wilt the Stilt. Mourning, Shaq said, had Bill Russell tendencies as a defensive-oriented force.
Being compared to Bill Russell is an honor for any center. But Mourning might have felt a bit slighted by Shaq's perception of him as a "defensive player," even if he was a two-time Defensive Player of the Year.
Mourning once said Shaq wouldn't be as effective if he were Zo's size and criticized O'Neal's apparent lack of creativity on the block. The Diesel responded by saying Mourning only ever deployed a jump hook.
More pettiness arose between the two stars. Shaq brought up a bunch of their contrasting endorsement partnerships — such as O'Neal initially being with Reebok and Mourning signing with Nike — as a means of pushing the rivalry.
On the floor, though, there wasn't much of a rivalry. Shaq went 13-3 against Mourning in his career during the regular season. He averaged 30.4 points, 12.4 rebounds, 3.1 assists, and 3.0 blocks while shooting close to 57% from the field. Mourning averaged a respectable 21.1 points, 9.2 rebounds, and 2.0 blocks in head-to-head matchups, but he shot just under 44% from the field.
O'Neal always seemed to have a leg up in his feud with Mourning. But a scary health diagnosis and Shaq's move to Miami led to a lasting friendship.
The Diesel put the rivalry aside following Mourning's near-fatal kidney illness and teamed up with Zo to win a title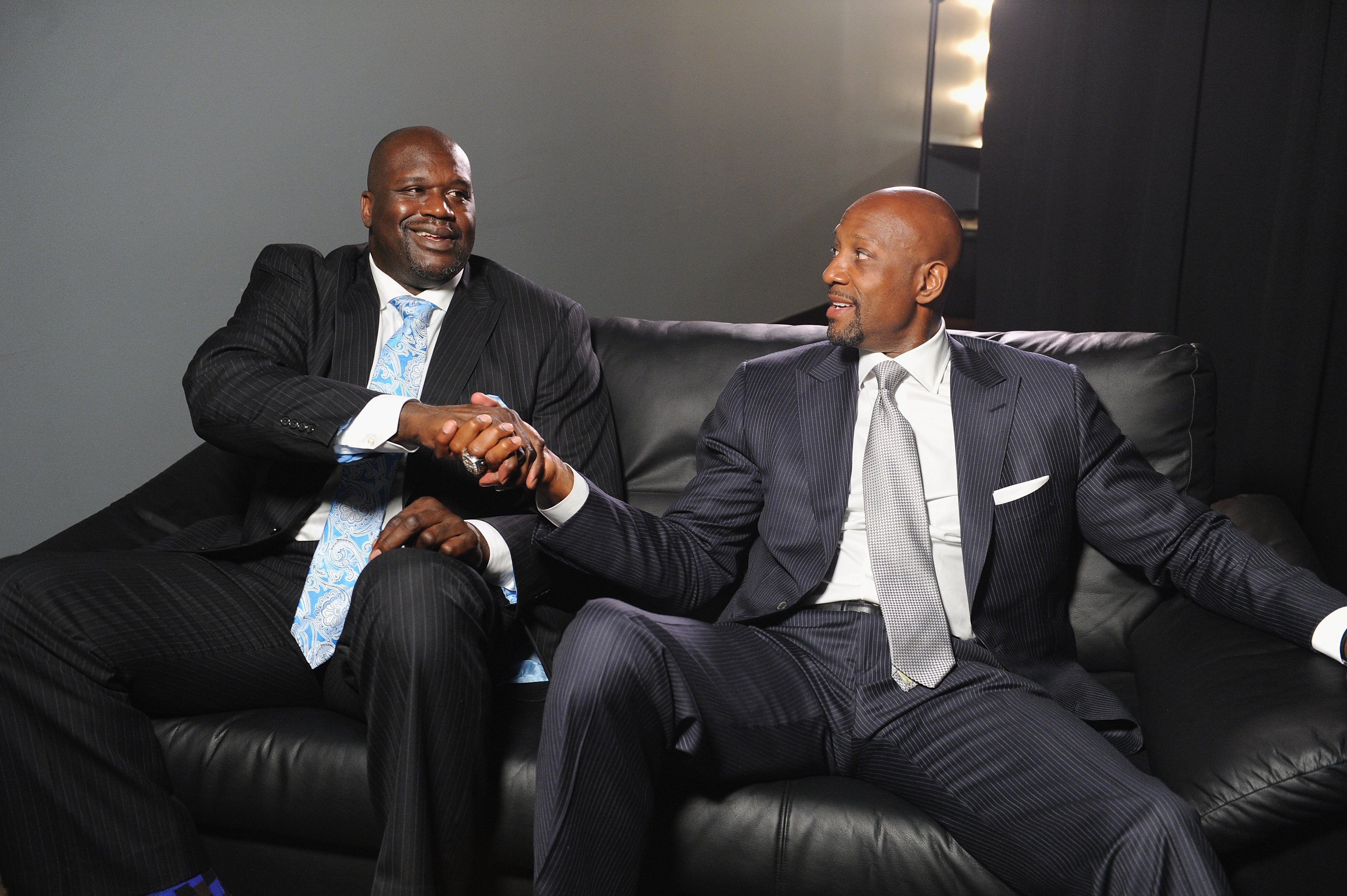 Alonzo Mourning was still in the prime of his career when he suddenly found himself fighting for his life.
Zo had been diagnosed with kidney disease in 2000 but still played 75 games during the 2000-01 season. Things worsened over the next couple of years. Doctors told him in November of 2003 that his life would be in danger if he continued to play basketball and that he needed a transplant, per ESPN.
Mourning's career was seemingly over. But he made a remarkable recovery after receiving a transplant and joined the Heat in 2005, about 20 months after Shaq was traded from Los Angeles to Miami. O'Neal said (h/t South Florida Sun-Sentinel) when Zo came back to South Beach that the rivalry was all superficial and expressed his respect for Mourning.
The newfound admiration between the two benefited the Heat on the floor, as well.
With veterans like Shaq and Mourning in addition to a young Dwyane Wade, Miami won the NBA title during the 2005-06 campaign. Although Mourning was more of a reserve center at this stage of his career, he played his role to perfection. Bill Russell surely would have been proud, as Zo averaged a whopping 2.7 blocks despite playing just 20 minutes per contest. Meanwhile, O'Neal remained a strong interior force, averaging 20.0 points and 9.2 rebounds.
That championship only served to strengthen the bond between Zo and Shaq, who remain close to this day — Mourning even served as one of O'Neal's presenters when he entered the Hall of Fame in 2016.
The rivalry between the two legendary centers began with an audacious comparison. But it blossomed into a beautiful friendship.
Stats courtesy of Basketball Reference.