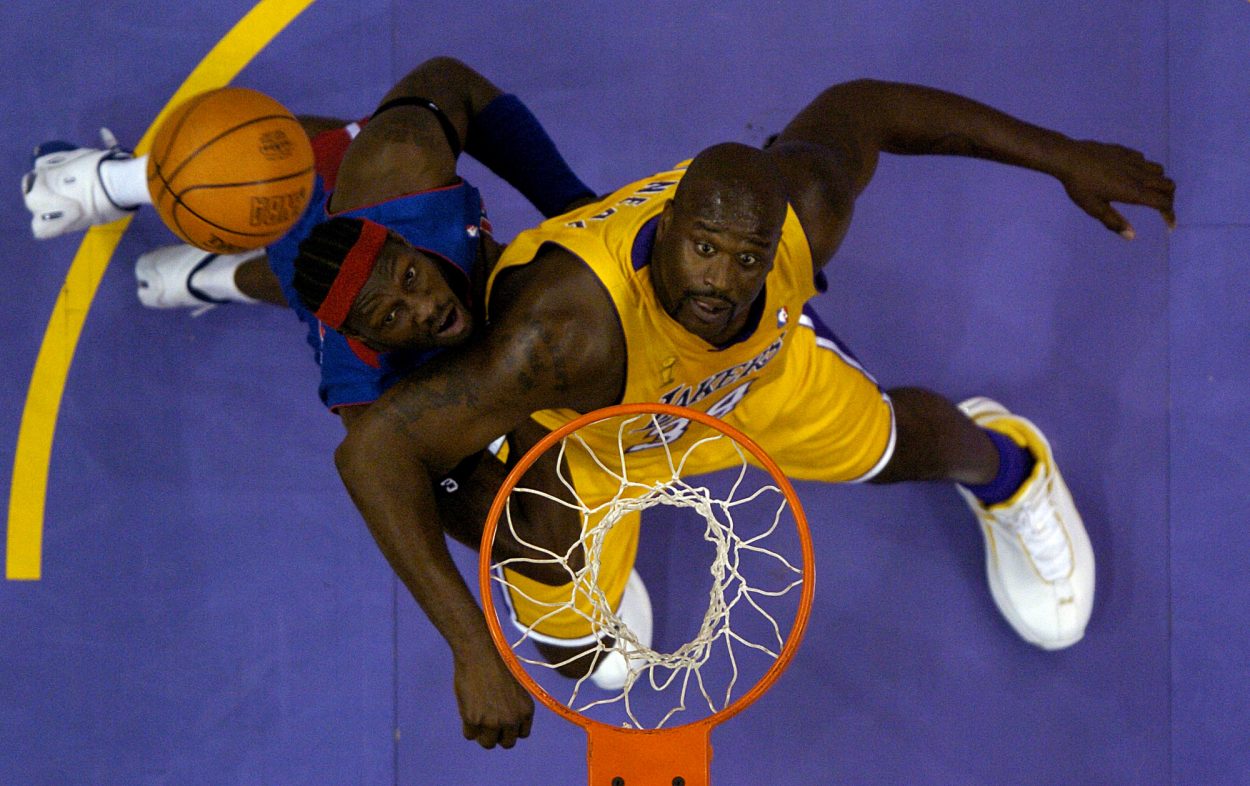 Shaquille O'Neal's Generational Strength Resulted in Ben Wallace Busting Out of His Shoe During the 2004 NBA Finals
Ben Wallace embraced the challenge of guarding Shaquille O'Neal head-up during the 2004 NBA Finals between the LA Lakers and Detroit Pistons. Big Ben's willingness to defend O'Neal by himself paid dividends, though it came at the expense of an AND1 sneaker.
Remember when Zion Williamson went viral for blowing out of his shoe during a game at Duke? Something similar happened to Detroit Pistons great and recent Hall of Fame inductee Ben Wallace, courtesy of former Los Angeles Lakers star Shaquille O'Neal.
Not too many opposing centers welcomed the challenge of guarding O'Neal on an island. Numerous bigs welcomed whatever help they could get. Wallace's determination to defend Shaq set the tone for the 2004 NBA Finals, though it came at the cost of a sneaker.
Shaquille O'Neal and the Lakers fell victim to an upset in the 2004 NBA Finals thanks to Ben Wallace and the Pistons
The 2003-04 Lakers came with plenty of star power. However, basketball is not played on paper, and LA ran into a buzzsaw in a well-rounded Pistons team.
Detroit dominated the Lakers in five games, outscoring LA by 45 points during the series. The Pistons, which ranked second in defensive rating that season, held Shaquille O'Neal and Co. to under 82 points per contest.
Shaq dominated on the surface. He averaged 26.6 points and 10.8 rebounds while shooting 63.1% from the field. However, Wallace's willingness to play Shaq head-on allowed his teammates to stick to their matchups.
The strategy paid dividends. While Shaq got his points, his teammates struggled. Detroit swarmed LA's ball-handlers high above the three-point arc and often forced the Lakers to fire up ill-advised attempts late in the shot clock. That partially explains why Kobe Bryant had to resort to hero ball and became accountable for nearly one-third of LA's field-goal tries.
Additionally, Wallace never let Shaq give the Lakers extra opportunities. He outrebounded O'Neal 68-54, clearing the boards on defense and wearing on O'Neal with his relentless effort on the offensive glass. The toll Wallace took on Shaq became clearer in Game 5, when the Pistons center scored 18 points and pulled down 22 rebounds, 10 of which came on the offensive glass.
Big Ben gave his all to O'Neal. So much so that he needed a brand new pair of AND1 sneakers.
Wallace busted out of his shoe trying to guard Shaq
Former Pistons head coach Larry Brown wanted to double Shaquille O'Neal as Detroit made its preparations for the Lakers. Wallace refused. He paid the price, at least in shoe currency.
Chauncey Billups recalled (h/t ESPN) the four-time Defensive Player of the Year needing a new pair of AND1 sneakers because of how hard he battled with O'Neal in the paint.
"Ben was fighting so hard that he blew through his shoe, trying to resist — literally trying to resist Shaq backing down. It was the craziest thing. He actually blew through his shoe."

–Chauncey Billups, via ESPN
In terms of physical stature, Ben Wallace hardly gave off the impression of a pushover.
Although Wallace (who stood 6-foot-9) lacked the standard height of many centers throughout the league, he weighed 240 pounds. The four-time All-Star had the strength and determination to hold his own with most opposing bigs. Then again, Shaq is in a category all his own in terms of physical dominance. His overwhelming power probably sent corporate sponsors at AND1 into a frenzy.
O'Neal is the ultimate immovable object. He only wishes LA went to the well more often during the 2004 Finals. Bryant said something similar during a sitdown between the two Laker greats in 2018.
Kobe Bryant told O'Neal he did not get LA into their "automatics" fast enough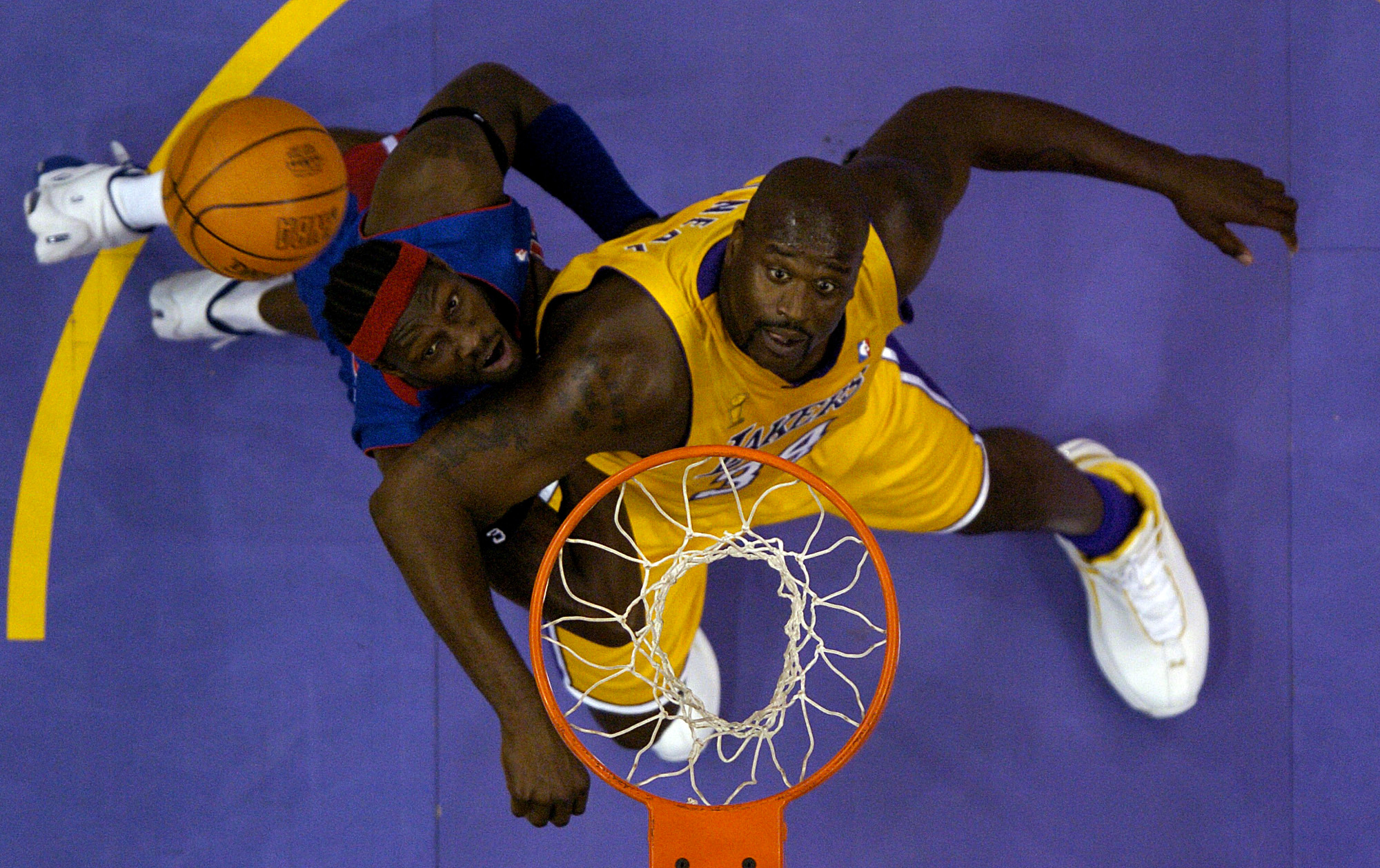 Kobe Bryant took the blame for the Lakers' offensive struggles during a 1-on-1 "Players Only" interview with Shaq.
Bryant said (h/t YouTube) the Pistons defense pushed everything up and forced LA to run their offense all 94 feet of the court. Kobe added that he did not put guys like Gary Payton and Karl Malone in good positions to counter Detroit's aggressive style.
That strategy of "moving the pressure up," as Bryant said, made LA's ball-handlers work harder to get the ball across the timeline and run sets, also forcing O'Neal to move from the low block closer to the point or the free-throw line, where he's less effective.
O'Neal invoked his famous "barbecue chicken" catchphrase when referring to Wallace's defense, but the reality is that Big Ben's ownership of the matchup and his unyielding effort played a massive role in giving LA problems and making the Pistons successful.
Stats courtesy of Basketball Reference.