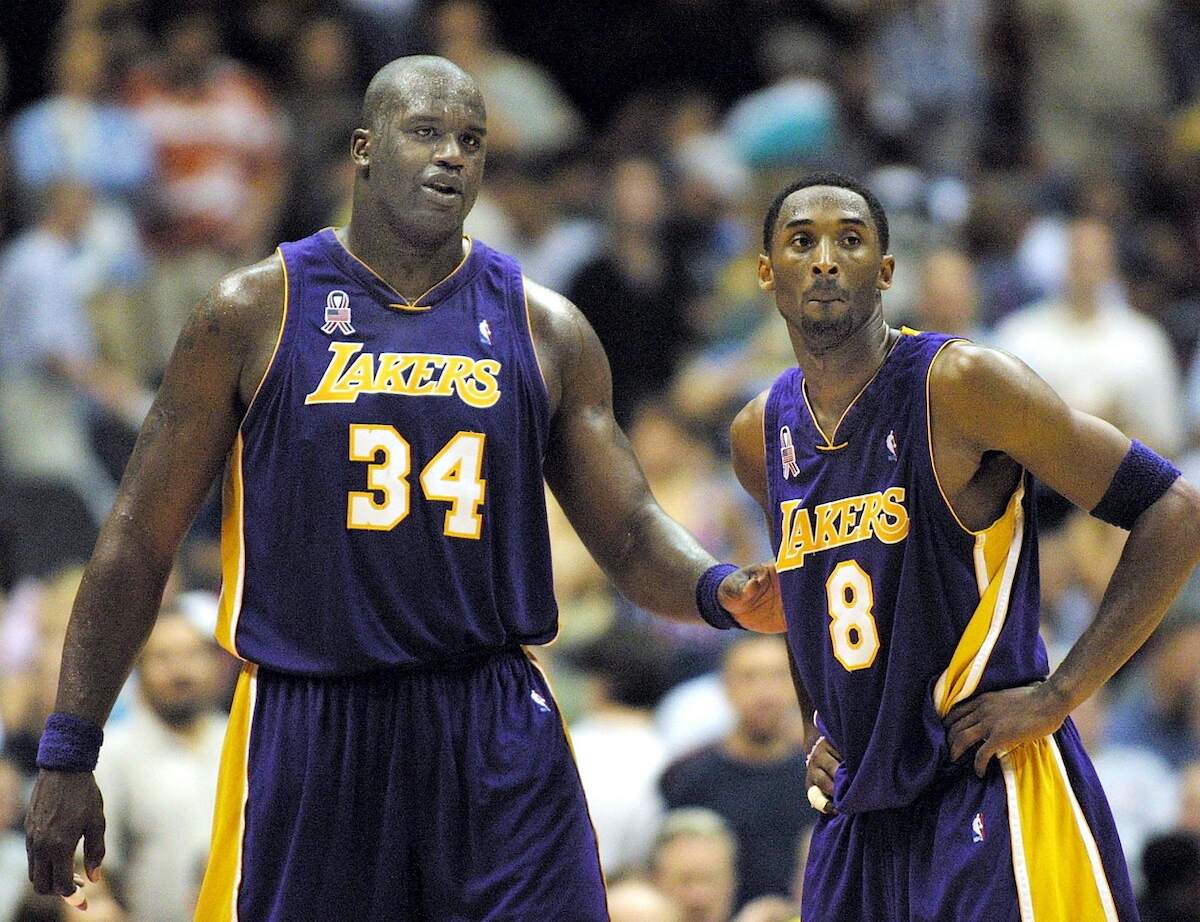 Shaquille O'Neal Recalls the Moment He Knew the Los Angeles Lakers Were Choosing Kobe Bryant Over Him: 'It Was a Clear Signal That We Were Done'
Shaquille O'Neal's time with the Los Angeles Lakers was over based on a moment he witnessed between Kobe Bryant and owner Jerry Buss.
When the Los Angeles Lakers fell to the Detroit Pistons in the 2004 NBA Finals, it spelled the end of a dynasty. That series marked the final time Shaquille O'Neal and Kobe Bryant would be paired with Phil Jackson leading from the bench.
With two stars who could no longer play together, LA was faced with its toughest decision yet. Do they keep O'Neal, the three-time Finals MVP in his 30s, or Bryant, the dynamic scorer who had yet to reach his prime? We obviously know who the Lakers kept, with Shaq sharing the details on the moment he knew his time with the Purple and Gold was over.
Shaquille O'Neal and Kobe Bryant's relationship could not be repaired
The Shaq and Kobe era of the Los Angeles Lakers resulted in three championships and countless memories. But winning did not make the partnership between the two stars any more pleasurable. And by the time LA lost to Detroit in the Finals, one refused to play if the other was still on the team.
In a conversation summarized in Jeff Pearlman's book Three Ring Circus: Kobe, Shaq, Phil, and the Crazy Years of the Lakers Dynasty, Bryant met with Jackson soon after the loss to the Pistons. The nine-time champion coach said he planned to retire but that the partnership between Kobe and Shaq could still continue without him. The superstar guard shot that down instantly.
"I've done that for eight years with [Shaq]," Bryant said. "But I'm tired of being a sidekick."
It wasn't a one-sided hatred by any means. Kobe revealed all his negative feelings toward Shaq in an interview with ESPN's Jim Gray. It infuriated O'Neal so much the big man told his Lakers teammates, "I'm going to kill him."
O'Neal figured out the Lakers were choosing Bryant over him
Although there wasn't much reason to celebrate, Lakers owner Jerry Buss hosted a party shortly after the Finals. O'Neal and Bryant attended the gathering with their wives, as did other players like Gary Payton, Derek Fisher, and Rick Fox. It was a normal party by all accounts until Buss arrived. Once there, the longtime owner went directly to Bryant's table to talk to him and his wife, Vanessa, paying no attention to O'Neal's table just a few feet away.
"I call it the Godfather reign," said O'Neal in Three Ring Circus. "You have this old guy who's been the godfather for a long time. You have this young guy; he's planning and planning and planning. And at dinner one day — Pop! Pop! Pop! Pop! Pop! You pop him. And the moment I got popped was at that party. Jerry talked to Kobe and his wife, then left."
Buss' decision to only acknowledge the Bryants shocked O'Neal. Once the owner left Bryant's table, Shaq and his wife Shaunie left the party (h/t: Three Ring Circus).
"It was a clear signal that we were done. … When you have two dogs — this championship dog that's getting older and this puppy running behind the old dog — who do you love? You love the puppy."

Shaquille O'Neal
The next morning, O'Neal was on the team charter flying back to Los Angeles. Bryant, meanwhile, flew back separately on Buss' private jet.
The Los Angeles Lakers made the right decision to keep Kobe over Shaq
Shaq's intuition was right after that night. Soon afterward, the Miami Heat acquired O'Neal in exchange for Lamar Odom, Caron Butler, Brian Grant, and two draft picks. Bryant, who was an unrestricted free agent, re-signed with the Lakers the next day for $136 million over seven years.
At first, it seemed as if O'Neal was going to get the last laugh. The Heat won the NBA Finals in 2006 over the Dallas Mavericks, giving the big man his fourth ring. But Bryant eventually rose above his former teammate and foe with back-to-back titles in 2009 and 2010. Additionally, the Black Mamba would eventually become the Lakers' all-time leader in points.
If the Lakers chose Shaq, who was 32 at the time, who's to say they win another ring? It's certainly fair to question if Dwyane Wade and the Heat end up winning a ring, as well. And if we're discussing teams whose fortunes would've drastically changed, look no further than the Clippers. Bryant was prepared to sign with LA's other team up until O'Neal left town.
Clearly, everything worked out in the end for both Kobe and Shaq. Even if the big man's last few moments with the Lakers were far from perfect.
All statistics courtesy of Basketball Reference and contract figures courtesy of Spotrac.