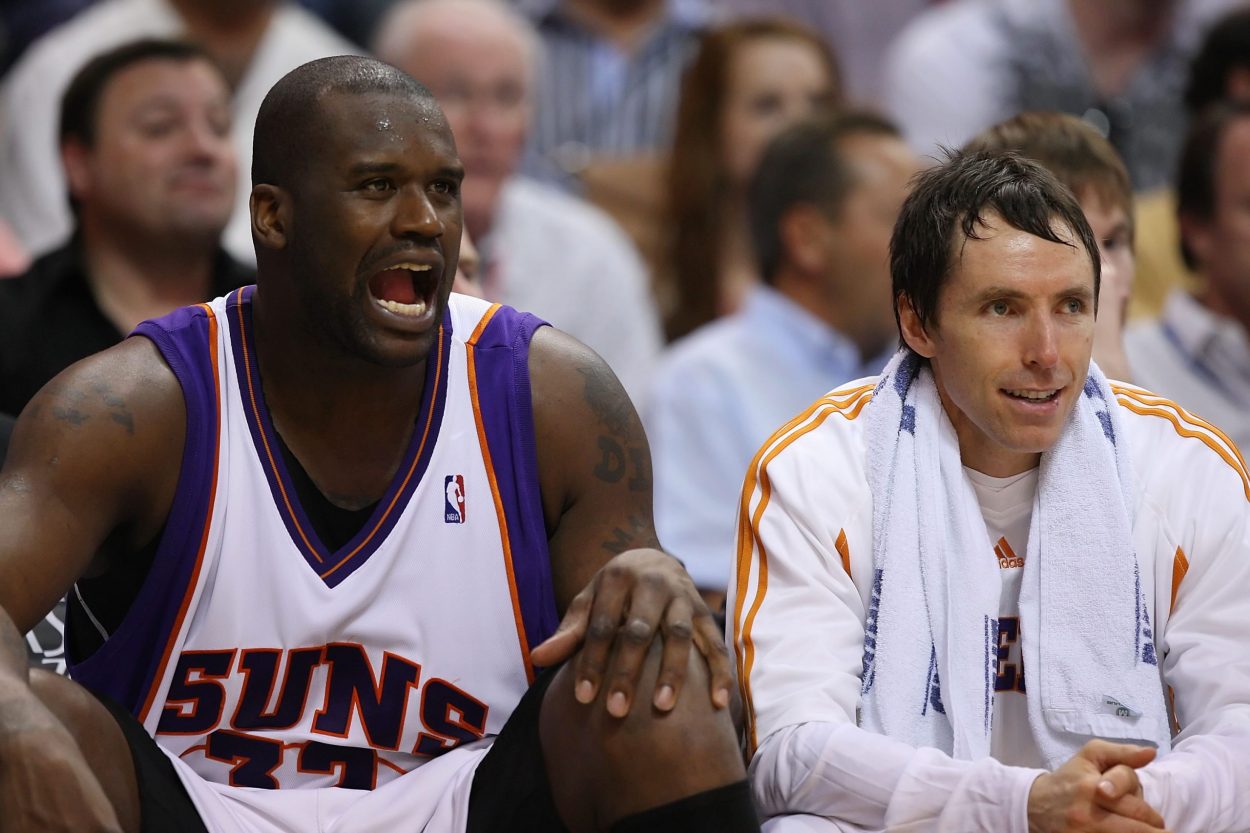 Shaquille O'Neal Refuses to Accept Losing Out on MVPs Because of Steve Nash: 'It Was This Little, Good-Looking, David Beckham Little Guy Running Around Like a Gnat'
Shaquille O'Neal has always been peeved by losing out on more MVP trophies because of Steve Nash's success in the "seven seconds or less" Suns offenses.
Shaquille O'Neal accomplished quite a bit during his legendary career. However, The Diesel has consistently been mystified that he only has one league MVP to his name. He blames one person in particular for robbing him of more MVPs.
Steve Nash captured back-to-back MVPs as the point guard and leader of the "seven seconds or less" Phoenix Suns teams. But Shaq, then with the Miami Heat, doesn't believe Nash's transformational impact on the game should have trumped the numbers he put up in South Beach.
Steve Nash edged Shaquille O'Neal in the 2004-05 MVP Award voting
The point guard with the luscious locks certainly had an MVP narrative going for him ahead of the 2004-05 season. Steve Nash had signed with the Suns in July 2004, just months after Phoenix posted a woeful 29-53 mark. He helped lead the Suns to 62 wins in his first season in the desert, averaging 15.5 points and a league-high 11.5 assists as the engine of head coach Mike D'Antoni's run-and-gun style of offense.
Meanwhile, Shaquille O'Neal was every bit as successful in his first year with the Heat. The Lakers traded Shaq to Miami on the very same day Nash signed with the Suns. He and an emerging Dwyane Wade helped the Heat to a 17-win improvement, with O'Neal averaging 22.9 points, 10.4 rebounds, 2.7 assists, and 2.3 blocks.
Both players had tremendous debut seasons for their respective teams, leaving the voters with a difficult decision. Nash ultimately edged O'Neal, amassing 65 first-place votes to Shaq's 58 votes. Nash also racked up 1,066 total points in the voting, surpassing the 1,032 points awarded to O'Neal.
Superman still can't believe the voters sided with his future teammate.
O'Neal feels he deserved to win the 2004-05 MVP and had a hilarious characterization of Nash's game
Shaquille O'Neal has repeatedly expressed annoyance at not being named the MVP over Steve Nash during that 04-05 season. He also had a hilarious way of characterizing Nash's style of play.
Longtime TNT and NBA TV host Ernie Johnson jokingly had Shaq lie down on a metaphorical psychiatrist's couch during the "Decades" episode of Open Court. He asked O'Neal to divulge some of his thoughts about Nash, and The Diesel didn't disappoint.
Shaq's statement is much in line with other comments he's made about losing the MVP to Nash whenever the Inside The NBA crew has chided him about it.
O'Neal seemed to take issue with an assist man getting the award over a 20-plus points per game scorer and dominant rebounder and interior defender. He also lamented Nash having two MVPs while both he and Kobe Bryant only managed to win one.
Interestingly, it was Kobe whom Nash arguably stole MVP honors from the very next season.
Nash's 2005-06 MVP is perhaps even more controversial
Steve Nash upped his scoring average to 18.8 points and again led the NBA in assists during the 2005-06 season. He also put together a 50-40-90 campaign while leading the NBA in true shooting percentage. Yet, other players were every bit as deserving of that MVP, if not more so.
A young LeBron James led the NBA in value over replacement player (VORP) and box plus-minus, averaging 31.4 points, 7.0 rebounds, and 6.6 assists while leading the Cleveland Cavaliers to 50 wins in his age-21 season. That win total marked an eight-win improvement from the year before.
The advanced numbers favored King James, but Kobe Bryant probably had an even stronger case. Bryant ranked second to James in VORP. He led the NBA in scoring at 35.4 points per game to go along with 5.3 rebounds, 4.5 assists, and 1.8 steals, somehow dragging a totally underwhelming Lakers roster to the playoffs.
The history books show Nash has two MVPs. But Shaquille O'Neal's skepticism regarding the validity of those MVPs is not unfounded, especially as it pertains to that 2005-06 season.
Stats courtesy of Basketball Reference.