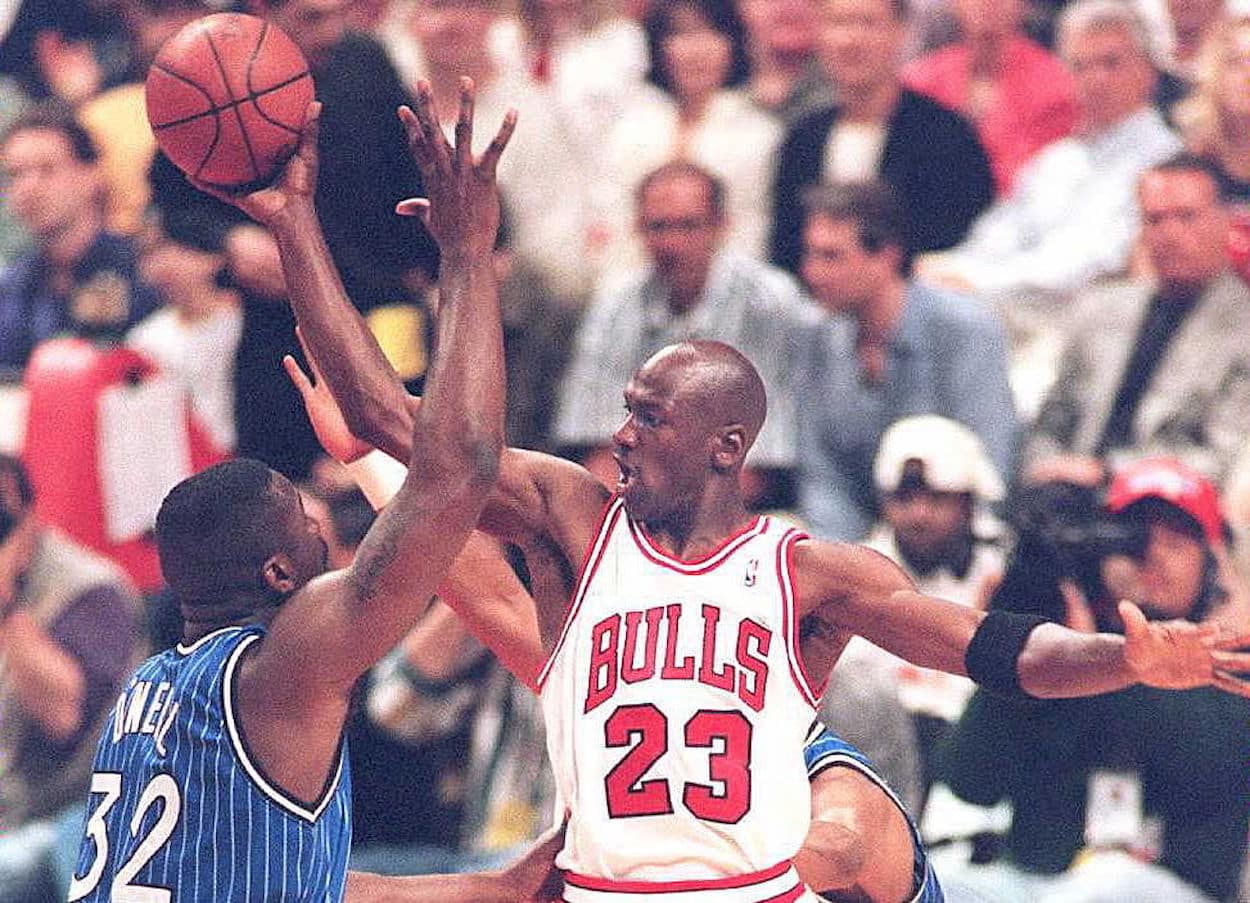 Shaquille O'Neal Unbelievably Says Only 3 Players Dunked on Him During His NBA Career, Including Michael Jordan
How many opponents successfully dunked on Shaq? If you take the big man at his word, only three accomplished the feat.
When you think of dominant NBA big men, it's impossible to overlook Shaquille O'Neal. Before he starred in every commercial known to man, the center dominated the paint on both coasts. He threw down plenty of dunks in his time and also blocked plenty of shots. Challenging him at the rim, simply put, was a bad idea.
Despite that reality, some players managed to dunk on Shaq across his 19 seasons in the Association. While the sheer amount of time would suggest that a decent number of opponents accomplished the feat, O'Neal begs to differ. In his mind, only 3 players ever dunked over him.
Yes, you read that correctly. Let's break things down.
In Shaq's mind, only Derrick Coleman, Tim Perry, and Michael Jordan ever dunked on him
Based on the sheer amount of time he spent on the hardwood, you'd think that plenty of players had accomplished the (admittedly challenging) feat of dunking over Shaquille O'Neal. If you take the legendary big man at his word, however, that isn't the case.
"I take pride in playing 19 years and only being dunked on three times," Shaq explained on the Knuckleheads podcast. "So, the first person to dunk me was Derrick Coleman. Yeah. Yeah, drop-step with the left hand. Second person, Tim Perry, got me baseline. And then Michael Jordan."
While you might be replaying clips in your head and wondering why the Diesel didn't include those players in his list, O'Neal is one step ahead of you. In his mind, only specific instances count as being dunked on.
"I got about 30 dunk-bys," Shaq explained. "I got about seven, like, not paying attention tip dunks. But dunk-ons? Chest-to-chest, balls-to-balls? Only got one or two of them, and I take pride in that."
That logic is a reminder that even the great Shaquille O'Neal is an imperfect human being
To be clear, it doesn't really matter how many times Shaquille O'Neal was dunked on. Hearing his selective logic, however, is a good reminder of an unavoidable reality: Even the biggest athletes are still human beings.
Given that we only see NBA stars on the court, it's easy to view them in a certain light. There, they're almost like real-life superheroes, capable of leaping over a defender in a single bound. That's even more true when you're talking about someone like Shaq, who's very obviously bigger and stronger than the average person.
Combine that with their celebrity status, and it's easy to put athletes on a pedestal. Shaq's dunk logic, however, highlights why that shouldn't be the case.
Hearing the Big Aristotle claim only three players dunked on him, only to note that there are at least 37 other incidents that he's choosing not to count, feels remarkably selective. Again, it's nowhere a life or death matter, but it does show an imperfectly human side of the NBA legend. Who among us hasn't done some creative accounting to explain why a handful of moments shouldn't count moving forward?
And, for better or worse, Shaq's media work has provided us with plenty of additional examples. Who could forget his debate with Kenny Smith about the (theoretically) financial savings of only filling up half of your car's gas tank? Or, more recently, his musings about the possibility of the Earth being flat (h/t Newsweek).
Again, this isn't to specifically call out Shaq or rip him as some sort of buffoon. Instead, his constant presence in the spotlight makes him a good reminder.
Whether we're talking about the Diesel, Charles Barkley, Michael Jordan, LeBron James, or any other legendary athlete, it's important to remember the source. For all their athletic greatness, they are still normal people with plenty of biases, imperfect logic, and everything else.
Like Sportscasting on Facebook. Follow us on Twitter @sportscasting19 and subscribe to our YouTube channel.