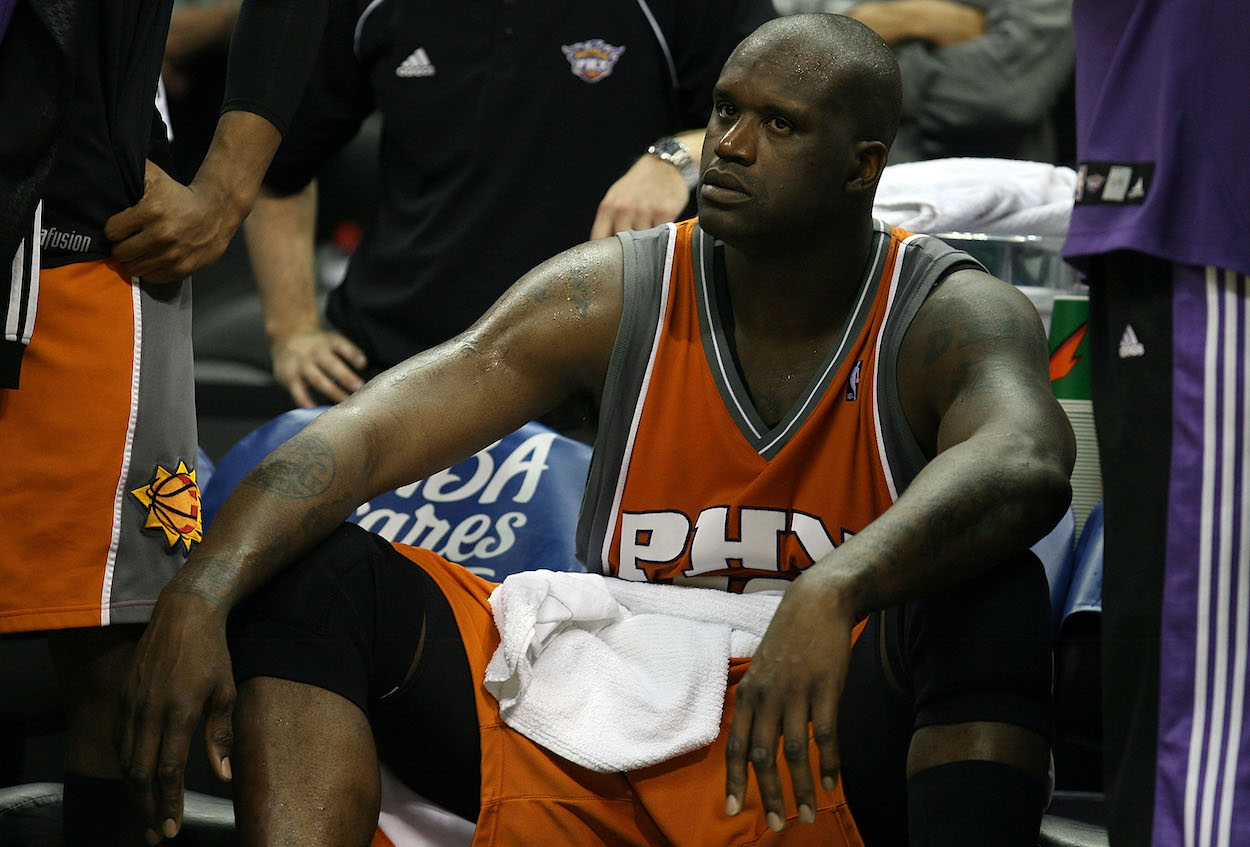 Shaquille O'Neal Used a Violent Sleeper Hold to Shut Up an Irritating Suns Teammate and Knock Him Unconscious Right Before a Game
A former Phoenix Suns player learned the hard way not to mess with Shaquille O'Neal.
Shaquille O'Neal is a 7-foot-1, 325-pound giant of a human being. Most NBA players knew not to mess with him during his Hall of Fame career, but one of his former teammates on the Phoenix Suns, Gordan Giricek, clearly never get that message.
Before one game against the Dallas Mavericks, O'Neal had enough of Giricek's chirping, so he put the veteran in a violent sleeper hold that knocked him unconscious and left him lying on the locker room floor.
Shaquille O'Neal was teammates with Gordan Giricek for only a few weeks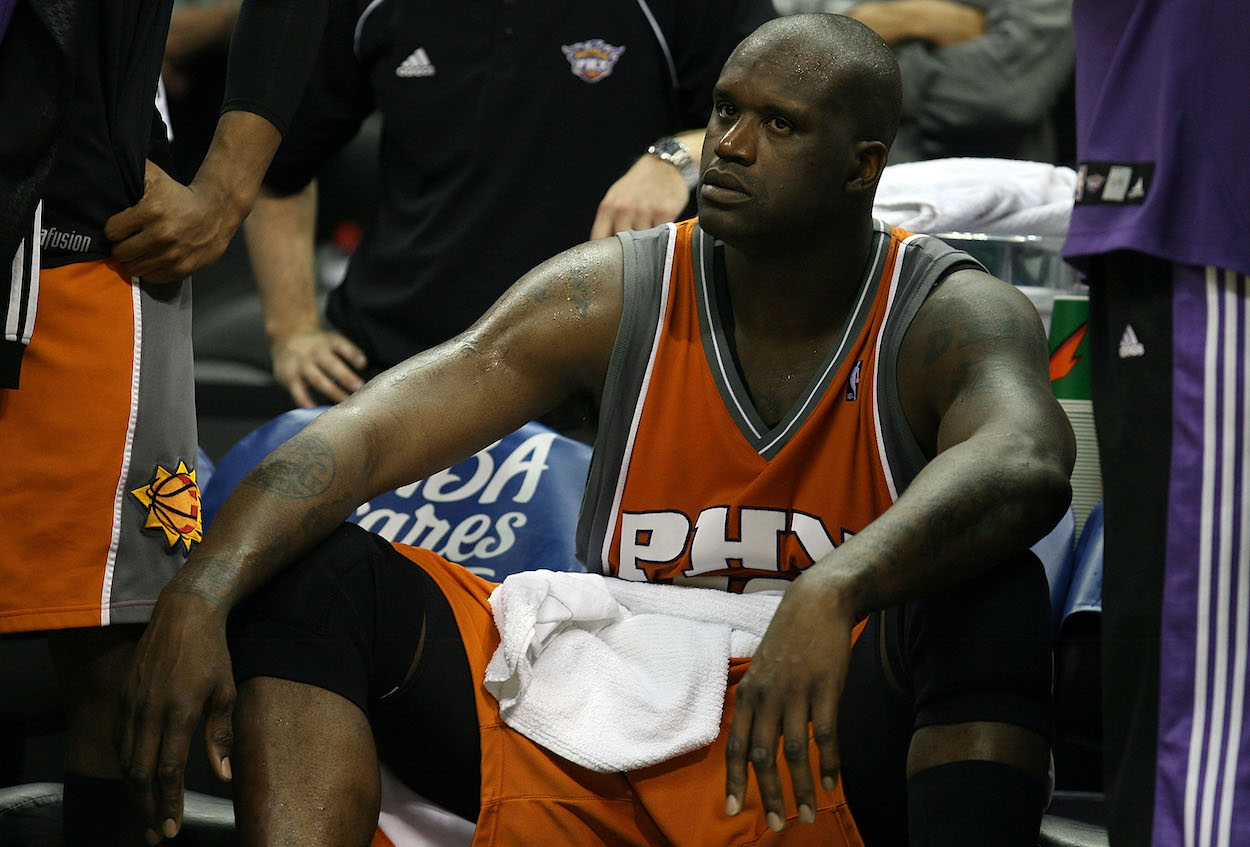 O'Neal is most remembered for his time with the Los Angeles Lakers, but the 15-time All-Star quietly played for six different franchises during his NBA career. After moving from the Lakers to the Miami Heat in 2004, Shaq was traded to the Suns in the middle of the 2007-08 season. He finished out the year and played just one more season in Phoenix before being traded to the Cleveland Cavaliers in 2009.
Near the end of O'Neal's first year with the Suns, Phoenix signed Giricek to a contract for the rest of the season. Giricek, a 6-foot-6 sharpshooter from Croatia, supplied a decent scoring option off the bench, but he didn't exactly get along well with O'Neal.
It only took a few weeks with Giricek for Shaq to snap.
O'Neal once rendered Giricek unconcious with a violent sleeper hold
O'Neal had seven inches and more than 100 pounds on Giricek during their time as teammates, but that didn't stop the feisty Croatian from trying to pick a fight with one of the most physical centers in NBA history. In one instance, Giricek started talking trash to Shaq about an MMA fight before a game, and he quickly learned never to anger The Big Aristotle.
O'Neal told the hilarious story on "Jimmy Kimmel Live!" last month during a game of 'Shaq or Bullshaq.'
"You once put a teammate, when you were on the Phoenix Suns, in a sleeper hold and rendered him unconscious shortly before a game," Kimmel posed.
"True," O'Neal responded. Then he explained.
Somebody from his country was fighting a guy that I knew in MMA. He just kept talking. I'm like, 'Bro, we have a game, relax.' But he just kept with it. And then he got in my face, and then, you know, my reflexes just… I didn't want to do it on purpose, but he came in my space and then my reflexes just…

Shaquille O'Neal
Kimmel then asked O'Neal if he's knocked more people out with the sleeper hold, and Shaq nodded his head and responded, "Yes," with a big smile.
Shaq and Giricek had prior beef, according to Grant Hill
Shaq's account of the sleeper hold story is fantastic, but it's not as good as Grant Hill's memory of the incident.
Hill, a member of the Suns at the time, told his side of the story on an episode of CBS Sports HQ's "Reiter's Block" back in 2018. According to him, there may have been another factor that caused O'Neal to lash out.
"You know, Giricek was a good player from Croatia, a good shooter, but he never passed the ball inside," Hill explained. "He would always kind of look Shaq off and shoot it. They kind of would go back and forth and exchange words, and Giricek would kind of talk trash to Shaq. And so one day Shaq was like, 'You know what, I'm gonna let this guy know who I am.'
"It was right before a big game in Phoenix against Dallas," Hill continued. "We have our team meeting. The meeting ends, I go and use the restroom. I come out and Giricek's laid out on the floor. And I'm like, 'Come on Shaq! We're trying to win!' But it was typical Shaq. Thankfully, Giricek, nothing serious happened. Thankfully, he's living to be able to talk about it. But Shaq was always entertaining and always knocking people out, I suppose."
It's safe to assume Giricek steered clear of Shaq for the rest of the season after that.
Like Sportscasting on Facebook. Follow us on Twitter @sportscasting19.