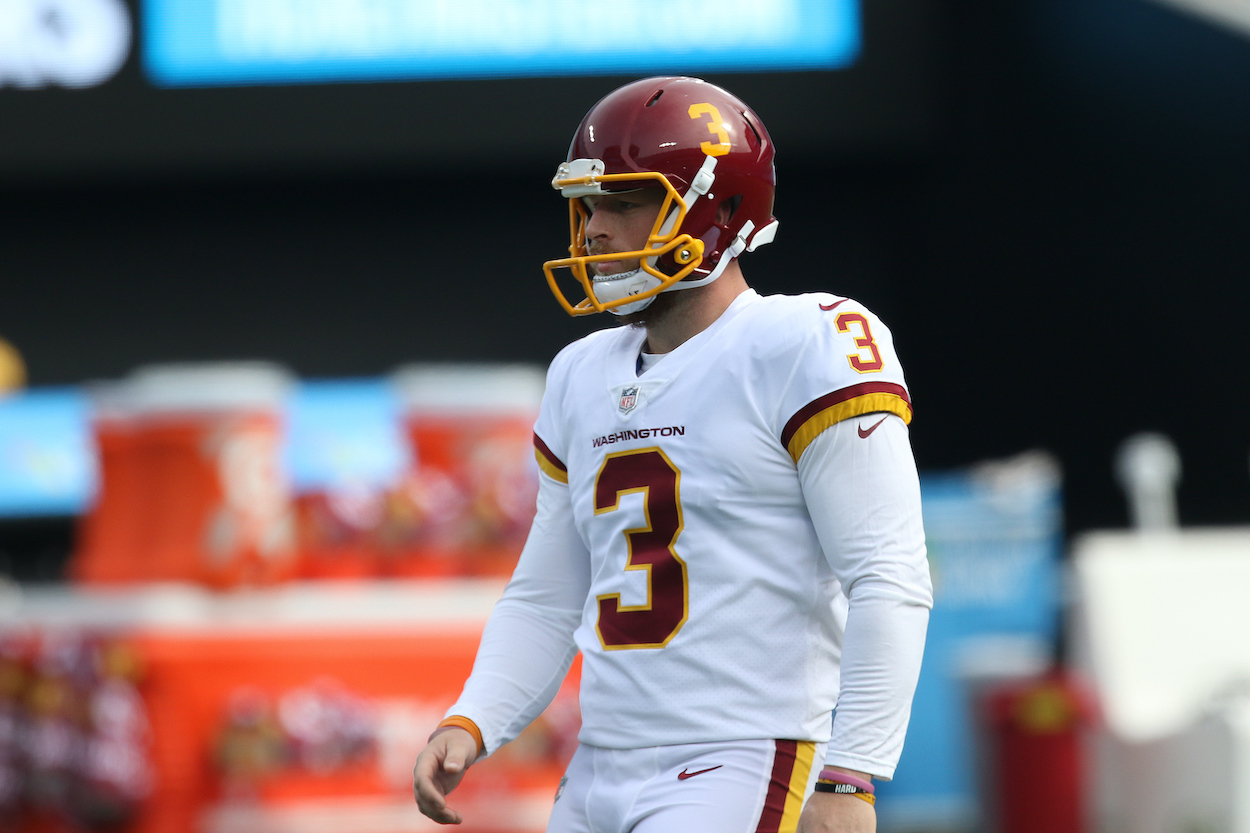 A 'Shark Tank' Host Just Helped a Kicker Get Paid By the Washington Commanders
Read about how Washington Commanders kicker Joey Slye is now officially a millionaire thanks to famed 'Shark Tank' host Daymond John.
The Washington Commanders just signed kicker Joey Slye to a one-year, $2.4 million-dollar deal that could be worth up to $5 million over two years, per Ian Rapoport. A new deal for a good kicker on a middling team isn't generally cause for interest. However, when the deal involves one of the members of the hit show Shark Tank (not Mark Cuban), that makes it noteworthy.
Joey Slye had an excellent 2021 season for the Washington Commanders
Kicker Joey Slye took an interesting path to get there, but he is now a well-paid NFL kicker. Slye grew up in Virginia and played college football at Virginia Tech. After becoming a Lou Garza Award semifinalist in his first two seasons, his next two didn't go quite as well.
The Albuquerque-born Slye's leg talent still got him a shot with the New York Giants as an undrafted free agent in 2019. It didn't work out in New Jersey, but he caught on with the Carolina Panthers and held down the starting job for two seasons.
In 2019 and 2020 with the Panthers, he was 58-of-64 on field goals (79.4%) and 64-of-71 on extra points (90.1%). Those numbers weren't enough to keep him around.
The following season was even more tumultuous for Slye. He got a job with the Houston Texans filling in for Ka'imi Fairbairn but lost the job when the team's starter came back after three games. The next three games Slye played were for the San Francisco 49ers in relief of an injured Robbie Gould.
After posting an 80%-plus FG percentage in both 2021 stops, Slye caught on as the starter for the Washington Commanders. In the final six games of the season, Slye was 12-of-12 on FGs and 9-of-10 on extra points.
That performance led the Commanders to want to keep Slye around for 2022, and a Shark helped him get it done.  
Shark Sports Management is run by 'Shark Tank's Daymond John
Daymond John is an incredible self-made success story. He started the clothing line FUBU in the 1990s and started his journey to becoming a millionaire entrepreneur.
He parlayed his success and charming personality into a role on the entrepreneurial investment reality TV show Shark Tank, where he's sat on stage with Dallas Mavericks owner Mark Cuban for the last decade-plus.
As part of his wide-ranging business portfolio, John now has an athlete representation company called Shark Sports. John's fir represents serval high-profile NFL and NBA stars, including Baker Mayfield, Jae Crowder, Michael Gallup, and now, Joey Slye. According to NFL insider Ian Rapoport's report on Slye's new deal, Shark Sports agent Glenn Schwartzman made the deal happen.
While $2.4 million is an excellent contract for a journeyman like Slye, he (and Schwartzman) still have a ways to go before the former Hokie gets to be one of the highest-paid kickers in the NFL.
Slye still has a way to go to become the highest-paid kicker in the NFL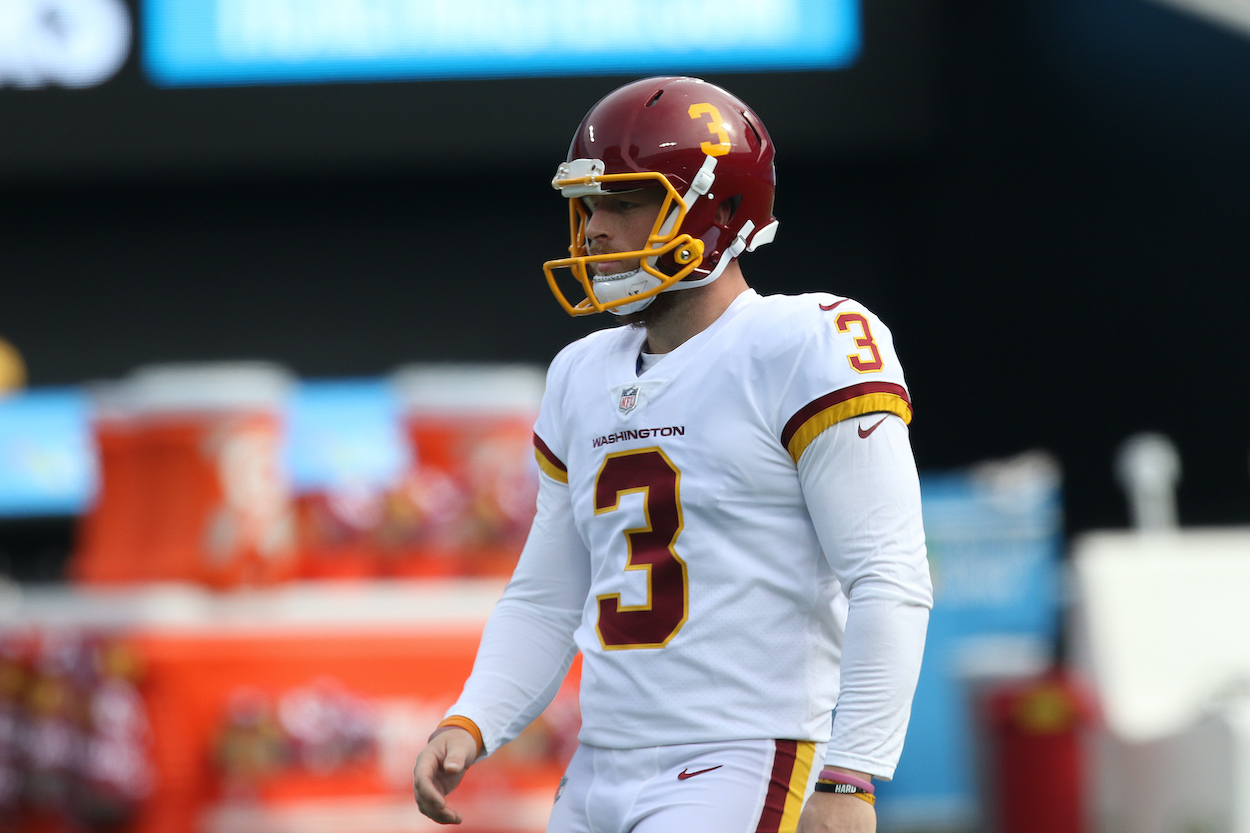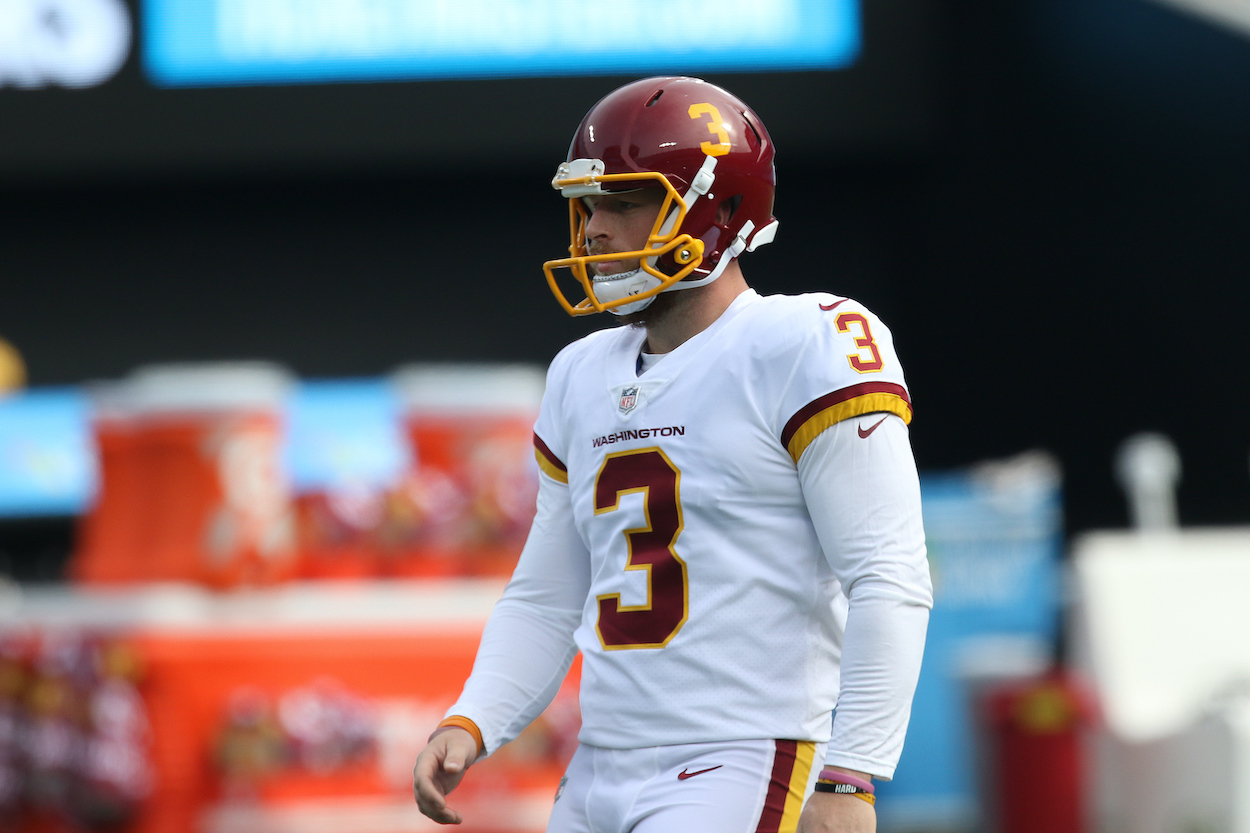 Joey Slye's new contract from the Washington Commanders will tie him for the 22nd-highest-paid NFL kicker in 2022 with Minnesota's Greg Joseph and the New York Jets' Eddy Pineiro.
That cap hit is slightly less than half of what the NFL's No. 1 earner, Justin Turner. The Baltimore kicker will be on the books for $5.9 million in 2022. The rest of the top five highest-paid leg boomers look like this:
Will Lutz (NO): $5.57 million
Robbie Gould (SF): $5.5 million
Jake Elliott (PHI): $5.08 million
Jason Meyers (SEA): $5.0 million
Slye might not be making that kind of money yet, but if he keeps up his yearly improvement and sticks with Sharks like Daymond John and Glenn Schwartzman, who knows what he could make down the line?
All stats courtesy of Pro Football Reference and contract figures courtesy of Spotrac