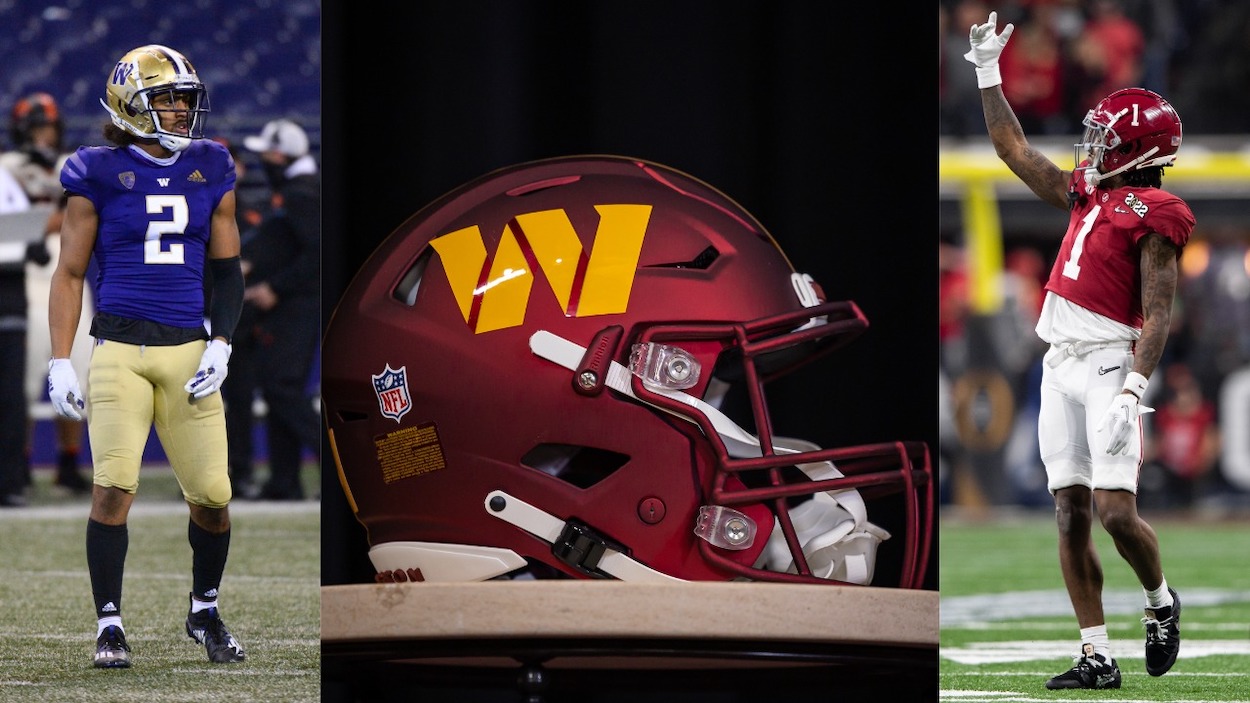 Washington Commanders 4-Round Mock Draft
In this four-round Washington Commanders mock draft, the team helps out new QB Carson Wentz then fill holes on the defensive side.
Any Washington Commanders mock draft got a little shorter recently as the team traded its 2022 third-round pick to the Indianapolis Colts as part of a deal for quarterback Carson Wentz.
While that selection is gone, the Commanders still have first-, second-, and fourth-round picks in this year's NFL draft that the franchise can use to improve its roster. In order to do that, the organization should have two goals. The team needs to get Carson Wentz more weapons and fill holes on the already-talented defense.
With those goals in mind, here is a four-round Washington Commanders mock draft.
Round 1, No. 11 overall: Jameson Williams, WR, Alabama
Terry McLaurin is a legit No. 1 wide receiver who Carson Wentz will love. Last season, he caught 77 balls for 1,053 yards and scored five touchdowns. The problem is, the next leading WR was Adam Humphries (44 catches, 383 yards, two TDs), and after that was DeAndre Carter (24 catches, 296 yards, three TDs).
At No. 11, Washington will look to give Wentz and McLaurin a third partner to take the pressure off them. In this NFL draft, three incredible wideouts should go in the top half of the first round. There's a good chance USC's Drake London and Ohio State's Garrett Wilson are gone by the Commanders' pick, so they have to "settle" for Alabama's Jameson Williams in this Washington Commanders mock draft.
Williams is a 6-foot-2, 179-pound pass-catcher with track speed. He caught 11 TDs over 30 yards in 2021, the most in the FCS, per NFL.com. He would probably be the first receiver off the board this year if not for an ACL injury in the national championship game. However, all reports have him recovering ahead of schedule, which means Washington gets a real steal here.
Round 2, No. 47 overall: Kyler Gordon, CB, Washington 
The Washington Commanders' secondary features Kendall Fuller, one of the NFL's best (and most underrated) cornerbacks. After that, it's pretty slim pickings. Last year's big free-agent signing at CB, William Jackson, disappointed and third-round pick Benjamin St-Juste showed a little promise, but that's about it.
Washington Huskies CB Kyler Gordon is the pick in this Washington Commanders mock draft as a potential long-term partner for Fuller in the secondary. Gordon is just a shade under 6-foot and 194-pounds. He can play inside or outside and is an explosive athlete. He only had two career INTs at Washington, but his 98 tackles and 14 passes defended show what he can do if his ball skills improve.
One of the only reasons Gordon would slip to Washington in the second round is his 4.59 40-yard dash time at the combine. That could scare teams away, but it shouldn't. He plays fast on tape and, according to this PFF study, slower 40 times crush CB's draft status while having little to no impact on their success in the NFL.
Round 4, No. 113 overall: Sterling Weatherford, S, Miami (OH)
One of the quickest-rising, late-round sleepers in this year's NFL draft is Miami (OH) safety Sterling Weatherford. The Ohio native filled up the stat sheet in his four seasons with the RedHawks. He played in 41 games, made 209 tackles (10.5 for a loss), and chipped in 3.0 sacks, four INTs, two forced fumbles, and four fumble recoveries.
The NFL didn't even invite Weatherford wasn't even invited to the combine, but he showed out on his pro day. At 6-foot, 224-pounds, he ran a 4.57 40 and put up numbers in other drills comparable to top 10 pick Kyle Hamilton from Notre Dame. That's why, in the fourth round of this Washington Commanders mock draft, the hybrid safety is the player to select.
NFL teams love Weatherford's combination of size and athleticism because it means he can be a versatile piece for a modern NFL defense. In addition to playing traditional safety, he can also slide up and play linebacker in sub-packages. That's an excellent weapon for head coach Ron Rivera and defensive coordinator Jack Del Rio and what makes Weatherford a perfect replacement for soon-to-be cap casualty S Landon Collins.
Like Sportscasting on Facebook. Follow us on Twitter @sportscasting19.