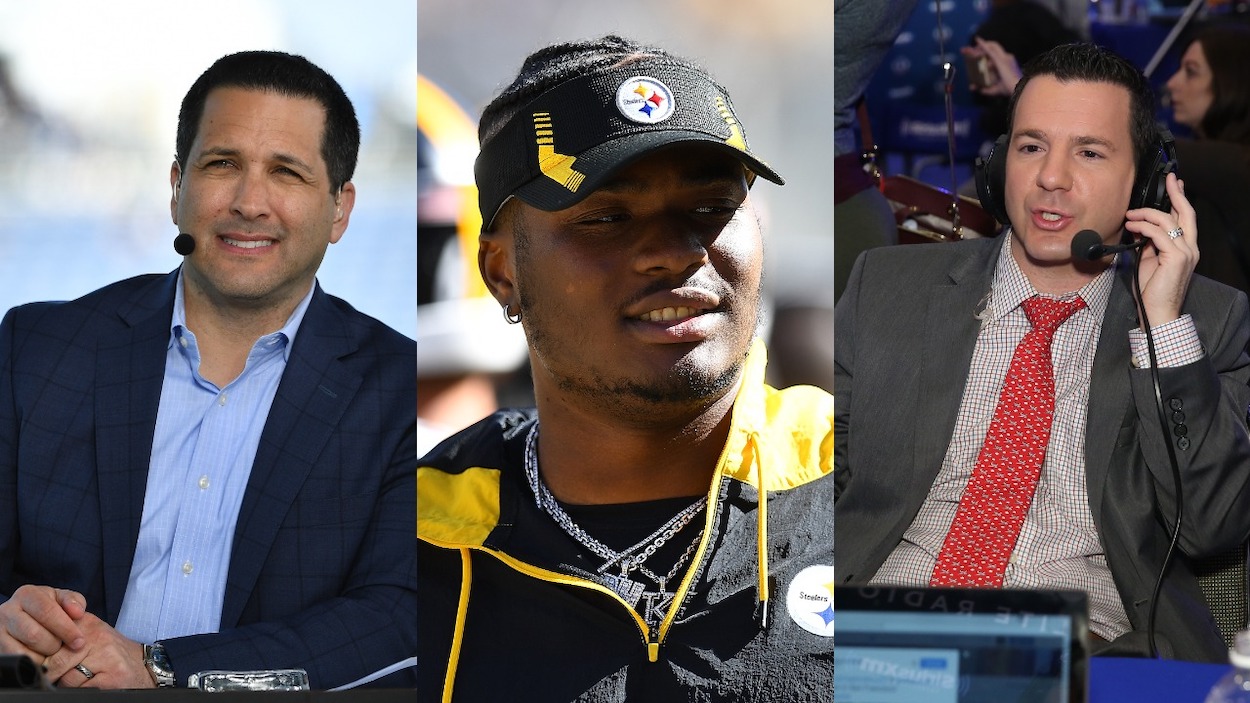 NFL Insider Ian Rapoport Explains How He Avoided Adam Schefter-Like Blowback Breaking News of Dwayne Haskins' Tragic Death
NFL Network's Ian Rapoport explained how he dealt with the news of Dwayne Haskins death and avoided offending people like Adam Schefter did.
Breaking NFL news is a difficult job, especially when something tragic happens, such as the death of Pittsburgh Steelers quarterback Dwayne Haskins. When sports media insiders like Adam Schefter, Ian Rapoport, Jason La Canfora, Jay Glazer, and others don't choose their words carefully, it can cause serious problems.
That's what happened with Schefter's first tweet regarding Haskins' death. ESPN's NFL insider was callous and careless with his reporting, and it led to major backlash from the public and NFL players alike.
Following the blowback on Schefter, Rapoport took the time in an interview to explain how he approached reporting the tragic news.
Adam Schefter insensitively reported Dwayne Haskins' untimely death
At 10:58 a.m. ET on Saturday, April 9, 2022, ESPN insider Adam Schefter posted a now-deleted tweet reporting the death of 24-year-old Pittsburgh Steelers quarterback Dwayne Haskins. The reporter wrote:
Dwayne Haskins, a standout at Ohio State before struggling to catch on with Washington and Pittsburgh, died this morning when he got hit by a car in South Florida, per his agent Cedric Saunders. Haskins would have turned 25 years old on May 3.

Adam Schefter's now-deleted tweet breaking news of Dwayne Haskins' death
In addition to the outpouring of grief from friends, fans, and people in the NFL world, many Twitter users took issue with the fact that Schefter mentioned Haskins' on-the-field struggles before even mentioning his death.
The backlash was swift and furious. By 11:19 a.m. ET, Schefter had deleted his original tweet and posted a new one. Schefter removed the "struggling" piece in this Twitter post and replaced it with "a standout at Ohio State before becoming Washington's first-round pick and playing in Pittsburgh."
Schefter's horrible misstep was only up for 20 minutes, but that was enough to do serious damage to the reporter's reputation.
The next day, NFL Network insider Ian Rapoport addressed the situation and explained how he dealt with the tragedy to avoid the same disrespectful mistake Schefter made.
Ian Rapoport walked through his approach to reporting the Haskins news
NFL Network insider Ian Rapoport appeared on the Pat McAfee Show Monday to discuss various topics. The host eventually addressed Dwayne Haskins' tragic death and asked the reporter about the Adam Schefter piece of the story.
"How do you balance being a human and breaking news?" McAfee asked Rapoport. "Is Schefter not a human? How do you balance that in the cutthroat world that you're in?"
Rapoport thoughtfully answered that being human and breaking sensitive news can be hard to balance. From getting information on player injuries to reporting a death, taking the right tack and using the right tone is complicated. He said, "You also don't want to be someone who texts an agent about an injury with his player still laying on the field."
The Columbia University graduate then walked McAfee and his listeners through his process as news of Haskins' death came out:
I was actually at my son's baseball game. I get a text. It said, 'Hey, this is horrible, but I think Dwayne Haskins was killed last night. You might want to check into it.' … So I called the team. I called the agent. I didn't get it on the record, but I did confirm that the incident happened. And, honestly, I didn't feel great about breaking someone's death. I just — I didn't. So my thought process, in this case, was, the Steelers are generally a team that announces very serious things. If the agency or the team wants to announce it, we'll just let them do it.

Ian Rapoport on Dwayne Haskins' death
Rapoport also said that while he was waiting, he informed his bosses at NFL Network of the situation. And when the team did announce the tragedy, he then shared some thoughts on social media and television.
Schefter apologized on his podcast 
Ian Rapoport's breakdown of how the information of Dwayne Haskins' death flowed and how he sacrificed being first for being respectful (compared to Adam Schefter seemingly doing the opposite) was a fascinating insight into how the world of NFL insiders works.  
For his part in the whole situation, Schefter did use his ESPN podcast platform to issue what sounded like a sincere apology Monday:
[The tweet] was insensitive. It was a mistake. And I can assure you, it is not my intention. I wish I could have that tweet back. The focus should have been on Dwayne. Who he was as a person, a husband, a friend, and so much more. I want to apologize to Dwayne's family, his friends, the players in the National Football League, and offer my condolences to everybody close to Dwayne.

Adam Schefter's apology for his Dwayne Haskins tweet
Schefter then said he "wanted to turn people's attention to make sure Dwayne is remembered properly." The insider then dedicated the next two-plus minutes to celebrating Haskins' impressive life both on and off the field.
It was a touching tribute, but one that Schefter should have delivered Saturday without first mentioning Haskins "struggling" as an NFL quarterback.
Like Sportscasting on Facebook. Follow us on Twitter @sportscasting19.