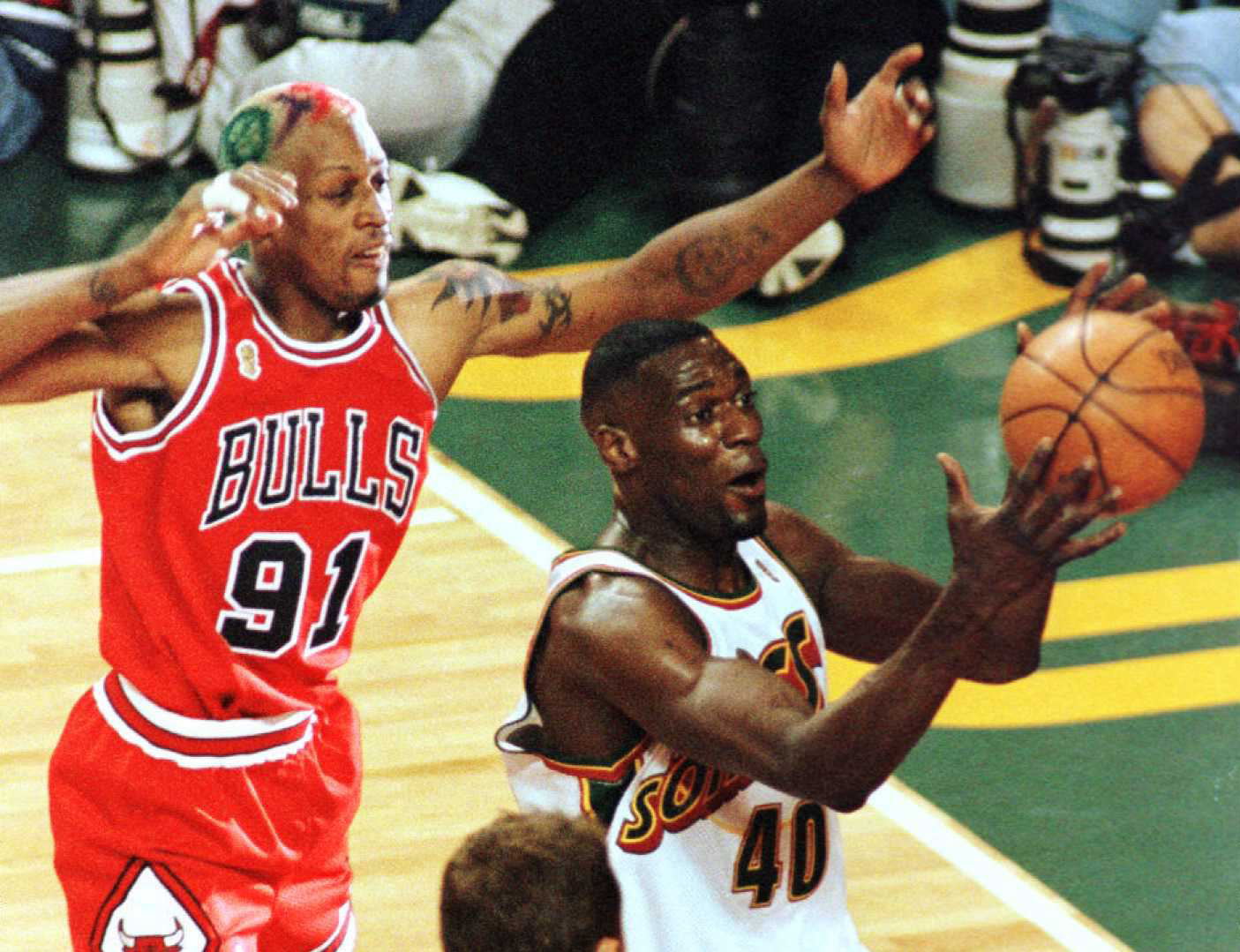 Shawn Kemp Reveals Why He Left the Seattle SuperSonics: 'I Wanted to Break $100 Million'
All-Star big man Shawn Kemp thrived with the Seattle SuperSonics for nearly a decade. Kemp just opened up about why he left the Sonics in 1997.
All-Star big man Shawn Kemp thrived with the Seattle SuperSonics for nearly a decade.
Before the duo of Kevin Durant and Russell Westbrook led the Oklahoma City Thunder to an NBA Finals appearance, point guard Gary Payton and Kemp did the same under the franchise's previous moniker.
Much like Durant and Westbrook, the partnership between Payton and Kemp ended without a ring. During a recent interview, Kemp elaborated on why the band broke up.
Shawn Kemp is a Seattle SuperSonics legend
The 17th overall pick in the 1989 NBA draft, Shawn Kemp left an incredible legacy in Seattle.
Standing 6 feet 10 inches and weighing 230 pounds, Kemp averaged 16.2 points on 52.1% shooting from the field and 9.6 rebounds in 625 games and 461 starts for the Seattle SuperSonics from 1989-97.
Kemp made five of his six All-Star teams in a Sonics uniform. He also appeared on the All-NBA second-team in three straight years from 1994-96.
Kemp didn't shy away from the postseason's heavy expectations. He averaged 18.6 points and 10.6 rebounds across 74 career playoff games with the Sonics.
Kemp left Seattle after the 1996-96 season
Nothing is forever, a fact that Shawn Kemp and the SeattleSuperSonics accepted in September 1997.
Seattle traded Kemp to the Cleveland Cavaliers in a three-team also involving the Milwaukee Bucks. In return, Seattle obtained Bucks forward Vin Baker, while Milwaukee received point guard Terrell Brandon and forward Tyrone Hill.
A few years before LeBron James arrived and turned the Cleveland Cavaliers around, Kemp certainly tried his hardest. Kemp averaged 18 points and 9.2 rebounds en route to an All-Star nod in the 1997-98 season.
Despite only playing in 42 games during the strike-shortened 1998-99 season, Kemp averaged 20.5 points and 8.8 rebounds.
Kemp's numbers drastically dipped the next year, sealing his departure from Cleveland. He played two seasons with the Trail Blazers and closed his career in Orlando during the 2002-03 season.
Shawn Kemp just opened up on his final seasons
Given how well Shawn Kemp played in his first two seasons with the Cleveland Cavaliers, one has to wonder what would have happened if Seattle hadn't traded him.
In a recent appearance on the Knuckleheads Podcast with Darius Miles & Quentin Richardson, which is available on The Players' Tribune, Kemp reflected on leaving Seattle.
Kemp explained the move had to do with money. At the time, Kemp "wanted to break $100 million" and receive a lofty contract.
"It wasn't about SK making $100 million. It was about breaking a barrier because I thought we should be making more money. … In my heart, I kind of knew I was going to have to leave because they [Seattle] weren't going to pay me 100 million dollars. I had six years left on my contract. I was the first athlete ever who got 100 million dollars and still had six or seven years on my contract."
According to The New York Times, Cleveland signed Kemp to a seven-year contract worth $107 million in 1997. 
Kemp didn't receive all of the money, however. Portland waived Kemp in 2002, and according to Basketball-Reference, the former All-Star made over $91 million in his NBA career.
All stats courtesy of Basketball-Reference.