The Sixers' Nightmare Month Somehow Just Got Even Worse
Philadelphia 76ers fans probably thought their nightmare month of June couldn't get any worse, but they were sadly mistaken. A week and two days after the No. 1 seeded Sixers fell to the Atlanta Hawks in Game 7 of the Eastern Conference semifinals, legendary team play-by-play announcer Marc Zumoff announced he's "locking all windows and doors" and stepping into retirement.
Marc Zumoff was the voice of the Sixers for 27 years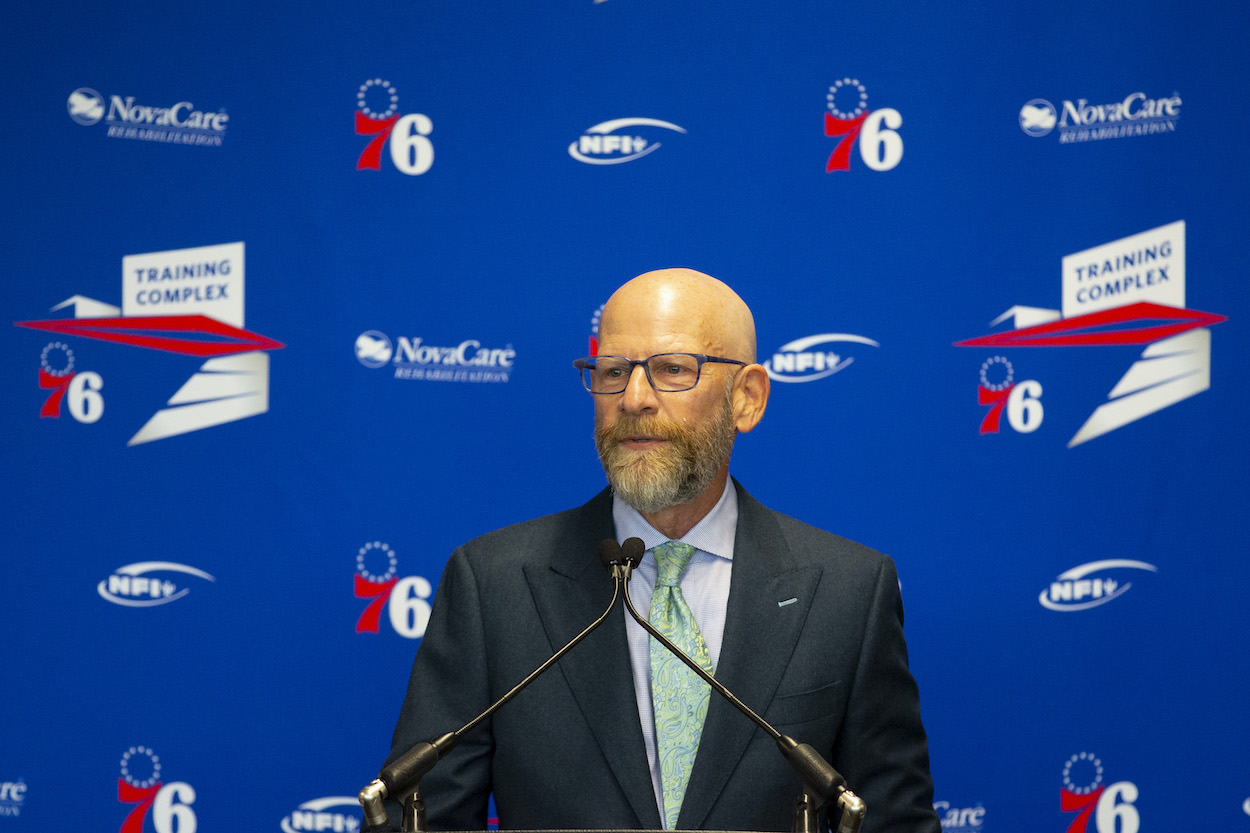 Zumoff is a Philadelphia native who grew up with a simple dream: to one day become the voice of his hometown 76ers. After serving as an in-studio host for pregame, halftime and postgame shows for 12 years, he accomplished just that in 1994.
Since then, "Zoo" has become one of the most talented and most respected broadcasters across the entire NBA. His emotional late-game calls and iconic one-liners such as "turning garbage into gold" and "hang on, we're comin' in for a landing" made him a fan-favorite in Philadelphia for nearly three decades.
It wasn't just fans who couldn't get enough of Zumoff, though. Even the players — from Allen Iverson to Andre Iguodala to Joel Embiid — had a soft spot for the longtime play-by-player. Iverson actually called him "the world's best commentator, hands down" during his Hall of Fame speech in 2016.
And every Philly fan would agree.
Zumoff announces his retirement, continuing the Sixers' nightmare month
On Tuesday morning, just over a week after the Sixers were bounced from the 2021 NBA playoffs by the Hawks, Philadelphia fans received even more bad news when Zumoff announced his retirement from the broadcast booth.
"If life is a basketball game, I'm into the fourth quarter!" Zumoff wrote in a letter for NBC Sports Philadelphia. "I'd like to play a musical instrument, learn to speak a foreign language, cook, travel, and by all means give back with my time and strength to the charitable causes that I hope will make for a better world.   
"There's a lot out there for me to still do, and I want to do it all while I'm still able."
Now, if you're not from the 2-1-5, you might be thinking, "who cares this much about a broadcaster?"
76ers fans, that's who.
Zumoff wasn't just the voice of the Sixers for 27 years. He was the voice of Iverson's entire career from draft night to retirement. He was the voice of The Process, making 30-point home blowouts as entertaining as he could for those watching at home. And he was the voice of Embiid, a symbol of hope who turned the franchise from the laughing stock of the NBA to one of the league's best.
Zumoff was the voice of Philadelphia.
"You will continue to see me on social media, on the beach, the golf course, at a game or just on the street around town," he wrote. "If we do happen to cross paths, please call out so we can talk 76ers basketball, relive the moments and carry on the memories. Meantime, I will pass the baton on to the next television voice of the Philadelphia 76ers, doing so with peace of mind and a heart that couldn't be more full."        
76ers say goodbye to their longtime friend
After Zumoff's retirement announcement, the 76ers' official Twitter account tweeted out a thank you to the legendary broadcaster. The team also released a statement reliving his career and thanking him for what he brought to the team and the city.
"We sincerely thank Marc Zumoff for all he's done for this organization, this team and the city of Philadelphia over the last 27 years," Managing Partners Josh Harris and David Blitzer said in the statement. "We'll miss his iconic voice and trademark sayings, which have been staples during 76ers games for the better part of two decades. While we congratulate Marc on his retirement, we look forward to properly honoring and celebrating him at a home game during the 2021-22 season." 
Get your tickets to that one early, Sixers fans. They won't last long.