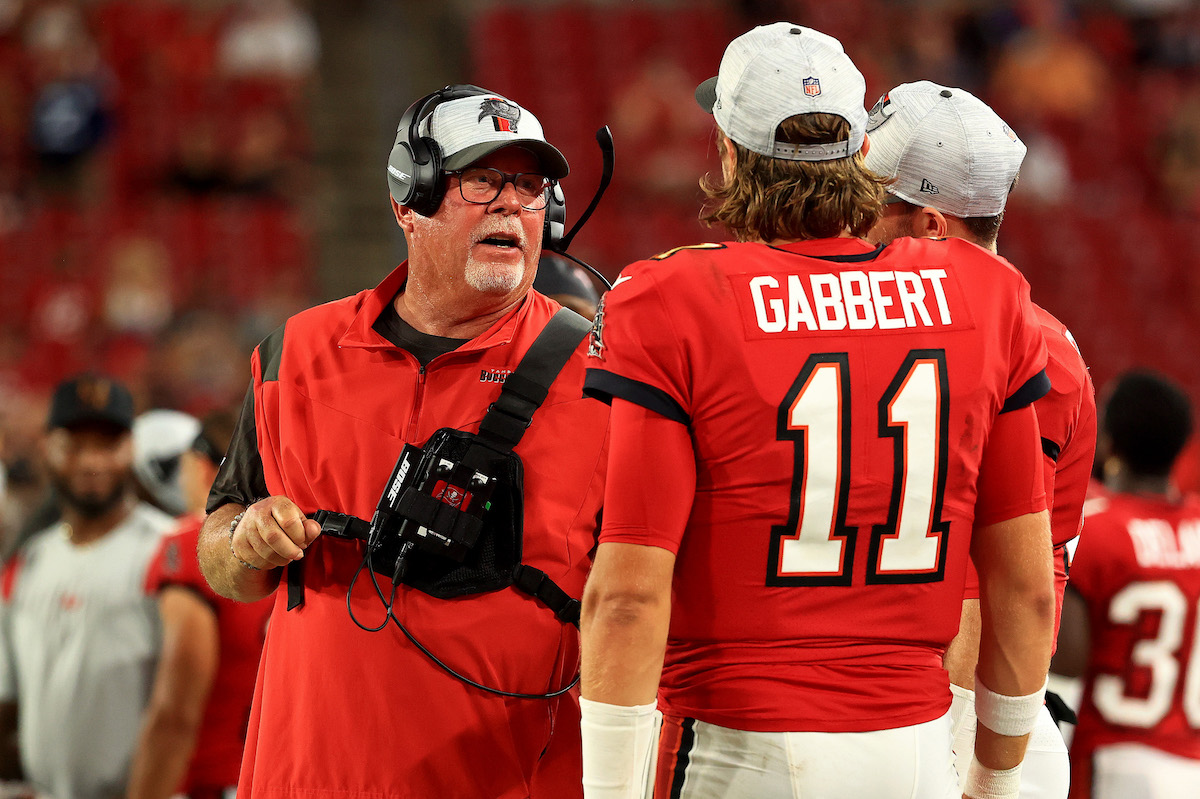 Sorry, Bruce Arians: Blaine Gabbert Has No Business as Bucs' Starting QB
Bruce Arians is willing to back Blaine Gabbert as a potential starting quarterback for the Tampa Bay Buccaneers. That's a terrible idea.
Necessity is supposed to be the mother of invention, but that's not the case for Bruce Arians' Tampa Bay Buccaneers. They have the necessity, but they don't have the tools to come up with any sort of workable plan under center following Tom Brady's retirement. When Blaine Gabbert is getting propped up as a legitimate option for the Bucs' starting QB role, that's when you know the invention is likely to shatter into pieces rather than prompt a patent.
Arians voicing his support for the 32-year-old reads more like misplaced confidence or desperation than something that should keep other organizations up at night.
It's not just that Gabbert has a lifetime 13-35 record as a starter and hasn't opened a game under center since spending the 2018 campaign with the Tennessee Titans. It's that even that miserable record — a 0.271 win percentage that would make even the Jacksonville Jaguars scoff most years — oversells what the veteran brings to the table as anything more than a depth piece most comfortable holding the clipboard on the sidelines.
Hard pass. (Which, not so coincidentally, is one of the many areas in which Gabbert has struggled throughout his NFL career.)
Bruce Arians delivers a vote of confidence in Blaine Gabbert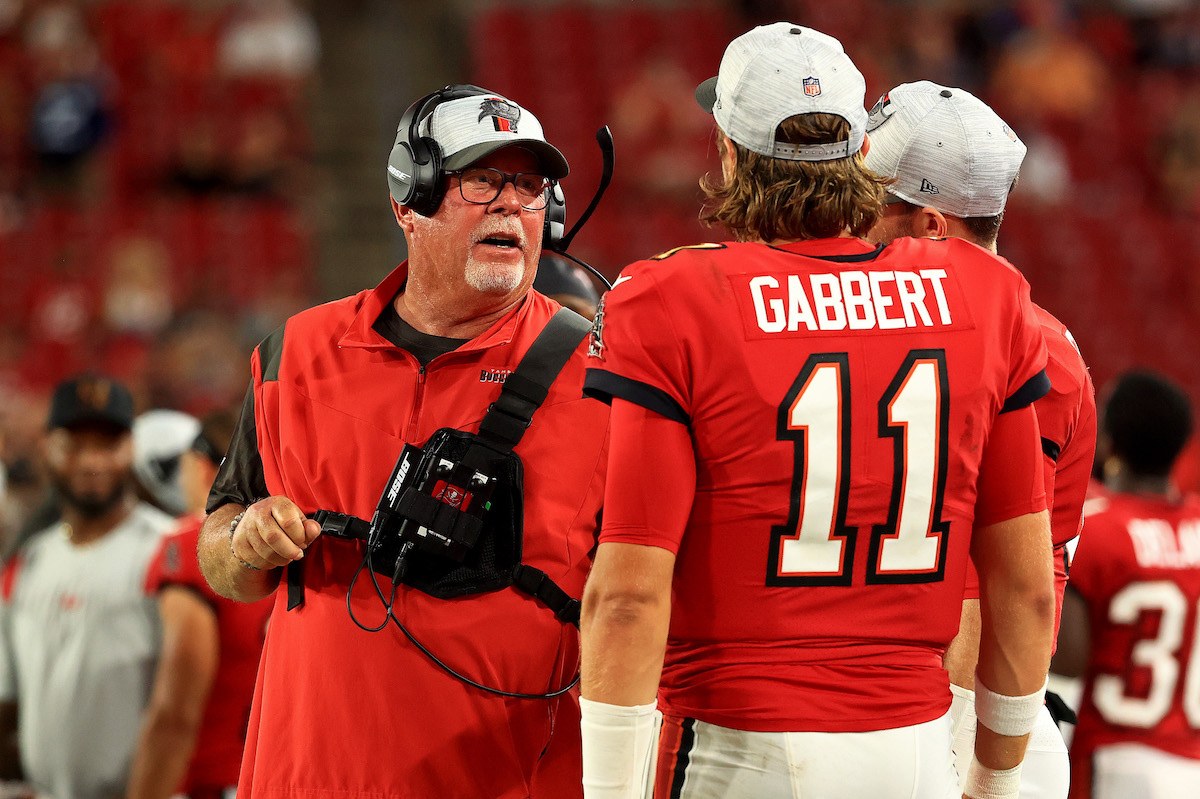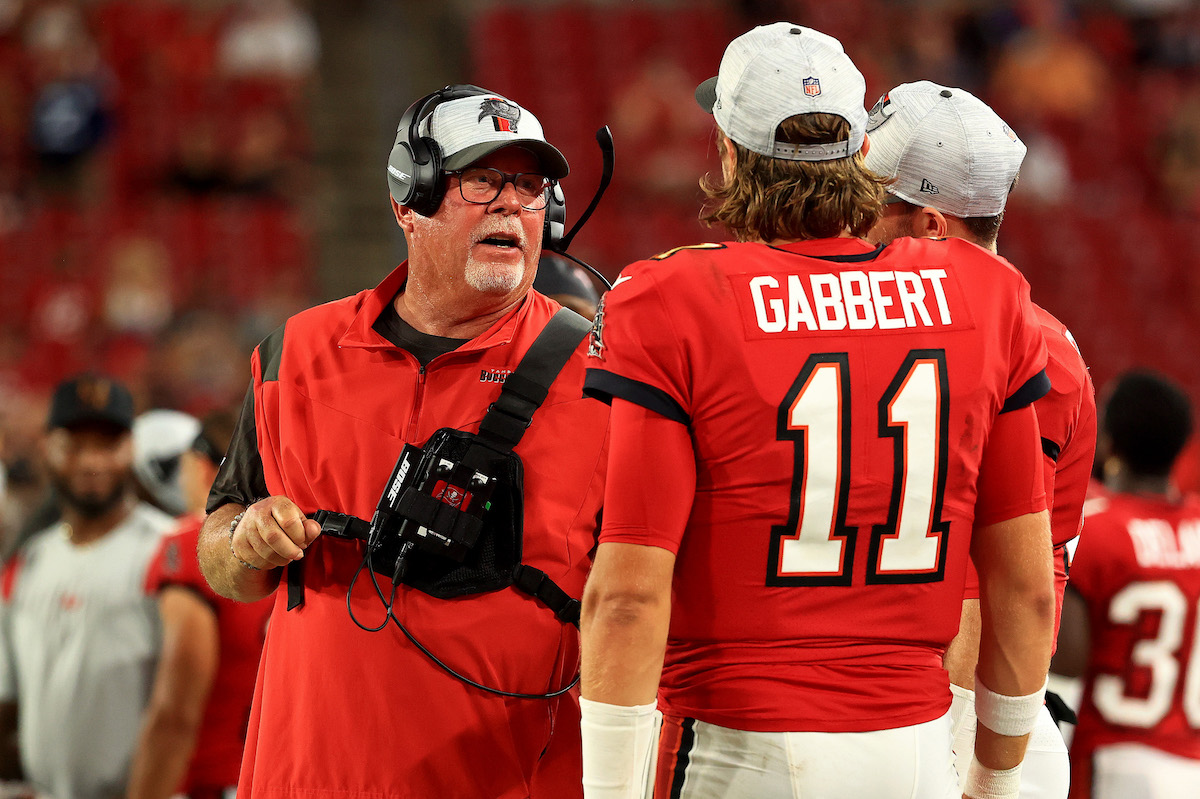 Part of a head coach's job description involves inspiring their players, and that can't be done without public votes of confidence. But a chasm still lies between the delivery of legitimate compliments and the spewing of baseless optimism because no other options exist.
Arians' latest remarks fall into the latter category.
"People may not like the overall record, but Blaine had eight head coaches and eight coordinators his first eight years," the 2020 Super Bowl champion told Rick Stroud of the Tampa Bay Times. "He beat Jacksonville their best year and beat Tennessee their big year for us in Arizona. And he's been in the system now. I don't have a problem there and let Kyle [Trask] continue to grow. Either one. [Gabbert] has never played with a team this good. He's got all the respect in the locker room that he can have."
In the ballpark of confidence-inspiring statements, this is more of a bloop single than a double smoked into the gap, much less a hanging breaking ball blasted into the upper decks. Let's break it down line by line.
People may not like the overall record?
Yep, that checks out.
Gabbert had eight head coaches and eight coordinators in his first eight NFL seasons?
While that's a challenging set of circumstances for anyone to overcome, isn't it also telling that he failed to produce under each and every one of them?
He beat the Jaguars and Tennessee Titans?
Awesome, but that's two anomalous victories that came years ago.
He's been in the system?
That's the most valid point of all.
Learning under Tom Brady for two years can help anyone become a better quarterback, and he's at least held his own on the rare opportunities he's seen the field. But that's still not a particularly compelling argument when myriad quarterbacks throughout NFL history have spent far more time in the same system and failed to capitalize when given a shot to run the show.
Gabbert has never played with a team this good?
Good luck convincing anyone that's true when Brady is no longer on the roster and Chris Godwin, Ryan Jensen, Carlton Davis III, Rob Gronkowski, Alex Cappa, Leonard Fournette, Jordan Whitehead, Jason Pierre-Paul, O.J. Howard, Ndamukong Suh, and other rotational players are entering free agency (or retirement) this offseason.
This squad isn't as intimidating as the 2020 crew that hoisted the Lombardi Trophy, and the offensive line could experience a free-fall from its No. 2 spot in Pro Football Focus' 2021 rankings if Cappa and Jensen decide to play elsewhere.
He's got all the respect in the locker room?
We're not exactly in a position to comment on that, and if it's great if it's true. Gabbert could very well be an excellent leader and respected voice in the locker room. That's also a status that can quickly erode if the on-field results don't lead to success.
And therein lies the rub.
Blaine Gabbert has done nothing to inspire the confidence of the Bucs head coach
Gabbert hasn't just been bad when he's taken live-action snaps. He's been one of the least effective quarterbacks in NFL history — a statement that isn't actually that hyperbolic when considering only players with a reasonable number of dropbacks.
According to Sports Math Network's total yards added metric, which factors in passing success, rushing success, fumble avoidance, and sack avoidance relative to the league average, Gabbert has added less career value than every other qualified quarterback since 1950 but Trent Dilfer. And whereas Dilfer needed 125 qualified games to plummet to the bottom of the rankings, Gabbert got there in just 54.
The Missouri product's rookie season with the Jaguars in 2011 remains the worst-graded year in that database, narrowly edging out 2018 Josh Rosen for that ignominious placement.
His PFF grades throughout his career? Similarly putrid:
2011: 31.2 (413 passing attempts)
2012: 58.3 (278 passing attempts)
2013: 38.6 (86 passing attempts)
2014: 55.0 (7 passing attempts)
2015: 65.7 (282 passing attempts)
2016: 46.2 (160 passing attempts)
2017: 45.4 (171 passing attempts)
2018: 33.6 (101 passing attempts)
2019: N/A
2020: 56.8 (16 passing attempts)
2021: 70.6 (11 passing attempts)
It's hard to tell because the numbers are so low, but those grades are indeed out of 100.
Gabbert has an NFL frame at 6-foot-5, 235 pounds. He shows escapability in the pocket and can turn nothing into something with his legs. He has a strong arm when he's given time to set his feet and uncork a deep look. On those downfield attempts, he also displays solid accuracy and can throw a laser into a tight window.
But decision-making has plagued him throughout his career, and there's only so much sideline preparation can do to prepare you for live action.
There's that necessity thing again
Gabbert could very well win games throwing to Mike Evans and a potentially re-signed Chris Godwin (once he returns from his torn ACL), especially given the strength of Tampa Bay's defensive pieces. But so could many other game-managing options if they were handed the keys. It's getting one of them that stands out as the problem, and that could be prompting Arians' comments.
This free-agency quarterback crop is uninspiring, to say the least. Jameis Winston headlines the class but probably wouldn't have much interest in returning to the Buccaneers, who drafted him No. 1 overall in 2015 but cut ties with him five years and 88 interceptions later.
Teddy Bridgewater, Mitchell Trubisky, Andy Dalton, Marcus Mariota, and Jacoby Brissett shouldn't be particularly inspiring, though they might still be upgrades if they're interested in putting on a Bucs uniform and competing for a starting job.
Pursuing a superstar on the trade market — Aaron Rodgers, Russell Wilson, or Deshaun Watson — feels unlikely given the asset equity required in any such transaction, and even an uninspiring veteran such as Carson Wentz or Jimmy Garoppolo might be a bit too pricy given all the other contracts that must be handed out.
Re-signing Gabbert, an unrestricted free agent not expect to have much of a market, on the cheap might actually be the most cost-effective option as a bridge between eras while Kyle Trask, the No. 64 overall pick of the 2021 NFL Draft who has yet to make his professional debut, continues his behind-the-scenes development.
But "cost-effective" doesn't equal "good," and that's a shame for an organization that otherwise has the infrastructure to compete for a second title in a three-year stretch.
Arians may just be doing his job and supporting a player who will at least be in contention for the starting job. That still doesn't mean Gabbert has any business actually settling in as the leading option for a contender.
"Yeah, we got a very capable one…" the head coach said, per NFL.com. "[He] knows the offense, he's more than capable of doing it, and if he's our guy, I'm comfortable."
Whoops, sorry. Even if it's eerily reminscent of the present-day quote, that's not about Gabbert. It's instead what Arians said about Drew Stanton back in 2013, and we all saw how that turned out.