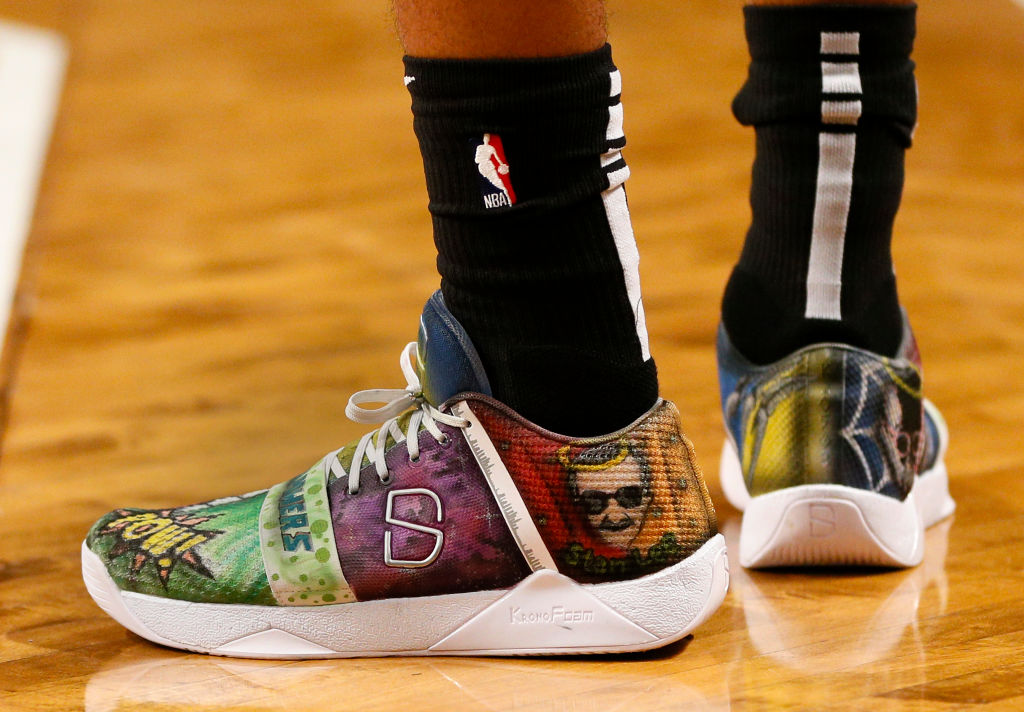 How Brooklyn Nets guard Spencer Dinwiddie Started Wearing the NBA's Most Unique Sneakers
Plenty of NBA starts have their own custom shoes. Brooklyn Nets guard Spencer Dinwiddie, however, has the NBA's most unique sneakers.
In the modern NBA, sneakers are a mark of status. While you might have grown up wearing a pair of Jordans, everyone wants to be big enough to have their own signature shoes. Not every sneaker is created equally, though. Just ask Brooklyn Nets guard Spencer Dinwiddie.
Dinwiddie might be one of the league's marquee stars, but that doesn't hold back his footwear. He's actually wearing some of the NBA's most unique sneakers.
Spencer Dinwiddie's road to the pros
While most of the NBA players with custom sneakers cruised to NBA success, that wasn't the case for Spencer Dinwiddie. While he gained national recognition as a high school senior, the major programs didn't come calling. He enrolled at the University of Colorado, looking to take the next step in his basketball career.
Dinwiddie developed in college, but his career would soon hit a snag. As a junior, the guard tore his ACL; while he was recovering, his mind turned towards the NBA. The Pistons made him the 38th pick of the 2014 draft, but the guard spent most of his time in the G-League.
The Pistons traded Dinwiddie to Chicago, where he was waived, signed for training camp, and waived again. Rather than giving up on his NBA dream and heading for Europe, the guard returned to the G-League. He averaged nearly 20 points a night, and, in December, the Brooklyn Nets came calling.
Dinwiddie found a home in Brooklyn and never looked back. He signed a contract extension with the club in 2019 and has been averaging around 16 points and five assists per game.
Dinwiddie's unique sneaker style
As you might assume from Spencer Dinwiddie's rocky road to the pros, no one offered him a sneaker deal. The point guard saw that as an opportunity, however.
Dinwiddie decided to create his own sneaker, the K8iros. While each shoe is crafted to his specifications, there's one unique, aesthetic choice. The sneakers are intentionally plain, which gives the guard a chance to cover each shoe with custom artwork.
"It was a situation where I got back into the NBA out of the G League and signed with Brooklyn in 2016 and none of the marquee brands wanted to sign me," Dinwiddie explained. "I also happened to be a young man who used to draw shoes when he was younger. I wanted to have a shoe as a professional, and that sparked that creativity and thought process of what that could be like if I could have my own."
He studies each season's schedule, carefully charting out which artwork to unveil for each game. A trip to Washington, D.C., for example, called for Harriet Tubman-inspired art; a game in Detroit saw Dinwiddie break out shoes honoring Barack Obama, Oprah, and others.
More than just a fashion statement
While Dinwiddie's custom artwork makes his sneakers distinctive, that's not the only unique thing about them. Each pair of shoes also serves a greater cause.
K8iros sneakers are available for sale, but Dinwiddie also auctions off his custom, game-worn shoes. The profits from those sales go towards the Dinwiddie Scholars program, which helps to send low-income students to college.
"That's special," Dinwiddie told ESPN's Nick DePaula. "Especially for someone that's not a LeBron-level player, where he can send a statement to the media and everyone will donate. For me to have that grassroots following … being able to send a kid to college with that was pretty cool."
It would be easy to see your own custom sneakers as the culmination of your dream. Spencer Dinwiddie, however, saw them as an opportunity to help others. That, along with the shoe's custom artwork, is pretty unique.