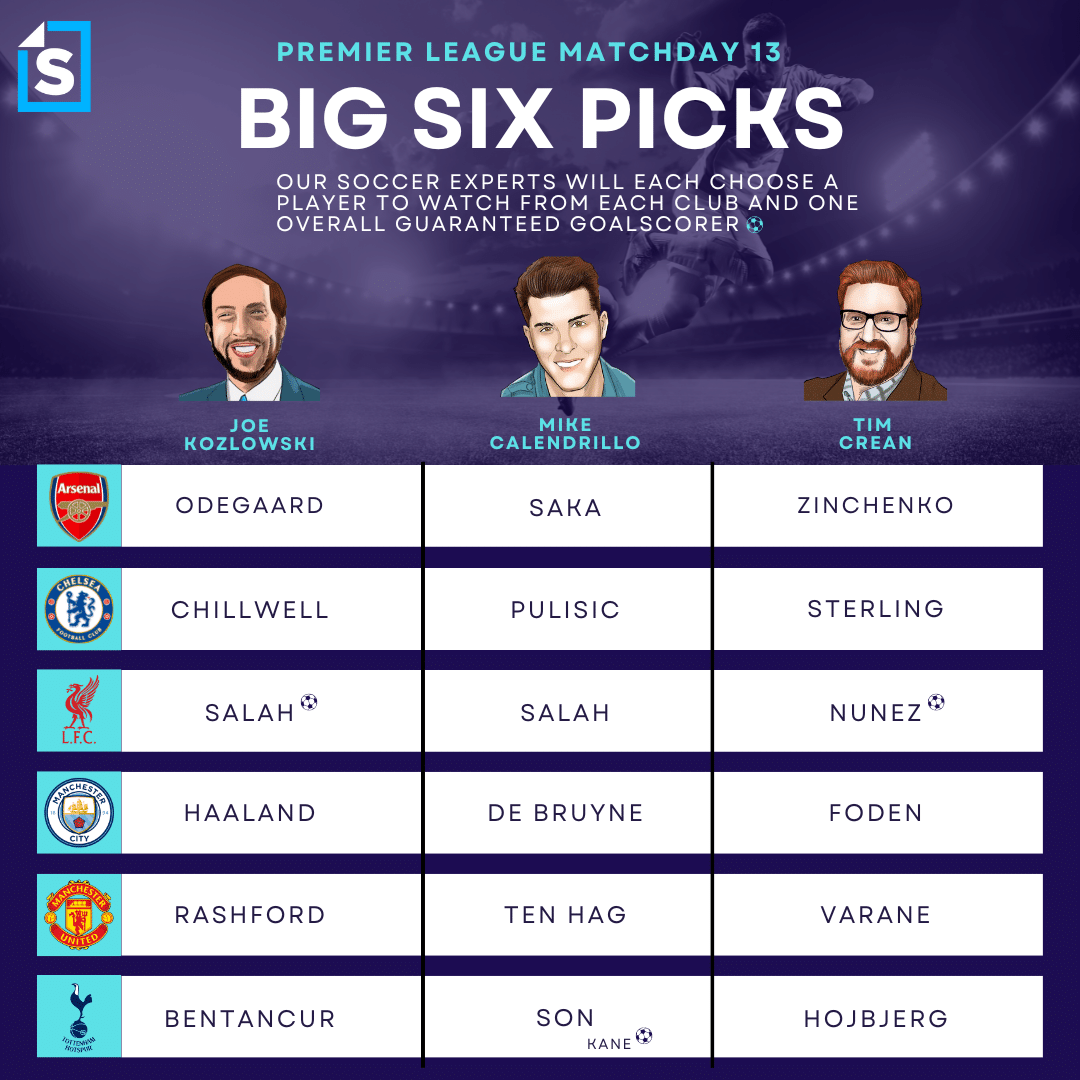 Sportscasting Big 6 Picks: Premier League Matchday 13
Check out the most important players and managers from every Premier League match this weekend as well as out guaranteed goalscorer picks.
After a mid-week slate of Premier League games, the EPL tees it back up on Saturday for Matchweek 13. Most of the Big Six have relatively easy matchups (Manchester City vs. Brighton, Liverpool vs. Nottingham Forrest, Arsenal vs. Southampton, Tottenham vs. Newcastle) but the headline match of the week is Manchester United vs. Chelsea at Stamford Bridge.
To get you ready for all the Premier League soccer coming your way this weekend, the experts at Sportscasting have put together the most important player in each game as well as a guaranteed goalscorer in this week's Big Six Picks.
Premier League matchday 10 picks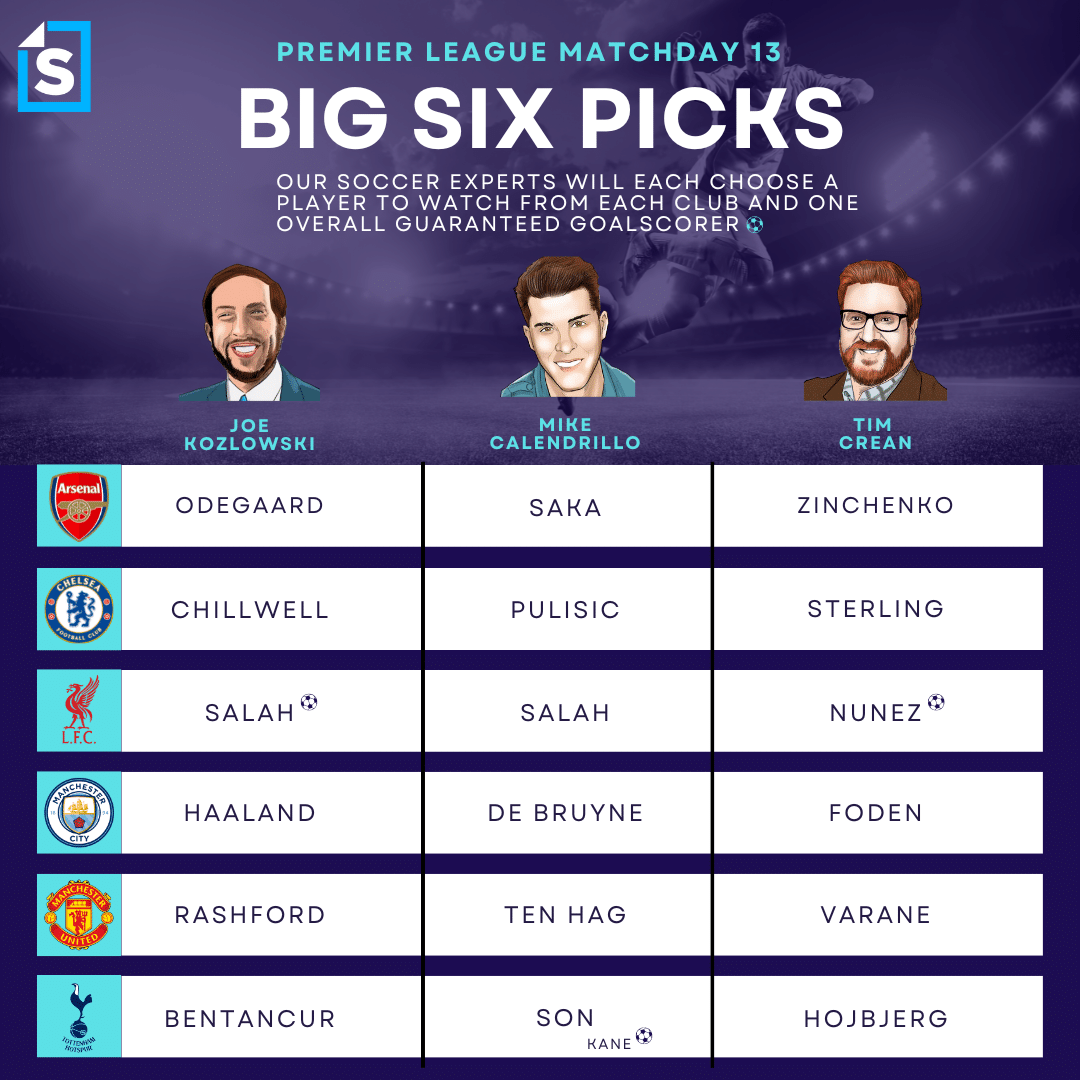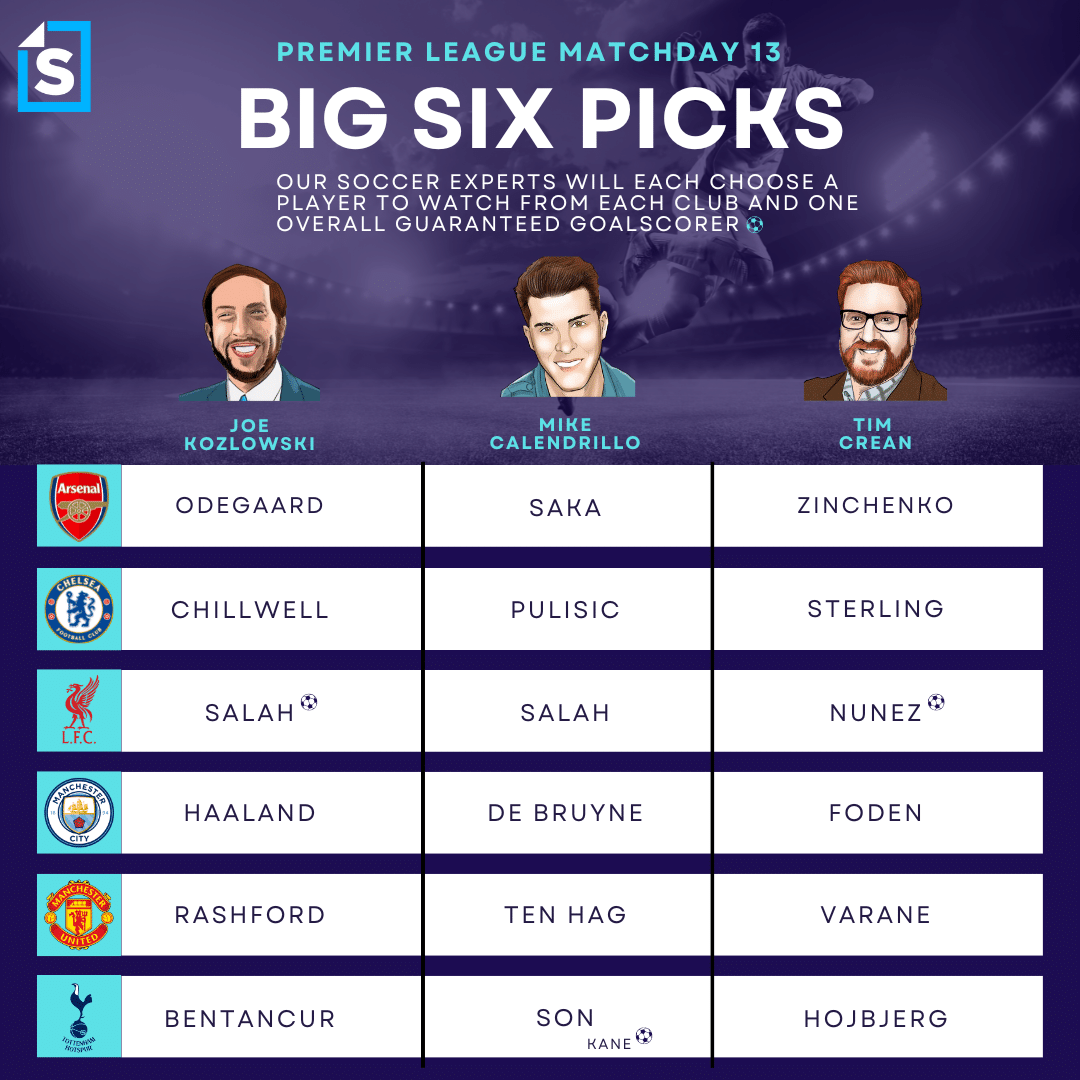 Manchester United vs. Chelsea
Joe Kozlowski: Marcus Rashford – With Anthony Martial sidelined and Cristiano Ronaldo looking like little more than a rotation option, most of United's offensive load falls to Rashford. If the Red Devils are going to take anything away from their date with an improved Chelsea side, they'll need to put the ball into the back of the net. Rashford is as good a candidate as any to do that.
Mike Calendrillo: Erik ten Hag – By the time you read this, Ronaldo may have been released on a free transfer. At the very least, he's being left out of the squad against Chelsea. Nothing like leaving your mates high and dry with time still on the clock, in perhaps, the club's best performance to date this season. Will United's new manager lay down the law and demand that the club move on from CR7's pouting ways? Well, he should – and it would go a long way to proving no name is bigger than the one found on the crest. 
Tim Crean: Raphael Varane – The big Frenchman shut down Harry Kane in United's 2-0 win over Tottenham last week. This week, against Chelsea, there isn't a singularly talented player up front like Kane. In some ways that makes it more difficult for Varane, who will have to deal with attacks on all fronts and still hold up. 
Liverpool vs. Nottingham Forrest
Joe: Mohamed Salah – After being substituted during a loss to Arsenal, the Egyptian responded with an excellent goal to beat Manchester City. While I don't think the Reds' problems are completely solved, I do think Salah will be able to score against Nottingham Forest's weak defense.
Mike: Mohammad Salah – This is the first meeting for Liverpool and Nottingham Forest since 1999, so no one really knows what to expect in this matchup, aside from Forest having trouble finding the back of the net via their negative 16 goal differential. However, what we do know is that Salah loves to score against newly promoted sides – as he's been involved in 29 goals in 30 Premier League appearances (18 goals, 11 assists).
Tim: Darwin Nunez – With Diogo Jota out until after the Worl Cup, it puts more pressure on the rest of the Liverpool forwards. We all know what Mo Salah and Roberto Firmino can do. Now it's time for Darwin Nunez to step up and show he can carry a team for a few weeks with his scoring. He did it against West Ham midweek. Now he needs to keep it going against Nottingham Forest. 
Arsenal vs. Southampton
Joe: Martin Odegaard – In the past, trips to Southampton have proven to be a tricky affair for Arsenal. The Gunners are looking like a new team, though, and Odegaard has been at the center of that. This will be the sort of match where the North London side shows their quality and controls the game, and the Norwegian midfielder is the perfect player to get his foot on the ball and run the show. 
Mike: Bukayo Saka – Remember when Southampton beat Arsenal 1-0 last April? It seems like a long time ago, mostly due to the change of confidence and mentality in the Arsenal dressing room. Perhaps no one has made a 180 more so than Bukayo Saka, who has been involved in more league goals for the Gunners this campaign than anyone else (4 goals, 4 assists). Saka will look to keep the good times rolling, considering all eight of his goal involvements have come in his last seven appearances. 
Tim: Oleksander Zinchenko – The former Manchester City full-back has played in five Premier League games this season and missed seven. Mikel Arteta gave a positive ZInchenko injury update ahead of the team's Europa League match vs. PSV, but the Ukrainian didn't play in the match. Arteta also said he'll be back for Arsenal before the World Cup, and there are only six matches until the big break. The prediction here is that Zinchenko finally makes his return vs. Southampton.
Chelsea vs. Manchester United
Joe: Ben Chilwell – While Graham Potter's rotation makes this a bit tricky, I'm assuming Chilwell will play since Marc Cucurella played left-wingback during the week. No matter who occupies that role, though, the position will be important against Manchester United. Not only will Chilwell (or Cucurella) have to contend with the duo Antony and Diogo Dalot, but he'll have to play a role in attack, too.
Mike: Christian Pulisic – No player on the pitch created more chances than Christian Pulisic when he came on against Brentford last week (3 in 34 minutes). So, will he get the nod from the opening whistle as the Blues hang on to 4th place by just a single point over United? Only Graham Potter knows – but Captain America deserves another shot for a club that needs more than the 15 goals scored thus far this season. 
Tim: Raheem Sterling – Since Graham Potter has taken over the Blues, he's often utilized Raheem Sterling as a wide midfielder or even a wingback. That's why the former Man City star hasn't scored since a UCL match in mid-September. If Sterling is going to play that role, it's fine, but he needs to be more creative, and that's never been his strong suit. 
Manchester City vs. Brighton
Joe: Erling Haaland – After sitting out a Champions League date with Copenhagen, losing to Liverpool, and having a midweek fixture postponed, Manchester City and Erling Haaland will face Brighton with a point to prove. The Seagulls haven't looked the same without Graham Potter and, while Haaland seems like a generally cool customer, he'll likely hit the pitch as angry as a scientifically-created, football-playing robot can be.
Mike: Kevin De Bruyne – The stir that scores the drink, De Bruyne has created 33 chances – and more assists (9) than any other Premier League player this season. Versus Brighton at home, the Belgian has also been fantastic, scoring one goal and notching three assists. With so many scoring options at City, having someone like De Bruyne to put the ball on a plate is almost unfair.
Tim: Phil Foden – A team like Brighton at home sandwiched between Liverpool and Borussia Dortmund would usually be a classic trap game for City. However, with the loss to Liverpool, they'll be focused on beating the Seagulls on Saturday, and Phil Foden will want to get one back after VAR disallowed his goal vs. Liverpool. 
Tottenham vs. Newcastle
Joe: Rodrigo Bentancur – Thanks to some injuries, Antonio Conte has switched from a 3-4-3 to more of a 3-5-2. That means at least one midfielder has to be more adventurous, and against Manchester United, the Uruguayan filled that role (it was a poor performance, but that's beside the point).. Newcastle will represent a good test for Spurs on the back of a tough trip to Old Trafford, so it will be interesting to see 1) How Bentancur can fill that role and 2) If he can strike the right balance between supporting the attack and doing his defensive duties against a Magpies' attack that boasts some talented players.
Mike: Son Hueng-min – Spurs were dreadful against United. Aside from Hugo Lloris (I can't believe I wrote that), there was no life in the team. Weird, that was the result following the neverending saga that is Antonio Conte potentially packing his bags for Juventus (that's sarcasm). Without the dynamism and ability to stretch the pitch that Richarlison and Dejan Kulusevski bring, Sonny will be tasked with doing just that – thanks in large part to Antonio Conte's midfield-heavy bench. C'mon man!
Tim: Pierre-Emile Hojbjerg – Manchester United dominated the Spurs midfield on their way to a 2-0 victory, and Pierre-Emile Hojbjerg struggled to break the United press. Hojbjerg won't see that kind of pressure from Newcastle, but he better start impressing Antonio Conte soon because midfield help could be on its way in January if the Danish star can't figure it out. 
Guaranteed Goalscorer
Joe (2-6 record): Mohamed Salah – Know how a classic fantasy football strategy is to pick whatever defense is playing against a cellar dweller? This is the soccer equivalent of that. For all of Salah's struggles, let's just say I don't have much faith in Forest's defense, especially against a Liverpool squad looking to make up some ground.
Mike: (7-1): Harry Kane – England's captain has five goals and three assists in his last five league matches versus Newcatle. Despite scoring just one home goal against the Magpies back in 2018, Kane will look for revenge after being left off the scoresheet during the midweek match against Manchester United. 
Tim: (6-2): Darwin Nunez: My Erling Haaland streak ended against Liverpool, so we'll take a break from the City star (although he will score against Brighton). Nunez scored aganst West Ham on Wednesday and will keep the good time rolling against an overmatched Nottingham Forest.