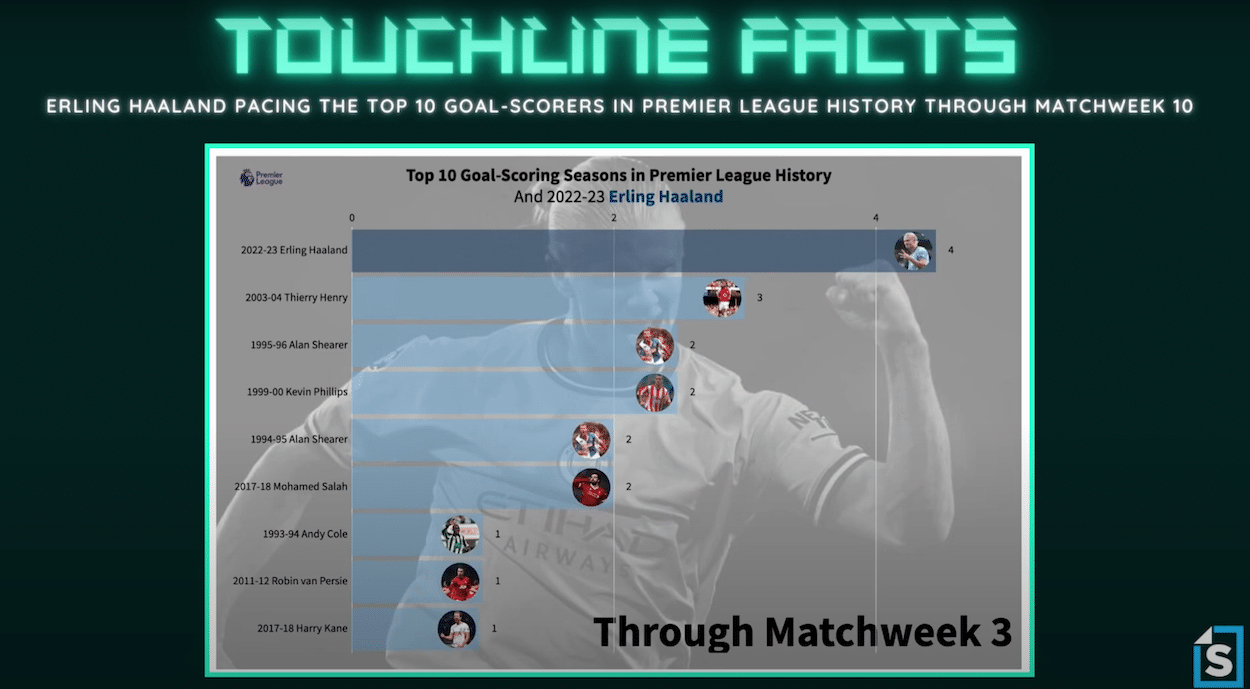 How Manchester City Striker Erling Haaland Stacks up vs. All-Time Top Premier League Goal Seasons
With 15 goals in nine games, check out how Manchester City striker Erling Haaland compares to the Premier League's all-time best seasons.
Manchester City's 22-year-old sensation Erling Haaland is setting the English Premier League on fire right now. After coming over from Borussia Dortmund this summer, it would have been entirely understandable if it took Haaland some time to adjust to playing in the best soccer league in the world. Instead, Haaland dominated from the jump, pouring in 15 goals in his first nine games.
This puts him on pace for 63 Premier League goals this season. If that happened, it would demolish the single-season EPL goals record. Currently, two players share that mark. Back in the early 1990s, the EPL had 22 teams, and each played a 42-game schedule. During that period, Newcastle's Andy Cole scored 34 in 1993-94, and Blackburn's Alan Shearer did it in 1994-95
To start the 1995-96 season, the EPL dropped two teams and went to a 38-game calendar. Since then, there have been four players to score 30 goals in a season, three players (and four seasons) of 31 goals, and in 2017-18, Liverpool's Mohamed Salah scored 32 to earn the 38-game single-season Premier League record.
As Haaland sets his sights on both marks, let's take a look at how Haaland stacks up against his historical competition through Matchweek 10.
Erling Haaland vs. Premier League all-time single-season goal scorers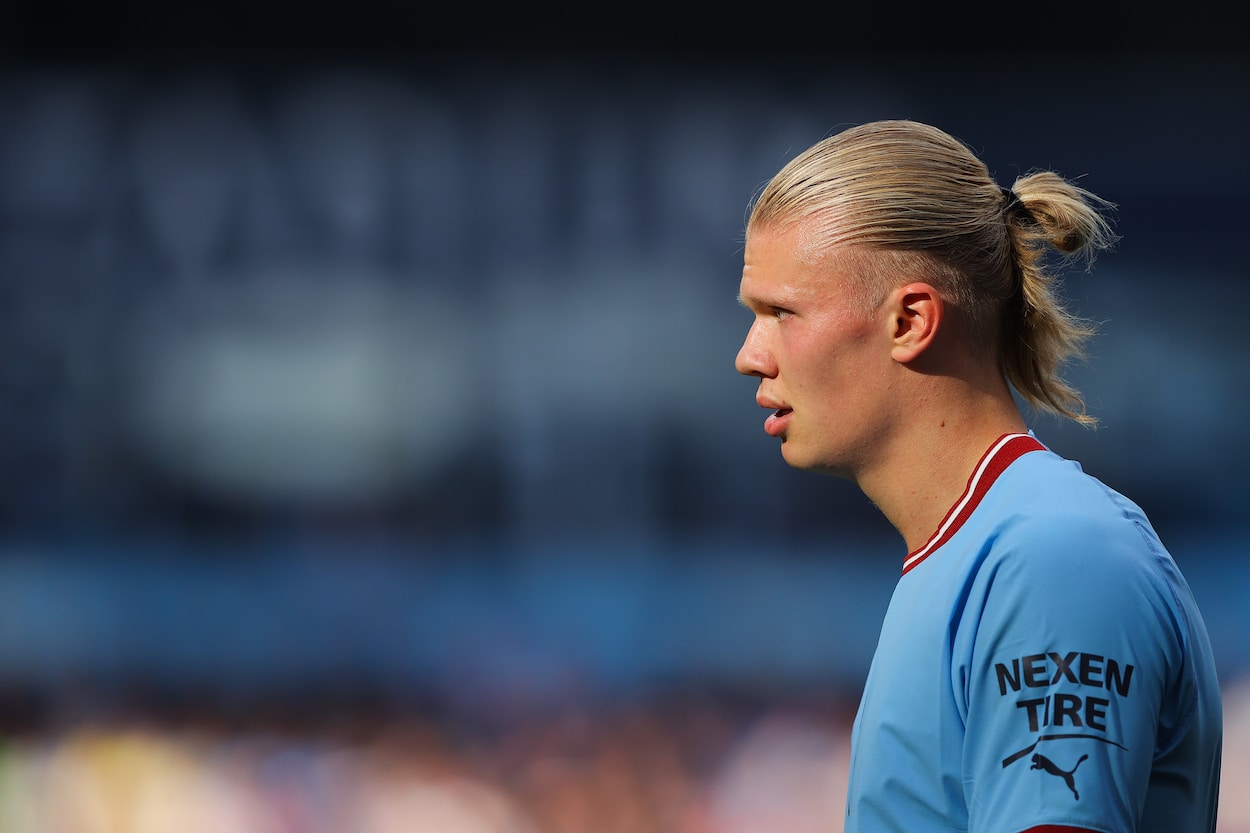 In the embedded YouTube video below (or watch here), you can see how Erling Haaland's goal-scoring pace matches up to the EPL players who've scored 30 or more goals in a single season. For context, here is the list:
Alan Shearer, Blackburn: 34 goals, 1994-95
Andy Cole, Newcastle: 34 goals, 1993-94
Mohamed Salah, Liverpool: 32 goals, 2017-18
Luis Suárez, Liverpool: 31 goals, 2013-14
Cristiano Ronaldo, Manchester United: 31 goals, 2007-08
Alan Shearer, Blackburn: 31 goals, 1995-96
Alan Shearer, Blackburn: 31 goals, 1993-94
Harry Kane, Tottenham: 30 goals, 2017-18
Robin van Persie, Manchester United: 30 goals, 2011-12
Thierry Henry, Arsenal: 30 goals, 2003-04
Kevin Phillips, Sunderland: 30 goals, 1999-00
These are the players Erling Haaland is aiming at in the 2022-23 season. Through Matchweek 10, the Manchester City star is five goals ahead of where any other player was at the same point. In fact, only Phillips and Van Persie had double-digit goals by this point in their record seasons.
There are some interesting notes from this chart race. One is that Manchester United's Cristiano Ronaldo had the fewest goals to this point with just three, while Phillips and RVP both had 10.
As for Shearer's three incredible seasons, he was at three different points through 10 matchweeks, and his best start wasn't in the same year as his best finish. In 1995-96 Shearer set his best pace, scoring nine in the first 10 weeks. In his record-setting season, he "only" had seven at the same point, and in his first 30-plus-goal season, he only had four.   
The most interesting story of this data is about Luis Suárez. The Liverpool star received a 10-game suspension at the end of the previous season for biting (yes, biting!) Chelsea defender Branislav Ivanović. The suspension ran into the 2013-14 season, and the Uruguayan forward sat out the first five games of the season.
When the ban ended, Suárez came back and started a tear. He scored two in his return vs. Sunderland, one in the next match vs. Crystal palace, and netted a hat trick two games later vs. West Brom to have six goals through Matchweek 10, despite missing half the games.
As for Erling Haaland, the big Norwegian continues his assault on this incredible list of names on Sunday as Manchester City travels to Anfield to take on Liverpool.
Have thoughts on this topic? Keep the conversation rolling in our comments section below.