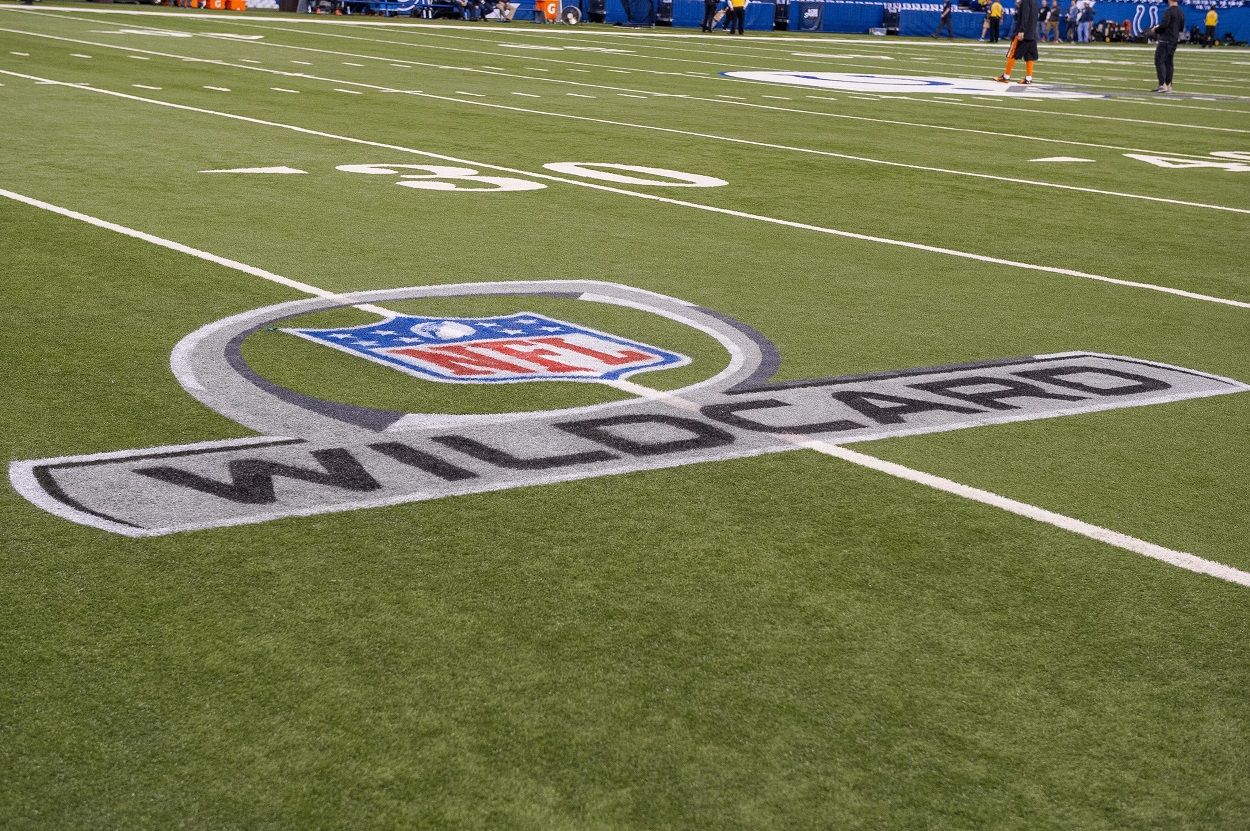 Sportscasting NFL Super Wild Card Weekend Staff Picks
The Sportscasting NFL staff picks winners for Super Wild Card Weekend.
With the first 272-game regular season in the books, it's now time for that beautiful time of year known as the NFL Playoffs.
For just the second time, the NFL postseason features 14 teams, a dozen of which will compete in the stretch dubbed Super Wild Card Weekend. But what's changed from a season ago is that the sixth and final game on the slate will be contested on Monday night. With the top-seeded Green Bay Packers and Tennessee Titans sitting home, here's how the schedule shakes out:
(5)Las Vegas Raiders at (4)Cincinnati Bengals — Saturday, January 15, 4:30 p.m. Eastern — NBC, Peacock, Universo
(6)New England Patriots at (3)Buffalo Bills — Saturday, January 15, 8:15 p.m. Eastern — CBS, Paramount+
(7)Philadelphia Eagles at (2)Tampa Bay Buccaneers — Sunday, January 16, 1:00 p.m. Eastern — FOX, FOX Deportes
(6)San Francisco 49ers at (3)Dallas Cowboys — Sunday, January 16, 4:30 p.m. Eastern — CBS, Paramount+, NICK, Amazon Prime Video
(7)Pittsburgh Steelers at (2)Kansas City Chiefs — Sunday, January 16, 8:15 p.m. Eastern — NBC, Peacock, Telemundo
(5)Arizona Cardinals at (4)Los Angeles Rams — Monday, January 17, 8:15 p.m. Eastern — ESPN, ABC, ESPN2, ESPN+, ESPN Deportes
Here's who the Sportscasting NFL writers see taking their first steps toward Super Bowl 56.
(5)Las Vegas Raiders at (4)Cincinnati Bengals
Brandon Austin: Hats off to the Raiders for making the playoffs amid all of the controversy this year. They're a resilient bunch, but they don't have enough on either side of the ball to knock off the Bengals. Look for Cincy to make another statement.
Tim Crean: Everything about this game suggests the Bengals should make light work of the Raiders except for one thing. The Raiders' season makes no logical sense. Also, not that the Raiders have a ton of playoff-tested guys on the roster, but this is the first time the lights will be bright for the young Bengals and that doesn't often turn out well. That's why I'm taking the Raiders 27-21 (in overtime, of course). 
Jake Elman: The good news is that, barring injury or a positive COVID test, Las Vegas Raiders quarterback Derek Carr will finally start a postseason game for the first time in his eight NFL seasons. The bad news is that it'll come against Joe Burrow, Trey Hendrickson, and the upstart Bengals. Give me the Bengals winning 27-13.
David Esser: The Raiders are a major feel-good story. However, the Bengals have the better quarterback, the better head coach, and home-field advantage. I have the Bengals winning by two scores, at least. 
Jeff Goldberg: The Curse of Bo Jackson will never be stronger than with the Bengals trying to beat the Raiders, and given the amazing resiliency of this Raiders team, I'm riding the Autumn Wind into the Divisional Round. 
Andrew Kulha: I'm really high on what Joe Burrow and Ja'Marr Chase have been able to do this season and I believe their win over the Chiefs proved that they can beat anybody in the AFC playoffs. Derek Carr has a ton of heart and I don't like betting against him, but the Bengals already beat Las Vegas once this season, 32-13, and I'd expect a similar result in this game.
Luke Norris: So much of me wants to pick the Raiders here given the fight they've shown all season long, obviously including that epic Week 18 battle against the Chargers. But I think Joe Burrow and Ja'Marr Chase will prove to be too much for the Vegas defense to handle. I can see Derek Carr & Co. keeping it close for a bit, but it'll be the Bengals moving on in the end.
Matt Wadleigh: The Raiders snuck into the playoffs in the best game of the season. Unfortunately, Joe Burrow and the Bengals are too much for the Las Vegas defense. If it wasn't for the Chargers' poor first quarter, LV would be watching from home. Bengals win, 31-20.
(6)New England Patriots at (3)Buffalo Bills
Brandon Austin: The Patriots hype train sure has died down. Don't expect a repeat of the infamous wind game. Mac Jones will have to make plays with his arm, and I don't trust him to do that in the playoffs. The Bills are the better team right now and have the momentum.
Tim Crean: The temperature at kickoff in Orchard Park will be 1-degree Farenheight. Bills coach Sean McDermott and his coaching staff learned something in Week 13 and, this time, won't let Mac Jones — bundled up to his eyeballs in cold-weather gear — get away with throwing just three passes. The Bills end Jones' rookie season unceremoniously 30-10.
Jake Elman: Between the strong defenses and the threat of inclement weather, this has all the makings of a low-scoring game. Historically, the odds would favor Bill Belichick here. In reality, I'm going with the Bills, if only because they've finally unleashed third-year running back Devin Singletary. Look for "Motor" to have a big night in a 17-7 Bills win.
David Esser: Typically speaking, I'd never bet against Bill Belichick in January. However, playoff games typically come down to whichever team has the better guy under center. No way am I putting my faith in Mac Jones over Josh Allen. 17-13 Bills.
Jeff Goldberg: It's starting to look like the "three-pass" game was the zenith of the Patriots' season. This isn't the Jaguars they're playing, in another brutal weather scenario. The torch has to get passed eventually, and Josh Allen will never have a better chance than Saturday night to do it.
Andrew Kulha: To me, playoff games come down to quarterback play. No matter how many times Bill Belichick tries to run the ball this will ultimately come down to a rookie quarterback in Mac Jones versus Josh Allen, who can be a borderline MVP when he's on his game. I'll go with the Bills.
Luke Norris: As I've been picking the Bills to go to the Super Bowl since our Midseason Awards back after Week 9, I'm essentially required to go with Buffalo here. But we all remember what happened the last time these two teams played in bad weather, right?
Matt Wadleigh: Oof, this will be fun. Will Mac Jones deliver? Will Bill Belichick draw up a master game plan once again in Buffalo? It's just too hard to count out the Josh Allen-Stefon Diggs duo. Buffalo wins as Diggs crosses 100 yards, 24-20.
(7)Philadelphia Eagles at (2)Tampa Bay Buccaneers
Brandon Austin: The Bucs are down some key players, but they also get a bunch of guys back this week. Tom Brady and the crew will have to fight to get out of the NFC, but I don't see Philly presenting a stiff test. The Eagles' strength is running the ball and the Bucs should be able to neutralize that. Tampa Bay wins big.
Tim Crean: The Buccaneers simply have too many injuries this season to repeat as Super Bowl champs. That said, it won't be Philadelphia that exposes Tampa Bay's lack of depth. Tom Brady and company should cruise through this one, 34-11 (which is also Brady's postseason record). 
Jake Elman: Tom Brady could take the field with Mike Evans and two fans fresh from the tailgate starting at receiver. I'll still take the Buccaneers, 24-14. 
David Esser: This has all the makings of a blowout on paper. However, early weather reports out of Tampa Bay favor the Eagles' style of run-first football. It's supposed to rain pretty hard. However, this is still Tom Brady we're talking about. 34-24 Buccaneers.
Jeff Goldberg: Doug Williams and Lee Roy Selmon have been playing great … wait, this isn't 1979? It says Buccaneers-Eagles. So confused. Anyway, I'm going with the GOAT here and expect the Buccaneers to score enough points to take the Eagles' running game out of the equation.
Andrew Kulha: I have a hard time picking against Tom Brady in the playoffs. He's got a bit of experience on his side, and betting against him never seems to work out. This feels like a potential warm-up game for the Buccaneers.
Luke Norris: Brady and the Bucs will fall at some point this postseason, but it won't be on Sunday afternoon against the Eagles.
Matt Wadleigh: Unless Nick Foles plays for the Eagles, Tom Brady is simply too much for Philly. Who guards Mike Evans? Who sticks with Rob Gronkowski? Tampa starts the Super Bowl repeat with an easy victory, 34-13.
(6)San Francisco 49ers at (3)Dallas Cowboys
Brandon Austin: The Cowboys are much improved and deserve credit. However, the Niners are live dogs. I like them to establish the run early to take pressure off Jimmy G. This one could go either way, but the 49ers have more recent playoff experience. San Fran pulls off the upset on the road.
Tim Crean: These are two of the biggest feast or famine teams in the NFL, so this game truly could go either way. The differentiator here is the Dallas D. Micah Parsons is back from the COVID-19 list and defensive coordinator Dan Quinn will be showing off to get a new head coaching job. Dallas wins 20-17.
Jake Elman: These two teams have a long playoff history, but there aren't many players on either side old enough to remember Steve Young and Troy Aikman's legendary clashes. In the battle of quarterbacks, I'm taking Jimmy Garoppolo and the 49ers in a 30-20 upset.
David Esser: A sneaky underrated game from this weekend's slate, 49ers-Cowboys could come down to a handful of plays. The Cowboys have the better quarterback and the better roster. However, the 49ers have really hit their stride over the past two months or so. I'm taking San Fran in a 31-28 nailbiter.
Jeff Goldberg: I actually like the Cowboys to go all the way to the Super Bowl behind their tremendous defense. I think Dak Prescott is playing with a little extra fire after all the slump chatter and Jimmy G is always one step on the banana peel away from disaster. I'm going with Dallas at home.
Andrew Kulha: I'm with Jeff when it comes to believing in the Cowboys' defense. They're explosive and athletic at every level and I just can't envision a world in which Jimmy Garoppolo will be able to outduel them. He's going to be a sitting duck, and we all know Micah Parsons likes animal references.
Luke Norris: Remember how I said I've been picking the Bills to go to Super Bowl 56 since the midway point of the season? Well, I've got them playing the Cowboys, so we'll continue to go in that direction.
Matt Wadleigh: The question here is which version of the Cowboys will you get? Either way, the 49ers are also hit or miss. Jimmy Garoppolo throws two early interceptions, forcing Kyle Shanahan to go to Trey Lance – and the rookie delivers a massive playoff victory in Dallas. Final score, 31-27.
(7)Pittsburgh Steelers at (2)Kansas City Chiefs
Brandon Austin: Congrats to Big Ben for making it this far, but it ends here. The Chiefs dominated the Steelers a few weeks ago and we should expect more of the same. No chance Kansas City loses this one. 
Tim Crean: Al Michaels and Cris Collinsworth will have plenty of time in the fourth quarter to wax poetic about the illustrious career of "Big" Ben Roethlisberger because this game will not be competitive. Chiefs roll 31-6. 
Jake Elman: Patrick Mahomes threw three touchdowns in a 36-10 rout of the Steelers on Dec. 26. I expect a similar, if slightly closer, result on Sunday. I'll take Mahomes and the Chiefs, 35-10, in Ben Roethlisberger's swan song.
David Esser: Look, Big Ben getting one last ride in the playoffs is awesome, but this one won't be close. The Chiefs are a billion times better than the Steelers. 40-10, Kansas City wins.
Jeff Goldberg: If the Chiefs are healthy, they are not losing at home to a team they just crushed a few weeks ago. Sorry, Ben. Have fun on the golf course.
Andrew Kulha: Remember when we thought the Chiefs were cooked? Those were the good old days for the rest of the AFC. I don't think Big Ben has any magic left in him, though I wouldn't be surprised if this game turned into a good old-fashioned shootout. Still, my gut tells me to go with Patrick Mahomes in that scenario, and I'm guessing all the stats back that up. 
Luke Norris: This might not be the blowout we saw in Week 16, but the Chiefs still win here.
Matt Wadleigh: Ben Roethlisberger extended his career one more game, thanks to Rich Bisaccia electing not to go for the tie. Sadly, the Steelers get blown out in a forgetful finale. Patrick Mahomes strikes again with 300 yards and three scores in a 41-17 victory.
(5)Arizona Cardinals at (4)Los Angeles Rams
Brandon Austin: This could be one of the more entertaining games on the slate. Both teams have given us reasons not to trust them, but they have high upside. Let's hope for a shootout. The Rams have the coaching edge, which is huge in the playoffs. LA pulls out a close one.
Tim Crean: On paper, this looks like a Monday night shootout. But the truth is, neither Matthew Stafford nor Kyler Murray have played well lately. This is going to be much more of a defensive struggle than most predict and the Rams defense has the edge there to pull out a 17-13 win. 
Jake Elman: You'll be forgiven if you decide to fall asleep at halftime. I'll take the Rams winning 23-13 in a game that is far more boring than ESPN likely hopes. Bring on the field goals! 
David Esser: Both of these teams have struggled as of late, especially at the quarterback position. Whoever makes fewer mistakes wins this ball game, and I have more faith in Sean McVay's play-calling than I do Kliff Kingsbury's. 28-24 Los Angeles.
Jeff Goldberg: The only winners here are Peyton and Eli, who get one more game. On the field, I think Matthew Stafford is right back where he was a few weeks ago, facing the Cardinals on Monday night with all sorts of question marks about his ability to win a big game. He got it done then and will do it again here.
Andrew Kulha: I just can't trust Matthew Stafford to win a playoff game. He's got all the talent in the world but almost no experience winning in big games. If this becomes a high-flying affair, expect him to make a few mistakes that end up costing the Rams the game.
Luke Norris: Arguably the toughest game of the week to call, I'll go with the Rams here. It's not that I have a ton of faith in Matthew Stafford to win a meaningful game, but I've been saying pretty much all season long how l simply can't buy into the Cardinals. No reason to start now.
Matt Wadleigh: Both of these teams had Super Bowl hype earlier in the year before tripping on their own feet. Now, they play each other for the third time this year – in Los Angeles. The Cardinals are a concerning group and just lost to the Seahawks, but the Rams lost to the 49ers. Still, give me Matthew Stafford and Cooper Kupp, 34-31 in overtime.
Schedule courtesy of NFL.com