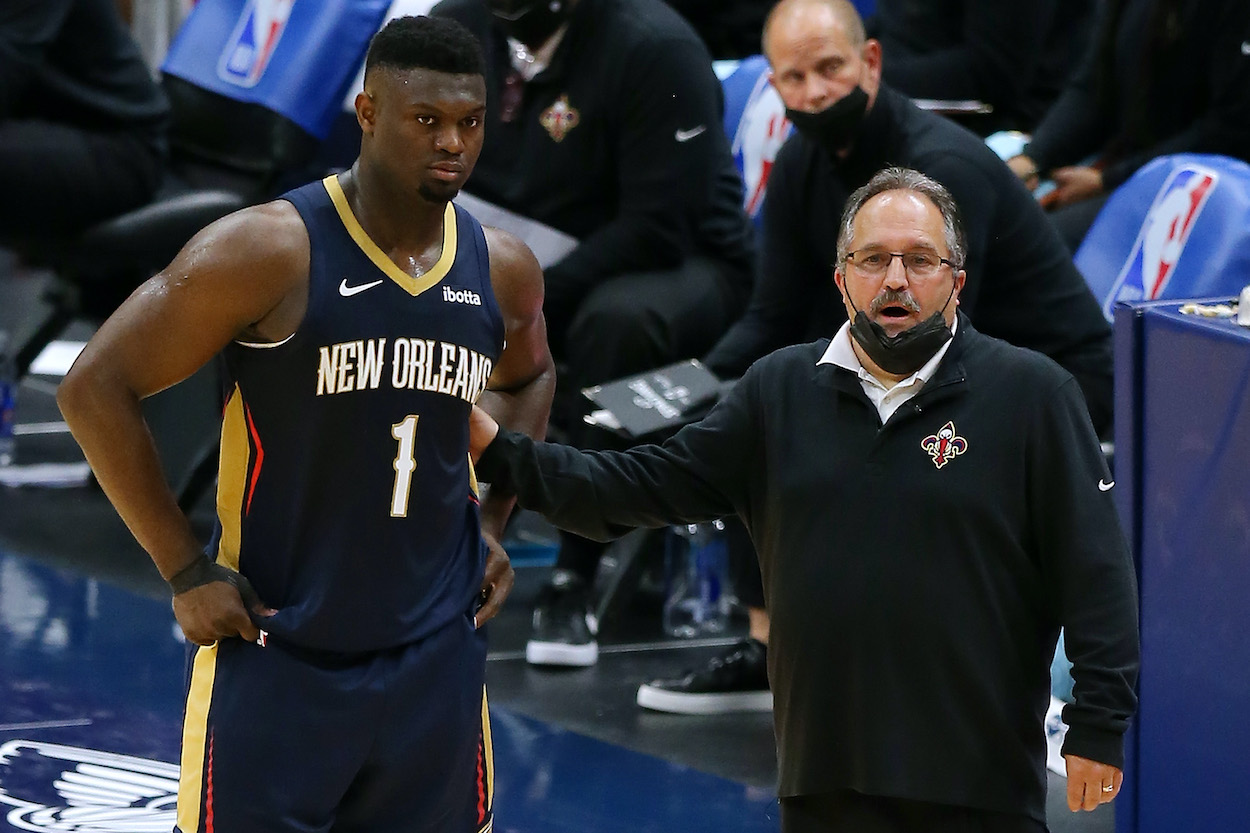 Stan Van Gundy Dishes on Whether He Thinks Zion Williamson Got Him Fired
The New Orleans Pelicans EVP of basketball operations fired head coach Stan Van Gundy after just one season. Van Gundy doesn't blame Zion Williamson, though, he blames the front office. Now Griffin has to hire a new head coach and put a stronger squad around Williamson or he could be out next in New Orleans.
The New Orleans Pelicans hired head coach Stan Van Gundy in 2020. He was two years removed from his last job with the Detroit Pistons. Pelicans EVP of basketball operations David Griffin decided to bring Van Gundy back into the NBA despite his 152-176 in Detroit.
One season later, the Pelicans went 31-41 and couldn't manage a top 10 finish in the Western Conference to get into the NBA Pay-In Tournament. Griffin quickly ended the Van Gundy era and fired him when the season concluded.
Now, Van Gundy is opening up about whether he blames the team's biggest star, Zion Williamson, for his demise with the franchise.  
The New Orleans Pelicans fired Stan Van Gundy after one year as head coach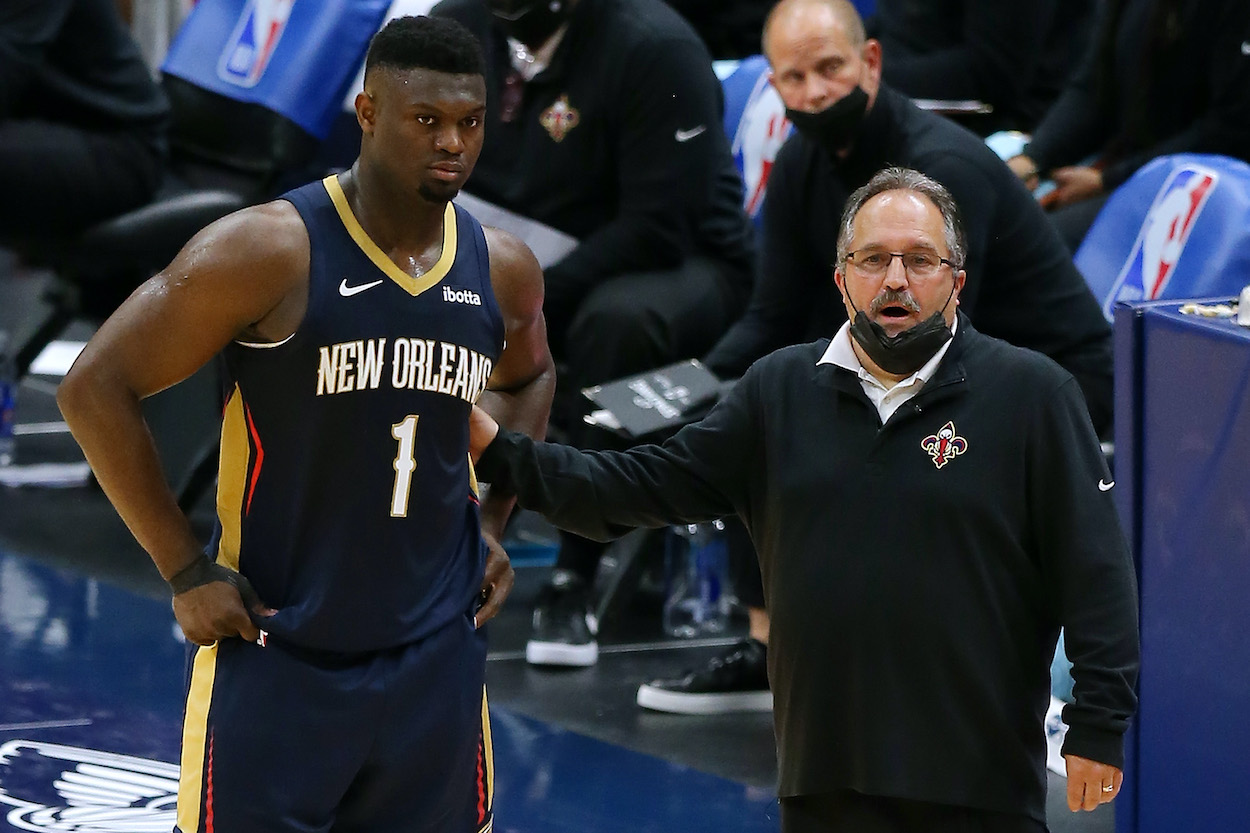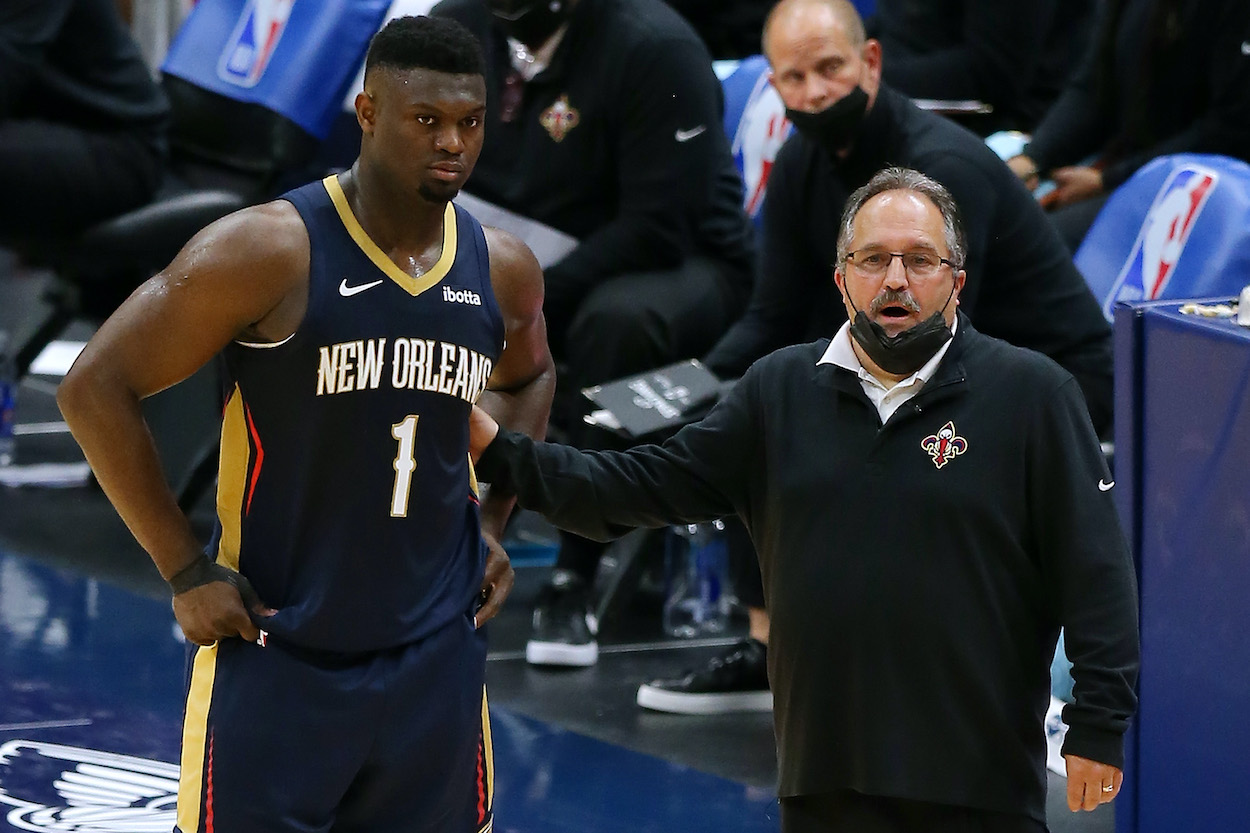 Finishing 10 games under .500 and being on the outside looking into the play-in tournament were the easy reasons to point to for Van Gundy's firing. However, the fact that the coach only got one season in the Big Easy suggests deeper issues.
The knocks on Van Gundy include his inability to stop modern, 3-point shooting offenses on defense and his lack of offensive ingenuity on the other end. The lack of on-court chemistry between Williamson and the No. 2 star in New Orleans, Brandon Ingram was also an issue.
That said, giving Williamson the ball and creating "Point Zion" did work well for the team and both Lonzo Ball and Nickeil Alexander-Walker made development strides in the 2020-21 season.
There were also factors outside of Van Gundy's control that contributed to the poor season. The team weathered several key injuries and Griffin's offseason swap of Jrue Holiday for Eric Bledsoe and Steven Adams was a major flop.
Van Gundy's firing didn't make immediate noise around the NBA. The team announced the firing on a huge NBA news day. On June 16, the Phoenix Suns put Chris Paul in COVID-19 protocol. Kevin Durant also dropped 49 points against the Milwaukee Bucks the night before, and the Los Angeles Clippers announced Kawhi Leonard would miss time (ultimately the rest of the Clippers' playoff season) with a knee injury.
Van Gundy says he doesn't blame Zion Williamson or any player for his firing, he blames the front office
While his time in New Orleans didn't work out like he surely hoped, Van Gundy doesn't blame his superstar player for the exit. In fact, he doesn't blame any players. He actually hates it when players are blamed for NBA coach firings.
During an appearance on the STUpodity podcast, Van Gundy told host and longtime Dan Le Batard sidekick Stugotz:
I hate when it gets put on players that players are getting coaches fired and things like that. I think that makes players look bad, and I don't think that's fair. Players certainly have the right to express their opinion to people and things like that, but front offices and owners make decisions, and they are the ones who make decisions to fire people. That should never be placed on players.
Despite reports that Williamson's family wasn't happy with Van Gundy, the coach did nothing but heap praise on the former Duke superstar. "I know this, regardless of what happened in that regard, Zion's no coach killer," Van Gundy said. "He's a guy who is gonna help you win a lot of games. He plays the game the right way. One of the things I'll miss is the opportunity to continue to coach him."
He did, however, say that his firing came down to disagreements with Griffin and the front office.
"We just looked at coaching totally different," Van Gundy told Stugotz. "That became probably a little bit during the season but certainly after the season. We were on two totally different pages. Who's right and who's wrong is up to anybody's individual perspective, but we certainly did not see things the same way."
Who will be the Pelicans' next head coach? 
Just like Griffin and the Pelicans weren't in any hurry to fire Stan Van Gundy after the season, they're also not rushing to hire a head coach.
Early reports stated that the franchise was looking at candidates such as Ime Udoka and Jason Kidd, who the Boston Celtics and Dallas Mavericks have already hired, respectively. They also missed out on Rick Carlisle (Indiana Pacers) and Chauncey Billups (Portland Trail Blazers)
According to NOLA.com, two candidates have emerged as frontrunners for the job: Brooklyn Nets assistant Jacque Vaughn and Milwaukee Bucks assistant Charles Lee. At 46- and 36-years-old, respectively, either of these candidates would give the Pelicans an injection of youth that would match their young team.
The 2021 offseason should be an active one for the Pelicans, with trade rumors circling in addition to the coach situation. Griffin needs to hit home runs in both these areas soon, or he could be the next one out the door in New Orleans.
All stats courtesy of Basketball Reference