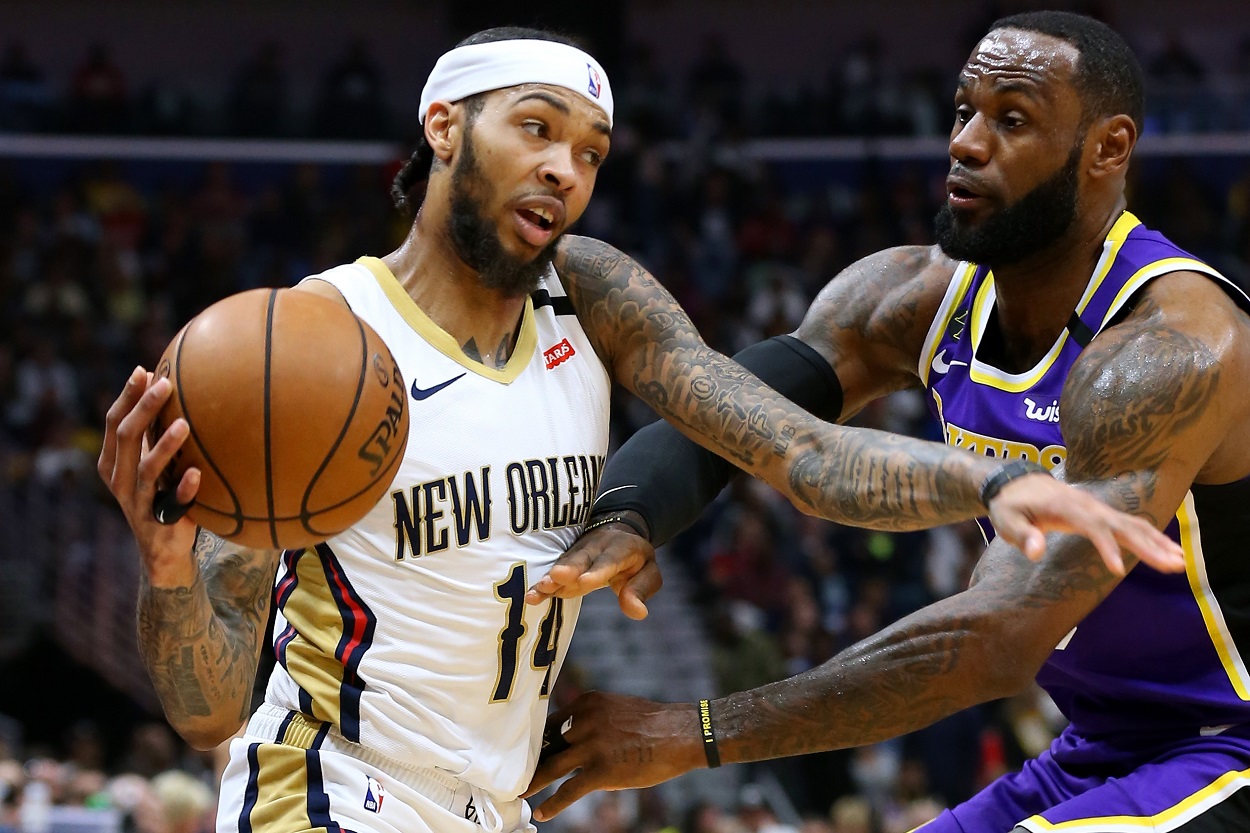 Brandon Ingram Shaded LeBron James Something Fierce While Hyping Zion Williamson
Brandon Ingram seemed to throw a little shade at former Lakers teammate LeBron James while hyping up Pelicans running mate Zion Williamson.
It might be a good thing that New Orleans Pelicans forward Brandon Ingram didn't make his second consecutive NBA All-Star Game as there could have been a very awkward moment next Thursday night during the ASG draft when LeBron James, who will captain one of the teams opposite Kevin Durant, could have had to select his former Lakers teammate.
And why exactly would that be awkward?
Well, did you hear what Ingram said — or didn't say — on Wednesday when hyping Pelicans teammate Zion Williamson? Don't worry, it'll all make sense soon.
Zion Williamson was recently named to his first NBA All-Star Game
Earlier this week, the NBA announced the 14 All-Star Game reserves that LeBron James and Kevin Durant will be able to choose from when drafting their respective teams next week, one of those 14 being Pelicans star Zion Williamson.
Williamson is having a phenomenal sophomore season in New Orleans, averaging 25.3 points per game while shooting an incredible 62% from the floor, also adding 6.6 rebounds and 2.7 assists.
However, his Pelicans teammate, Brandon Ingram, who's actually averaging more points (23.9) and assists (4.7) than when he was named to the NBA All-Star Game last season, was not selected to this year's game. But seemingly trying to be a good teammate and a good sport about the whole thing, Ingram hyped up his running mate in the Big Easy on Wednesday night but also ended up throwing a little shade at LeBron James.
While hyping Zion Williamson, Brandon Ingram threw a little shade at LeBron James
Following the Pelicans' 128-118 victory over the Detroit Pistons on Wednesday night, a game in which he scored 27 points, dished out eight assists, and pulled down seven rebounds, Brandon Ingram was asked (you can view the interview above) about Zion Williamson, who scored 32 in the win, and how he made an NBA All-Star team at such an early age and this was his response:
"I've never played with a player that's as talented as me. He's a generational talent where you don't know what you're gonna get from him every single night. It's gonna be something different. It's gonna be something exciting and I like to feed off that. I like to come into the game ready because I know he's gonna be ready."

Brandon Ingram on Zion Williamson
So that's really nice, right? Ingram didn't make the All-Star Game but Zion did so he hypes him up as a good teammate should. I mean, Ingram also called himself a generational talent in the process, which is a bit of a stretch, but praising Williamson shows he's a team player and that's always a good thing.
But do you see the bigger issue here? "I've never played with a player that's as talented as me." Ummm…Brandon…you do remember that you were teammates with four-time NBA champion, four-time NBA Finals MVP, four-time NBA MVP, 17-time All-Star, and 16-time All-NBA selection LeBron James for a season, right?
Brandon Ingram was teammates with LeBron James for one season with the Lakers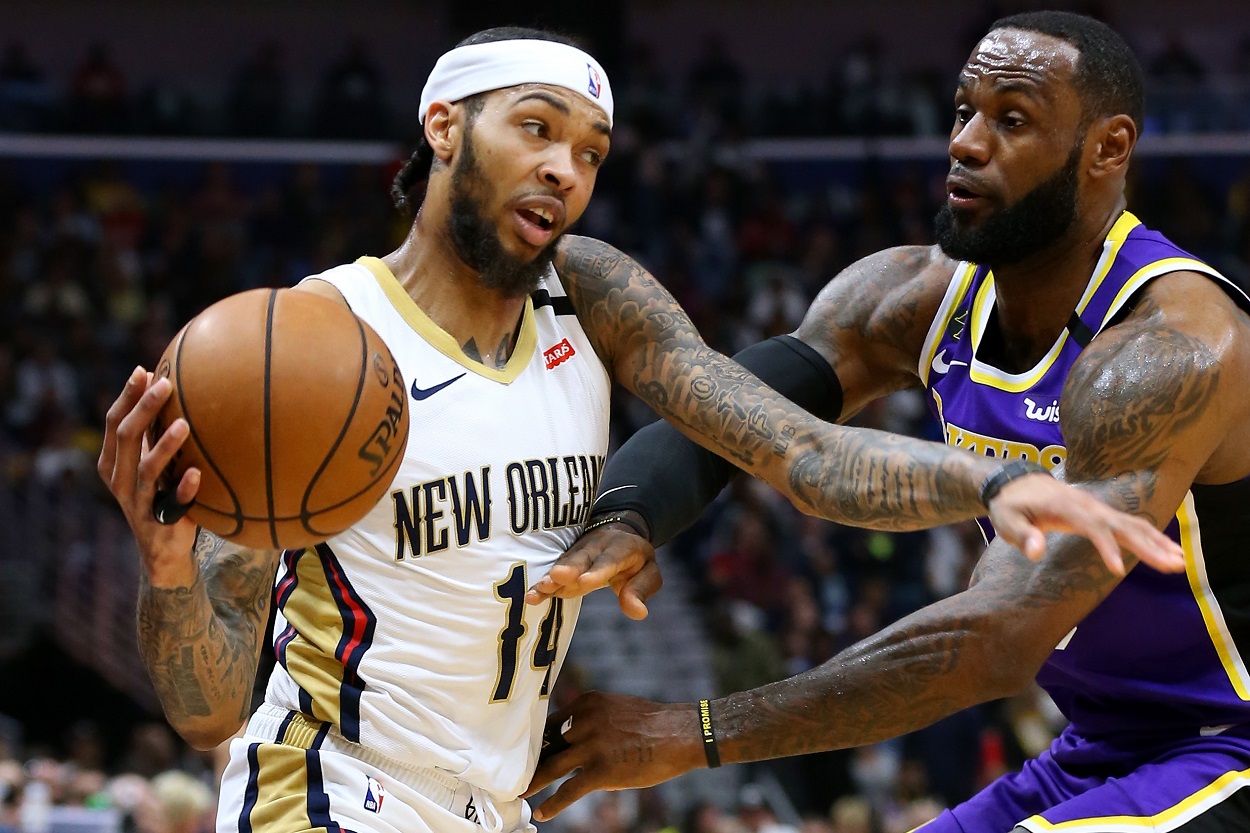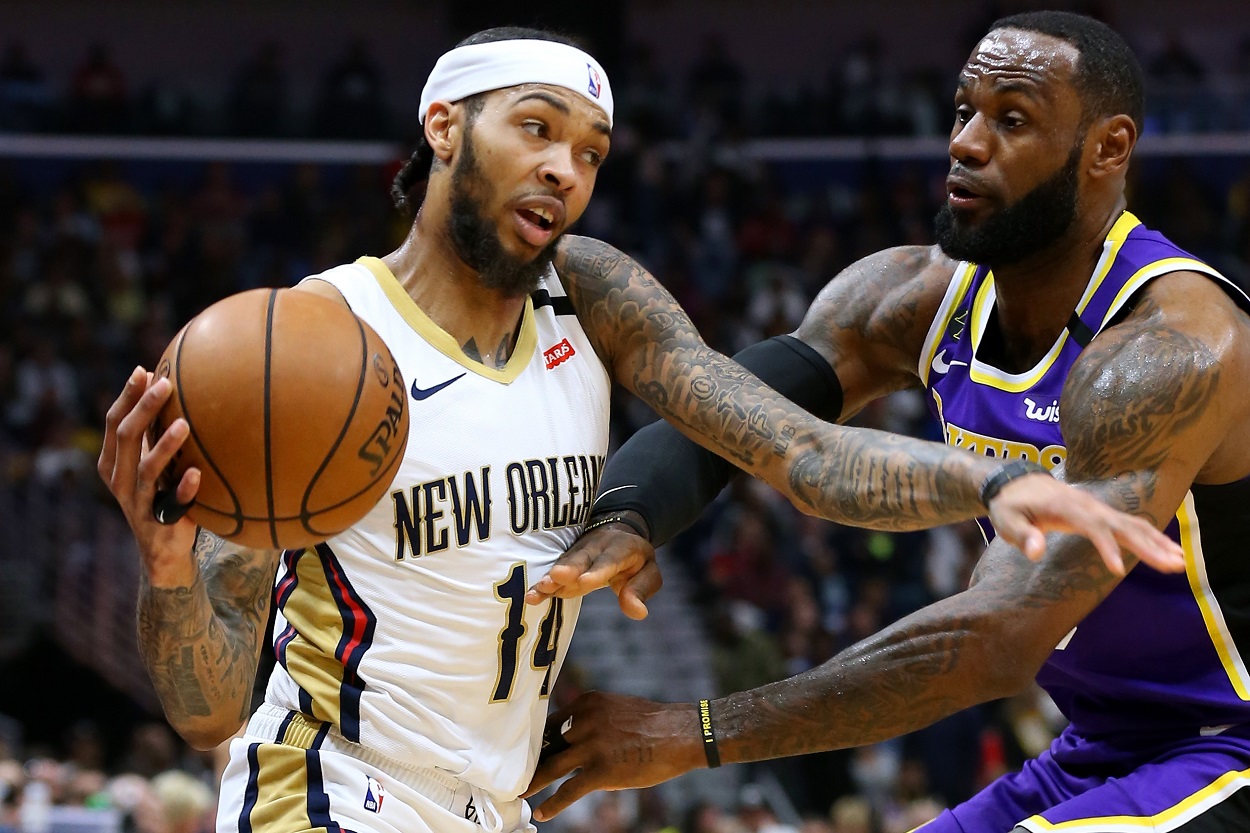 So now do you understand why it might have been a little awkward for LeBron James to maybe have to pick Brandon Ingram for his NBA All-Star team? I mean, it was awkward enough last year when LeBron kept passing him over until Giannis Antetokounmpo finally snatched him up with the 19th (out of 22) pick. But James won't have to be put in that position this year, although it now seems that could've been kind of fun.
For those who may have already forgotten, Ingram and James played one season together with the Lakers in 2018-2019 and actually played quite well together, even if their chemistry didn't amount to a ton of victories. That was Ingram's third season in the NBA and he averaged a then-career-high 18.3 points in that lone campaign alongside LeBron.
But Ingram, along with Lonzo Ball, Josh Hart, and three first-round picks, was sent to New Orleans following the season in the trade that brought Anthony Davis to Tinseltown, a move that resulted in the Lakers winning their 17th NBA title. So perhaps Ingram is still a little upset about getting traded.
While I'd like to be able to speculate that maybe he just forgot about playing with LeBron James, let's get real here. Nobody is going to forget about playing with LeBron James, even if it was just for one season. So that can't be it. Maybe Brandon Ingram was just really trying to hype up Zion Williamson but most are going to see it as a shot at James, who made no secret of the fact that he wanted Anthony Davis to join the Lakers.
Stats courtesy of Basketball Reference