Zion Williamson Heaps Praise on His Teammate: 'We Know How Great He Can Be'
Changes are coming to the  New Orleans Pelicans  in the 2021 offseason after a disappointing season where Zion Williamson and the team finished 11th in the Western Conference. There are already rumors of big trades in store but, no matter how it happens, the Pelicans roster will be markedly different in the 2021-22 season. There is at …
Changes are coming to the  New Orleans Pelicans  in the 2021 offseason after a disappointing season where Zion Williamson and the team finished 11th in the Western Conference. There are already rumors of big trades in store but, no matter how it happens, the Pelicans roster will be markedly different in the 2021-22 season.
There is at least one player who it seems the 2019 No. 1 overall pick wants to stay with him in the Big Easy, fellow second-year player Nickeil Alexander-Walker.
New Orleans Pelicans trades or other changes are coming this offseason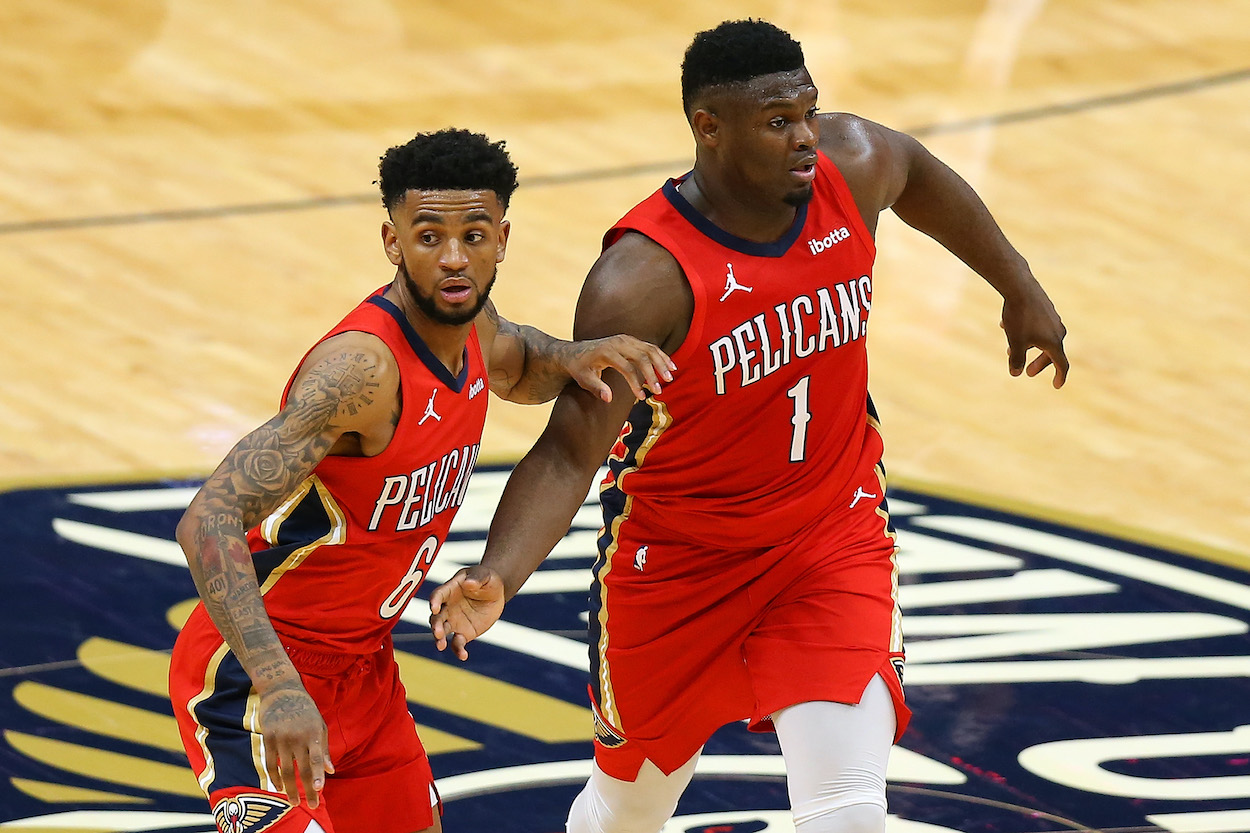 The Pelicans missed the playoffs in both of Williamson's first two years. If they miss the playoffs again in 2021-22, there could be some significant contractual ramifications. After his third year, he's eligible to sign a big-money five-year rookie extension. The size of these deals, currently over $200 million, usually entices the player to stay.
However, if the Pelicans continue to underachieve, could Williamson skip the payday. He would then become a free agent two years later.
However unlikely, Williamson has this leverage, so Pelicans executive mastermind David Griffin needs to beware.
Griffin does have a lot of flexibility in the 2021 offseason to makes moves. The Anthony Davis trade brought New Orleans swingman Brandon Ingram, point guard Lonzo Ball, and a bounty of draft picks and pick swaps.
Ingram has a good deal of trade value, and the picks can be helpful to make a trade work as well. Ball is a restricted free agent this offseason and, if he gets a huge offer, the Pelicans can let him walk.
If they do let Ball go, it could mean more opportunities for another guard who the Pelicans drafted in the same class as Williamson that the former Duke point-forward seems to like a lot.
Zion Williamson thinks Nickeil Alexander-Walker can be 'great'
With all the hype around the "Zion Williamson draft" in 2019, it can be easy to forget that the Pelicans actually came away with two other first-round picks that year. At No. 8, they got Texas freshman center Jaxson Hayes. Nine picks later, they took Virginia Tech guard Nickeil Alexander-Walker at No. 17.  
Alexander-Walker mostly watched his draft classmates from the bench in his rookie season. The Toronto, Canada native only player 12.6 minutes a game. He averaged 5.7 points, 1.8 rebounds, and 1.9 assists in his small amount of playing time.
In his sophomore campaign, Alexander-Walker got significantly more run. He averaged 21.9 minutes and increased his production to 11 points, 2.2 assists, and 3.1 rebounds. He started 13 of the 46 games he played and, in those starts, outperformed his averages. According to NBA.com, Alexander-Walker produced 19 points, five rebounds, and three assists per start.
This performance gives his teammates and coaches confidence the young guard can develop into a regular starter in the future. Williamson recently said of his 6-foot-6 teammate:
He's always ready when his number is called. He's been in this position before, and he's showed out before. Nickeil doing this, we expect that from him, because we know how great he can be.
A vote of confidence like that from the team's franchise star is usually a good sign for a player's long-term future.
Nickeil Alexander-Walker and Shai Gilgeous-Alexander related
Alexander-Walker is not the only NBA player in his family. His cousin, Shai Gilgeous-Alexander, is a star guard for the Oklahoma City Thunder.
The two future NBA stars grew up about 40 minutes apart, with Alexander-Walker living in Toronto and Gilgeous-Alexander in Hamilton, Ontario, Canada, per NBA.com. Gilgeous-Alexander's father, Vance Alexander, was a father figure in his nephew Nickeil's life as well.  
In high school, Gilgeous-Alexander moved to Nashville, Tennessee, to improve his visibility to college scouts. Alexander-Walker followed shortly after. This pattern repeated in the NBA draft when the Los Angeles Clippers selected Gilgeous-Alexander out of Kentucky with the No. 11 pick in 2018, a year before Alexander-Walker became a Pelican.
The cousins say they talk almost every day, and mostly not about basketball. This will no doubt continue no matter what happens to Alexander-Walker this offseason.
All stats courtesy of Basketball Reference