Lonzo Ball Made a Promise to Zion Williamson Then Went Out and Backed It Up
The New Orleans Pelicans have struggled all season with consistency. Some nights they look like a young, energetic, up-and-coming team, while on others, they look sloppy and disjointed. The first week of May showed both these personalities in back-to-back games against the Golden State Warriors.
The inexperience of the Pelicans is one of the primary reasons for these wild swings. They have lots of young talent with Zion Williamson, Lonzo Ball, and Brandon Ingram, but leadership is still a question. There may be hope for the young Pelicans long-term though, as demonstrated by Ball and Williamson's relationship.  
Lonzo Ball's season has been up and down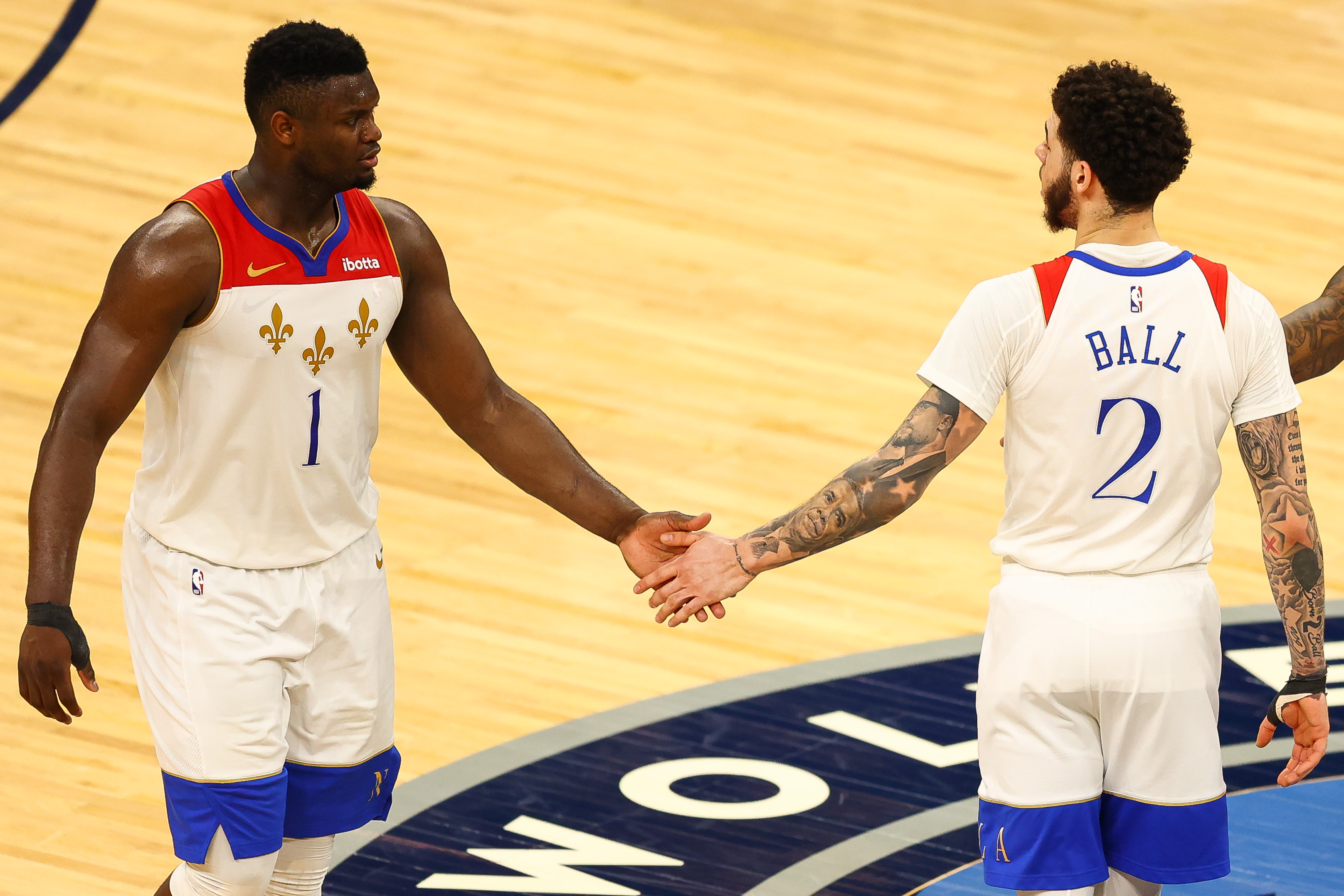 The inconsistency of the Pelicans during the 2020-21 NBA season is, at least in part, due to their fourth-year point guard. Ball, still best known for his outspoken family, was the constant focus of trade rumors this season. This seems to have affected both his form at times and his development this season.
After not being traded at the trade deadline, Ball seemed wary but relived. He told the New York Post, "I'm happy to be here. It was a long day. But overall, I ended up not getting moved and staying here, where I wanted to be. So it all worked out how it was supposed to."
The UCLA product's stats tell the tale of his inconsistency this year. On the plus side, he is averaging career highs in points per game (14.6), three-point field goal percentage (37.8%), and is tied with his 2018-19 season for a career-low in turnovers (2.2) per game. On the downside, both his assists (5.8) and rebounds (4.7) are significantly down from last year when he averaged 7.0 and 6.1, respectively.
The New Orleans Pelicans are on the verge of missing the NBA playoffs
The Pelicans team performance has mirrored Ball's disappointing season, although this is undoubtedly not all on him. Williamson is putting up impressive numbers, averaging 27.0 points and 3.7 assists in his sophomore season, but first-year head coach Stan Van Gundy has made some very questionable decisions regarding both the team's philosophy and his young stars.
The on-court fit between Williamson and Ingram is also not blossoming like the Pelican's Executive Vice President of Basketball Operations, David Griffin, would have hoped. Both players seem to need the ball in their hand to be most effective, but the Pelicans are better when the ball rests with Williamson. Also, there seems to be some disagreement about who should take the last shot in close games.
The end result is that the 2020-21 Pelicans are close to missing the playoffs for the third consecutive year. The franchise currently sits in the 11-spot in the Western Conference, three games behind the San Antonio Spurs in the loss column with just six to play. This miss would be frustrating as the new NBA Play-In Tournament allows ten teams to get into the postseason.
Ball delivered a career night after promising Zion Williamson he'd show up
The silver lining to the way the season is playing out may have come in their last game versus the Warriors. After making just three of his 18 shot attempts in a loss the game before, Ball took accountability and announced his intentions to Williamson. According to ESPN, Ball texted Williamson after that game, "I'll be there tomorrow."
Ball certainly showed up the next day. In the second Golden State contest, Ball matched his career-high in points with 33. This included the eventual game-winning bucket with less than 30-seconds left on the clock. The result was a 108-103 win that kept the Pelicans' playoff chances alive.
After the game, Ball explained the text saying:
I just knew I let my team down and I wasn't gonna do that two nights in a row. I know the type of player I am and I believe in myself. I knew I wasn't gonna shoot 3-of-18 again. I just wanted to let Z know I was gonna be there with him tonight.
This kind of relationship between a superstar player and his supporting cast can take teams to great heights. It may have taken the Pelicans two full seasons to get to this place, but the fact that they seem like they are gelling as a unit now should mean good things for their future.
All stats courtesy of Basketball-Reference