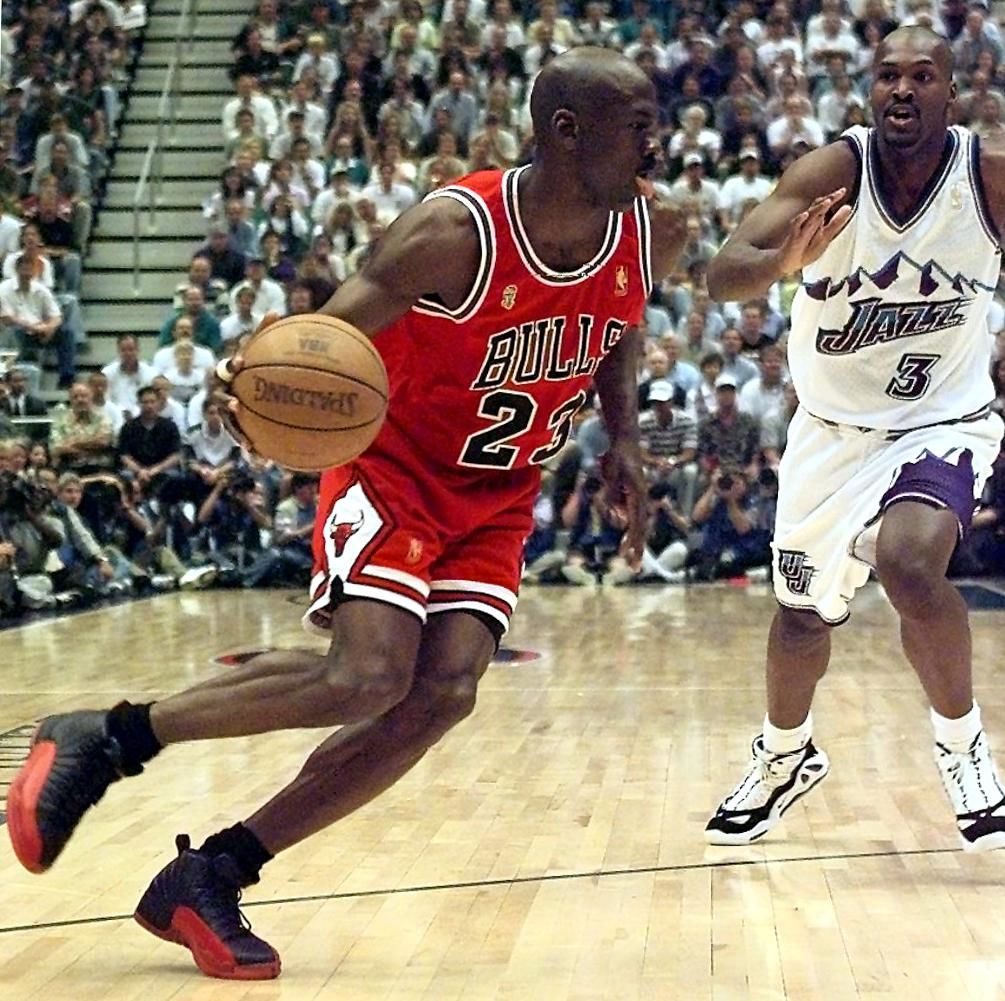 Steph Curry Says Michael Jordan Pushed off When MJ Hit Game-Winner Over Bryon Russell
Two-time NBA MVP Steph Curry said Michael Jordan pushed off before he hit his game-winning shot against the Utah Jazz in 1998.
We all know about The Last Dance but what about The Last Shot? When Michael Jordan sealed the Chicago Bulls' sixth NBA title in 1998 by hitting the game-winning jump shot over Utah's Bryon Russell in Game 6, did he do so by pushing Russell to get free? Golden State Warriors guard Steph Curry had something to say about Jordan being so wide open when he hit the jumper.
Bryon Russell was a key player for the Jazz during their playoff run
Bryon Russell has a little Craig Ehlo in him. Both had pretty lengthy NBA careers and both are known for trying to stop Michael Jordan on a series-clinching jump shot. Neither succeeded. While Russell was overshadowed by the likes of Karl Malone and John Stockton while playing for the Utah Jazz, Russell still managed to carve out a pretty good NBA career for himself.
Russell was a second-round selection of the Utah Jazz in the 1993 NBA draft. Russell, a guard/small forward played his college ball at Call State Long Beach. He played 13 seasons in the NBA, the first nine being played with the Jazz.
Russell was a key player in Utah, helping the Jazz make consecutive NBA Finals appearances. Russell averaged 9.2 points and 3.8 rebounds per game in his nine seasons with the Jazz. His best year came during the 1999-00 season when he averaged 14.1 points per game.
Steph Curry insists Jordan pushed off Russell to hit the game-winner
Steph Curry was 10 years old when Michael Jordan clinched the Chicago Bulls' sixth NBA title with a game-winning jumper on June 14, 1998, against the Utah Jazz. Curry, now a six-time NBA All-Star and a two-time MVP, remembers being glued to the television set during Game 6 of the NBA Finals in 1998.
With the Bulls down a point very late in the game, Jordan stole the ball from Karl Malone which set up his heroics. Jordan held the ball, drove right, stopped quickly as Russell fell back, and slipped on the court. Jordan then drained his 17-footer with 5.2 seconds left to give the Bulls the lead and they held on to win their sixth championship. Did Jorda push off Russell with his left hand to create space?
"I loved Jordan, but Bryon Russell was one of my guys and I was hurt that it had to be him," said Curry in a 2018 article in The Desert News. "He definitely pushed off, though. Bryon Russell was actually one of my favorite players growing up for no specific reason so I was kind of hurt."
Referee Danny Crawford said the play 'could go either way'
Danny Crawford, Hugh Hollins, and Dick Bavetta were officiating the game that night. Crawford was near the baseline when Michael Jordan hit the game-winning shot. He said it was a bang-bang play and it wasn't egregious enough where he felt a call should've been made.
"It's a controversial play, no matter what you do with it. You're damned if you do, damned if you don't," Crawford told Yahoo Sports in 2018. "That's the beauty of being a referee. That's our job. We're put in the position where we're going to be criticized, no matter what. Because of a play like that. That's our job and we understand it, and we try to do the best that we can to be consistent and to be right.
"That was in transition. So in a transition play, everybody is busting their butts to get up the court. So, your eyes are bouncing. It all depends on how early you got to whatever happened to determine if you're going to blow the whistle on something you saw — not thought you saw — that you saw. And it wasn't an egregious play where you thought, 'Oh, no. You can't do that.' It was a tough play that could go either way."