Stephen A. Smith Slams LeBron James' Social Media Activity
LeBron James had a stern message in one of his recent social media posts, and Stephen A. Smith didn't like what the Los Angeles Lakers star had to say.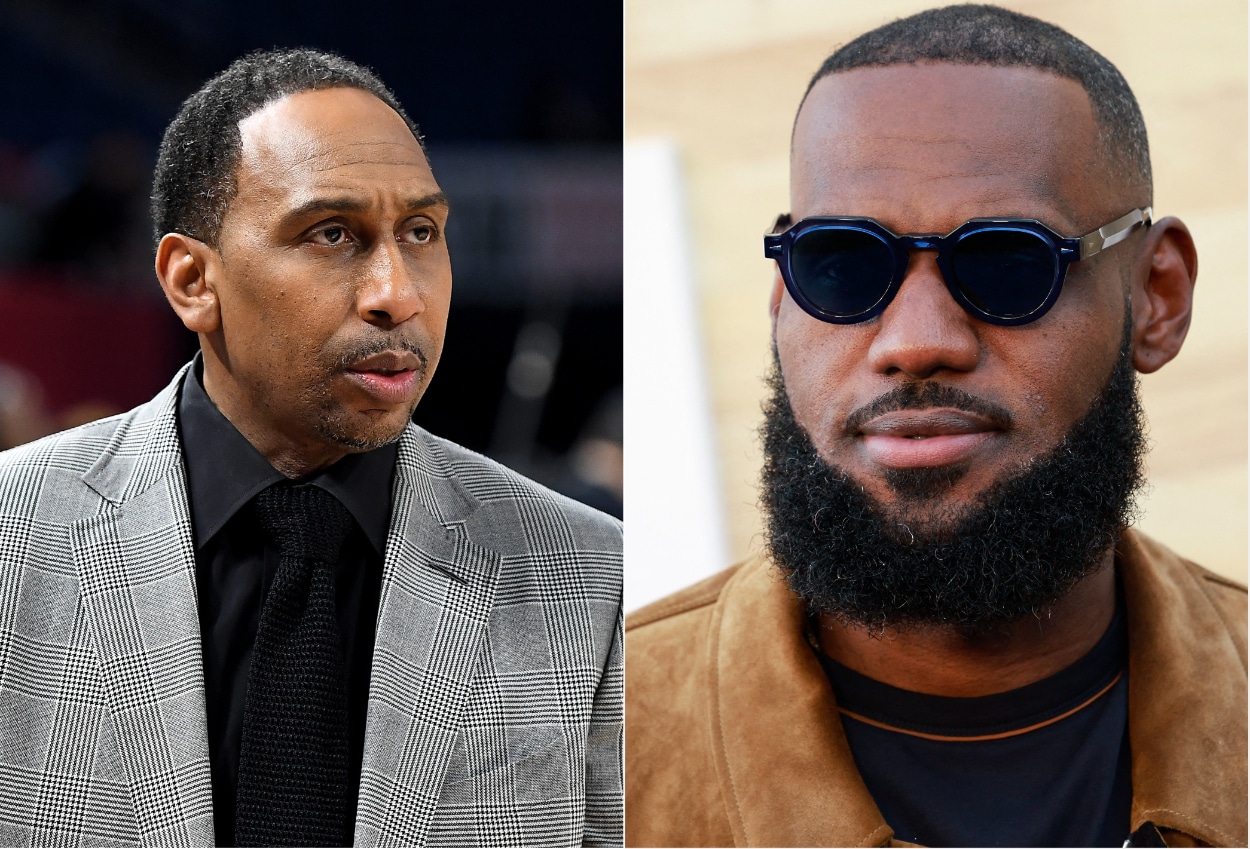 LeBron James is one of the greatest players to ever dribble a basketball, but the 2021-22 NBA season proved he can't do it on his own, especially at his age.
He needs help from his superstar Los Angeles Lakers teammate, Anthony Davis, if he wants to win his fifth ring. So, James recently defended AD to all his doubters by writing a passionate Instagram post in which he essentially said Davis will remind everyone why he's one of the top players in the league next season.
But ESPN's Stephen A. Smith wasn't a fan of the move. He thinks it felt similar to another controversial LeBron post from last offseason.
Stephen A. Smith didn't like LeBron James' Instagram post
Following a season in which Anthony Davis missed half of his team's games for a second consecutive year, LeBron James chose to stand up for his teammate since many now doubt his ability to stay healthy for another championship run.
"Get It Twisted if you want too! In due time he'll remind you once again why he's HIM!!! And I can't wait for it to be unleashed," James wrote and put with a video of Davis' highlights. 
The post had similar energy to when LeBron defended the age of his Lakers teammates last offseason. He, however, deleted the tweet, which was probably for the best considering it aged like milk in a hot car.
"Keep talking about my squad, our personnel ages, the way he plays, he stays injured, we're past our time in this league, etc etc etc," James wrote, per ESPN. "Do me one favor PLEASE!!!! And I mean PLEASE!!! Keep that same narrative ENERGY when it begins! That's all I ask."
And that's why Stephen A. Smith isn't a fan of James' recent post.
"I didn't like the fact that LeBron [posted] that," Smith said on the June 16 episode of First Take. "What did LeBron tweet last year? 'Keep the same energy.' … His tweets don't work. LeBron's tweets don't work."
He continued: "He sat up there with all the critics, 'Keep the same energy. Keep the same energy.' Well, dammit, they kept it. And what did the Lakers do? They folded like a cheap tent. … The reason I don't like this is because we can't count on Anthony Davis being healthy. I trust his game."
Smith has a point. It would be cringy for James to say this, and then Davis miss 40 games again next season.
But no matter what The King posts, Anthony Davis has a lot to prove.
Anthony Davis has a lot to prove next season
Anthony Davis showed how dangerous he and LeBron James can be in 2020. However, he has pretty much been injured ever since, and he hasn't had nearly as much success whenever he has been on the floor.
Look at his combined stats over the last two seasons compared to the numbers he posted during the 2019-20 campaign.
| | |
| --- | --- |
| 2019-20 | 26.1 points, 9.3 rebounds, 2.3 blocks, 50.3% field-goal percentage, 33.0% three-point percentage |
| 2020-21 and 2021-22 | 22.5 points, 8.9 rebounds, 2.0 blocks, 51.3% field-goal percentage, 22.9% three-point percentage |
Anthony Davis and LeBron James were one of the best duos in NBA history when Davis was 100% and essentially in his prime. But he hasn't been fully healthy since then, and perhaps he is already past his best years.
AD has a lot of work to do if he wants to prove everyone wrong.
Stats courtesy of Basketball Reference