Stephen Curry and 9 NBA Players Who Are Better Than Their NBA Dads
Let's take a look at Stephen Curry and nine other NBA players who are having better professional careers than their dads.
Getting to the NBA is one of the hardest things to do in professional sports. With only 450 spots open every season, there is only a small chance a highly touted prospect will be able to make a roster and stay on one. Being the son of an NBA player who had a long career can be a daunting task that adds to the pressure. Having to live up to the expectations of your father can be a distraction for even the best player at times. We are going to showcase 10 NBA players who did just that, having better careers in the league than their dad.
Justise Winslow and Rickie Winslow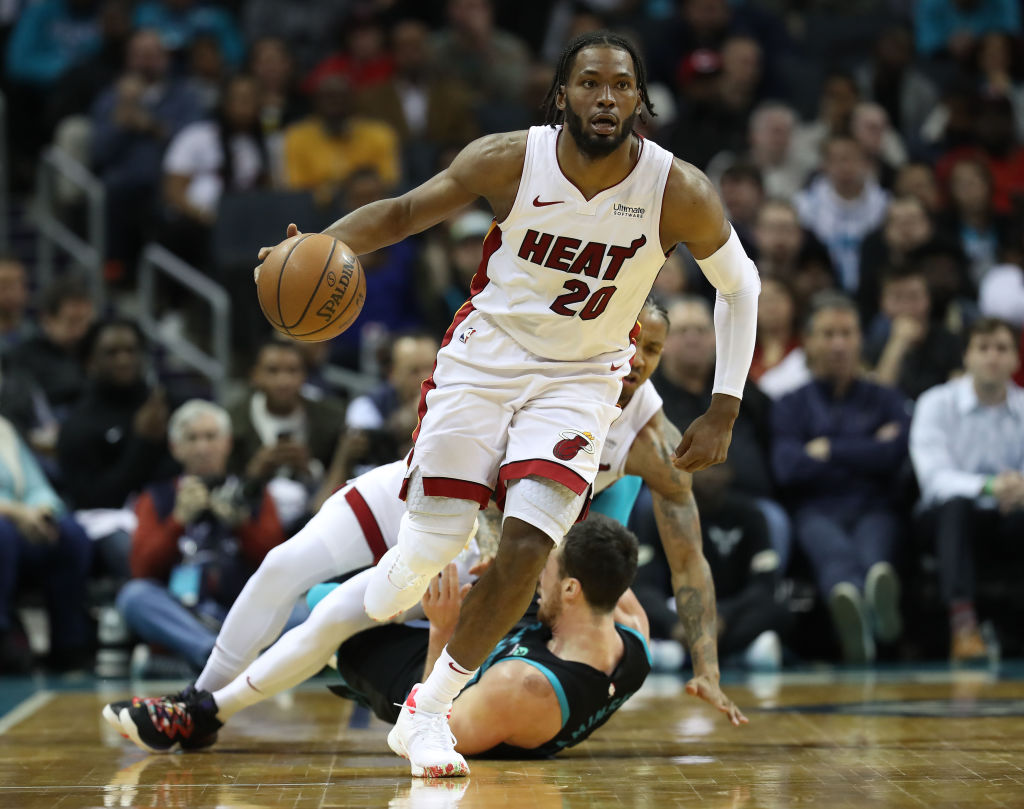 Justise Winslow has developed into a very good player for the Miami Heat since being drafted in 2015 with the No. 10 overall pick. He is averaging 12 points, five rebounds, and four assists per game this season. His father, Rickie, played eight games with the Milwaukee Bucks before taking his basketball career overseas.

The fact that Justise Winslow's career has already lasted 30 times longer than his father's means he's one of the NBA players outshining what his dad did on the court. Justise is also one of the few NBA stars who won NCAA titles before turning pro.

Andrew Wiggins and Mitchell Wiggins
Andrew Wiggins hasn't lived up to his potential as the next Tracy McGrady, but he has put up respectable numbers so far in his career. The Minnesota Timberwolves put together a package involving Kevin Love to acquire Wiggins, and pairing him with Karl-Anthony Towns has been hit or miss. Wiggins put up 18 points per game this season, as the T-wolves transition out of the Jimmy Butler era.

His father Mitchell played during the 1980s, but his time in the league included a two and a half year suspension for testing positive for cocaine. Mitchell Wiggins finished his NBA career with 3,877 total points.
Mike Bibby and Henry Bibby
When you think of Mike Bibby, you probably think of the Sacramento Kings and the exciting offense he directed in the early 2000s. Bibby enjoyed a lengthy career, and he averaged nearly 15 points and five assists per game. His father Henry was a respected basketball coach, but before he got into coaching, he played nine seasons in the NBA, making the finals twice. This is a close one, but we're saying that as far as NBA players go, Mike Bibby was a bit better than Henry.

Mike Dunleavy Jr. and Mike Dunleavy
Mike Dunleavy Jr. was well known heading into the draft after a standout career at Duke. He averaged 11 points and four rebounds per game during his 14-year NBA career and retired in 2017. The elder Dunleavy played 11 seasons and averaged eight points and four assists per game. Dunleavy the dad owns a .461 winning percentage as a coach, and .535 in the postseason.

Al Horford and Tito Horford
The Boston Celtics have an excellent young core of talent, but the team's success starts and ends with Al Horford in the middle. The big man has been one of the league's most underrated players since coming out of Florida, and he has kept Boston in the thick of the Eastern Conference playoff race.

There's no doubt Al Horford is one of the NBA stars outshining their dada. Tito Horford played two seasons in the NBA with the Milwaukee Bucks (and a short three-game stint with the Bullets), but he was never a starter or All-Star like his son.

Kobe Bryant and Joe Bryant
The Black Mamba is one of the fiercest competitors basketball has ever seen. He won five NBA championships with the Lakers, went to 18 All-Star games, and won the 2008 MVP award. Joe Bryant spent eight seasons in the league, averaging eight points and four rebounds per game, but his career is nowhere close to Kobe's.
Jalen Rose and Jimmy Walker
Part of the Fab Five at the University of Michigan, Jalen Rose was viewed as the next great point guard when the Pacers drafted him in 1994. He averaged over 14 points per game for his career and helped the Pacers get to the NBA Finals in 2000. Jimmy Walker was the No. 1 overall pick in the 1967 NBA draft and played nine seasons, averaging over 16 points per game. This is another close one, but based on longevity we're saying Jalen Rose had the better NBA career.
Pete Maravich and Press Maravich
Pistol Pete Maravich was Stephen Curry before there was Stephen Curry — an electrifying basketball player with the ability to seemingly score from anywhere on the court. One of the most dominant college players ever, Maravich averaged more than 31 points per game during the 1976-77 NBA season to win the scoring title. He enjoyed a Hall of Fame career and average over 24 points per game.

His father Press played in the league in the Basketball Association of American and the National Basketball League (later merging to become the NBA), and he had a long career as a coach. However, as far as NBA players (or the equivalent) go, the son was much better than the father.

Klay Thompson and Mychal Thompson
Getting drafted in the lottery out of Washington State, Klay Thompson entered the league as a sharpshooter that could also defend the perimeter. He already has a Hall of Fame career with three championships with the Warriors and a 42% career 3-point percentage.

Mychal Thompson was a two-time champion with the Lakers and averaged 13 points and seven rebounds per game for his career. Klay Thompson's extra championship, five All-Star game selections, and two All-NBA nods ensure he is one of the NBA players outshining his father's career.

Stephen Curry and Dell Curry
You knew it had to end here, right? You can't discuss the current NBA players outperforming their dads without putting Stephen Curry on the list.

We have already looked at the argument of Steph Curry as the greatest point guard of all time, but his father Dell was no slouch in the league either. Stephen Curry has become arguably the greatest shooter the league has ever seen, and the two-time MVP could help the Warriors win their fourth championship in five seasons this year.

Dell Curry held the NBA record for most points by a reserve for years, although Lou Williams took that achievement during the 2018-19 season. Curry played 15 seasons in the league and averaged more than 11 points per game while shooting over 40% from behind the arc. Not bad, but Stephen Curry's 23.5 points per game and 43.6% 3-point shooting are a tad bit better than dad's.