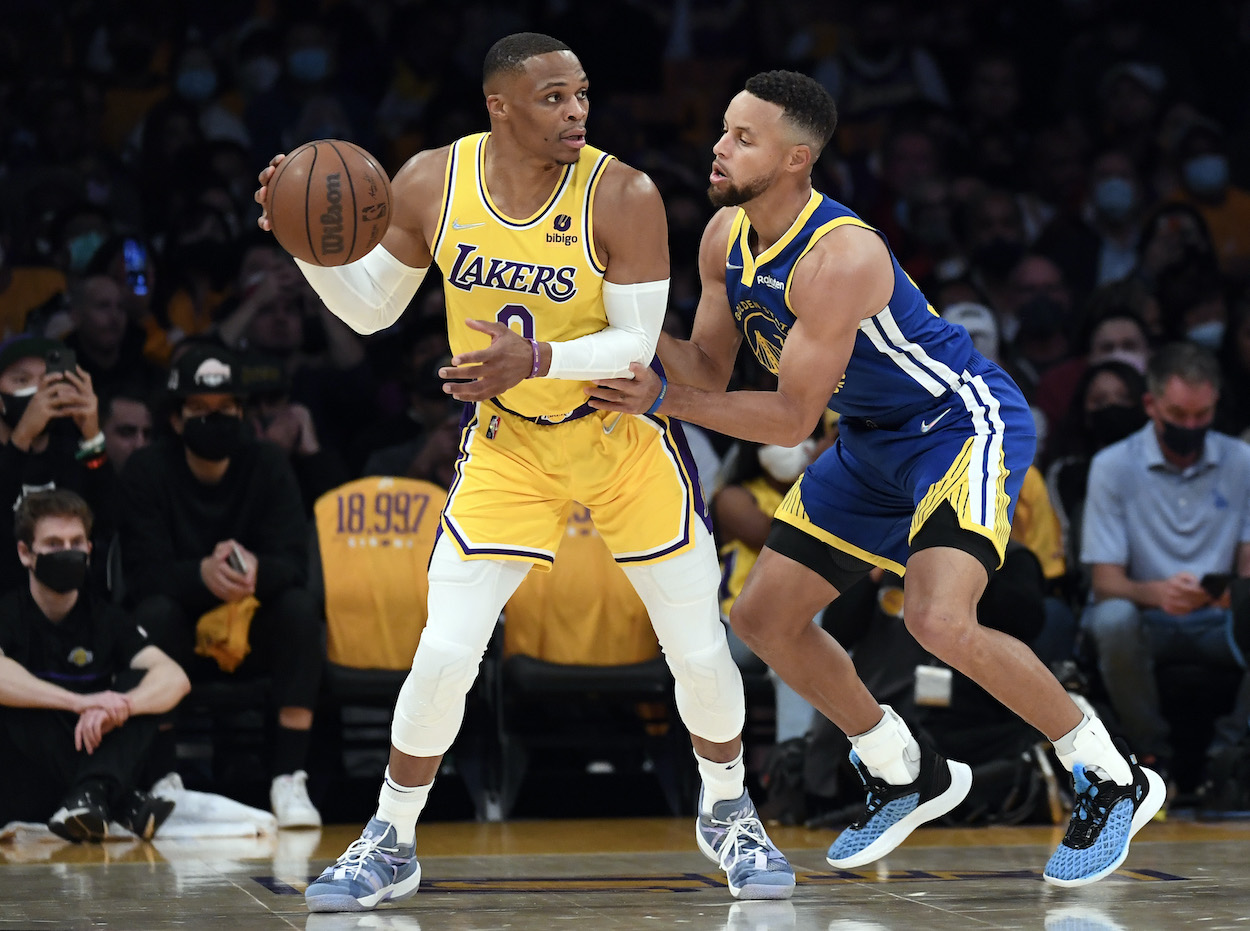 Stephen Curry Tosses a Life Raft to a Drowning Russell Westbrook: 'I'm There for Him'
Stephen Curry is sticking up for Russell Westbrook when everyone else continues to tear him down.
Russell Westbrook is running out of allies as his disastrous first season with the Los Angeles Lakers continues. Not only is he not getting it done on the court, but he's now starting to lash out at fans and the media due to the relentless criticism coming his way.
Westbrook doesn't even have much support in LA right now, but Golden State Warriors star Stephen Curry is sticking up for his on-court rival.
Russell Westbrook has hit a breaking point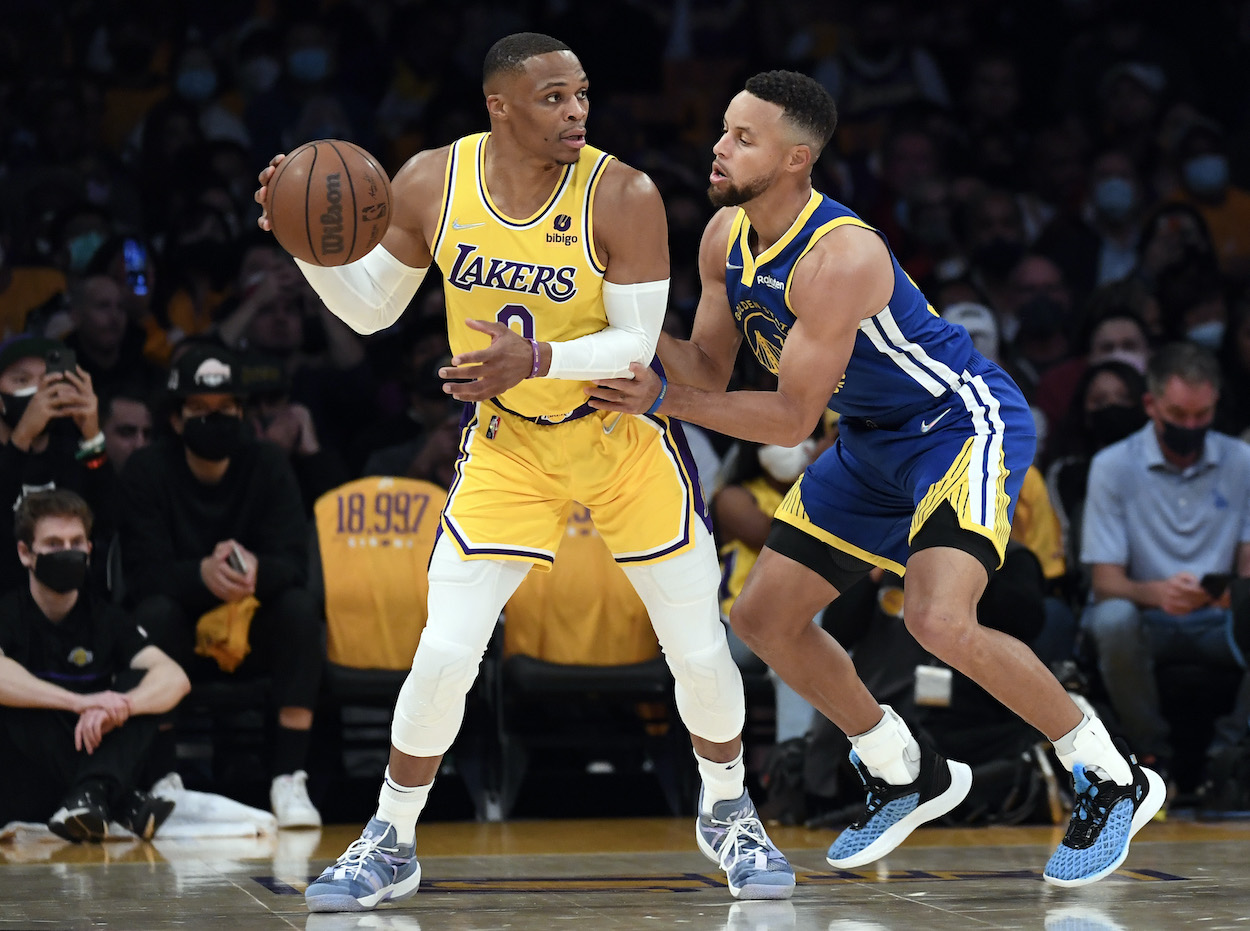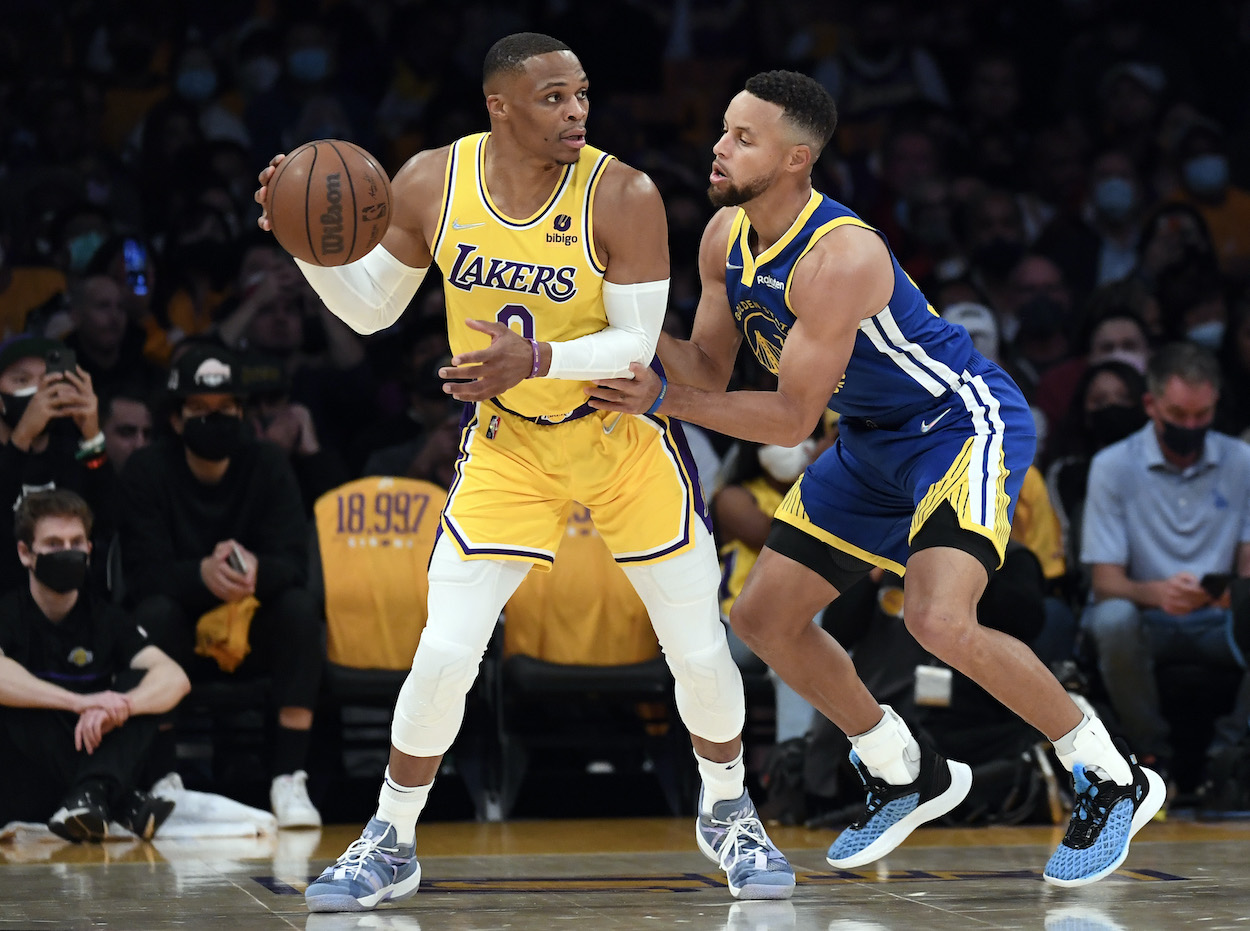 The Westbrook experiment in LA hasn't exactly gone as planned. In his first year with the Lakers, the nine-time All-Star is averaging just 18.1 points per game, which is his lowest mark since 2010. He's also shooting only 43.2% from the field and coughing up nearly four turnovers per game. To make matters worse, the Lakers currently sit at 29-37, and they're barely clinging to a spot in the play-in tournament.
The national media has been critical of Westbrook all season, and now LA fans are starting to turn on the veteran point guard. After a recent game in which Westbrook snapped at a fan for calling him "Westbrick," he opened up about the struggles he's been facing.
"I've been blessed, and I'm super thankful for the ones around me and the ones that support me. But it's really the shaming of my name, the shaming of my character, the shaming of who I am as a person, to me is not warranted," he said last week. "I haven't done anything to anybody. I haven't hurt anyone. I haven't done anything but play basketball a way that people may not like. And this is just a game. This is not my entire life. I don't like to harp on it, it's kind of just in one ear out the other, but once it starts affecting my family, my wife, even today, my mom said something about it today. It affects them even going to games. I don't even want to bring my kids to the game because I don't want them to hear people calling their dad nicknames and other names for no reason, because he's playing the game that he loves. It's gotten so bad where my family doesn't even want to go to home games, any game, because of the media across the globe using their platform to constantly shame, shame, shame me. It's just super unfortunate. And it's super upsetting to me."
Westbrook's comments unearthed the struggles he's been dealing with on and off the court, and he could use a friend or two right now.
Stephen Curry tosses a life raft to Westbrook
Not many outside of the Lakers' locker room has been sticking up for Westbrook lately, but Curry thinks he's been dealing with the massive criticism about as well as he can. Speaking recently with Chris Haynes of Yahoo Sports, Curry stuck up for his rival in a time of need.
"I told him when we played them in LA a couple of days ago that I respect how he's handled the whole year, just in terms of everything he's been saying and how he's been handling himself and protecting his family," Curry told Yahoo Sports. "It is the nature of the beast. And in a certain perspective, they build you up to break you down. The real ones who have done amazing things in this league know what that means. He's a professional, and I'm proud of the way he's conducting himself, and I'm there for him."
"Russ definitely has my support"
Curry is no stranger to criticism himself, and he felt bad for Westbrook after hearing his emotional comments about fans shaming his name.
"The fan perspective, it is kind of B.S. when it crosses the line in terms of attacking somebody personally, their name, and not keeping it to just basketball," Curry said. "That's why we're all here is because of basketball. But at the end of the day, you have to do what you have to do to speak up for yourself and also understand that the guys that know what's going on in this league respect the type of player he is. Russ definitely has my support."
Westbrook could use more people like Curry in his corner right about now.
Like Sportscasting on Facebook. Follow us on Twitter @sportscasting19.