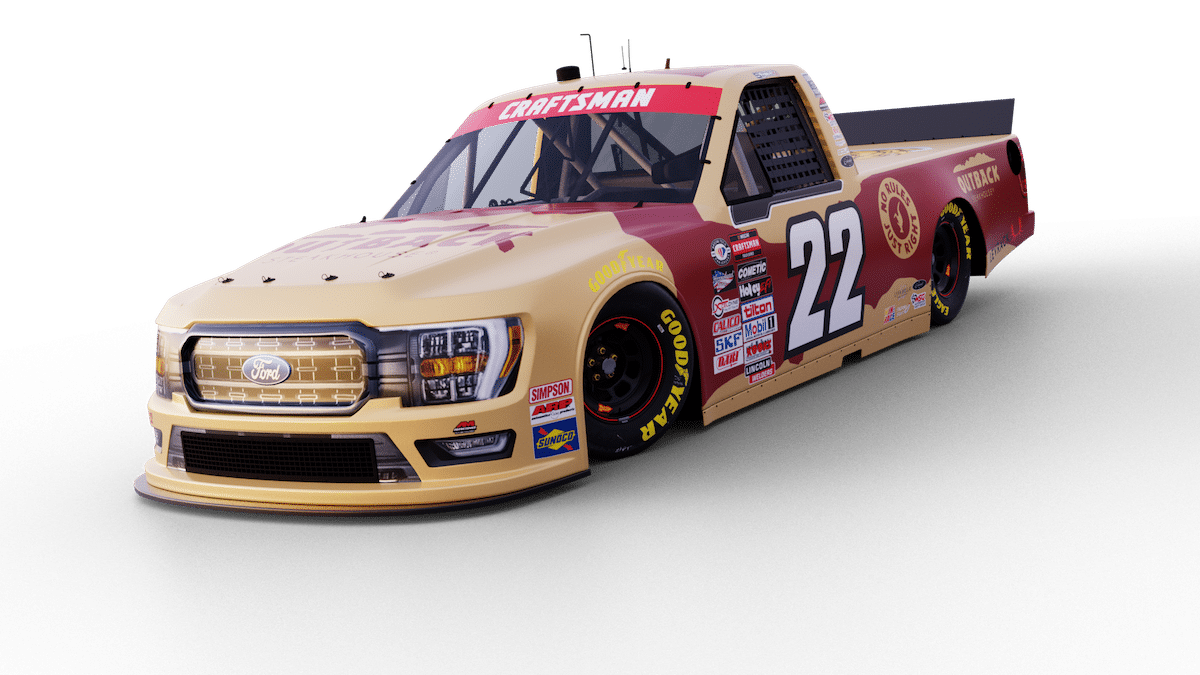 Stephen Mallozzi Continues Living NASCAR Dream, but With Major Partner Announcement, Now Possibly Looking to Extend It  
Stephen Mallozzi is an Outback Steakhouse server. In a little over a week, he'll be an Outback Steakhouse driver in the NASCAR Truck Series race at Bristol.
This past year, Stephen Mallozzi has been living the dream as a small-time racer, competing multiple times in the NASCAR Truck Series. It's been a steady progression on the tracks, with his ultimate goal one day racing on a superspeedway like Daytona.
His next step is racing on September 14 at Bristol. But that's not the headline. His sponsor is. The 22-year-old, who has waited tables at Outback Steakhouse for a couple of years, will now carry the restaurant brand on his truck. And as you might imagine, it's an interesting story filled with disappointment, tears, and, ultimately, perseverance. 
Stephen Mallozzi makes his next move after Martinsville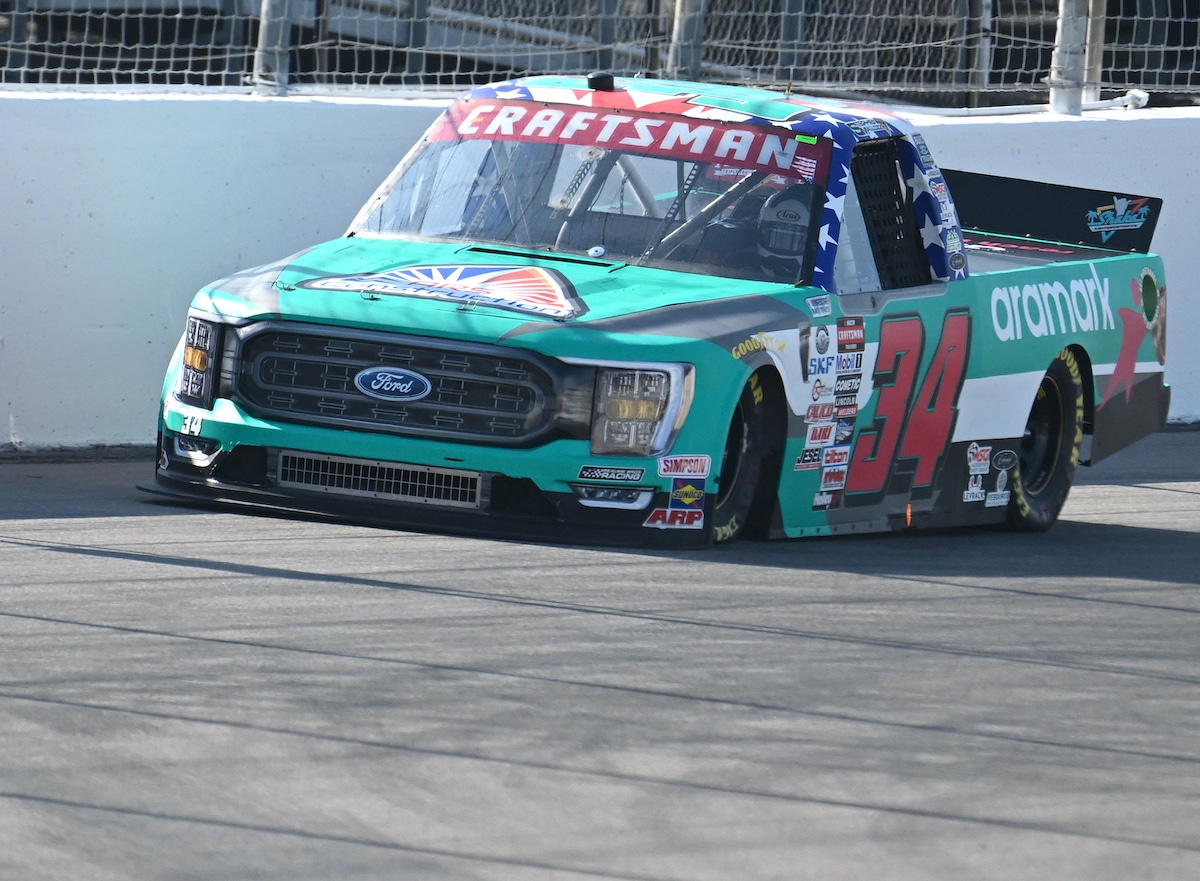 Stephen Mallozzi made his second-ever career start and first of the 2023 Truck Series season at Martinsville, where he encountered battery issues and finished 36th. Despite that poor finish, the driver was eyeing his next race. He was looking to take the next step up to a 1.25-mile track. 
Gateway.
Interestingly, unable to find a primary sponsorship, Mallozzi had to make a tough decision. He opted to sell his 2021 Dodge Charger to fund the race. He replaced it with a 2012, 215,000-mile Nissan Altima with the bumpers falling off. 
At St. Louis, unfortunately, things didn't go well as, once again, he encountered battery troubles. By the time he returned to the track, he was 13 laps down. 
Despite that disappointment, Mallozzi took some positives out of the race.
"I feel like I learned something," he admitted. "I became comfortable in the seat. I didn't feel like I was hassled anymore. I didn't feel like every shift, I was holding my breath to make sure I didn't blow it up. I didn't feel like I was hanging on to the steering wheel. I felt like I was driving the car."
More drama at Pocono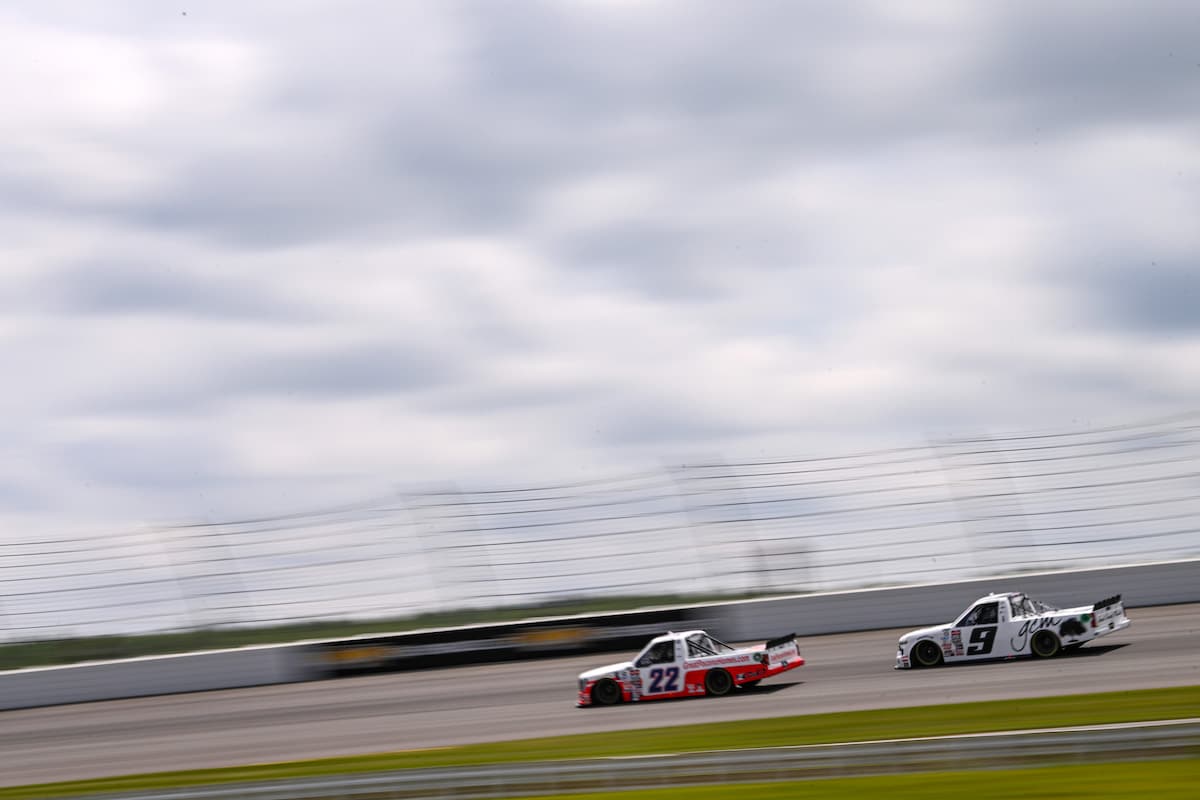 With that new-found confidence, the young driver began targeting his next race. The next logical step was moving up to a larger track. 
Pocono. 
However, as has become the custom for a Mallozzi race, there was drama. Except this time, it came before the race when the sponsor bailed the Friday before. 
"That's bad because I've already sold my car. I don't have any assets," he remembered. "I don't have any money. I'm a law student. I just started law school. Where the hell am I finding this money to go to Pocono?"
He spent around 18 hours per day searching for a sponsor for the next several days. On Tuesday, just four days before the race and the deadline day for submitting graphics on a truck wrap, the driver decided to drive into the Pocono mountains and start making phone calls. 
His first call was based on a billboard he had seen for Great Pocono Homes, which he described as an "eye-catching but poorly colored billboard." After introducing himself and explaining his situation, the company owner was impressed to see the work ethic of the young driver. 
"He's in awe. He's like, 'You're the driver? You're cold-calling people as the driver?" Mallozzi recalled. "I'm like, 'Mike, it is not as glamorous as you think being a small-time racing driver.' And without ever having to walk into a business, Mike, over the phone, cuts me a check and sends me the graphics details that day for the money that I needed."
Fate. 
That's how he described the moment. And it was. But it was about to get even better. 
Lands deal with Outback Steakhouse
The Pocono race went well, with Mallozzi finishing 24th and feeling like he raced against other competitors for the first time in his career, beating several on raw speed. But that's what was happening on the track. 
Off of it, behind the scenes, there was movement. It started in April, around the time of the Martinsville race, when the driver started targeting his employer, Outback Steakhouse, on Twitter.
"I went on a Twitter bombardment where it was every day I came up with a new tweet pertaining to Outback Steakhouse," he said. "Then I noticed that Outback was liking some of these tweets. Someone very clearly had noticed one of these tweets."
In June, he walked into work for one of his shifts at the restaurant when the owner pulled him aside, wanting to have a conversation.
"You did something," Mallozzi recalled the owner telling him. He didn't know what that something was and was understandably nervous. 
"Corporate saw it," the owner said. 
"Saw what?" the server asked. 
"They have seen your tweets. We're going to put you in touch with some people. I think they're going to sponsor you," he informed the driver.
Mallozzi driving Outback Steakhouse truck on Sept. 14 at Bristol
Over the next few weeks, there was more communication on potential sponsorship. When Mallozzi received a phone call, and the deal was finally made official, he admitted it was an emotional moment. 
"I just kind of dropped to the floor, and I was crying," he revealed. "I don't like to admit that I cry a lot. I'm supposed to be a badass race car driver. For me, it was a culmination of all of these hours of blood, sweat, and tears that I've been putting into driving. And here we are."
That "here we are" is he will be racing on Bristol Motor Speedway on September 14, driving an Outback paint scheme, and donning an Outback firesuit. He'll also be appearing at the Outback in Bristol that same day, as well as appearances at other restaurants the following week. 
While the Outback sponsorship is for a single race, the driver views the partnership as something much bigger.   
"Irrespective of where I've ever finished in my career, bringing on a company like Outback completely legitimizes my whole career," he said. "There it is. For me, personally, it is huge. 
"And I am so excited to have them on board. I'm looking forward to the race. It's something that I've been working on all summer long. So to finally have the deal closed and get a race with them with potential races in the future, it's unbelievable."
Dreams often start off as unbelievable. And to achieve them, it takes hard work and perseverance. Mallozzi has done both. Now, he's being rewarded with a potential opportunity for more races in the future. What makes it all the more impressive is he'll be doing all of it while pursuing his law degree and serving Blooming Onions to customers who are also quickly becoming his fans. 
To stay up to date on the latest happenings in NASCAR, including breaking stories you can't find anywhere else, follow Kyle on YouTube and Twitter.