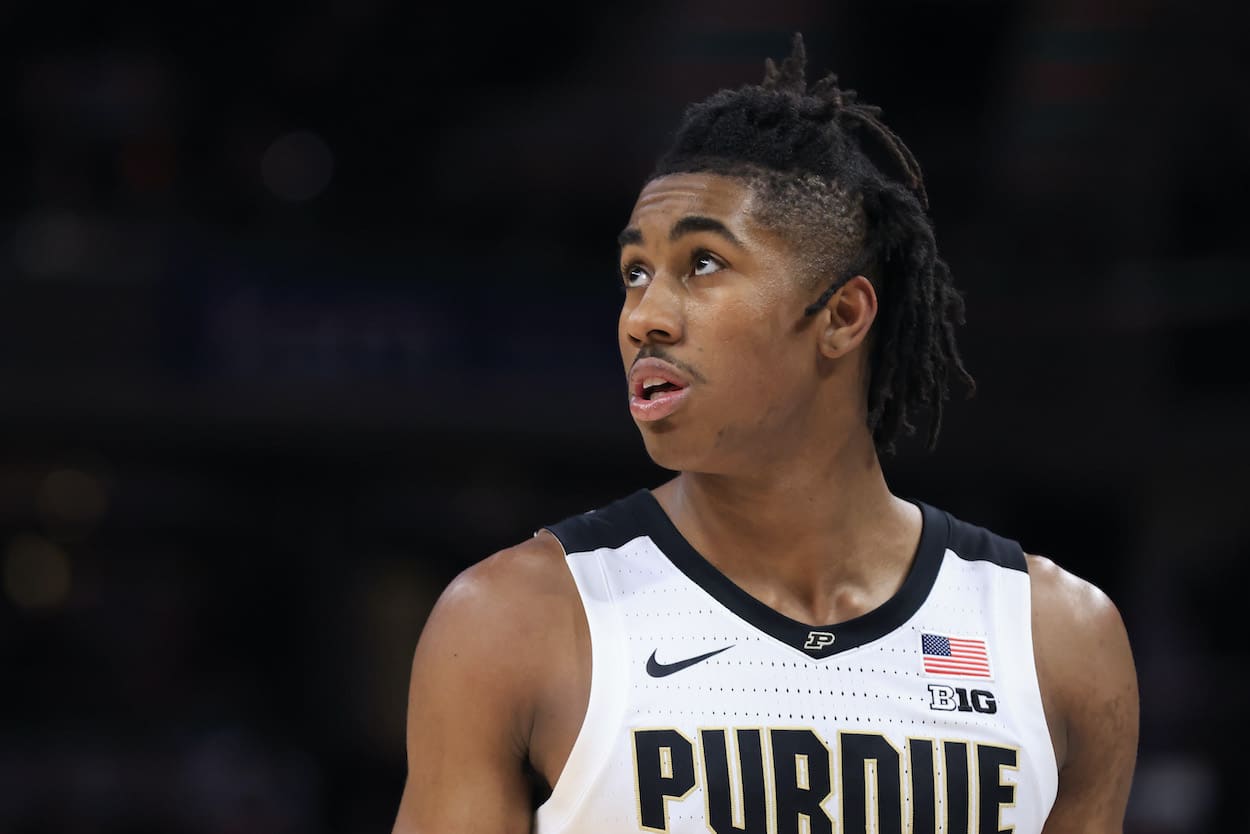 Jaden Ivey Boldly Calls Out LeBron James Ahead of 2022 NBA Draft
2022 NBA Draft prospect Jaden Ivey has plenty of confidence and isn't afraid to share it, calling out LeBron James ahead of the draft.
Purdue's Jaden Ivey hasn't played a minute of NBA ball, but he's already coming in hot at one of the league's biggest stars. With the 2022 NBA Draft just days away, Ivey seems ready for prime-time because he has no problem threatening to posterize the greatest star of the past two decades, LeBron James.
NBA Draft prospect Jaden Ivey knows exactly who he most wants to dunk on 
Purdue guard Jaden Ivey is a consensus top-five pick in the 2022 NBA Draft. The 6-foot-4 son of a former WNBA star has the speed, skill, and athleticism to become an excellent NBA lead guard.
He also seemingly has the confidence.
According to B/R Hoops on Twitter, "Jaden Ivey was asked if he could dunk on one player, current or all-time, who would it be? His answer? LeBron James."
While calling out "The King" at 37 isn't quite as impressive as calling him out at 27, Ivey will still have his work cut out for him if he wants to put the Los Angeles Lakers star on his poster. The Purdue prospect has the explosiveness to do it and may get the chance early in his career.
Heading into the NBA Draft, most outlets rank Ivey as the No. 4 prospect behind the no-doubt top three, Chet Holmgren, Jabari Smith, and Paolo Banchero. However, the Sacramento Kings have that No. 4 pick.
Ivey sounds less-than-thrilled about the possibility of going to Sacramento. If he does end up there, though, the silver lining is he should get a shot at LeBron and the Kings' in-state "rivals" early in the season.
Like Sportscasting on Facebook. Follow us on Twitter @sportscasting19 and subscribe to our YouTube channel.