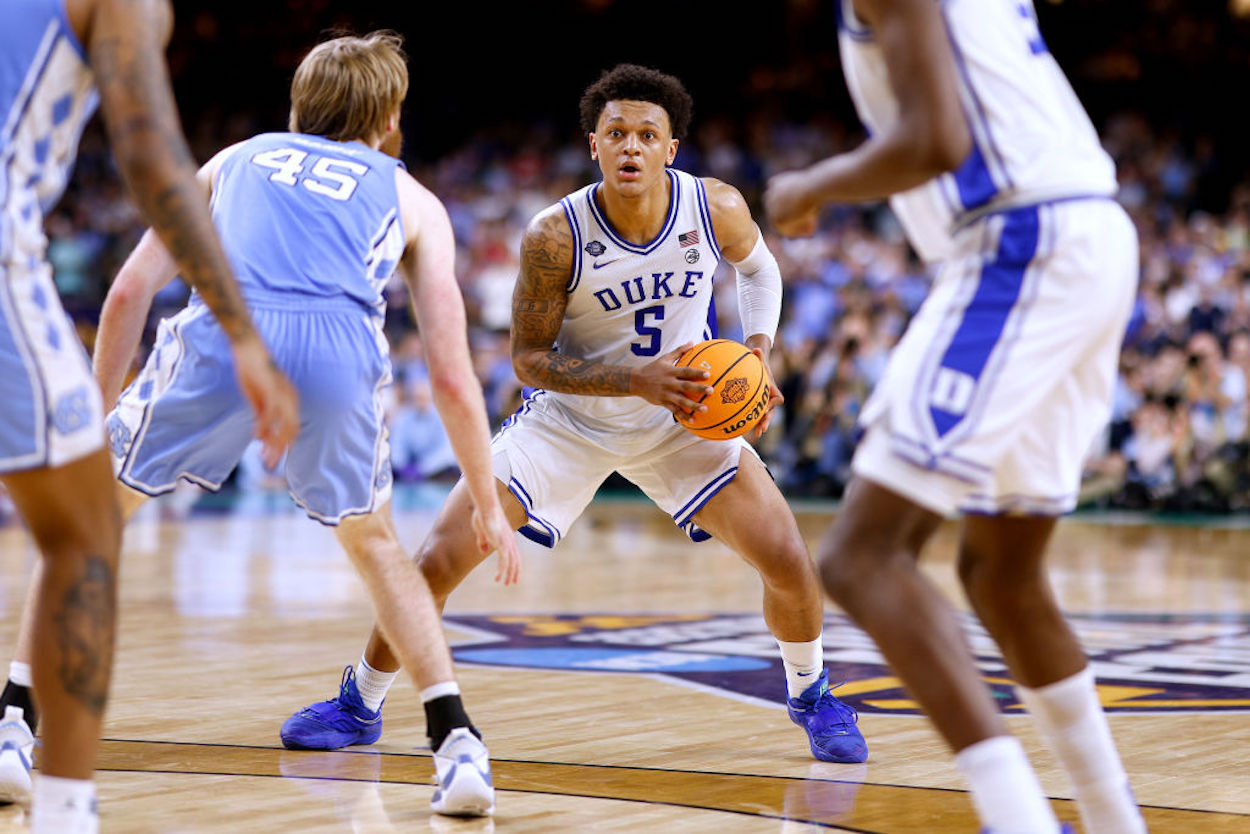 Duke's Paolo Banchero May Have Added a New Wrinkle to His Resume Days Before the NBA Draft
While Paolo Banchero already looks like a top-notch NBA prospect, a recent rumor could make his stock rise even higher.
While the 2021-22 Duke Blue Devils' season ended with a crushing loss to North Carolina, Paolo Banchero still covered himself in glory. The forward largely lived up to the hype, averaging 17.2 points, 7.8 rebounds, and 3.2 assists per outing as a do-it-all player for Coach K's final squad. On the back of that performance, he entered the 2022 NBA draft as a sure-fire lottery pick. As of now, most mock drafts have him going within the top three spots.
That's already an impressive baseline, but Banchero's future could get even brighter. According to a pre-draft rumor, the former Blue Devil could be a bit taller than we previously thought.
Paolo Banchero has been listed at 6-foot-10, but that may be his height without shoes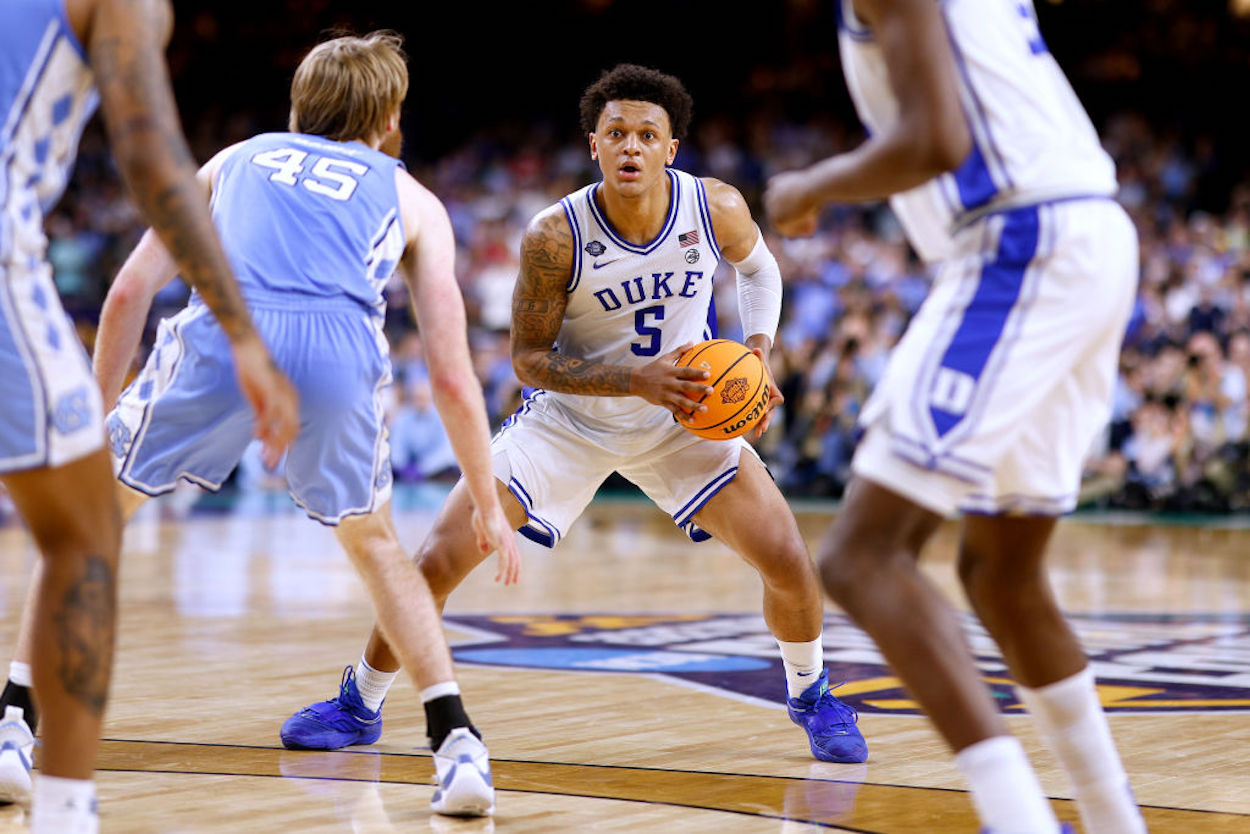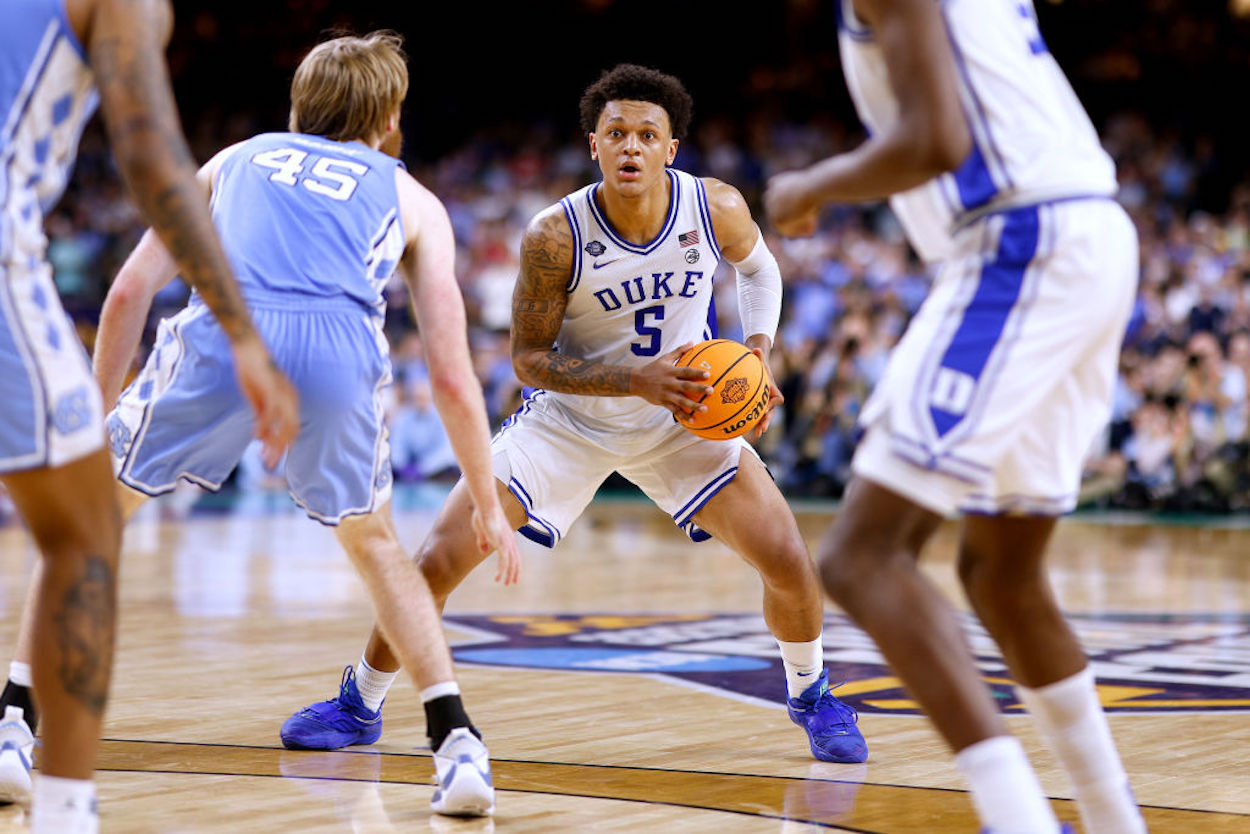 During his time in Durham, Panchero was listed at 6-foot-10 and 250 lbs. While that doesn't make him a small man by any means — Blue Devils fans can confirm he's more than capable of holding his own in the paint and blocking some shots — the forward might be even taller than we thought.
Ahead of the NBA draft, Chris Vernon of The Ringer met Banchero at an Overtime Elite-affiliated workout session. While the prospect wasn't officially part of the action, he still made quite the impression.
"So then, in the middle of the workout, Banchero comes out," Vernon explained on a recent episode of The Mismatch podcast. "Banchero walks in, and he's just on the other [side], he's not working out. He worked out earlier in the day, but he's just down on the other end, like kinda screwing around. And, you know, shooting, he's got a couple of buddies with him, and they're just messing around, whatever. But then, after the whole thing like kind of wrapped up, it's very informal, everybody's just kind of walking around, you know, once I get closer to him, I'm like, 'This dude is big. Like big big.'"
While that might seem easy to write off as anecdotal evidence, Vernon also heard talk of a more concrete measurement.
"I talked to somebody there, and I was like, 'Yo, like what did, what did he measure at?' Vernon continued. "They told me, look, I'm just passing what I was told along. They told me that he, in I want to say it was in Houston, maybe he went to go workout or something, that he measured 6-10 1/2 or 6-10 1/4 without shoes. And I was like, 'Jesus.'"
While, as Vernon said, that's just conjecture, it does make sense. As documented in a 2019 New York Daily News story, the NBA standardized their height measurements to be taken barefoot. If Banchero were measured at an official team workout, it would have been done without shoes.
That might seem like a small difference, but it does paint Banchero in a slightly different light
At the risk of sounding like Lucille from Arrested Development, you might be saying, "It's one shoe, how much height could it add?" While that's certainly a valid objection, I'd wager that NBA heights are as much about perception as they are about reality.
If we take Vernon's story as accurate, Banchero's official NBA height will be 6-10. That means he's the same height as Kevin Durant and two full inches taller than Jayson Tatum. That reality paints the Duke Blue Devils as a different sort of player, even if nothing has actually changed.
Without trying to get inside the head of every NBA general manager, it was previously easy to imagine Banchero as somewhat of a stereotypical stretch winger, capable of floating between the block and the elbow. Knowing he's a legitimate 6-10, however, could help teams picture him as an interior player who's capable of doing much more than banging bodies in the post. That perception of added versatility — the forward can go toe-to-toe, at least from a height perspective, with most big men — could further increase his draft stock. At the risk of reducing a real human being to a set of attributes, no one wants to select a one-trick pony.
At this point, Banchero was already projected as a top-three pick in the upcoming NBA draft. Who knows, maybe that extra bit of height will bump him a bit higher up the big board.
Stats courtesy of Sports-Reference