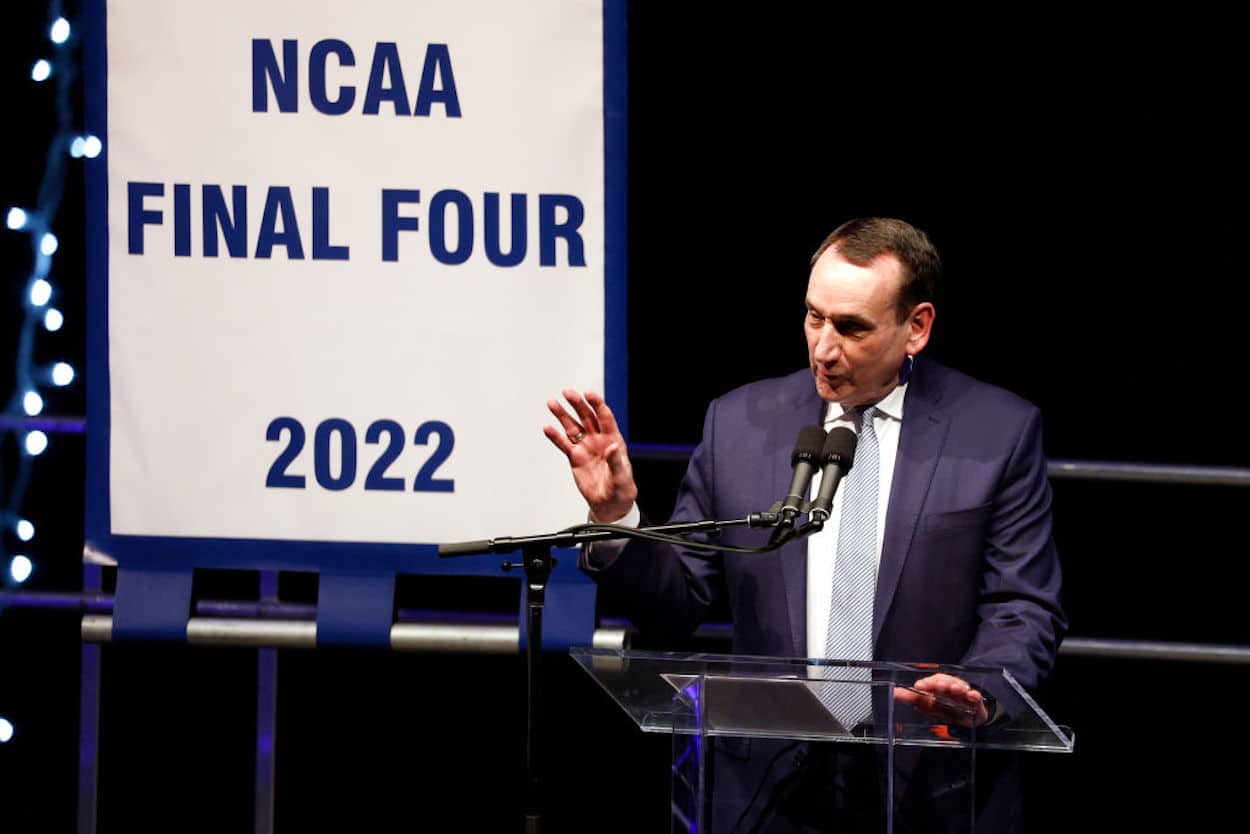 Mike Krzyzewski Is Still Providing Invaluable Coaching, Albeit in a New PBS Interview
Mike Krzyzewski might not be coaching Duke anymore, but he's still passing along some invaluable wisdom.
For decades, it was impossible to imagine Mike Krzyzewski doing anything other than coaching. Whether he was leading his Duke Blue Devils or Team USA, the veteran bench boss seemed at home on the sidelines. As his iconic nickname would imply, Coach K was born to, well, coach.
These days, though, things are a bit different. Krzyzewski has retired and handed control of his program to Jon Scheyer. That doesn't mean he isn't still taking the opportunity to teach, though.
Take, for example, a recent PBS interview. While there was plenty of basketball discussion, Coach K also made an important point that's often overlooked in traditionally masculine spaces like sports.
Coach K referenced having mental health issues and seeking help in a recent interview
Based on the images of Krzyzewski we saw for 40-plus years — him prowling the sidelines, barking at referees, and scowling to himself — it's easy to think of Coach K as a serious guy who doesn't have time for anything other than basketball. In a recent interview, however, he confirmed that wasn't the case. He, like anyone else, has worked through some tricky situations.
"Yes, I'm stubborn, but I'm also very flexible when I hear a better solution. It doesn't have to be my idea," he told PBS' Judy Woodruff when she asked about his stubbornness. "In fact, in the mid-'90s, I changed my leadership style a lot, because I had been kind of a micromanager. Maybe I was too stubborn then, up until the mid-'90s. But, after that, I had some health issues, physical and mental health issues in the mid-'90s. And I got through that, and it helped me immensely."
Woodruff then asked about Krzyzewski's willingness to speak openly about those issues. At that point, the coach got even more candid.
"It's human. I mean, so many people who have problems, physical and mental, in the old days, they would say, well, you're crazy," Coach K continued. "I'm not crazy. I'm crazy if I don't get help. And I had no feeling during that time. And maybe the greatest man I have ever known, who was a precedent here, helped me during that time, Keith Brodie, one of the top psychiatrists in the world. And he worked with me for three, four months. And thank goodness I was around good people again."
That message is important, especially in the world of sports
In the grand scheme of sports, Krzyzewski's comments about mental health may seem insignificant compared to X's and O's. I would contend that the opposite is true: They're important because of their relative rarity.
It goes without saying that sports aren't exactly a space known for emotional intelligence. Things are often boiled down to their connection to winning; anything that inhibits that ultimate goal is bad. It's common practice for players to push through physical injuries in order to play, and seeking help for a mental health situation is even more stigmatized.
To use a rather current example, consider the end of Ben Simmons' time with the Philadelphia 76ers. The forward said he was dealing with a mental health situation that left him unable to play. While we're used to athletes missing time with tweaked hamstrings or broken bones, his absence was viewed with skepticism: He was quitting or trying to find his way out of Philly. When he landed in Brooklyn and seemed happier, it was a sign that he was faking, not that he had found a more supportive environment.
Kevin Love, who's been open about his depression and anxiety, touched on a similar sentiment. While it's easy to assume that professional athletes are living the dream, he's proof that isn't the case. You can't achieve yourself out of depression," Love told CNBC in 2021. "You can't achieve yourself out of that high-level of anxiety."
But what happens when mental health situations are written off as a weakness or an excuse that can be powered through if you really want to? Seeking help becomes the exception rather than the norm, which only makes it harder to break that cycle.
While one comment in one interview won't change the world, it's still a step in the right direction. Sports fans, both young and old, can learn a great deal from their favorite players or coaches; I know that Coach K shaped my life. If he's another big name speaking out about the importance of mental health, that's another source of positive reinforcement.
During his time on the sidelines, Coach K wrote a book that was literally called Beyond Basketball. In retirement, he's still providing important lessons that transcend the court.
 In the U.S., contact the Substance Abuse and Mental Health Services Administration helpline at 1-800-662-4357.