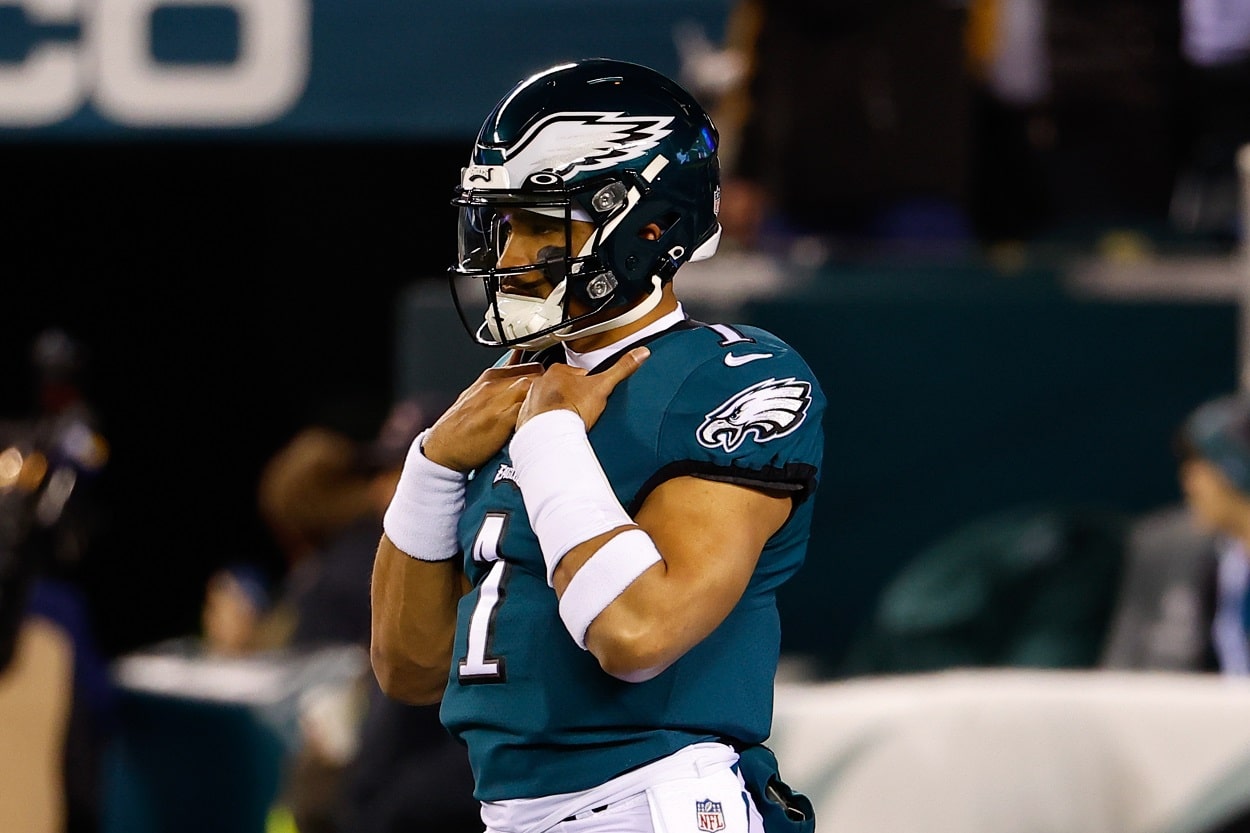 Super Bowl 57: Breaking Down the 5 Most Pivotal Moves That Set the Philadelphia Eagles Up for a Championship Run
The Philadelphia Eagles' roster has undergone significant changes since the team won the Super Bowl five years ago.
Howie Roseman proved he could construct a championship-caliber team by assembling the pieces that allowed the Philadelphia Eagles to take down Tom Brady and the New England Patriots in Super Bowl 52. 
Five seasons later, it's clear the well-respected general manager remains one of the best in the business at putting together an elite roster. 
Despite making a few miscalculations in recent years, Roseman's ability to acquire talent via the draft, free agency, and the trade market has allowed the Eagles to climb back to the top of their conference. Set to face a loaded Kansas City Chiefs team led by Patrick Mahomes, the Eagles counter with a quarterback who's quickly developed into a star in his own right. 
While Jalen Hurts' ascension from scrutinized second-round pick to NFL MVP candidate has captured plenty of attention, Philadelphia wouldn't be representing the NFC in Super Bowl 57 without a handful of other key personnel decisions executed by perhaps the league's savviest GM. 
As the battle for the Lombardi Trophy draws near, let's take a closer look at the five most pivotal moves that put the Eagles on a championship trajectory.
5. Bolstering a talented secondary with veteran James Bradberry
Few NFL teams have a true shutdown corner. But thanks to their division rival dropping the ball, the Eagles can proudly proclaim they possess two top-notch cover men. 
With Darius Slay already locking down one side of the field, Roseman took advantage of free agency to add another talented player at the position. Nine days after the New York Giants released James Bradberry, the Eagles signed him to a modest one-year deal with just $7.25 million guaranteed. That incentive-laden contract proved to be one of the shrewdest moves of the offseason, as Bradberry started all 17 regular-season games and earned second-team All-Pro honors. 
Coming off a 2021 campaign in which he allowed a 61.7% completion rate, the veteran surrendered just 39 catches on 86 targets (45.3%). Bradberry's impressive debut season put him 18th out of 118 corners in Pro Football Focus' grading system. And by forming a dominant duo with Slay, he helped the Eagles finish first in Football Outsiders' Pass DVOA metric by a comfortable margin over the Patriots. 
Talk about a move that paid immediate dividends.
4. Betting on a rugby player's big-time upside
Ironically, the Eagles landed a franchise left tackle the year before they used the 22nd overall pick on Andre Dillard. In fact, even though the former Washington State standout hasn't come close to delivering on his first-round pedigree, Philadelphia still boasts arguably the best offensive line in the NFL. 
Of course, it helps when you have a 6-foot-8, 365-pound specimen as a moldable building block. 
Although Jordan Mailata spent his formative years playing rugby league, his size, power, and agility have helped him successfully transition to the American equivalent of the brutal sport. Since getting selected 233rd overall in the 2018 NFL Draft, the Australian native has gone from a project to a Pro Bowl-caliber blindside protector. 
Mailata's marked progression under longtime Eagles offensive line coach Jeff Stoutland has helped solidify one of the most important positions on the field. Plus, the talented tackle's ability to pave holes in the running game and keep pass rushers at bay helped him earn a four-year, $64 million contract extension in September 2021. 
Needless to say, Roseman's decision to take a seventh-round flyer on a rugby player with zero football experience has set the Eagles up for success for years to come.
3. Targeting Haason Reddick in free agency
Where would the Eagles be if another team had landed Haason Reddick last spring? As much talent as the NFC champions boast in the trenches, it's fair to say signing the 2017 first-rounder to a three-year, $45 million contract was a season- and franchise-altering move.
Coming off consecutive double-digit sack campaigns (Reddick recorded 12.5 in 2020 with the Arizona Cardinals and 11 with the Carolina Panthers in 2021), the athletic edge rusher took his talents to the City of Brotherly Love and promptly rewarded his new employer with career-highs in sacks (16) and quarterback hits (26). Oh, Reddick also led the league with five forced fumbles en route to earning second-team All-Pro honors and his first Pro Bowl berth. 
What really puts this move over the top is how much of an impact the ex-Cardinal has made during the Eagles' playoff run. With 3.5 sacks, four quarterback hits, one forced fumble, and one fumble recovery in two games, Reddick has been a nightmare to block in the postseason. One more vintage performance should cement his case as the free-agent signee of the year—and allow him to secure his first Super Bowl ring.
2. Pulling off a blockbuster trade for A.J. Brown
It takes conviction to part ways with a first-round pick for a player who's also looking to get paid. And even though A.J. Brown cost a pretty penny to acquire and extend, there's no doubt the Eagles made the right call to make him the focal point of their offense. 
A physical pass catcher who totaled nearly 3,000 receiving yards in three seasons with the Tennessee Titans, Brown took his game to another level in his first year in Philadelphia. Operating as Jalen Hurts' top target, the 6-foot-1, 226-pound wideout set new regular-season career-highs in catches (88) and receiving yards (1,496) while tying his 2020 total of 11 touchdown receptions. 
Not only did Brown's arrival give the Eagles a bonafide No. 1 receiver, but it also gave 2021 first-rounder DeVonta Smith and tight end Dallas Goedert more room to operate. If the two-time Pro Bowler plays up to his potential against Kansas City, Philadelphia may play host to another Super Bowl victory parade.
1. Selecting and standing by Jalen Hurts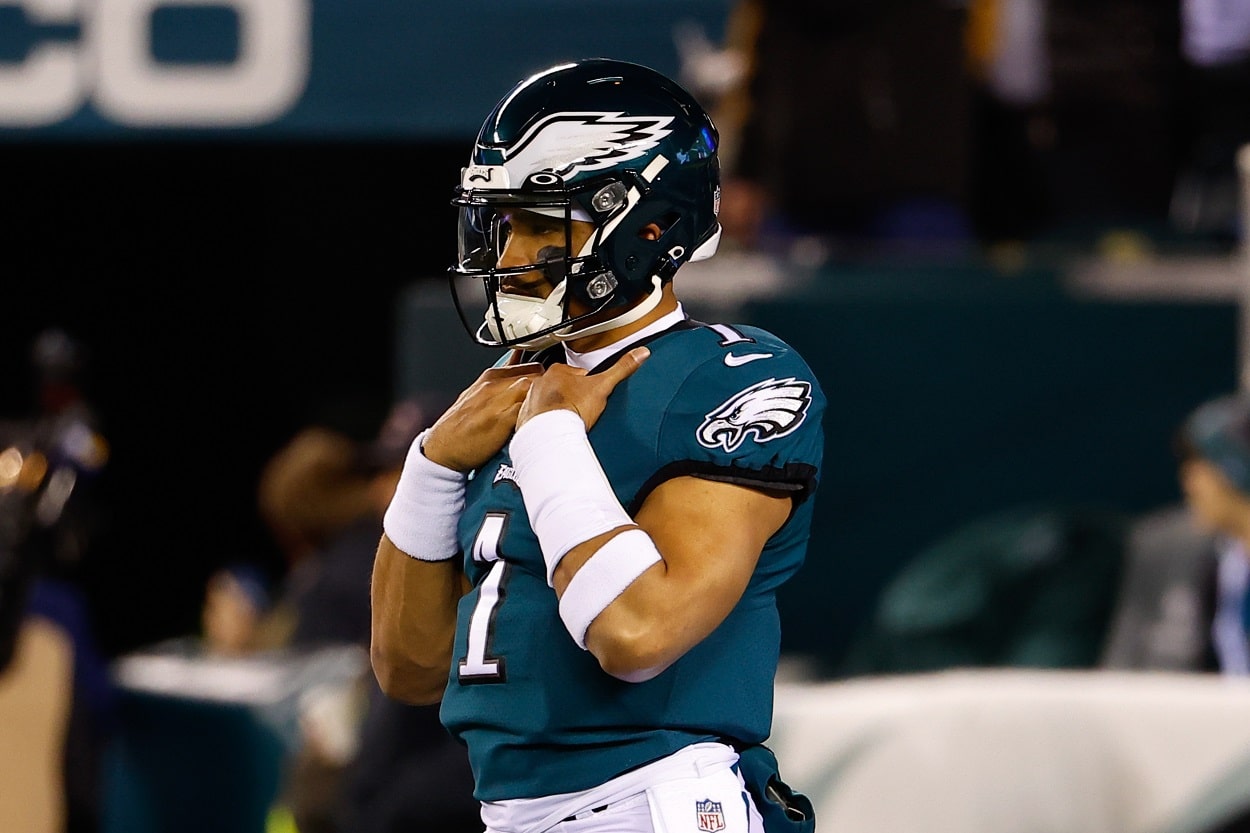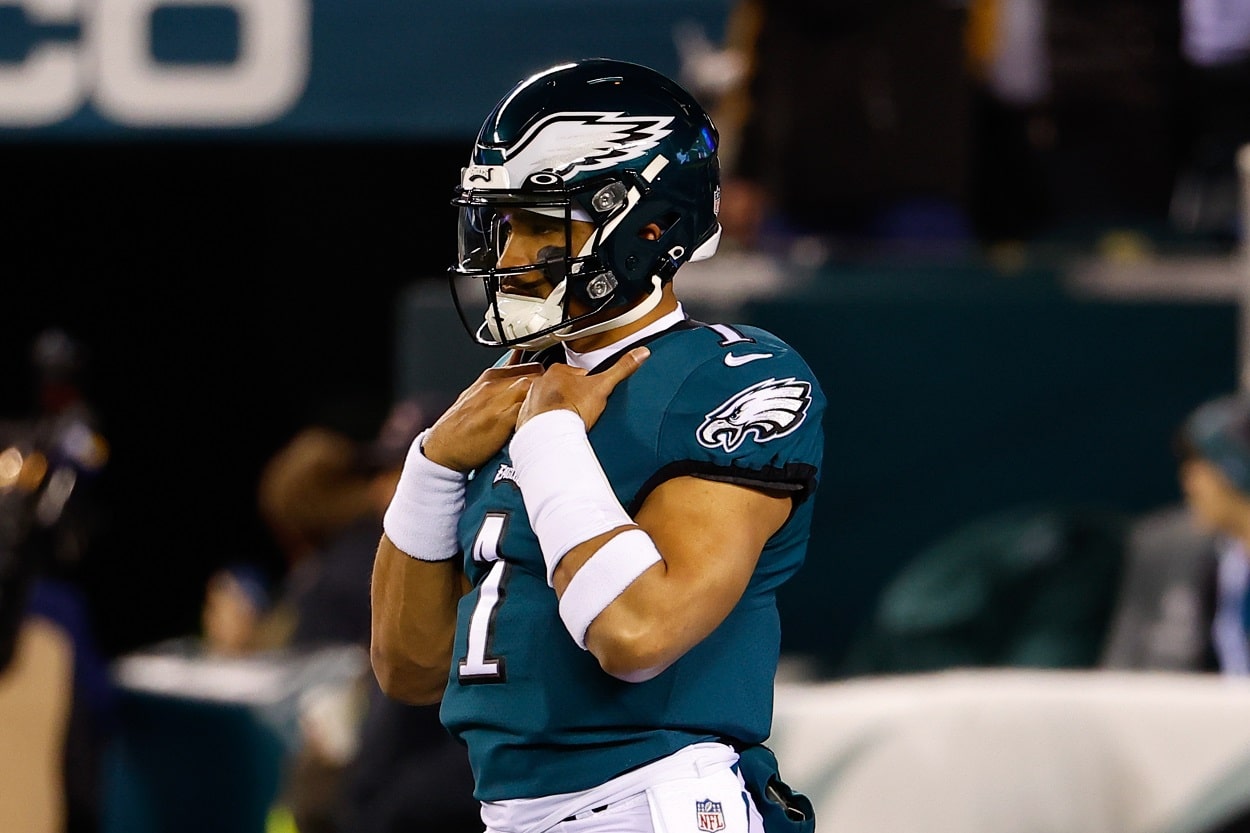 Heading into the 2022 season, nobody knew exactly what to expect from Jalen Hurts. Yet, with just one game to go, it's obvious the Eagles won't have to worry about the quarterback position for quite some time. 
Playing behind a stout offensive line and surrounded by an improved cast of weapons headlined by Brown, Smith, and underrated running back Miles Sanders, the 2020 second-round pick put together an MVP-worthy campaign that should help him become one of the highest-paid players at his position sooner than later. 
Hurts went from completing just 61.3% of his passes for 3,144 yards and 16 touchdowns in 2021 to hitting 66.5% of his attempts for 3,701 yards and 22 touchdowns. He maintained his dual-threat status by racking up 760 yards and 13 touchdowns on the ground. Most importantly, he won all but one of his 15 regular-season starts and has played turnover-free football in his team's two playoff wins. 
Although the Eagles could have pursued a trade for Deshaun Watson or Russell Wilson, they chose wisely to stick by their incumbent starter. And by placing their faith in a player who overcame plenty of adversity in college, the kings of the NFC could soon call themselves Super Bowl champions for the second time in six years.