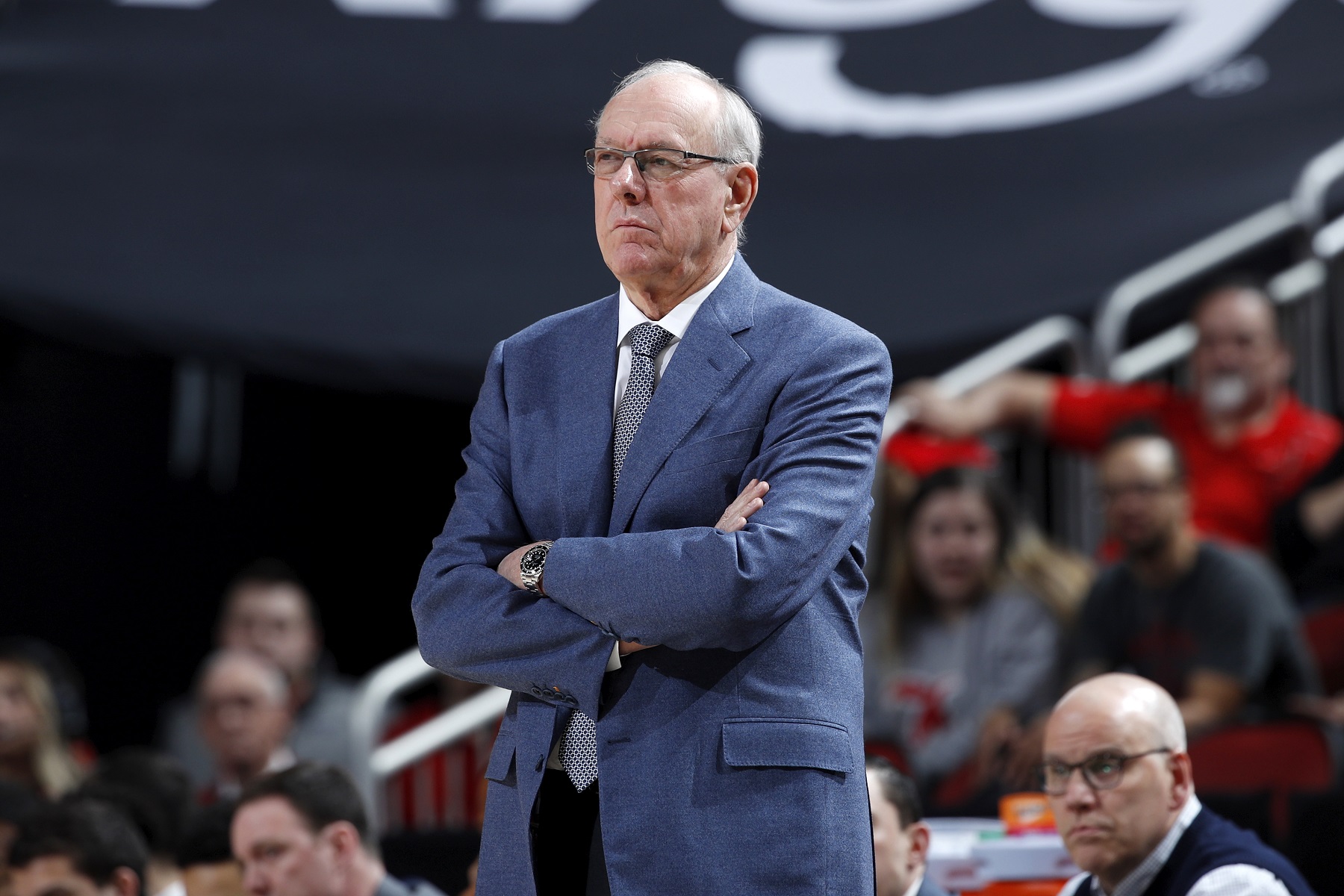 Syracuse Basketball Is in the Hunt To Add Another Well-Known Name
Syracuse University basketball coach Jim Boeheim could be adding a very familiar name to the roster.
Derrick Coleman, Dave Bing, and Dwayne "Pearl" Washington are among the greats who have played for Syracuse University over the years. But one name stands above all others for basketball fans when it comes to identifying the figure most closely associated with the program: Boeheim.
Jim Boeheim played his college ball there, served as an assistant, and has been the head coach since 1976. He brought son Buddy Boeheim in to play for him two seasons ago, and now he seems destined to land another familiar name.
Jim Boeheim has spent his entire career at Syracuse
Even with the 101 victories the NCAA has stripped from his record, Syracuse men's basketball coach Jim Boeheim has won 964 games. The high point was the 2002-03 season, when the Orange rode one-and-done star Carmelo Anthony to the NCAA Tournament championship.
Boeheim arrived at the university as a player in 1962 and was a teammate of future NBA great Dave Bing. After a brief career playing in the Eastern Professional Basketball League, he returned to SU in 1969 as an assistant to coach Roy Danforth.
When Danforth left in 1976 to coach and serve as athletic director at Tulane, Syracuse hired Boeheim. Freshmen Louis Orr and Roosevelt Bouie – "The Louie and Bouie Show" – led that first team to a 26-4 record and a spot in the NCAA Sweet 16, and the Naismith Memorial Basketball Hall of Fame inductee never left.
Boeheim, 76, is slated to begin his 45th season this fall. However, the coach revealed on Nov. 15, 2020, that he has tested positive for the COVID-19 virus and has begun isolation at home. The school announced it was pausing men's basketball activities, ESPN reported.
Father and son together at Syracuse
Jim Boeheim and his second wife Juli have three children playing college basketball, all close to home. Jimmy Boeheim is enrolled at Cornell. Jamie is on the women's team at the University of Rochester. Meanwhile, Buddy Boeheim plays for his father at Syracuse.
After averaging 17 minutes a game as a freshman shooting guard, he started all 32 games last winter and averaged 15.3 points a game on 40.7% shooting. He scored a season-high 26 points in wins against Georgia Tech and Virginia Tech last season as the Orange finished 10-10 in the ACC and 18-14 overall.
Jim Boeheim may add a second son to the roster
Senior forward Jimmy Boeheim is one of three Cornell basketball players who have entered the NCAA transfer portal, The Post-Standard in Syracuse reported.
Boeheim was scheduled to be the Big Red's leading returning scorer this season, but the Ivy League announced last week that it was canceling winter sports because of continuing concerns over the COVID-19 pandemic.
If he has his heart set on continuing to play basketball, Boeheim would likely have to transfer somewhere after the semester since Ivy League rules would not allow him to continue classes now and then play as a graduate student. He could withdraw from school short of graduation and return next fall, but the risk is that there might not be a 2021-22 season either.
When Boeheim, a 6-foot-8 forward, committed to Cornell, many observers speculated that he would stay to get his degree and then play a season for his father as a graduate transfer. One scenario would have him sit out the spring semester at Syracuse and then play the full 2021-22 season alongside his brother, Buddy Boeheim.
It's not a sure thing that Syracuse would be his destination if he does transfer, but the presumption is that teaming up with his father and brother in the ACC would be irresistible.
Jimmy Boeheim led Cornell in scoring last season at 16.7 points per game.