Former Syracuse Star Fab Melo Tragically Died After a Short NBA Career
Fabricio de Melo, also known as Fab Melo, was a top recruit while in high school. His potential led to him starring for Syracuse in college and then going to the Boston Celtics in the first round of the NBA draft. Melo's professional career, however, did not go as planned. Then, after his time in the NBA, Melo's life sadly ended way too soon.
Fab Melo did not play basketball very long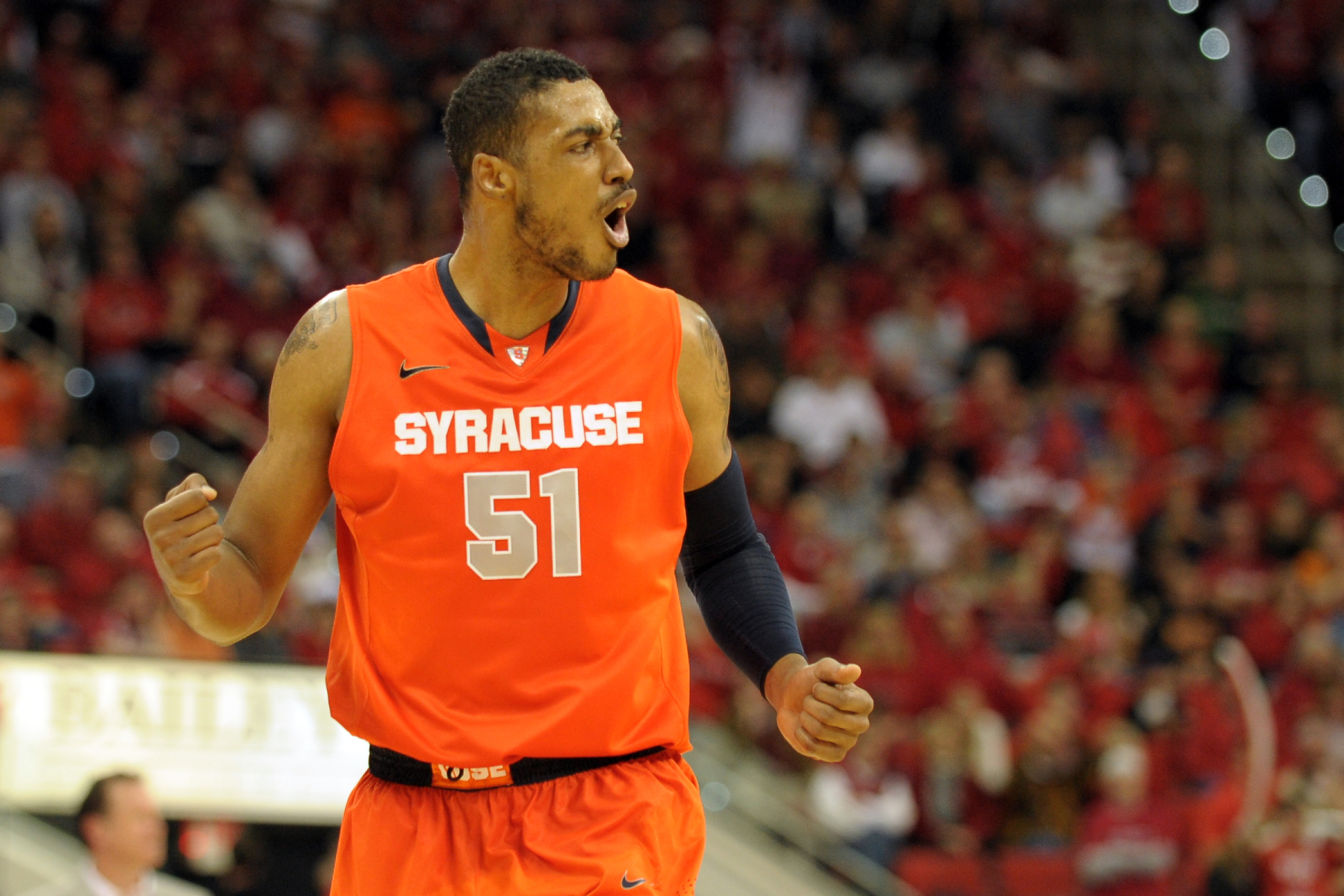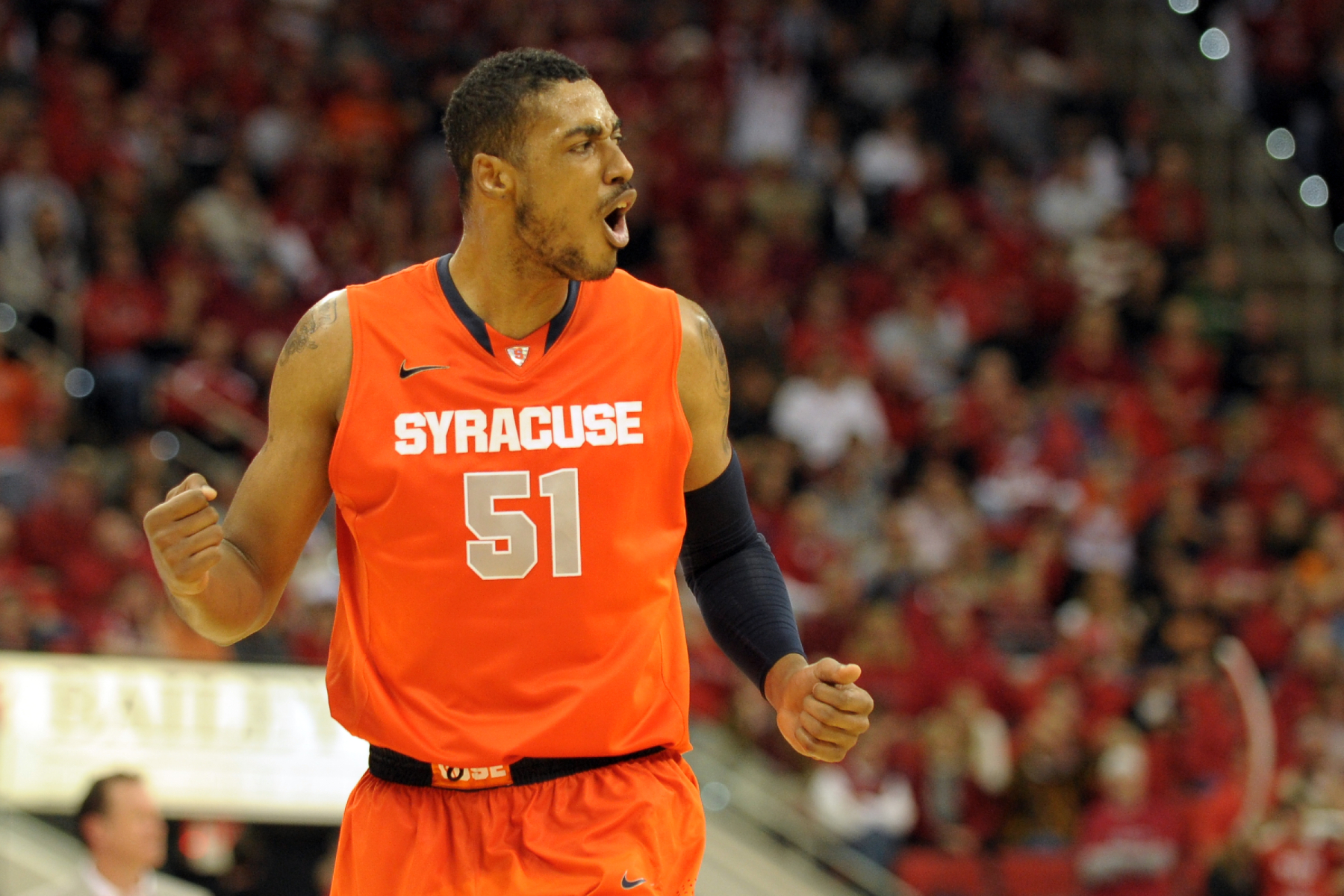 Melo came to the United States from Brazil as a teenager. He was about seven-feet-tall at the time, and his mother learned that colleges in America liked basketball players who had some height, according to Syracuse.com.
He was ultimately introduced to basketball at 15 years old after previously playing soccer. 
"In soccer, you kick balls," Melo said in 2010, according to Syracuse.com. "In basketball, you catch them. At first it was very hard to grab the ball when somebody threw it to me. And when I would get the ball, I would always travel. And when I shot, it looked like I was throwing a pass. It was all very strange."
Melo's mom then sent him to Miami to live with his cousin. He ended up becoming a five-star recruit, according to 247Sports. 
His career at Syracuse ended in a tough way
Melo did not play much as a freshman at Syracuse. He only played in 9.9 minutes per game, averaging 2.3 points per game and 1.9 rebounds. However, he had a breakout year in 2011-12. 
Melo won the 2011-12 Big East Defensive Player of the Year as he racked up 2.9 blocks per game. He also averaged 7.8 points per game and 5.8 rebounds. 
His play on defense was what was really valuable, though. 
"That year, he was probably the best defensive center Syracuse has ever had," his teammate, Nolan Hart said, according to Bleacher Report. "I don't think a lot of people, unless they're basketball junkies, realize how valuable he was on that end."
However, in January 2012, Melo was suspended for an "academic issue," according to Bleacher Report. He missed three games but was still eligible for the rest of the regular season. Syracuse ended up earning a No. 1 seed in the NCAA Tournament too. 
Then on March 13, the school announced he was suspended for the rest of the season. Syracuse went to the Elite Eight, but it is hard imagining anyone beating them if he had played.
It eventually came out that Melo was in the middle of an investigation into Syracuse's athletic department. The NCAA learned that staffers pulled strings to keep him academically eligible, according to Bleacher Report. The investigation also included the legitimacy of a paper that Melo wrote, according to ESPN.
The Syracuse fan base then reportedly turned on him, according to Bleacher Report, so a few months later, he declared for the 2012 NBA draft. 
Melo tragically died after a short pro career
The Boston Celtics drafted Melo with the 22nd overall pick in the 2012 NBA draft. He, however, only played in six games in the NBA. Melo spent most of his time playing in the D-League, now the G League, where he even set a D-League record for 14 blocked shots in a game, according to Bleacher Report.
He ultimately bounced around in the D-League, and then in 2015, he chose to continue his pro career back home.
However, in 2017, at only 26 years old, Melo's mother found him passed away in a bed. He reportedly died of a heart attack, Syracuse.com reported in 2017.
"It's so hard right now, so hard to believe. It's a sad, sad day. He was a really good kid, and it's not fair that he will be defined by one thing: a 10-page paper," Syracuse coach Jim Boeheim said to ESPN, referring to the academic investigation. "He worked his tail off to become a really good player and was a nice kid." 
Syracuse fans might remember Fab Melo for the wrong reason. However, if he had not gotten suspended, they could have remembered him for all of the right reasons, being a good kid and helping them win a national championship. Putting basketball aside, though, Melo is definitely gone way too soon.