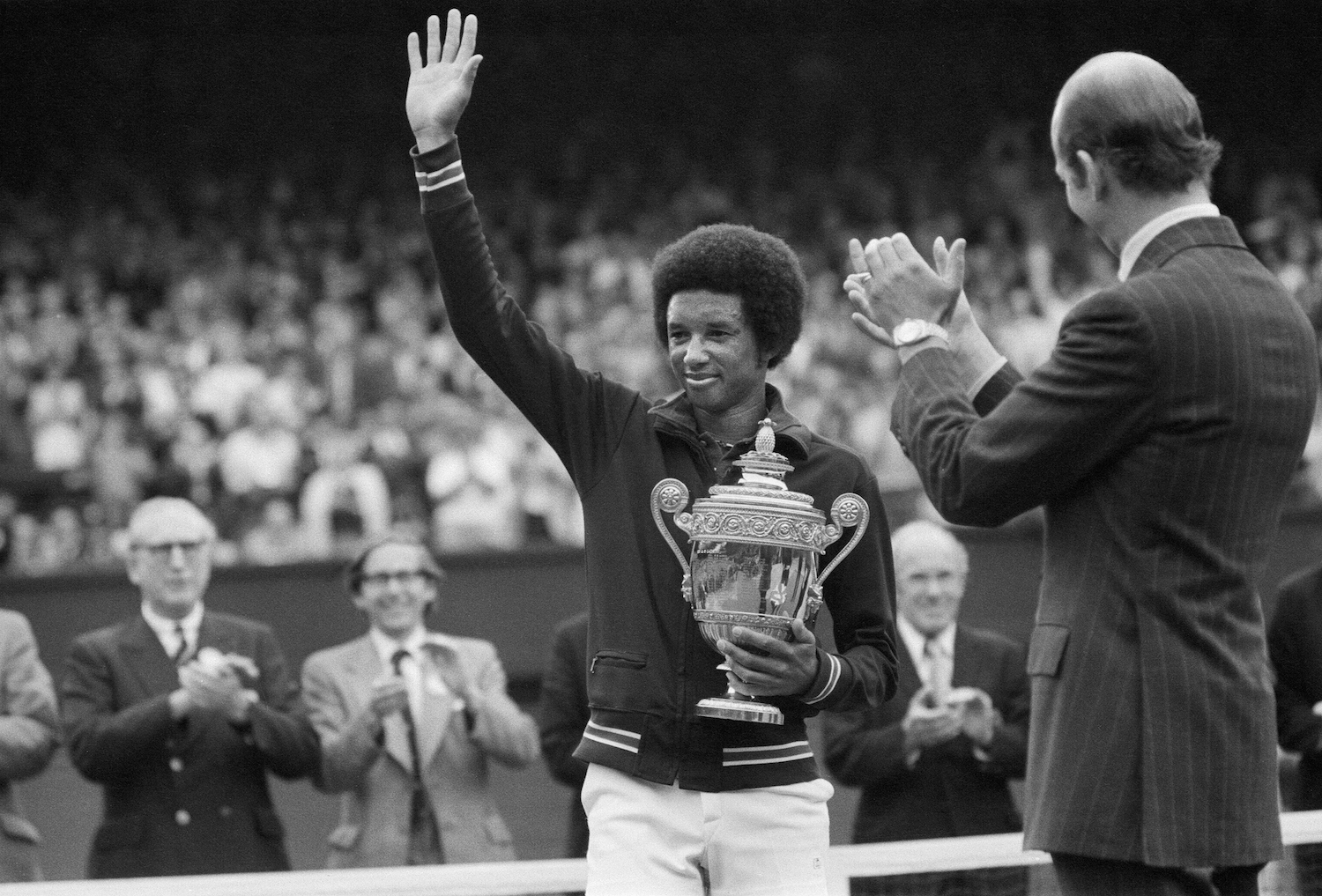 Tennis Great Arthur Ashe and His Tragic Death from AIDS
Arthur Ashe was a star tennis player and a trailblazer. He accomplished many firsts as a Black tennis player. Tragically, he died of AIDS in 1993.
Arthur Ashe was a trailblazer in the world of tennis, winning multiple Grand Slam titles in his career. But his success wasn't limited to the court. He was also a civil rights activist involved in opening others' eyes in countries like South Africa. He retired from tennis in 1980 after suffering a heart attack. In 1993, he tragically died from AIDS-related pneumonia. Here's a look back at the impressive career and tragic death of Arthur Ashe. 
Arthur Ashe and his trailblazing career
In 1963, Arthur Ashe made history becoming the first Black player selected to the U.S. Davis Cup team. It would be one of many racial barriers he would topple during his career. In 1968, Ashe became the first Black male to win the U.S. Open title. 
A year later, Ashe applied for a visa to play in the South African Open. He was denied because of the country's apartheid policy. Ashe's initial application and persistence eventually resulted in South Africa's expulsion from the Davis Cup.
Ashe won the Australian Open in 1970 and then in 1975, he faced the No. 1-ranked Jimmy Connors in the Wimbledon finals for the first all-American final since 1947. Ashe was a decided underdog, seeded No. 6, and had never beaten Connors before. 
In the match, Arthur Ashe played near-flawless tennis. He won in four sets. That same year, Ashe was awarded the inaugural ATP Player of the Year Award. He played until 1980 and retired due to heart issues. 
Arthur Ashe's health issues 
Growing up, Arthur Ashe knew heart issues ran in the family. His mom had cardiovascular disease at age 27 when she died, and his father suffered heart attacks when he was 55 and 59 years old. Ashe suffered his first heart attack in 1979 at age 36.
A few months after undergoing quadruple-bypass surgery, Ashe was planning a return to action when he experienced chest pains. He never returned again to the court in competitive play. He underwent a second surgery several years later that corrected issues from the first surgery. It was also during this time he became the national campaign chairman for the American Heart Association.
In 1988, Ashe began experiencing paralysis in his right arm. After undergoing exploratory brain surgery and a battery of tests, doctors determined he had toxoplasmosis, a parasitic disease that is commonly found in people infected with HIV. Another set of tests revealed he was HIV positive. 
The tragic death of Arthur Ashe
Doctors believed Arthur Ashe contracted HIV from blood transfusions during his second heart surgery. Despite that, Ashe and his wife tried to keep his HIV diagnosis private. After a friend that worked at USA Today called Ashe about his condition, he decided to go public. 
While Ashe wasn't happy being forced to go public with his illness, the move forever changed his life and the lives of countless others after he created the Arthur Ashe Foundation for the Defeat of AIDS. He used his platform to raise awareness about the virus and was one of the first to explain that the disease wasn't limited to homosexuals or IV drug users. 
Ashe suffered a second heart attack in 1992. That same year, he spoke to the United Nations General Assembly and addressed the growing need for AIDS awareness and increased research funding. 
On February 6, 1993, Arthur Ashe died from AIDS-related pneumonia at age 49.