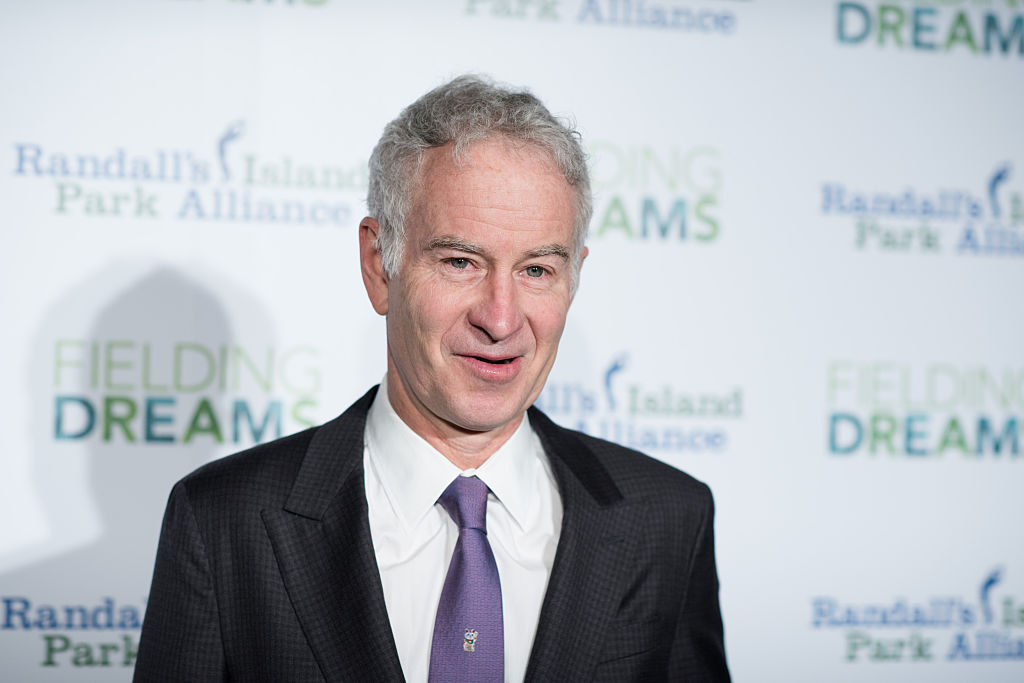 Tennis Star John McEnroe's Net Worth Is Befitting a Champion
John McEnroe was a multi-time tennis champion on the court and is now a multi-millionaire off of it.
John McEnroe didn't always beat the best players of his era in tennis grand slams, but he more than holds serve against them these days when the conversation turns to money.
John McEnroe's net worth has a lot of zeroes in it
International Tennis Hall of Fame inductee John McEnroe's bank account is impressive even when measured by the standards of professional athletes according to CelebrityNetWorth.com, which cites considerable real estate holdings by McEnroe and second wife Patty Smyth in California and New York.
McEnroe, 61, retired from singles competition in 1994 but continued playing doubles well into his 40s. His $12.5 million in prize money, a slew of endorsement deals with Nike and others, and post-retirement ventures have pushed his net worth to an estimated $100 million.
That figure is almost as much as McEnroe's four primary rivals during his prime are worth combined. Here's how McEnroe and his contemporaries stack up, according to the website:
John McEnroe, 7 grand-slam singles titles, 1979-84, $100 million.
Bjorn Borg, 11 grand slams, 1974-81, $40 million.
Ivan Lendl, 8 grand slams, 1984-90, $40 million.
Mats Wilander, 7 grand slams from 1982-88, $16 million.
Jimmy Connors, 8 grand slams from 1974-93, $12 million.
John McEnroe's resume went beyond grand slams and tantrums
Although many fans are likely to recall John McEnroe's tantrums on the court as his calling card, the German-born left-hander was much more than that.
For starters, his three Wimbledon and four U.S. Open singles titles – contributing to season-ending No. 1 rankings four straight years beginning in 1981 – were complemented by three Masters Grand Prix and five World Championship Tennis season-ending titles.
McEnroe also excelled in doubles, winning nine Wimbledon or U.S. Open titles in an 11-year span. However, some of McEnroe's most memorable work took place in a different kind of team setting: the Davis Cup.
Johnny Mac was a Davis Cup hero
John McEnroe's performance in the Davis Cup helped create unprecedented interest in that international event with an assist from ESPN, which gave the tournament extensive coverage during the cable network's early years.
McEnroe won both his singles matches in the 1978 Davis Cup final to give the United States its first championship in six years. He then helped the country to more titles in 1979, 1981, and 1982. His fifth championship appearance came in 1992.
By the time he retired, McEnroe had set a U.S. record with 41 singles victories. McEnroe and Peter Fleming went 14-1 together in doubles matches.
In 1982, McEnroe battled Swedish rival Mats Wilander in six hours, 22 minutes in the deciding match of a quarterfinal that lasted. McEnroe won, 9-7, 6-2, 15-17, 3-6, 8-6. His five-set match against Boris Becker of Germany in the 1987 relegation bracket was another marathon, lasting six hours, 20 minutes. Becker prevailed, 4-6, 15-13, 8-10, 6-2, 6-2.