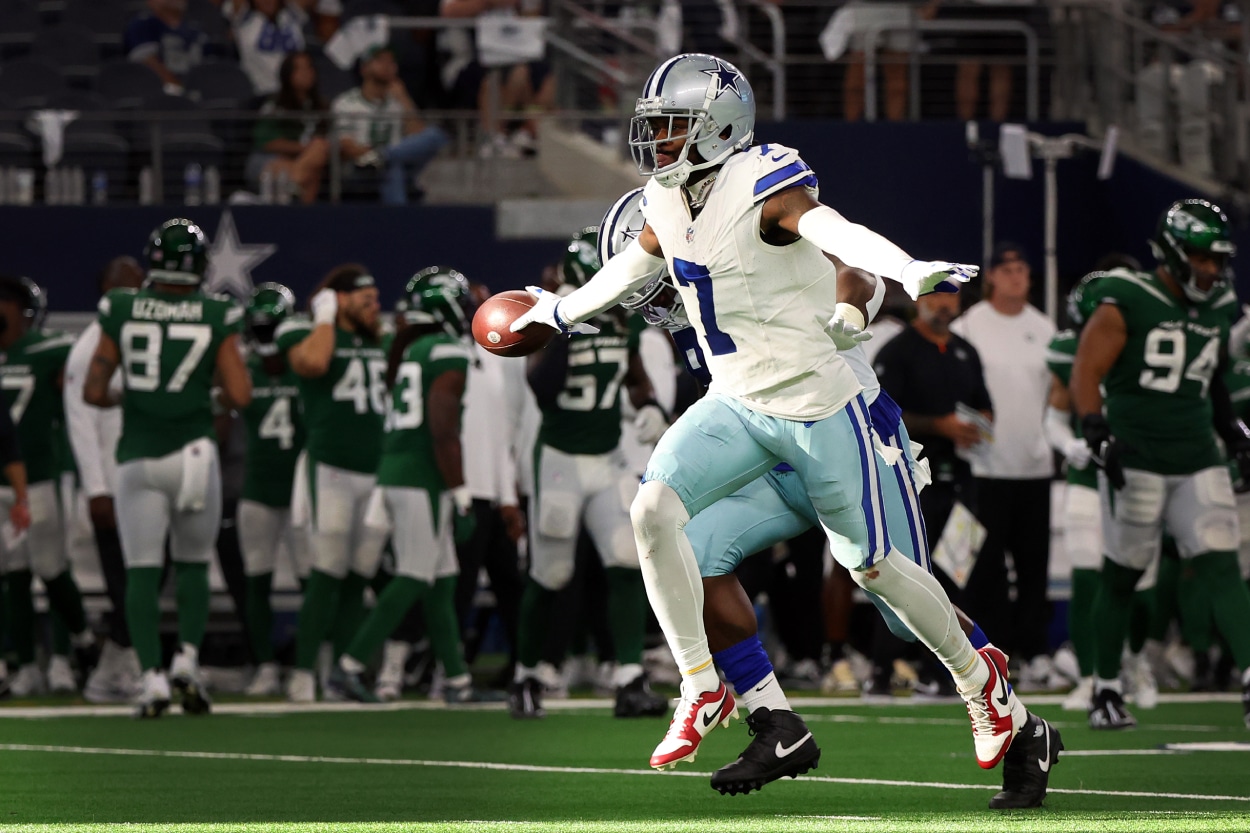 The Dallas Cowboys Hit With Devastating News Ahead of Week 3 Matchup With the Cardinals
The Dallas Cowboys have been cruising, but they took a big hit at practice Thursday.
The Dallas Cowboys are clicking on both sides of the ball. In their two games, they've outscored their opponents 70-10 and have done so in dominating fashion.
In the season opener, the defense took control, scoring a pair of touchdowns and not allowing a point in a road win against the rival New York Giants. In Week 2, they held the New York Jets to one touchdown in a 30-10 victory. On Thursday, the Cowboys got some tough news that is sure to have an impact on that vaunted Cowboys defense.
Trevon Diggs suffered an ACL tear at Dallas Cowboys practice
The Dallas Cowboys suffered a tough blow Thursday when an MRI confirmed a torn ACL in standout cornerback Trevon Diggs' left knee, according to Adam Schefter of ESPN. Diggs suffered his injury during Thursday's practice in preparation for Sunday's game against the Cardinals.
Diggs is in his fourth NFL season. He's coming off consecutive Pro Bowl seasons. In two games this year, Diggs has an interception and a forced fumble.
Diggs, the younger brother of Buffalo Bills star receiver Stefon Diggs, just inked a five-year, $97 million contract extension with the Cowboys this summer.
"Some of you saw him leaving the field, so prayers to him," Cowboys quarterback Dak Prescott said, per ESPN. "Simple as that."
Diggs' injury will surely impact the league's No. 1 defense
The Cowboys defense is No. 1 in yards allowed, yards per play allowed, interception rate and sack rate. Losing Diggs is a massive blow to the secondary.
Diggs led the NFL in interceptions in 2021 with 11. He has 18 in his career, along with a pair of forced fumbles. The Cowboys were locked in at the corners with Diggs and veteran Stephon Gilmore, but the Cowboys will have to shuffle things around with Diggs gone for the remainder of the season.
DaRon Bland, who returned an interception for a touchdown in the Week 1 win over the Giants, could move into Diggs' slot. Bland led Dallas in picks a year ago with five. Noah Igbinoghene, who also had a pick-six in Week 1, could also be an option to take over Diggs' spot.
The Cowboys look to go 3-0 this week when they head to Arizona to take on the winless Cardinals.