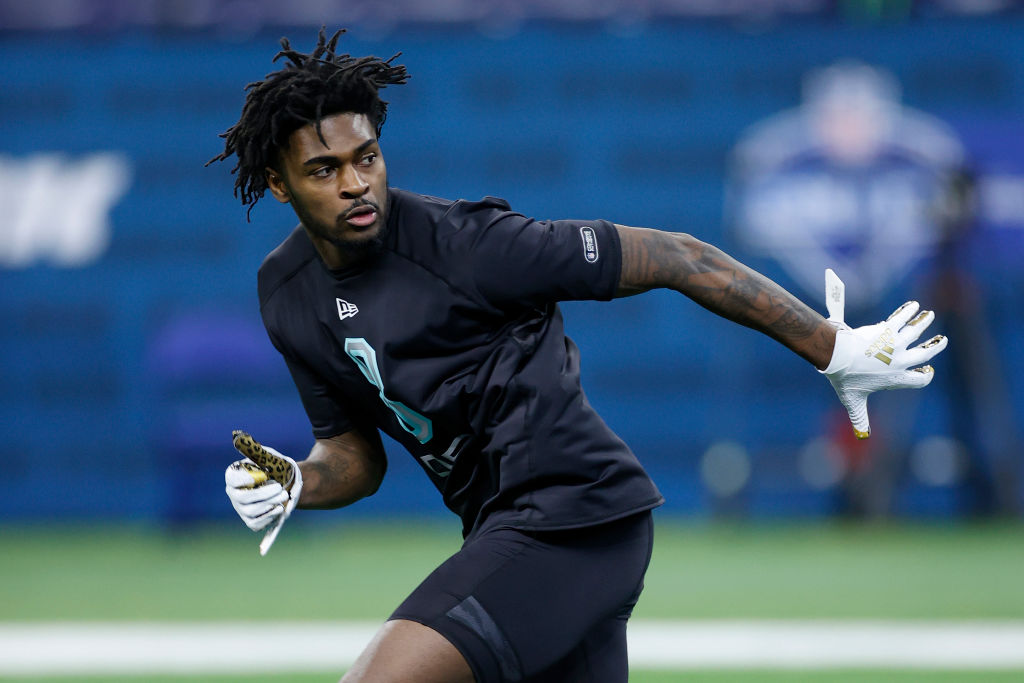 Dallas Cowboys Draft Pick Trevon Diggs Has a Father Figure in Big Brother Stefon
Dallas Cowboys second-round pick Trevon Diggs got an emotional message and some advice from his brother Stefon right before he was drafted.
Stefon Diggs has already made a name for himself in the NFL as a top wide receiver. Trevon Diggs, Stefon's little brother, is hoping to follow suit with the same success as a defensive back. Trevon Diggs was the second-round pick of the Dallas Cowboys in the 2020 NFL draft. Right before Trevon was selected, Stefon posted a powerful tribute on social media to his little bro and gave him some advice on how to deal with life in the NFL.
Football life for Trevon and Stefon
Stefon Diggs has been in the National Football League for five seasons. He played his college football at Maryland before he was drafted by the Minnesota Vikings in the fifth round of the 2015 NFL draft. He spent all five of his seasons in Minnesota, but the wide receiver was traded to the Buffalo Bills in the offseason.
In Minnesota, Diggs had his best season in 2018 when he caught 102 passes for 1,021 yards and nine touchdowns. Last season, he only caught 63 balls but finished with a career-high 1,130 receiving yards. In 2019, Diggs averaged 17.9 yards per catch. For his career, Diggs has 4,623 receiving yards and 30 touchdowns with the Vikings.
Trevon Diggs plays on the other side of the football. At the University of Alabama, Diggs played all four years and during his freshman season, he played wide receiver, defensive back, and he returned kicks. for the next three seasons, he gave up playing wide receiver, focusing on defense. In his senior year, the 6-foot-2, 195-pound Diggs collected three interceptions and had 37 tackles.
The Diggs brothers are close
Although they are five years apart, the relationship between brothers Trevon and Stefon Diggs is very close. Growing up, Trevon Diggs' father was a fan of the Dallas Cowboys. Diggs' father, Aron, died in 2008 and Trevon said it was a dream come true when Cowboys owner and GM Jerry Jones announced his name.
"I was star struck," Trevon Diggs said. "That's Jerry Jones. Words can't explain it, the feeling when my heart kind of dropped." He said it was a dream come true when Dallas selected him with pick No. 51. "My dad was a Cowboys fan before he passed," he said. "I'm kind of living out his dream."
After his father's passing, Trevon looked up to big brother Stefon. He looked at him as more than a brother. He was a mentor to Trevon. "I relied on him a lot," Trevon said of Stefon. "He went through everything. He is my father figure. I can talk to him any time of the day."
Stefon Diggs' touching message to his little brother
In a video posted to his social media account, Stefon Diggs put together a very heartwarming video for Trevon which was posted right before the 2020 NFL draft. The touching post talked about their time growing up without their father and offered a little bit of NFL advice.
"I literally watched you grow up," Stefon said in the video. "Think I actually changed your diaper once or twice. I remember us walking to school together every day. I remember us playing video games." Stefon went on to talk about how Trevon taught him patience and how he learned to hug his siblings and tell them he loved them every day. The video was an emotional trip down memory lane.
Stefon went on to talk about his father's death, saying "I knew what Pops told me and I still think about it to this day. He told me to take care of your little brother." Stefon then told Trevon to take the next phase of his life one step at a time, continue to work hard, and always keep a professional mindset. Stefon showed Trevon and the rest of the world what a big brother – and a father figure – should be like.