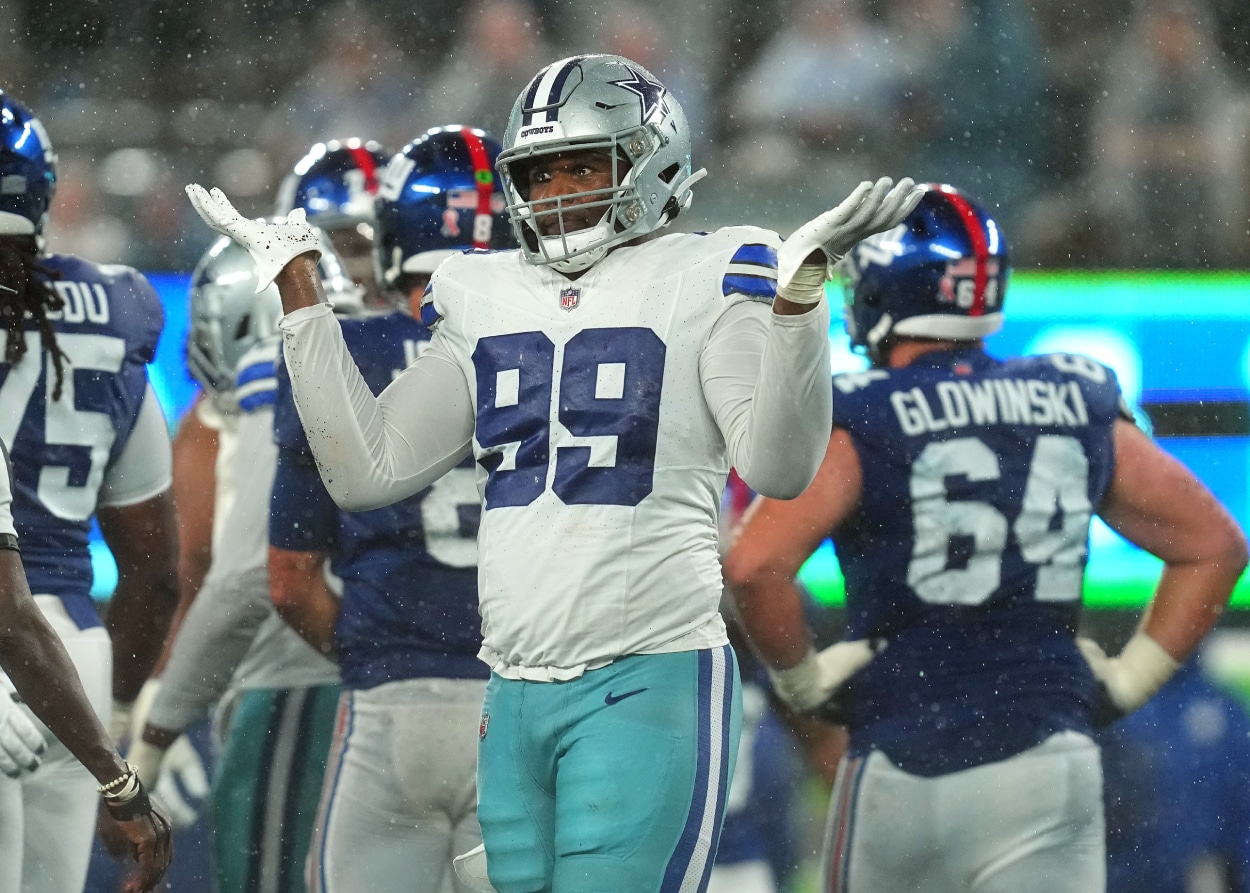 Are the Dallas Cowboys for Real This Time?
We've heard this plenty of times before, but are the Dallas Cowboys for real this time?
We've heard it all before. The Dallas Cowboys, still referred to as "America's Team" by some old-schoolers, have headed into previous seasons with high expectations, only to disappoint those fans. Those expectations remain the same this season.
Since 1997, the Cowboys have won four playoff games. They've never made it past the divisional round in those 26 years. Yet, every season there seem to be Super Bowl aspirations for Dallas. Sunday night, the Cowboys simply dominated, crushing the New York Giants on the road, 40-0. Are the Dallas Cowboys for real this time?
The Dallas Cowboys showed no mercy on the New York Giants
The Dallas Cowboys made statements early and often in Sunday night's win over the rival Giants. In an ugly downpour, the Cowboys stifled the Giants offense, earning the largest shutout in franchise history. The Cowboys defense/special teams accounted for two early touchdowns and Dallas never looked back in the lopsided win.
The 40-point win did not surprise Cowboys linebacker Micah Parsons, who consistently disrupted any flow the Giants had offensively.
"No doubt in my mind," Parsons said, per ESPN. "I saw it before anybody. I said, 'I can't wait to get to New York.' I already knew we was coming. Just because when preparation meets execution, I don't think there's no one that can beat us."
Dallas took a 16-0 lead into the second quarter without an offensive touchdown. The Cowboys led 26-0 at the half and kept rolling along.
"Yeah, it's just one win, it's the beginning of the season, but definitely feel like we put the league on notice, that we're for real, that we're coming," defensive end DeMarcus Lawrence said. 
Dak Prescott: 'We're not going to get ahead of ourselves'
The win was dominant, impressive, eye-opening — however you want to describe it. But it's still just one win. They're tied with the Atlanta Falcons and Tampa Bay Buccaneers, among others, with the best record in the NFC. It's a little too early to make those Super Bowl reservations.
The Cowboys looked good, especially on defense. Offensively, they didn't get a whole lot from quarterback Dak Prescott, but they didn't need him. Prescott completed 13 of 24 passes for 143 yards. Running back Tony Pollard, taking over for the departed Ezekiel Elliot as the lead ball carrier, rushed 14 times for 70 yards and two touchdowns.
It's one game. The Cowboys looked good. Even Prescott realizes that. He said the victory wasn't any kind of statement. He understands there's still plenty of work to be done.
"That's y'all's job to write whatever statement it needs to be," Prescott said. "For us, it's about not getting ahead of ourselves, continuing to stay disciplined, show that discipline, not only what we did through these four quarters but taking that and making sure we use that in our preparation and then moving forward next week going home against another New York team, a good team.
"It's the NFL. You've got to show up week in and week out and be prepared. You don't see a lot of wins like this, so we're not going to get ahead of ourselves on this."
It was a nice win for Dallas, but it's far too early to buy into all the hype.