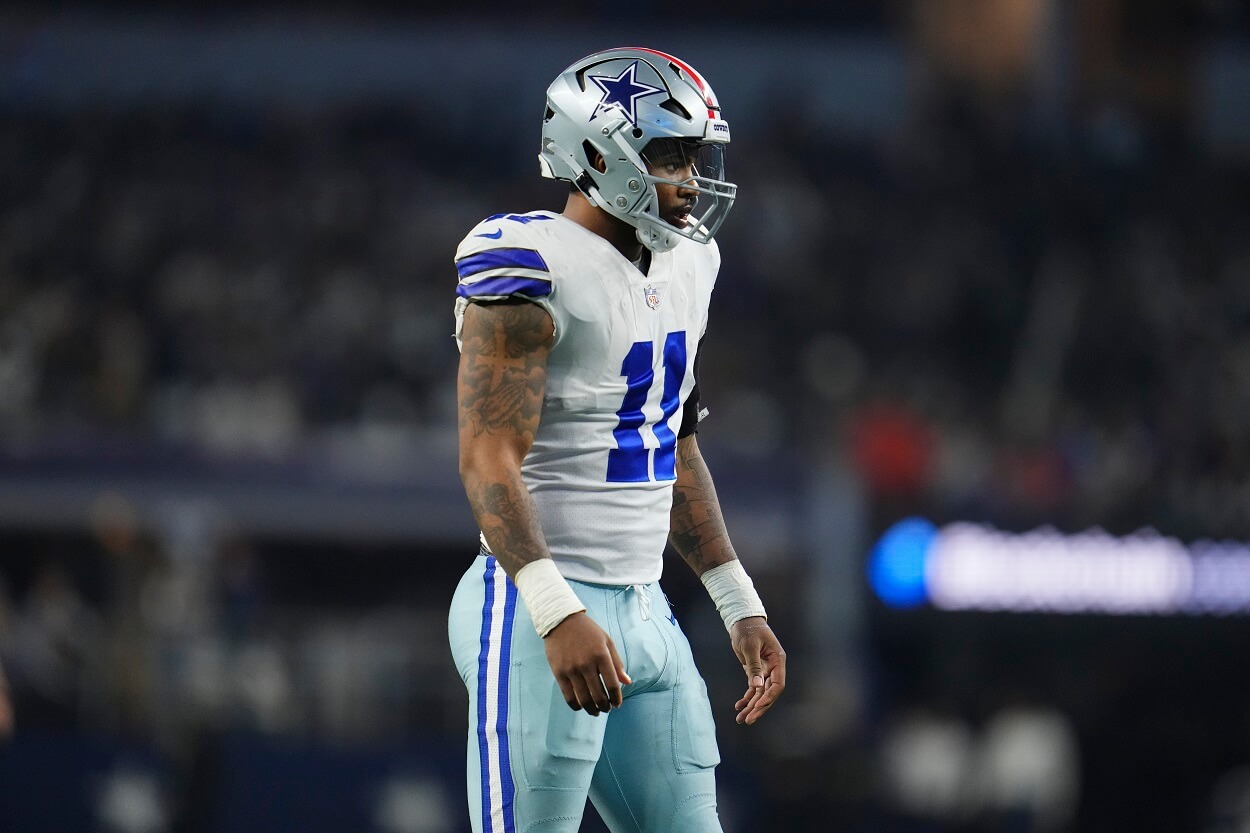 Micah Parsons Has Officially Put Himself on a Path to Knock Aaron Donald Off His $31 Million Throne
Dallas Cowboys superstar Micah Parsons has put himself in position to become the NFL's highest-paid defensive player.
Aaron Donald may currently be the king of the NFL contract world, but he better not get too comfortable with calling himself the league's highest-paid defensive player. 
While the longtime Los Angeles Rams star will undoubtedly be remembered as the most dominant interior pass rusher of all time, his time at the top of the mountain seems to be coming to an end. As Donald inches closer to calling it quits on a Canton-worthy career, there's little doubt Dallas Cowboys star Micah Parsons looks poised to carry the torch as the NFL's best defender. 
Even though his resume doesn't measure up to Donald's (not yet, at least), Parsons deserves credit for playing his cards perfectly heading into his third year in pro football. And if the talented pass rusher's plan pans out, the price the Rams paid to make their homegrown star the highest-paid defensive player of all time will pale in comparison to what Jerry Jones will have to commit to keep Parsons in a Cowboys uniform for years to come.
The league's best young pass rusher will have more opportunities to rack up sacks moving forward
Despite entering the league with questions about where he could fit on a defense, Micah Parsons has wasted no time establishing a reputation as an elite player. Blessed with an explosive first step, terrific closing speed, and elite body control, the former Penn State standout has accumulated 26.5 sacks and two first-team All-Pro selections since he became the 12th player taken in the 2021 NFL Draft. 
The fact Parsons has produced such prolific pass-rushing stats speaks volumes about his ability to harness his rare athleticism. After all, unlike most of the league's top sack artists, the 6-foot-3, 248-pounder has spent a significant portion of his time as an off-ball linebacker. 
However, like Ezekiel Elliott's time with the Cowboys, those days are done. 
Rather than shuffling between playing from a two-point stance and putting his hand on the ground, Parsons will officially be a defensive end moving forward. He's been working to add lean muscle to his frame this offseason. However, Parsons tweeted that he will not surpass 255 pounds in his quest to bulk up for full-time duties playing on the line of scrimmage. 
From an on-field standpoint, having one of the most physically gifted players in the NFL in a position where he can harass quarterbacks on a down-to-down basis is a major upgrade for the Cowboys. If Parsons put up 26.5 sacks splitting time between positions, he could come close to matching that total in 2023 alone.
Switching positions should lead to a record-setting payday for Micah Parsons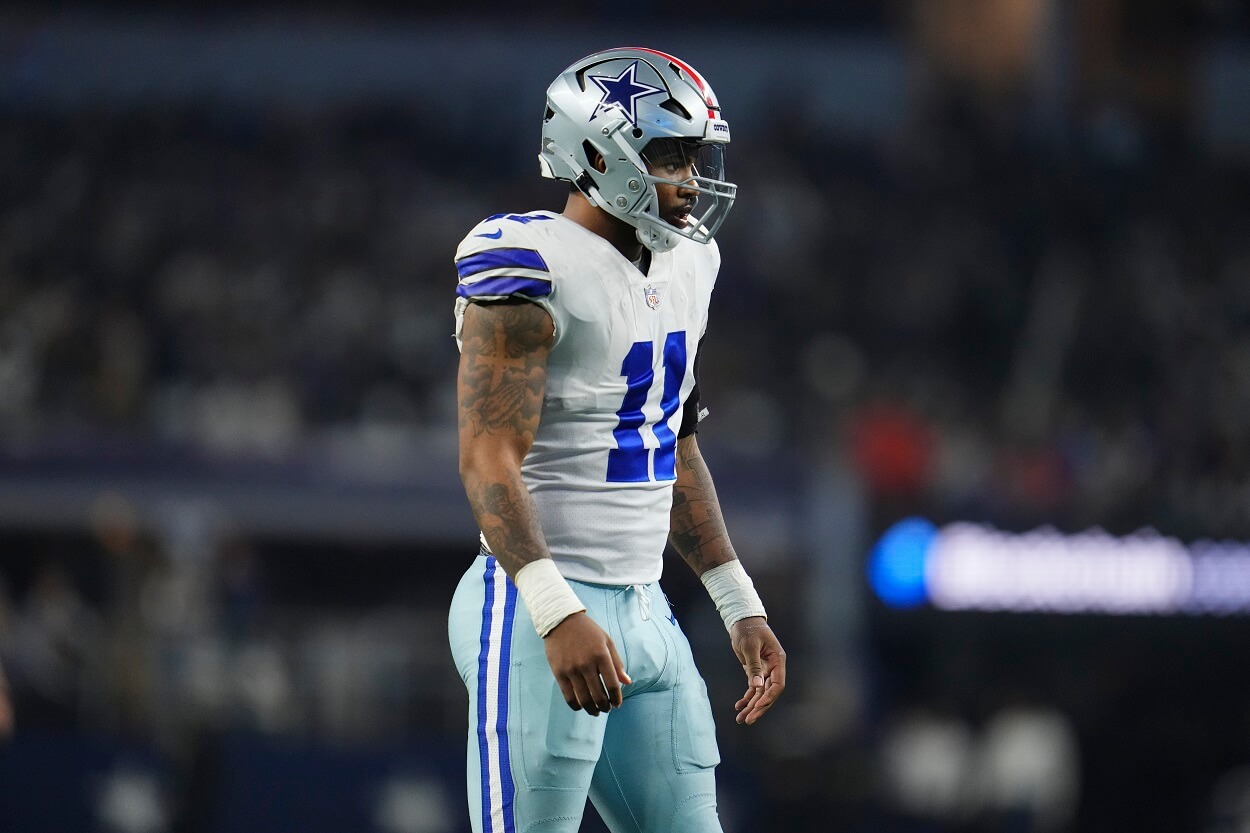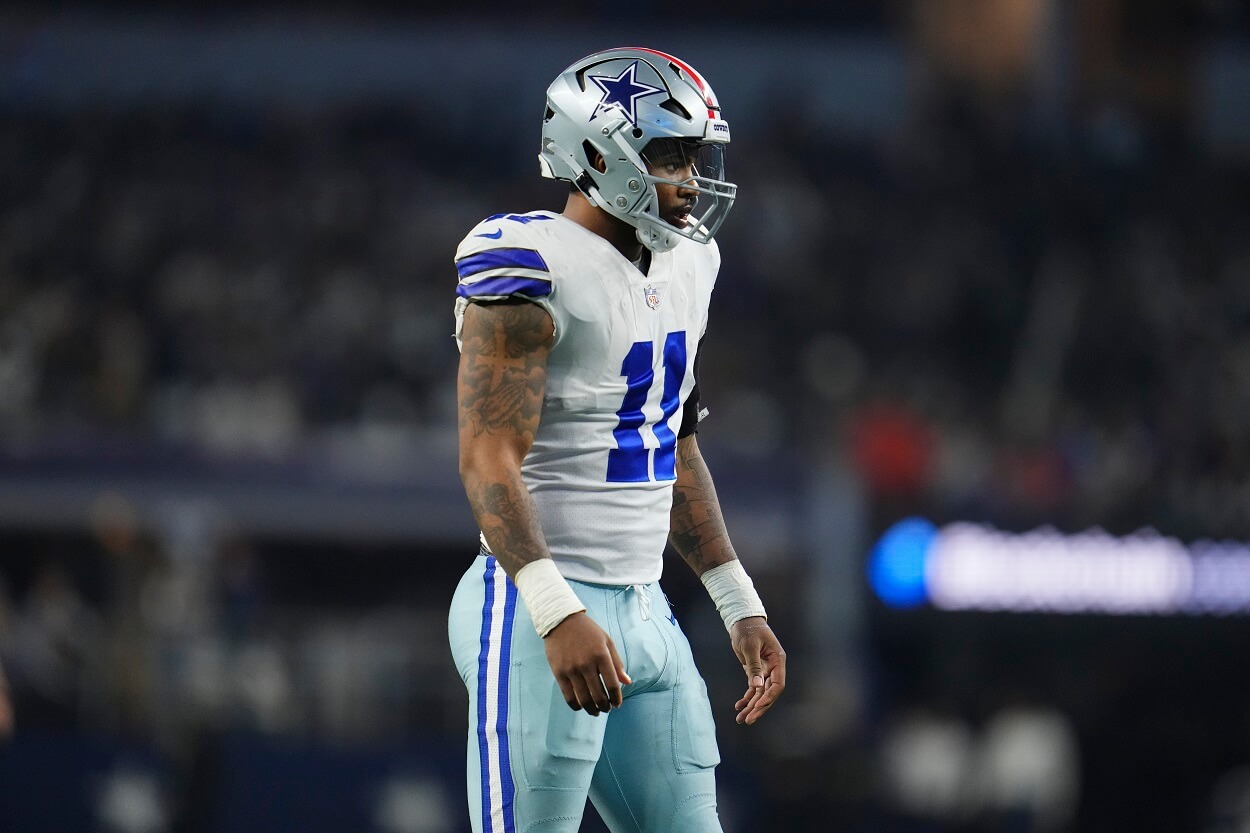 Looking at it from a financial perspective, officially moving to defensive end is a home-run move for Parsons' bank account and his legacy. 
Currently set to make just $2.2 million in cash this season, the 23-year-old won't be the league's biggest bargain for much longer. In fact, Parsons' position switch essentially guarantees that he will overtake Donald and sign the most lucrative contract of all time for a defensive player. 
Heading into the second year of the three-year, $95 million extension he signed last summer, the Rams defensive tackle leads all defenders with an average annual salary of $31.7 million. The next six players on the list are all full-time edge rushers, with Pittsburgh Steelers T.J. Watt checking in at No. 2 with an AAV of $28 million. 
Parsons has a prime opportunity to reset the market. He's still incredibly young, and he's clearly just scratching the surface of his potential, given his lack of experience as an every-down defensive end. With added bulk, more pass-rushing opportunities, and an owner willing to pay top-dollar to retain homegrown stars (Dak Prescott, Ezekiel Elliott, Tyron Smith), Parsons should be confident about his chances of securing a nine-figure extension that makes him the highest-paid defensive player ever. 
Of course, the Cowboys will have to consider cutting costs elsewhere to accommodate that type of contract. But given his value both on the field and in the locker room, Micah Parsons is a priceless commodity Dallas can't afford to lose.
Which defensive stars could also surpass Aaron Donald's $31 million salary in future years?
As more quarterbacks cross the $50 million salary threshold, it'll be interesting to see how many defensive stars hit the $30 million mark. 
To this point, Aaron Donald is the only player on that side of the ball who can make that claim. But with Parsons heading into contract negotiations with even more leverage, there should be at least two defenders making at least $30 million sooner than later. 
Who else could make that type of financial leap? 
San Francisco 49ers defensive end Nick Bosa also has a strong case to ask for a market-altering contract. The No. 2 overall pick in the 2019 NFL Draft is coming off an 18.5-sack season in which Defensive Player of the Year honors. As the face of perhaps the league's best defense, Bosa may join Donald in the $30 million club before Week 1. 
A sleeper candidate? 
Keep an eye on how Brian Burns performs in what could be his final year in Carolina. Still just 25 years old, the two-time Pro Bowler can put himself in an advantageous negotiating position if he matches or surpasses the 12.5 sacks and 22 quarterback hits he registered in 2022. 
And if there's anything we've learned over the years in pro sports, a contract year can certainly bring out the best in any player.