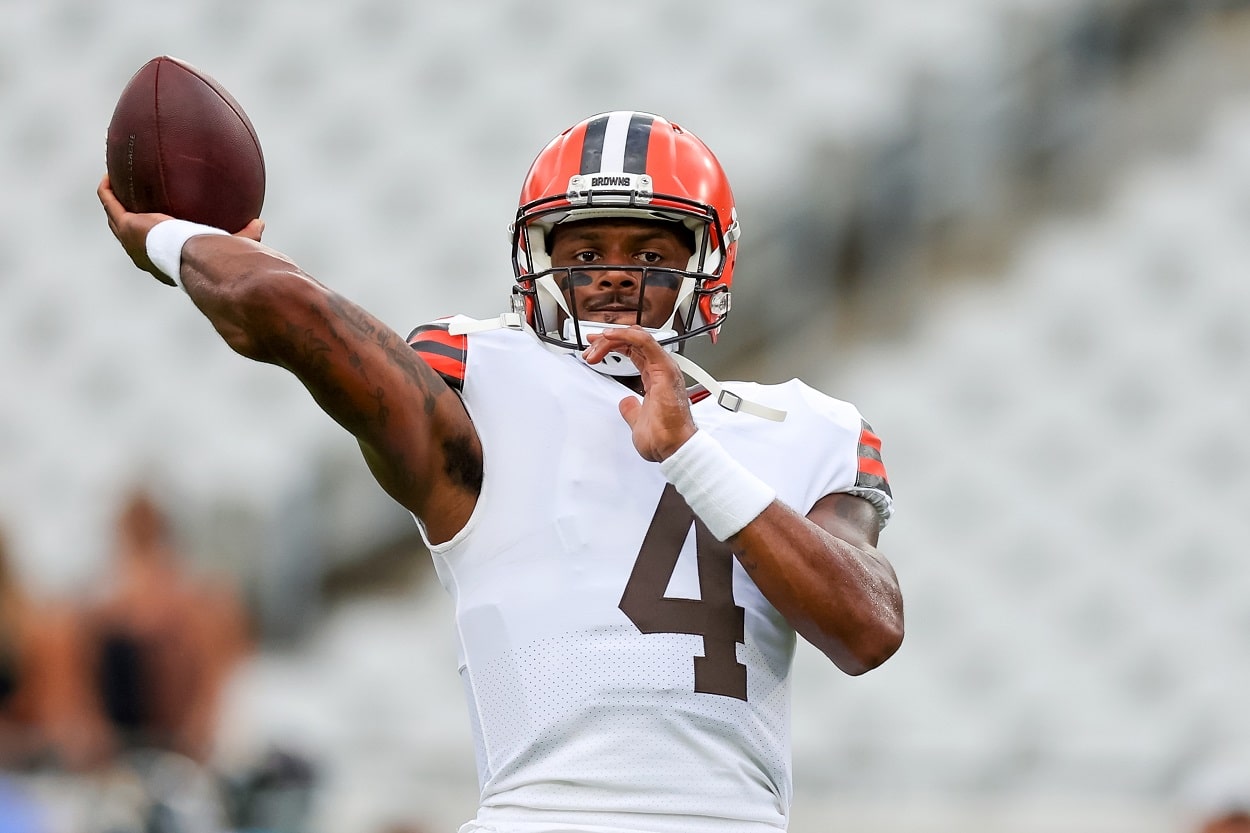 The Deshaun Watson Compromise Is Awfully Convenient for the NFL — Or Perhaps Part of the Punishment
Deshaun Watson's 11-game suspension ends just as the Cleveland Browns prep to play the Houston Texans.
Following months and months of speculation on exactly how Deshaun Watson would be punished after being accused of sexual misconduct by two dozen women, the NFL and NFLPA reached a settlement late last week.
Watson, whom the Cleveland Browns acquired in a trade with the Houston Texans in mid-March, will serve an 11-game unpaid suspension, pay a $5 million fine, and follow a treatment program constructed by behavioral experts, who will administer mandatory evaluations.
The suspension officially takes effect on August 30, the day NFL teams cut their rosters to 53, and he's eligible for reinstatement on November 28, the Monday after the Browns' Week 12 matchup with Tom Brady and the Tampa Bay Buccaneers.
Watson's suspension actually lasts 12 weeks as Cleveland has a Week 9 bye. However, he's eligible to return to the Browns' facility on October 10 for limited activities and can resume practicing with the team on November 14.
After all, he'll want to be ready for that first game back. And we all know who that first game is against, don't we?
Deshaun Watson's suspension ends just in time for the Browns' Week 13 matchup with the Texans — in Houston
When word came down of the compromise on Watson between the NFL and the NFLPA, I thought the number of games was a bit odd. We'd heard talk of six games, which ended up being the original ruling from the league's disciplinary officer, former U.S. District Court Judge Sue L. Robinson.
But Roger Goodell clearly wanted more, possibly the entire 2022 season, which is why he appealed Robinson's ruling. Just shows great camaraderie in the league office, doesn't it? But I digress. So instead of six or the entire season, Watson got 11 games. Again, it just seemed a little off, but I thought perhaps it was just cutting it somewhat down the middle.
Until I looked at the Browns' 2022 schedule.
Had Watson been suspended six games, he would have returned for Cleveland's Week 7 matchup in Baltimore with Lamar Jackson and the Ravens. Had they rounded up on a compromise and given him 12 games, he would've returned against the AFC champion Cincinnati Bengals.
But it almost had to be 11, didn't it? As everyone knows by now, Watson's first game back will be the Browns' Week 13 matchup with the Texans — in Houston.
Browns-Texans is a huge marketing opportunity for the NFL
On one hand, Deshaun Watson returning to Houston is obviously an enormous marketing opportunity for the NFL.
Truth be told, I'm shocked the league didn't make Browns-Texans the Sunday night game on NBC or the Monday nighter on ESPN, as it will undoubtedly be one of the most talked about matchups on the Week 13 slate. It's currently planned for a 1:00 p.m. Eastern start time on CBS.
But don't expect Jim Nantz and Tony Romo to be on the call as they'll undoubtedly be in Cincinnati for the 4:25 game as the Bengals host Patrick Mahomes and the Kansas City Chiefs in an AFC Championship rematch.
But do expect a ton of commercials touting Watson's return to Houston, where he spent the first five years of his career. Well, it's more like four as he didn't play a single down last season. My guess is the ad rates for that particular game are a bit higher than what they'd typically be.
Perhaps Roger Goodell thinks of Watson's return to Houston as the final leg of his punishment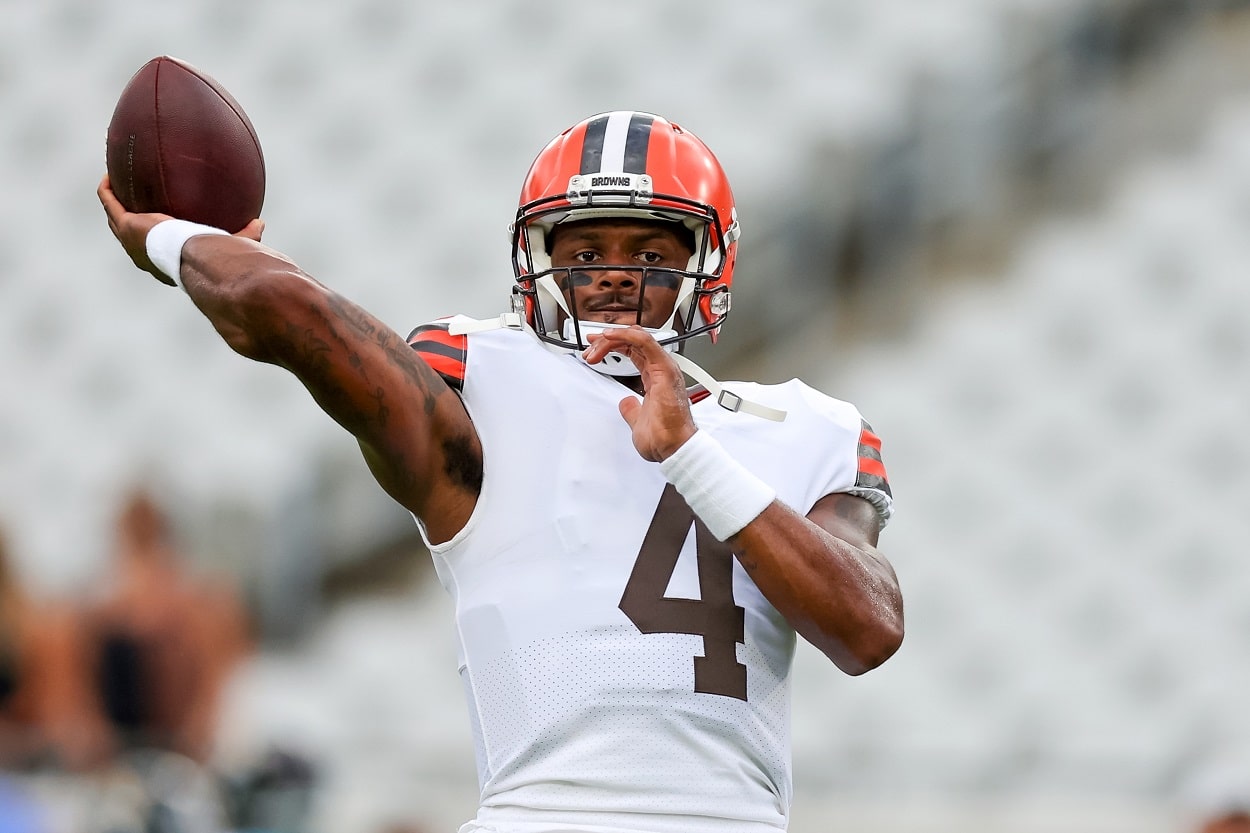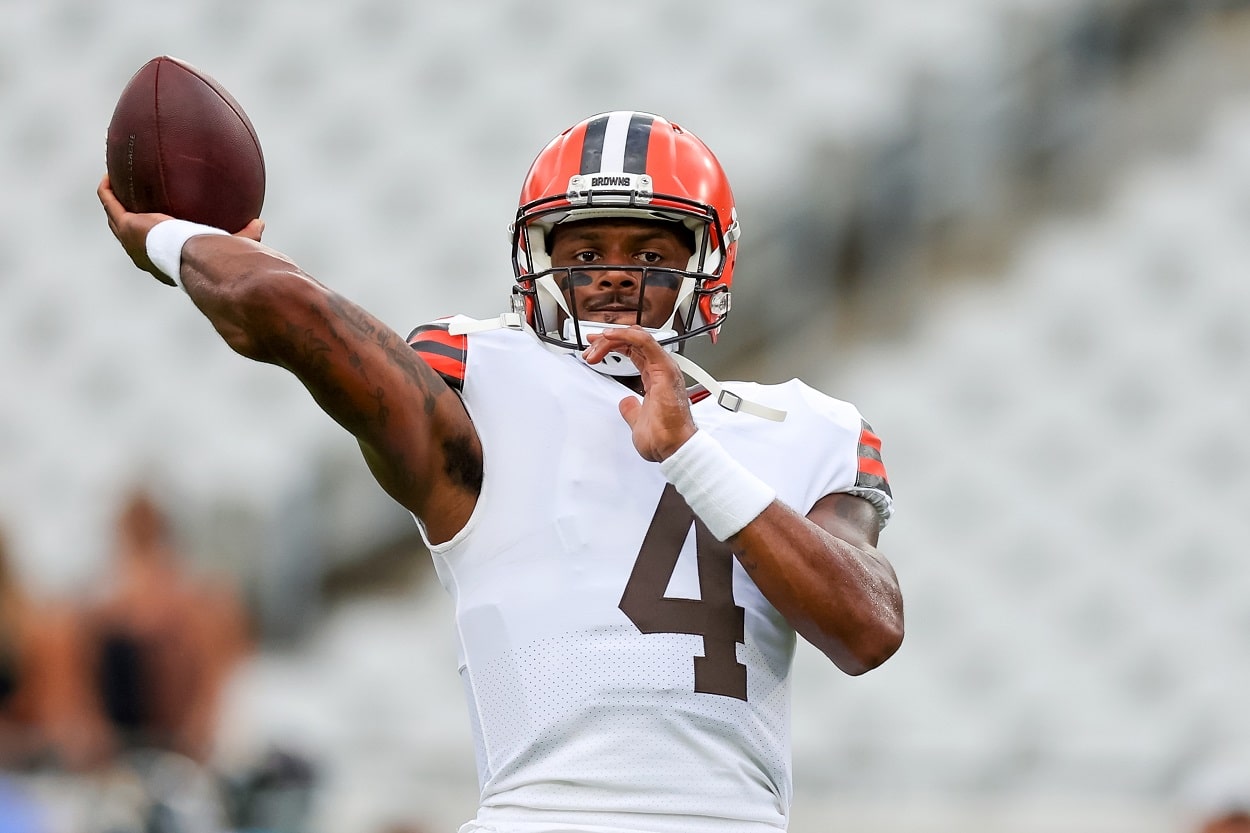 On the other hand, perhaps this is what Roger Goodell truly wanted all along. The second he takes the field at NRG Stadium, Watson will be booed mercilessly. Maybe the commish thinks that's worth more than suspending him for six more games.
It's not as if Watson is losing a ton of money in game checks, not with how the Browns structured his contract for this season. He's making just $1.035 million in 2022, the minimum salary for a player with between four and six years of service time.
As that money is split evenly over 18 weeks, Watson, who continues to maintain his innocence, will lose just $690,000 in the 12 total weeks he's out. For a guy who collected $10.54 million last year to do nothing and will start earning $46 million annually next year, what's another $345,000?
So, again, perhaps Goodell believes Watson taking the abuse we all know is coming in Houston is the final part of his "punishment." After all, isn't abuse — sorry, alleged abuse — what started this whole thing anyway?
Now that I think about it, it's really not the NFL marketing Watson's return or Goodell wanting more punishment.
It's both.
How to get help: If you or someone you know has been sexually abused, text HOME to the Crisis Text Line at 741741 for free and confidential support.
Stats courtesy of Pro Football Reference, Contract info courtesy of Spotrac
Like Sportscasting on Facebook. Follow us on Twitter @sportscasting19 and subscribe to our YouTube channel.