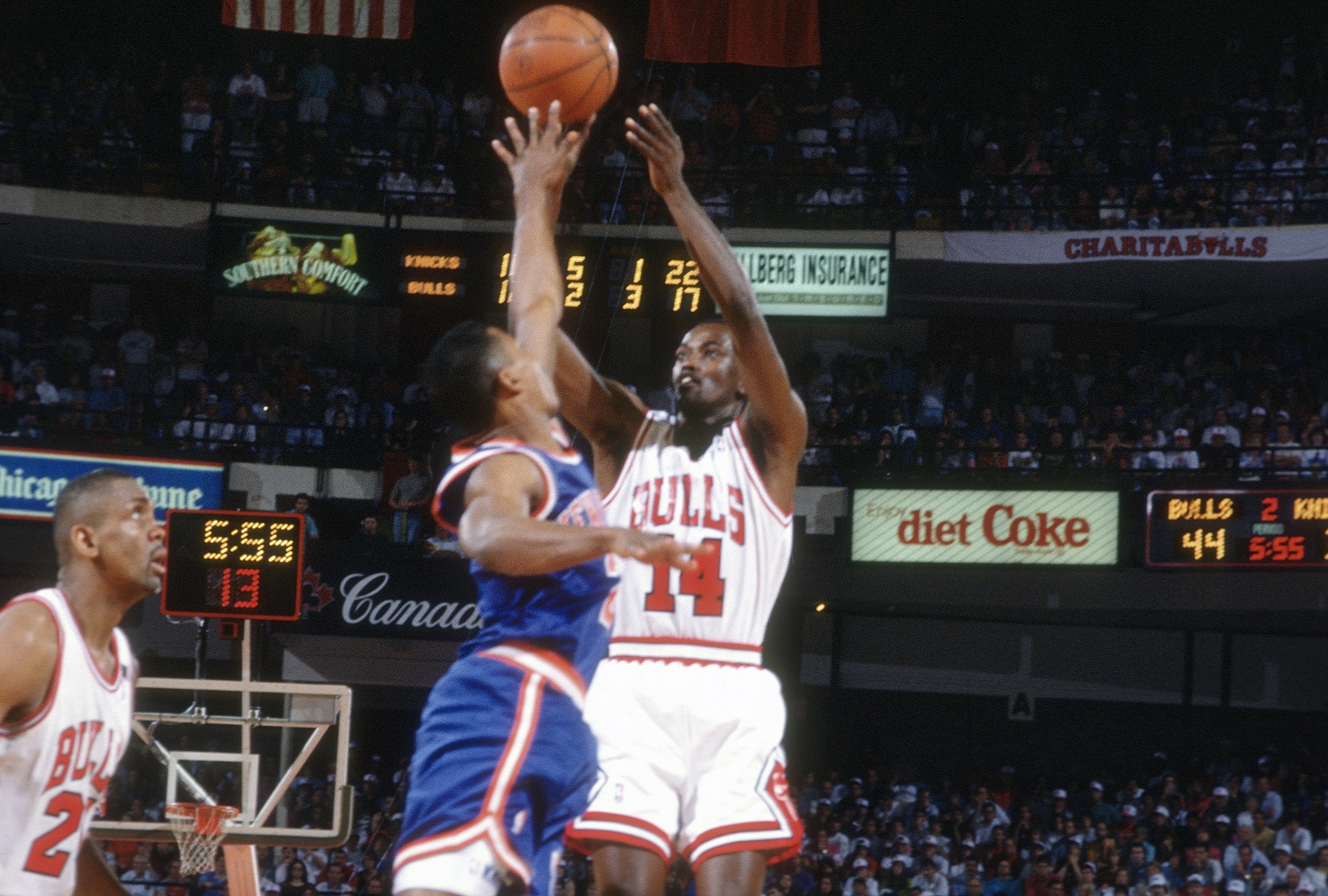 The Ex-Wife of Former NBA Sharpshooter Craig Hodges Once Tried to Light Him on Fire and Had an Affair With R. Kelly
The ex-wife of two-time NBA champion Craig Hodges once tried to light him on fire and also had an extramarital affair with singer R. Kelly.
Despite being blackballed by the NBA at the end of his career, Craig Hodges enjoyed quite a bit of success on the basketball court. The sharpshooter won two championships with the Chicago Bulls alongside Michael Jordan and Scottie Pippen and also racked up three consecutive 3-Point Shootout victories.
Off the court, however, Hodges has had some rough times. As mentioned, feeling he was blackballed by the NBA at the end of his career due to his political activism, he sued the league for $40 million. He also had quite a few issues with his then-wife Carlita, who once tried to light him on fire and also had an extramarital affair with R&B superstar R. Kelly.
The NBA career of Craig Hodges
As mentioned, Craig Hodges had a solid NBA career. He was never an All-Star or the best player on his team but he was always one of those players that was good to have on the roster. Taken with the 48th pick in the 1982 NBA draft, he spent the first two years of his career with the Clippers, starting exactly half of the games in which he played, and averaged 8.8 points.
Hodges played the next three and a half seasons with the Milwaukee Bucks, averaging 10.5 points, before being traded to Phoenix during the 1987-1988 season. He played 10 games for the Suns the following season before being traded to the Chicago Bulls. The sharpshooter was a key reserve for the Bulls for parts of four seasons and was on the roster for Chicago's first two championship teams in 1990-1991 and 1991-1992.
Craig Hodges participated in the first eight 3-Point Shootouts when it became an All-Star Weekend event and was twice the runner-up before winning three consecutive times from 1990-1992. His last appearance came in 1993 when he wasn't even on an NBA roster.
He sued the NBA for $40 million
Following the Chicago Bulls' title win in 1992, Craig Hodges wore a dashiki to the White House and delivered a handwritten letter to then-President George Bush on how he felt the administration mistreated minorities and the poor. Hodges was, and still is, very passionate about the issue of social injustice and often tried to get other players involved in political issues as well, even once asking Michael Jordan and Magic Johnson to boycott Game 1 of the 1991 NBA Finals in protest of the Rodney King incident a few months earlier.
Shortly after the visit to the White House, Hodges was released by the Bulls and never played in the NBA again, despite being just 32 years old at the time. He later filed a $40 million lawsuit against the NBA claiming he was being blackballed for his beliefs but it was thrown out by a federal judge less than a year after it was filed. The judge said that the statute of limitations on a case involving discrimination was two years. Hodges hadn't filed his suit until 1996, four years after his final NBA game.
But Craig Hodges had dealt with issues off the court for quite some time.
Craig Hodges' ex-wife allegedly tried to set him on fire and had an affair with R. Kelly
On December 19, 1991, six months after Craig Hodges won his first NBA title, the Baltimore Sun reported that Hodges' then-wife, Carlita, had doused him in gasoline and threw a lighted match in his direction in front of an elementary school in Northbrook, Illinois. The incident was said to have taken place just after Craig Hodges had dropped off their two sons at school. The Bulls guard had temporary custody of the boys as the couple was separated at the time and jumped out of the car when the first match was thrown in his direction, which went dead before it struck him.
Carlita reportedly then threw a second match, which also died, before stealing her then-husband's keys and driving away in her own vehicle. The same report alleged that Carlita Hodges was simply trying to get her husband's attention. Craig Hodges was not injured in the incident and Carlita Hodges was later arrested.
More than two decades after their divorce, Carlita Hodges wrote a book entitled "Carlita's Way: Out of the Dark Into the Light (My Journey)," in which she discussed having an extramarital affair with R. Kelly long before he became a worldwide superstar. She opened up on her experiences as a basketball wife and claimed that Craig Hodges had been abusive and unfaithful during their marriage, which is what led to her relationship with R. Kelly.