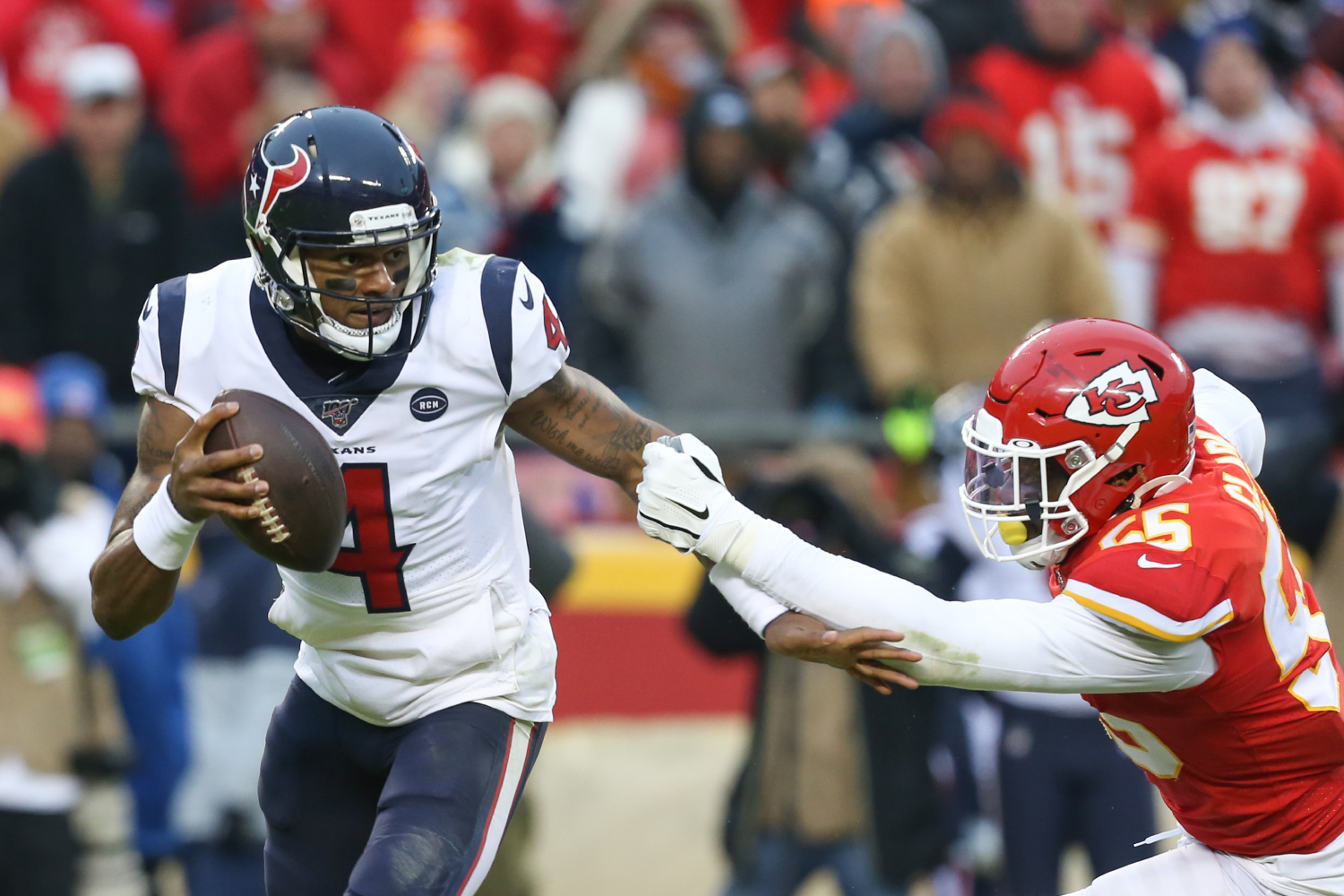 The Houston Texans May Have Found the Weapon Deshaun Watson Needed
The Houston Texans may have found the weapon their young quarterback Deshaun Watson has desperately needed.
The Houston Texans have always had their share of offensive weapons. Quarterback Deshaun Watson is the biggest one they've got, but he's always been surrounded by talent. With big-time wide receiver, DeAndre Hopkins, having been traded and the Texans having a new play-caller, Watson will have to make some adjustments. Those adjustments could be made easier after the Texans gave Watson a weapon he's desperately needed.
Deshaun Watson 'on the same page' with new play-caller
The Houston Texas have undergone a major change in the offseason. Gone is their All-Pro wide receiver DeAndre Hopkins, who was traded to the Arizona Cardinals. Speedster Brandin Cooks has come in, giving quarterback Deshaun Watson two very fast outside guys, along with Will Fuller.
Tim Kelly, who was named the offensive coordinator in 2019, will now be calling the plays for the Texans in 2020. Kelly and Watson clicked last year and the two have been working overtime together to break down film. "We're being on the same page and I already know before each situation what he's thinking, so we're on the same page," Watson said to Houstontexans.com. "I think that's the next step that I've been taking with him and it's been good."
Kelly agreed. "A lot of times you're just kind of talking about how each other are seeing the game," Kelly said. "Hey, what were you looking at here? What decision would you make in this situation? What play do you like here? Who do you like running these routes? We're having all these discussions leading up to practice or leading up to the game and then when we get on the field, we're able to take advantage of that and make sure that we're both on the same page and really allow us to execute seamlessly."
Watson emerging as a leader
Deshaun Watson knows he's become the leader of the Houston Texans. He's grown immensely since he was a first-round pick in the 2017 NFL draft. Watson started just six games that season. In his two full seasons since, Watson has made the Pro Bowl. He's also proven to be the team's offensive leader.
"The leadership, the knowledge of the offense, what we want to do as a whole, has been simplified for me just because it's Year Four for me," Watson said to Houstontexans.com. "Having that comfortability and having that confidence on exactly what we've been learning over the past three years now getting into my year four and being with Tim (Kelly) and spending a whole year last year on his mindset and what he's thinking and now he's the play-caller."
In each of the 2018 and 2019 seasons, Watson threw 26 touchdown passes. Last year, he rushed for a career-high seven touchdowns. In his last two seasons, Watson has compiled a 21-10 regular-season record as the starter.
Watson has a brand-new weapon
Although DeAndre Hopkins is gone, the Houston Texans still have a strong wide receiver group. Newcomer Brandin Cooks provides Deshaun Watson with an outside threat, while Will Fuller and Kenny Stills are other speedsters. Watson's most valuable receiver, however, could turn out to be Randall Cobb, a veteran just signed this year.
Cobb will be the guy drawing attention over the middle and providing Watson with veteran experience. Cobb has been outstanding so far with the Texans under offensive coordinator Tim Kelly. "The slot position for us, it's a unique position," Kelly told The Houston Chronicle. "They have to have a unique skillset in terms of their movement skills. They need to have strong hands, and they need to be really smart players. When they're inside and they're having a lot of choice routes, they need to be able to determine what the coverage is and make sure they're able to make quick, decisive decisions so them and the quarterback are on the same page."
Cobb's 10 years of experience in the NFL should provide Watson with a level of comfort he hasn't seen from an inside receiver. "With Randall (and) the amount of experience he has playing in this league, he's able to identify all the defenses," Kelly said. "He understands how to attack them, how to set them up and makes good, quick decisions."