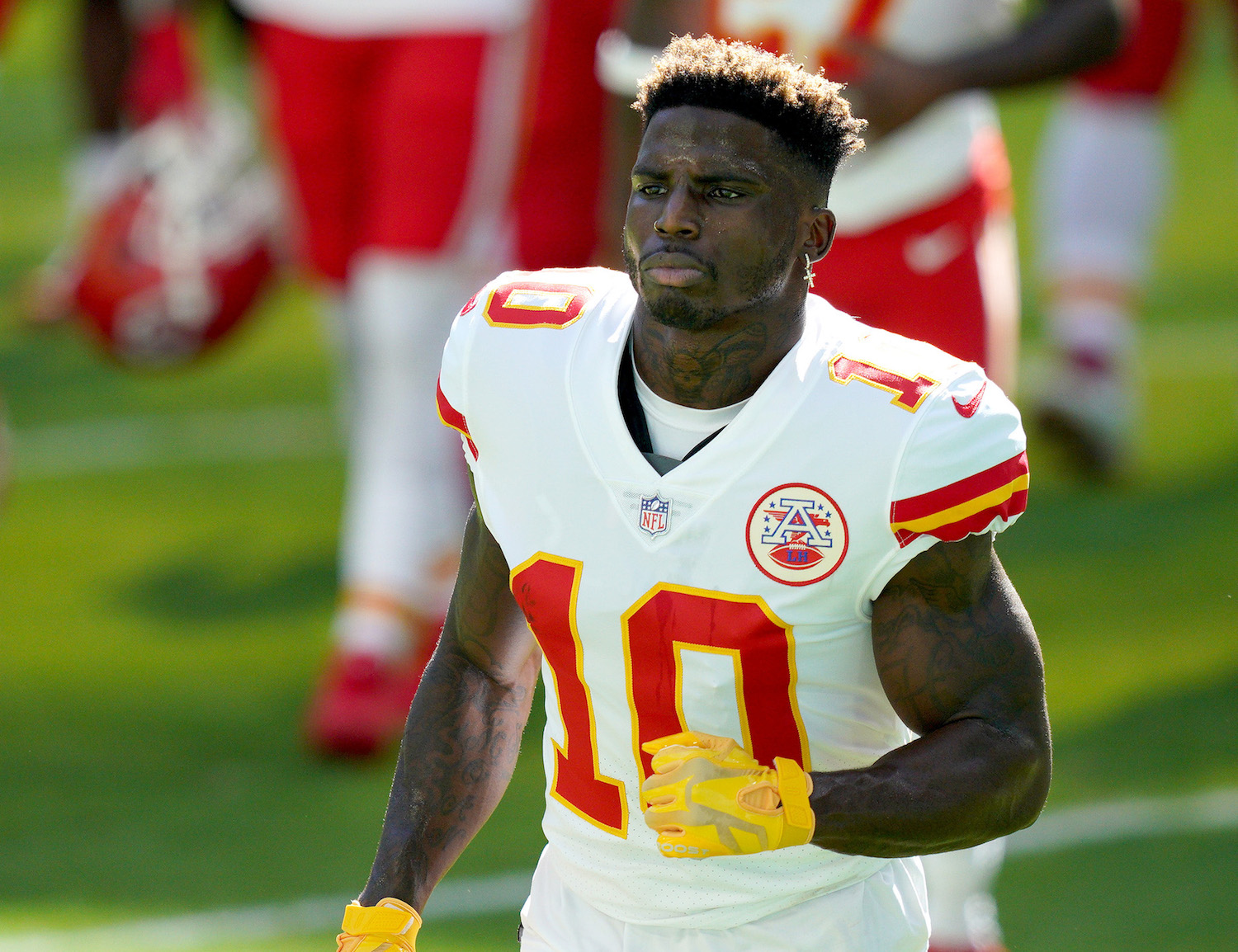 The Kansas City Chiefs Included a Scary Detail on Their Latest Injury Report That Could Change the Course of Their Season
Based on their performances this season, the Kansas City Chiefs seem poised for another Super Bowl run. A Tyreek Hill injury, though, could change everything.
Winning one Super Bowl championship is already an impressive feat; winning two titles in a row is even tougher. This season, though, the Kansas City Chiefs are doing their best to lift the Lombardi Trophy for the second consecutive season. With Patrick Mahomes, Tyreek Hill, and Andy Reid all working together on offense, they certainly have the firepower to make another run at the grand prize.
The Kansas City Chiefs' Super Bowl hopes, however, may have just taken a massive blow. Ahead of Week 15's game Tyreek Hill appeared on the team's injury report; even if he's able to play on Sunday, there still could be problems down the line.
The Kansas City Chiefs are currently the top dog in the AFC
At the start of the year, the general narrative around the NFL was that Patrick Mahomes and the Kansas City Chiefs didn't 100% look like themselves. Now that the regular season is almost over, though, it's safe to say that reports of their demise were greatly exaggerated.
Heading into Week 15, the Chiefs are sitting atop the entire NFL with a 12-1 record; they've already clinched a playoff berth and the AFC West title. Even more importantly, the club controls their own destiny from here on out. If Kansas City wins their remaining games, they'll secure a first-round bye heading into the postseason.
As everyone around the league knows, the Chiefs' success starts and ends on offense. Patrick Mahomes has continued to mature and improve his decision making; with that being said, though, he's still capable of pulling off something incredible on any given play. Andy Reid can call an offensive game like no one else, and the unit has a wealth of riches with Tyreek Hill, Travis Kelce, Clyde Edwards-Helaire, and others all capable of exploding on any given Sunday.
If you combine that with a solid defense anchored by a few big-time players, it's a recipe for success. Will it be enough to earn a second-straight league title? The Chiefs certainly hope so.
Tyreek Hill lands on the Kansas City Chiefs Week 15 injury report
During Week 14's win over the Miami Dolphins, Tyreek Hill pulled up lame and grabbed the back of his leg. While that reaction would usually indicate a hamstring injury, Ian Rapoport reported that the Chiefs had dodged a bullet; according to his tweet, the receiver only suffered a cramp.
Since then, though, the waters have gotten a bit murkier. On Wednesday, Hill appeared on the Chiefs' official injury report with a hamstring problem. It is worth noting, though, that the Kansas City speedster was still a full participant in practice, despite his designation.
In all likelihood, though, the Chiefs are just following rules. The league's injury report policy explains that "all players who have reportable injuries must be listed on the Practice Report, even if the player takes all the reps in practice, and even if the team is certain that he will play in the upcoming game. This is especially true of key players and those players whose injuries have been the subject of local or national media coverage."
Even if Tyreek Hill plays, a hamstring injury is far from ideal
Given that he was a full participant on Wednesday, Tyreek Hill is probably good to go for Week 15; if there was any chance of an issue, the Chiefs would have probably played it safe rather than trotting him out for a meaningless practice. With that being said, though, a hamstring issue still isn't ideal for a team chasing the Super Bowl.
Muscle injuries, like those to the hamstring, are notoriously tricky; they simply take time to heal and, if a player isn't 100% when they return, they can easily suffer a setback. If you aren't careful, a two-week absence can stretch into four or five weeks on the sideline. Time isn't exactly in abundance when you're trying to secure a first-round bye and win every game between now and February.
While Kansas City has plenty of offensive firepower, their unit would look a bit different if Hill is out of the lineup. Defenses would presumably be able to tighten up their coverage a bit since there's less of a fear that they'd be burned over the top; that could force the Chiefs to have to dink and dunk their way down the field without chunk yardage, which negates some of their usual advantages.
At this point, it's not clear what the future holds for Tyreek Hill. If you're a Kansas City Chiefs fan, you'll certainly have your fingers crossed for the next few days; fans of other AFC teams may be waiting on a different result, though.