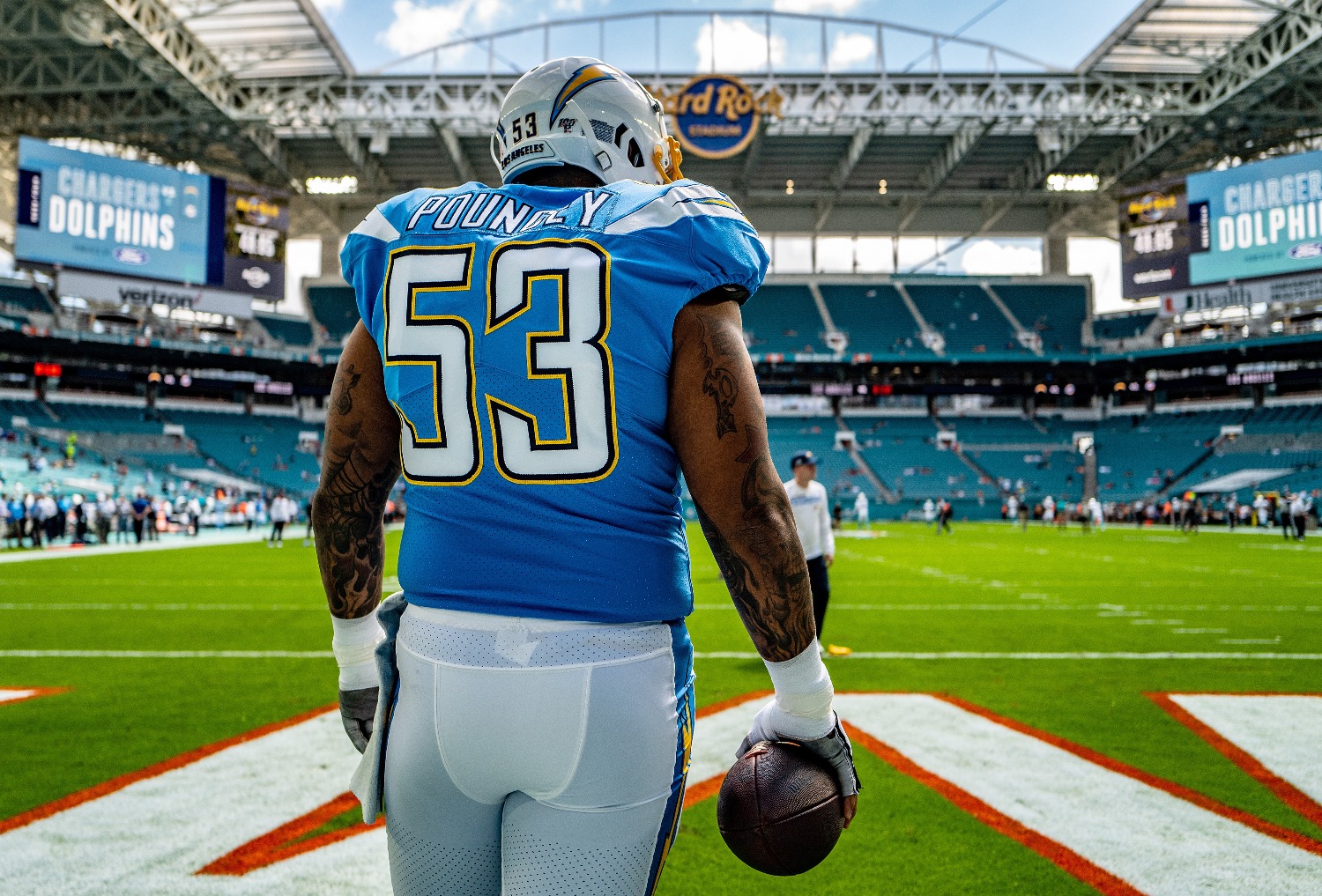 The Los Angeles Chargers Just Lost Their $9 Million Star
The LA Chargers already lost Derwin James for the year. Now, they will have to find a way to replace $9 million center Mike Pouncey.
No NFL team has been bitten harder by the injury bug over the last few years than the LA Chargers. Less than two weeks ago, the AFC West squad lost one of the NFL's most talented young players when Derwin James suffered a season-ending knee injury. And on Thursday, LA lost another star for the year. With $9 million center Mike Pouncey hitting injured reserve, the Chargers must reshuffle their offensive line if they want to compete for a playoff spot this season.
The Chargers already lost Derwin James for the year
The 2020 season represented a new beginning for the Chargers. After all, the team moved on from longtime quarterback Philip Rivers and drafted Justin Herbert in April. Still, LA looked like a playoff contender due in large part to a talented defense.
However, that unit suffered a massive blow before the season even began. After missing most of the 2019 season with a foot injury, Derwin James experienced a significant setback to his comeback campaign. On Sept. 5, the Chargers placed their rising star on injured reserve after he underwent surgery to repair a torn meniscus.
Losing a player of James' caliber certainly hurt the Chargers' chances of earning a playoff berth. Only it would not take long for another one of LA's stars to suffer a season-ending injury.
Mike Pouncey will miss the rest of the 2020 season
After developing into one of the NFL's top centers in Miami, Mike Pouncey signed a two-year deal to take his talents to LA in 2018. The 2011 first-round pick proceeded to earn his fourth career Pro Bowl berth in his first season with the Chargers. Pouncey then signed a one-year, $9 million contract extension just before the 2019 season began.
However, the 6-foot-5, 305-pounder played just five games before a neck injury landed him on IR. Unfortunately for Pouncey, his 2020 season just ended before it even began.
On Thursday, the Chargers announced on their official website that the 31-year-old will undergo hip surgery and miss the rest of the season. Chargers general manager Tom Telesco provided some powerful words about Pouncey's contributions to the organization.
"On top of being a Pro Bowl talent, he's the ultimate captain, teammate, and competitor," Telesco said. "Quite simply, he's one of the best leaders I've ever been around. Mike's played a major role in establishing the culture and standard we have in our locker room and sets a tremendous example, especially for the younger member of our team."
How will the Chargers replace their Pro Bowl center?
With Mike Pouncey done for the year, the Chargers must find a permanent solution at center. LA has struggled to stay healthy along the offensive line for years, which makes Pouncey's injury even more concerning. Now, the team will likely turn to Dan Feeney to man the pivot position.
The 2017 third-round pick drew the start at center in LA's Week 1 win over the Cincinnati Bengals. Feeney anchored an offensive line that paved the way for 155 rushing yards and allowed two sacks and just four quarterback hits. At 6-foot-4, 310 pounds, he provides excellent size for the position.
However, Feeney was already penciled in as the team's starting left guard—a spot he has held down for years. Moving him to center requires the Chargers to rely on other options at guard.
In all likelihood, Forrest Lamp will be tasked with manning Feeney's old spot. The Florida native has struggled to stay healthy since entering the league as a second-round pick in 2017. Expected to be a day one starter, Feeney tore his ACL in his first training camp. In 2018, he underwent a knee procedure and played just two games. Last season, Lamp appeared in just seven games before breaking his fibula.
Can the Chargers count on the duo of Feeney and Lamp to step up with Pouncey out? Or will LA's offensive line once again crumble due to depth issues?
We're about to find out.
Like Sportscasting on Facebook. Follow us on Twitter @sportscasting19.