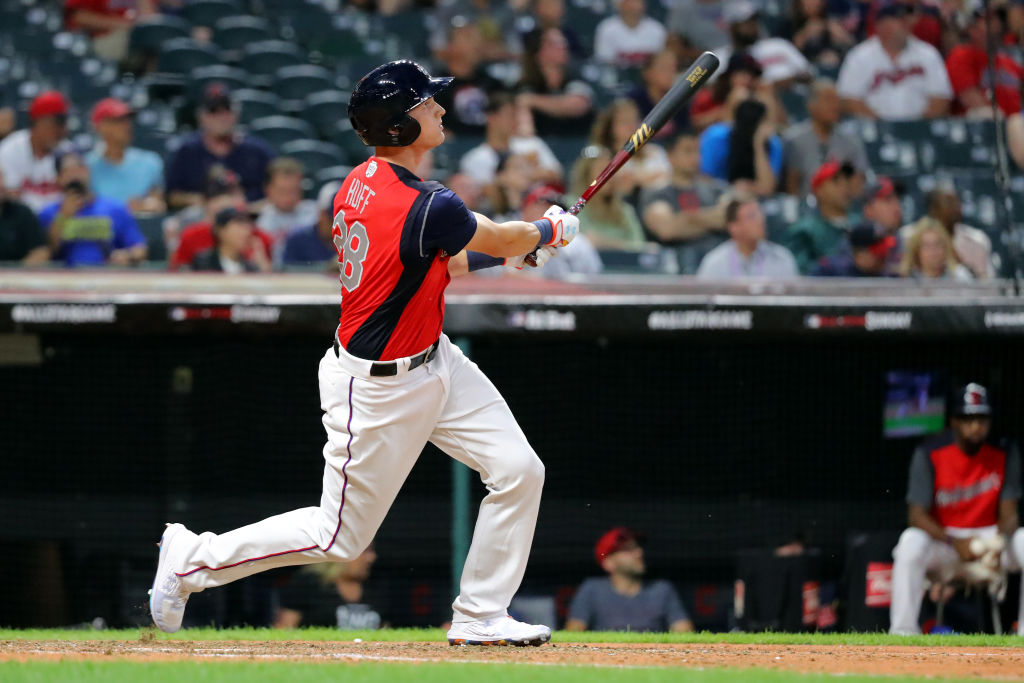 The Longest Home Runs Ever Recorded in MLB
The home run is one of the most exciting plays in sports. What are the longest homers ever recorded in the history of MLB?
There are few plays more exciting in sports than the home run in baseball. This has been true throughout almost every era of baseball history, whether the home runs are being hit by the legends of the past or the stars of today. 
Recently, Nomar Mazara of the Texas Rangers hit a 505 foot home run, one of the longest in baseball history. It raises the question: before Mazara's home run, what were the longest home runs ever recorded in MLB?
10. (tie) Adam Dunn (2008) and Giancarlo Stanton (2016): 504 feet
Adam Dunn was famous for doing one of three things most times he came to the plate: walking, striking out, or hitting a home run. On September 27, 2008 while playing for the Arizona Diamondbacks, he accomplished the best possible outcome: a monster home run. 
Before Giancarlo Stanton was hitting home runs in Yankee Stadium, he was one of the Miami Marlins' biggest home run threats. Putting him in the thin air of Denver's Coors Field is sure to increase the likelihood of a long Stanton home run. On August 16, 2016, that's exactly what happened when he hit one 504 feet.
9. Mo Vaughn (2002): 505 feet
By 2002, Mo Vaughn's glory days were well behind him. A former AL MVP in 1995 with the Boston Red Sox, by this time he was with the New York Mets. He did have at least one bright spot during his time in a Mets uniform: an absolute moon shot on June 26, 2002 that went off the Shea Stadium scoreboard.
With Mazara's recent hit, he will find himself tied with Vaughn in the record books.
8. Jim Thome (1999): 511 feet
Jim Thome helped the Philadelphia Phillies win a World Series in 2008 but spent the bulk of his career hitting lots of home runs for the Cleveland Indians. On July 3, 1999 he hit his longest: a 511-foot tater. Thome would retire in 2012 with 612 for his career.
7. Darryl Strawberry (1988): 525 feet
One of the great "what could have been?" careers is Darryl Strawberry. He was one of the '80s greatest sluggers until injuries and personal demons slowed him down. Before he left New York, Strawberry hit the longest home run of his Met career: a 525 foot home run into the lights on the top of the facility at Montreal's Olympic Stadium. 
6. Dave Kingman (1976): 530 feet
Dave Kingman was an accomplished home run hitter in his career, retiring in 1986 with 442. None of them would be longer than the one he hit on April 14, 1976 at Wrigley Park. This one wasn't just hit out of the field of play, it went out of the actual park. 
5. (tie) Adam Dunn (2004) and Willie Stargell (1978): 535 feet
This is Dunn's second appearance on the list. His 2004 blast came on August 10, 2004 at Cincinnati's Great American Ballpark. Willie Stargell's was hit on May 20, 1978. It was the longest recorded homer at Montreal Stadium.
3. Reggie Jackson (1971): 539 feet
Reggie Jackson was famously known as Mr. October for hitting three home runs in a 1977 World Series game against the Dodgers. These heroics came before he wore Yankee pinstripes. This behemoth of a bomb came while he represented the Oakland Athletics in the 1971 All-Star Game. 
2. Mickey Mantle (1953): 565 feet
On April 17, 1953, in a game against the Washington Senators at Griffith Stadium, Mickey Mantle of the New York Yankees hit what could have been the most majestic home run in a career filled with them. This was a historic 565-foot homer that helped fuel the Mantle legend. It has yet to be topped in today's modern game. 
1. Babe Ruth (1921): 575 feet
Looming over baseball history as an almost mythical figure, Babe Ruth to this day remains one of the sport's greatest power hitters. Tracking home runs was a much more difficult task in Ruth's playing days, but his longest was purported to be 575 feet.