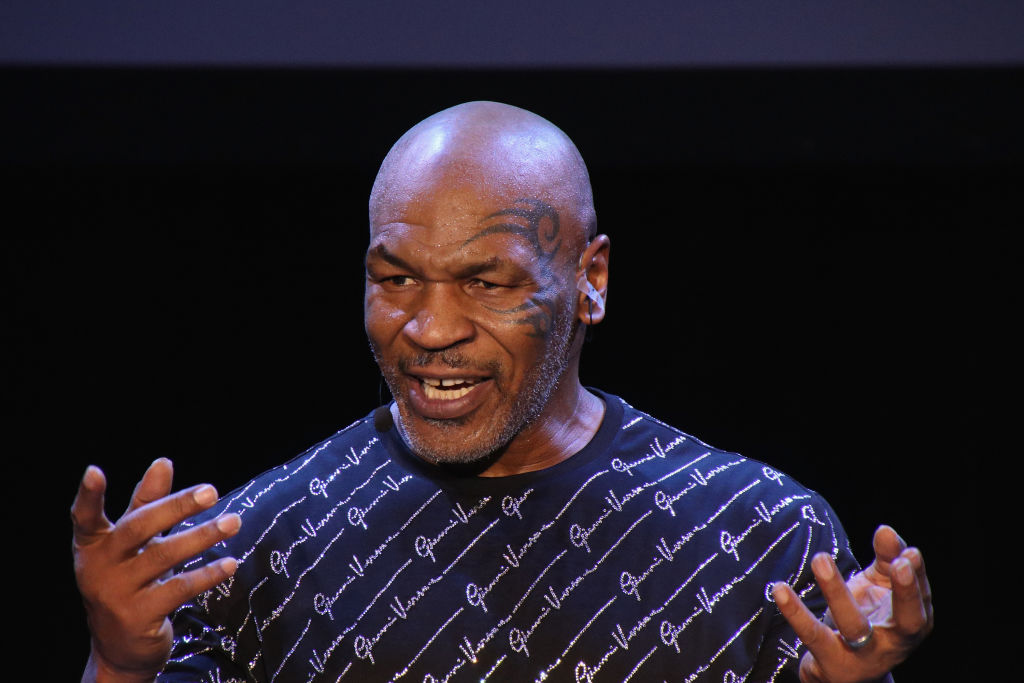 The Mike Tyson Comeback Story is Heating Up With a Lucrative New Fight Offer
There has been a lot of talk about 53-year-old Mike Tyson returning to the ring and there's now an actual fight offer on the table.
Over the last few weeks, there has been a lot of talk about Mike Tyson returning to the ring and this story continues to heat up.
Tyson, now 53 years old, hasn't fought since his loss to little-known Kevin McBride in 2006 but an in-ring return seems to be in the works. Tyson recently announced that he's getting in shape for some four-round exhibition bouts for charity and many are wondering who his first opponent would be. Numerous names have come up with the most intriguing certainly being Evander Holyfield, who earlier this week teased on Twitter that he's looking to make a comeback of his own.
A third Tyson vs. Holyfield bout would definitely make headlines but there is now an actual offer on the table and it's certainly one that came out of nowhere.
Mike Tyson was once the most feared fighter in the world
While Mike Tyson was simply looking for paydays in his final two fights, both embarrassing losses against guys he would have destroyed in his prime, he was once the most feared fighter on the planet. A prime example of this came in his highly-anticipated fight with Michael Spinks in 1988. Some actually thought that Spinks was the true the heavyweight champion of the world and he came into the fight with Tyson with a 31-0 record. But he didn't even want to come out of the locker room as he knew he was going to be destroyed, which he was in 91 short seconds. Spinks never fought again after that night.
Mike Tyson became the youngest heavyweight champion in history at age 20 in 1986 and unified the division the following year. He knew he was going to win and his opponents knew it as well. It's true that he was never the same fighter after his upset loss to Buster Douglas in 1991 but he did regain the heavyweight crown after his three-year prison sentence but lost it to Evander Holyfield in their first fight, a fight that took place five years after it should have. We all know what happened in the second fight. He also fought Lennox Lewis way past his prime and got destroyed. Nevertheless, Tyson is still viewed as one of the great heavyweights in history and recently showed that he's still got it.
Mike Tyson shows he's still got it
On May 1, Mike Tyson posted tweeted out a video of himself training and it went viral in a hurry. And for good reason. Even at 53, Tyson showed off the speed and power that made it look like he was in his mid-20s again. The former undisputed champ confirmed recently that he has indeed been planning an in-ring return and has been doing cardio, lifting weights, and has also been hitting the mitts and bag for the first time in nearly a decade.
Tyson's trainer, Rafael Cordiero, says that if Tyson continued to work out the way he has been that he could realistically make a return to boxing in six months. He says that more videos are on the way that shows off even more speed and power. If this Mike Tyson comeback is truly the real deal (sorry, Evander), there's already an offer on the table for his first fight back.
The 'Baddest Man on the Planet' has a $1 million offer to fight former rugby stars in Australia
As the video of Mike Tyson spread around the world, Australian boxing promoter Brian Amatruda immediately got on the phone with the Tyson camp to discuss the former undisputed champion getting into the ring with a number of former rugby players. Barry Hall, Paul Gallen, and Sonny Bill Williams are all former Australian footballers that have become boxers and Amatruda recently told "The Daily Mail" that any of them would be thrilled to mix it up with Iron Mike and is ready to pay Tyson a million bucks to come Down Under.
"He might be 53 years old but he's still a huge name and any of those blokes Hall, Gallen or Sonny Bill would jump at the chance to get into the ring with him.

"I'd hold it at Melbourne Arena where we'd get over 10,000 or even Princes Park where they got 30,000 for Jeff Fenech versus Azumah Nelson. It would be enormous. Not just a fight, it would be an event.

"The first thing I did was contact (celebrity agent) Max Markson and ask him to offer Tyson $1 million. Max brought him to Australia in 2012. He gets on well with him and his wife but the main thing is that he got him a visa to get into the country back then and that's the key."

Brian Amatruda on offering Mike Tyson a million dollars to fight in Australia
And now we wait. It seems like a Mike Tyson return is imminent. Whether or not it actually happens remains to be seen. We all know that Iron Mike could change his mind in a heartbeat. But the 53-year-old former champ looks great and we now know there's at least one real offer on the table.