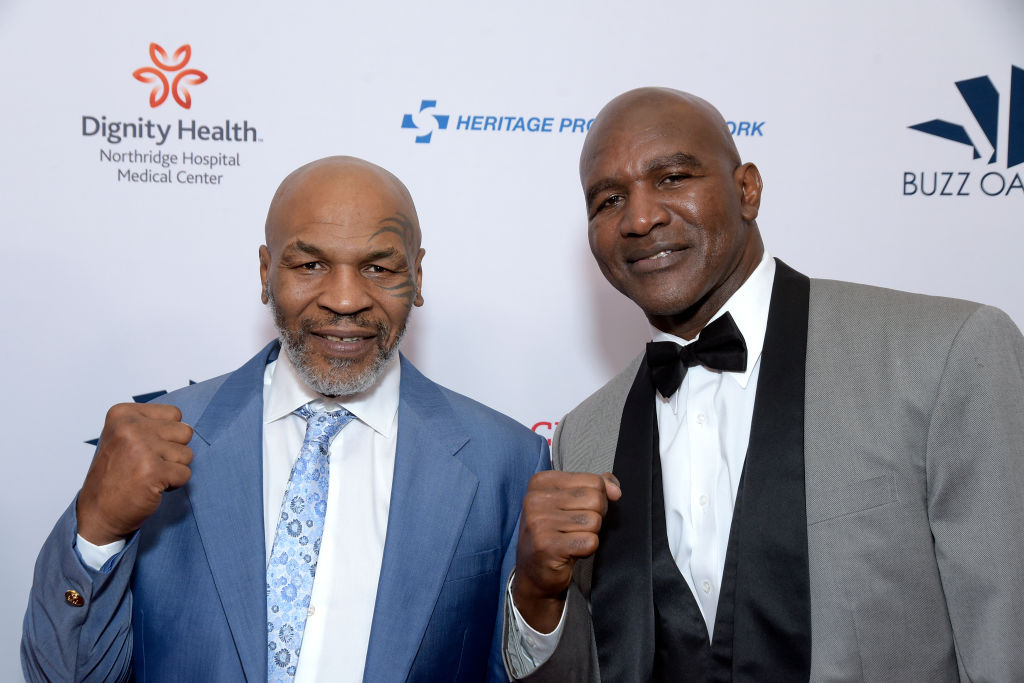 Could Mike Tyson vs. Evander Holyfield 3 Become a Reality?
Mike Tyson has announced a boxing comeback. Evander Holyfield has now also announced a return to the ring. Mike Tyson vs. Evander Holyfield 3 would be an epic end to the trilogy.
In the last few weeks, Mike Tyson announced he's planning on making a return to the ring at age 53. Late last year, the 57-year-old Evander Holyfield suggested he was considering a comeback. This week, Holyfield confirmed his plans and speculation about Mike Tyson-Evander Holyfield 3 has kicked into high gear.
The last Mike Tyson vs. Evander Holyfield fight
The last time Mike Tyson and Evander Holyfield faced each other in the ring was June 1997 at the MGM Grand in Las Vegas. It was a rematch of the first fight where Holyfield defeated Tyson by TKO in the 11th round. And it was one of the most anticipated boxing matches in the sport's long history. It lived up to the billing. Unfortunately, it was for all the wrong reasons.
In that fight, Holyfield dominated Tyson in the first couple of rounds. Tyson, who was upset by a headbutt in the second round that was ruled unintentional, came out aggressive in the third. He attacked Holyfield with numerous body shots. 
With less than a minute remaining in the third, Holyfield clinched Tyson to slow down his attack. And that's when things got bizarre. Tyson, inexplicably, rolled his head over Holyfield's shoulder and chomped down on his ear. Holyfield began jumping up and down screaming in pain as referee Mills Lane sent Tyson to a neutral corner and called for a time-out.
A few minutes later, when the chaos died down and action resumed, Tyson went in for seconds. He bit Holyfield's other ear. Lane had no choice and disqualified Tyson. Just like that, the rematch everyone had been anticipating was over in three rounds all because of a bite. 
Tyson and Holyfield both preparing for a return to the ring
Tyson, who last fought in 2005 before retiring, has been public in the last few weeks about his return. He said he was working out and preparing to return and participate in several exhibition fights. Tyson then followed that up a week later with a video showing he hadn't lost a step and still had his feared punching power. 
Holyfield, who last fought in 2011 and officially retired in 2014, said in October 2019 that he was looking to return to the ring for an exhibition fight in Japan, similar to what Floyd Mayweather Jr. did in 2018. This week, however, Holyfield posted on Twitter, a simple photo that said in big block letters, "COME BACK," and a caption that read, "A setback only paves the way for a comeback."
With Tyson and Holyfield both announcing plans to return to the ring within weeks of one another, many in the boxing community have attempted to connect the dots and conclude there might be one final bout between the two to complete a trilogy.    
Tyson's camp likes idea of fight with Holyfield
In the recent video showing Mike Tyson working out and displaying his power, he was working out with his coach and three-time Brazilian Muay Thai world champion Rafael Cordeiro. Cordeiro said he was shocked by Tyson's initial workout. 
"I didn't know what to expect from a guy who hasn't hit mitts for almost ten years. So I didn't expect to see what I saw. I saw a guy with the same speed, the same power as a guy who is 21, 22 years old."  
Cordeiro said Tyson would only need another five months to be ready for a genuine pay-per-view comeback fight. Cordeiro also said he would be interested in Tyson fighting Holyfield for a third time. Others agreed, including current boxer and former two-time welterweight world champion Shawn Porter.
"To see him (Tyson) in the ring in an exhibition against Holyfield would be amazing," Porter told TMZ.
If Mike Tyson-Evander Holyfield 3 happens, even if it's just a few rounds for charity, you know it will be must-see TV, draw huge ratings, and raise a ton of money. Everyone will be watching because no matter how old the fighters are now, once the adrenaline starts flowing, you never know what might happen. No biting allowed.