Boxing Ref Mills Lane Faces Tragic Ending After Success in Ring and Courtroom
Mills Lane officiated some of the biggest matches in boxing history and is known for his stern demeanor and famous phrase to start each bout—"Let's get it on!" Lane's most notorious match was the night Mike Tyson decided to bite a chunk out of Evander Holyfield's ear. In his distinguished career, he officiated more than 100 world title bouts and retired in 1998. In 2002, he suffered a devastating stroke. Where is Mills Lane today?
Mills Lane boxes his way to multiple titles
Long before Mills Lane officiated some of boxing's biggest matches, he learned the ropes as a competitor. He took up boxing after he joined the Marine Corps in the mid 1950s. Fighting in the welterweight division, Lane developed his own style and won the All-Far East Marine Corps championship.
Upon his departure from the Marines, Lane enrolled at the University of Nevada-Reno, where he pursued his boxing career and a degree in business He steadily improved in the ring and in 1960, he won the NCAA boxing title in the 147-pound weight class. He also competed in the U.S. Olympic Trials in San Francisco for the 1960 Summer Olympics, where he lost in the boxing semifinals.
After a successful but brief professional career including an 11-1 record, Lane gave up boxing as a competitor and started officiating in 1964. Around that same time, he also started focusing on a career in law. In 1970, Lane graduated from the University of Utah's law school. 
A year later, he refereed his first world championship boxing match between Betulio González and Erbito Salavarria for the WBC flyweight title.
Making his way up through the ranks
Mills Lane refereed his first high-profile fight in 1978, Larry Holmes vs. Ken Norton, and officiated numerous title bouts throughout the 1980s and 1990s. During that same time outside the ring, he steadily worked his way up professionally first as a deputy sheriff, then district attorney, and finally district court judge.
Despite his no-nonsense style both in the court room and the boxing ring, the smaller Lane sometimes found himself at a dramatic disadvantage when trying to handle much bigger athletes who entered the ring with bad intentions. One incident happened in the 1981 WBC Heavyweight title fight between challenger Trevor Berbick and champ Larry Holmes.
In the first round of that contest, Berbick taunted Holmes. After the closing bell, both fighters glared at each before Holmes shoved Berbick with both hands. Berbick responded by charging at Holmes, then pushed the smaller Lane who fell to the mat. It was one of the few times that happened because Lane always established his position of power before each and every fight.
Mills Lane and the Tyson-Holyfield "bite fight"
On June 28, 1997, Lane would become known throughout the sports world when he officiated the much-anticipated Mike Tyson-Evander Holyfield rematch. Lane wasn't originally scheduled to referee the match but was called in as a late replacement when Tyson's camp protested the original selection of Mitch Halpern, who had officiated the first fight months earlier.
The third round started ominously when Lane had to send Tyson back to his corner after coming out without a mouthpiece. Once the round started, the two heavyweights battled, exchanging repeated blows with one another. With less than a minute remaining, Holyfield unexpectedly started jumping in circles and screaming in pain. Not sure of what had happened, Lane intervened by sending Tyson to a neutral corner and calling for a time-out.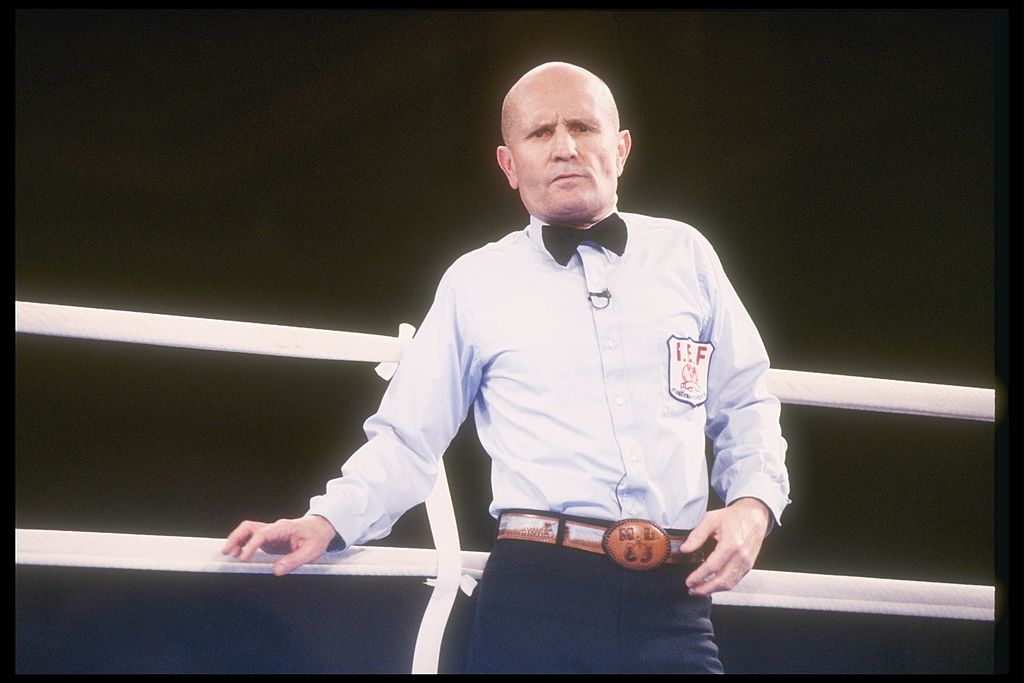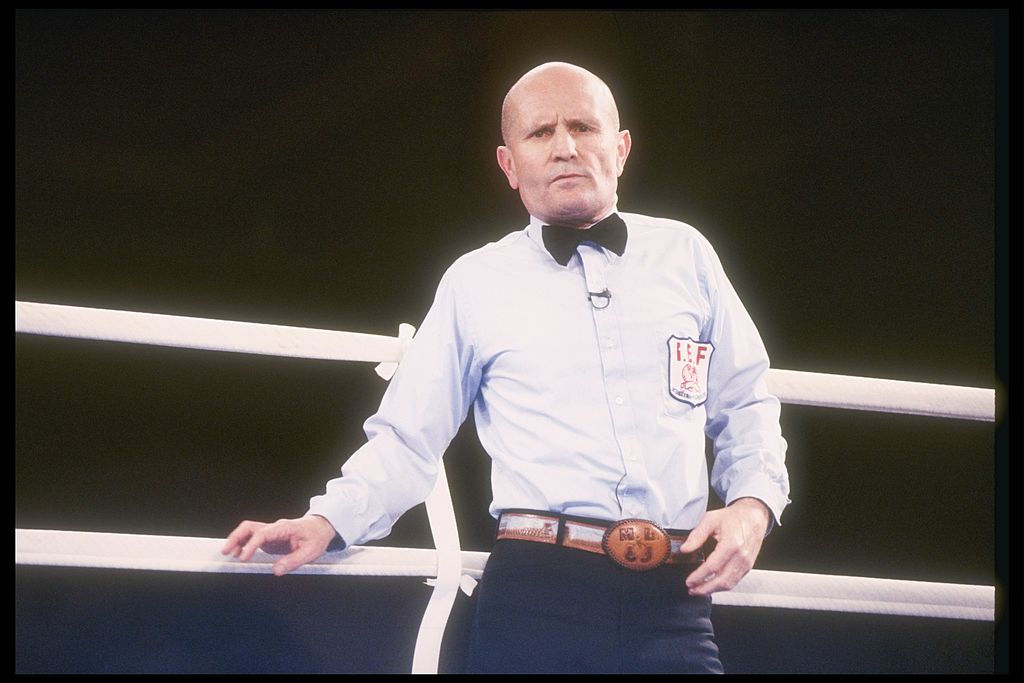 Once Lane learned what had happened, he debated what to do. The fight was delayed several minutes. When the ring-side doctor confirmed Holyfield was okay to continue, Lane told Tyson and his team he was deducting two points. When Tyson's corner protested, saying Holyfield's bleeding ear was the result of a punch, Lane retorted, "B-llshit."
The fight resumed, and seconds later Tyson proceeded to bite Holyfield's other ear. After the round ended and Lane learned about the second bite, he immediately disqualified Tyson.
Following the fight, Lane's shirt was soaked with blood from the incident. When approached by a memorabilia collector, he sold it to him on the spot for $200. He later said he should have held out for more money but didn't think about it at the time.
Where is Mills Lane today?
In 1998, Lane retired from boxing and his job as a Washoe County judge. He didn't stay idle for long. Soon after he starred in his own syndicated television show, Judge Mills Lane, in which he issued rulings in his familiar raspy voice.
Unfortunately, in 2002, Lane suffered a debilitating stroke at home. With no one in his family around at the time of the incident, Lane lay on the floor of his home for an undetermined amount of time. It could have been a few hours or few days. To this day, no one is sure.
The resulting damage has made it challenging for him to move, and impossible to speak. Despite his declining condition, he's attended various ceremonies through the years in his honor, including Washoe County officials naming the courthouse after him. In June of 2013, Mills Lane was inducted into the International Boxing Hall of Fame. In August of that same year, he was inducted into the Nevada Boxing Hall of Fame.
Mills Lane will forever be remembered for his no-nonsense approach and how he handled some of boxing's biggest matches including the infamous Tyson-Holyfield fight. And for his famous saying—let's get it on!