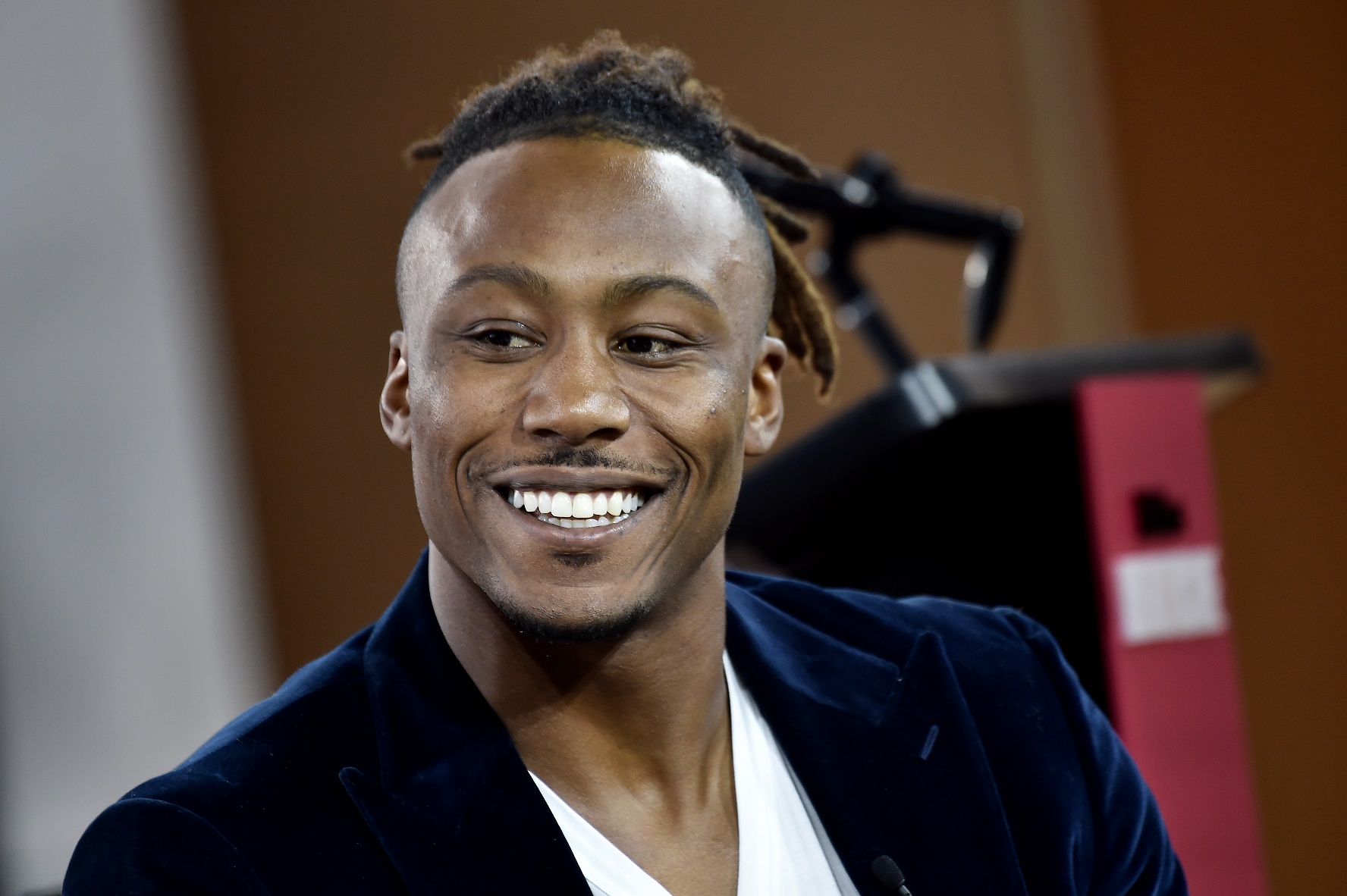 The Moment When NFL Standout Brandon Marshall Knew He Needed To Seek Help
Six-time Pro Bowl wide receiver Brandon Marshall changed his life after a diagnosis of borderline personality disorder.
The stat sheet confirmed that NFL wide receiver Brandon Marshall had all the talent in the world, which got him to six Pro Bowls. But his nomadic history indicated there was more to his story. The Denver Broncos, Miami Dolphins, and Chicago Bears all traded Marshall within a five-year span.
He was just too hard to handle, but the football world did not fully understand why until Marshall was well into his career.
It didn't matter who was throwing to Brandon Marshall
Any receiver has a shot at impressing when it's Drew Brees or Tom Brady throwing the ball. But just try averaging 95 catches a year when your quarterbacks are second- and third-tier guys like Kyle Orton, Jay Cutler, Chad Henne, Matt Moore, and Ryan Fitzpatrick.
But that's exactly what Brandon Marshall did over a nine-year stretch. Selected out of Central Florida in the fourth round of the 2006 NFL draft by the Denver Broncos, Marshall was off to the races once he caught 102 passes in his second pro season. Two more triple-digit seasons followed, highlighted by a 21-reception game in 2009, and he piled up 23 receiving touchdowns in a span of just 44 games.
Denver traded Marshall to the Miami Dolphins for a pair of second-round picks before the 2010 draft, and he made another 167 catches over two seasons. When Miami traded him to the Chicago Bears for two third-round picks, it was apparent Marshall was difficult to handle – something with which he was already coming to grips.
The Bears dealt him to the New York Jets, and Marshall's 2015 season proved to be the best of his career: 109 receptions, 1,502 yards, and a league-high 14 touchdowns. The always-rebuilding Jets cut him after a 59-catch season in 2016, and his career all but ended five games into 2017 after an ankle injury with the New York Giants.
Marshall made two starts for the 2018 Seattle Seahawks before being released a final time. His career numbers were superb: 970 catches, 12,351 yards, and 83 TDs.
A diagnosis led the receiver into helping people
All the warning signs were there early on in Brandon Marshall's career with the Denver Broncos. He was arrested on a DUI charge, clashed with coach Josh McDaniels, and was investigated more than once after domestic abuse allegations.
Police charged Marshall's wife with aggravated battery with a deadly weapon after the Miami Dolphins receiver was stabbed in April 2011. Three months later, Marshall revealed a diagnosis that completely changed his perspective.
"I was diagnosed with borderline personality disorder, and I just had phenomenal experiences learning who I was and just breaking down some of my belief systems," he said. "It helped me actually just become better in so many other areas of my life and inspired me to build things that could help people be better."
Marshall began speaking publicly about borderline personality disorder and doing promotional work on behalf of the National Alliance on Mental Illness to help others overcome the stigma of discussing their challenges.
The moment when Brandon Marshall knew it was time to seek help
It took too many run-ins with coaches and teammates before receiver Brandon Marshall recognized and accepted that there were issues that he needed to address.
Marshall told the New York Post that he had a moment of clarity after realizing just how much he was withdrawing from interacting at times with the people around him:
"My life was a living hell. It was a struggle. But I think the biggest thing for me was what people didn't see. It was the anxiety that I didn't even know I was dealing with.

"It was being uncomfortable in my own skin, going to the gas station 100 degrees outside in Miami, having a hoodie on and bending down and moving in a way that people won't recognize me and see me because I didn't want to sign autographs because I was just uncomfortable. So, there's a lot to it.

"It was one hell of a journey but now I'm on the other side."

Brandon Marshall
Like Sportscasting on Facebook. Follow us on Twitter @sportscasting19.