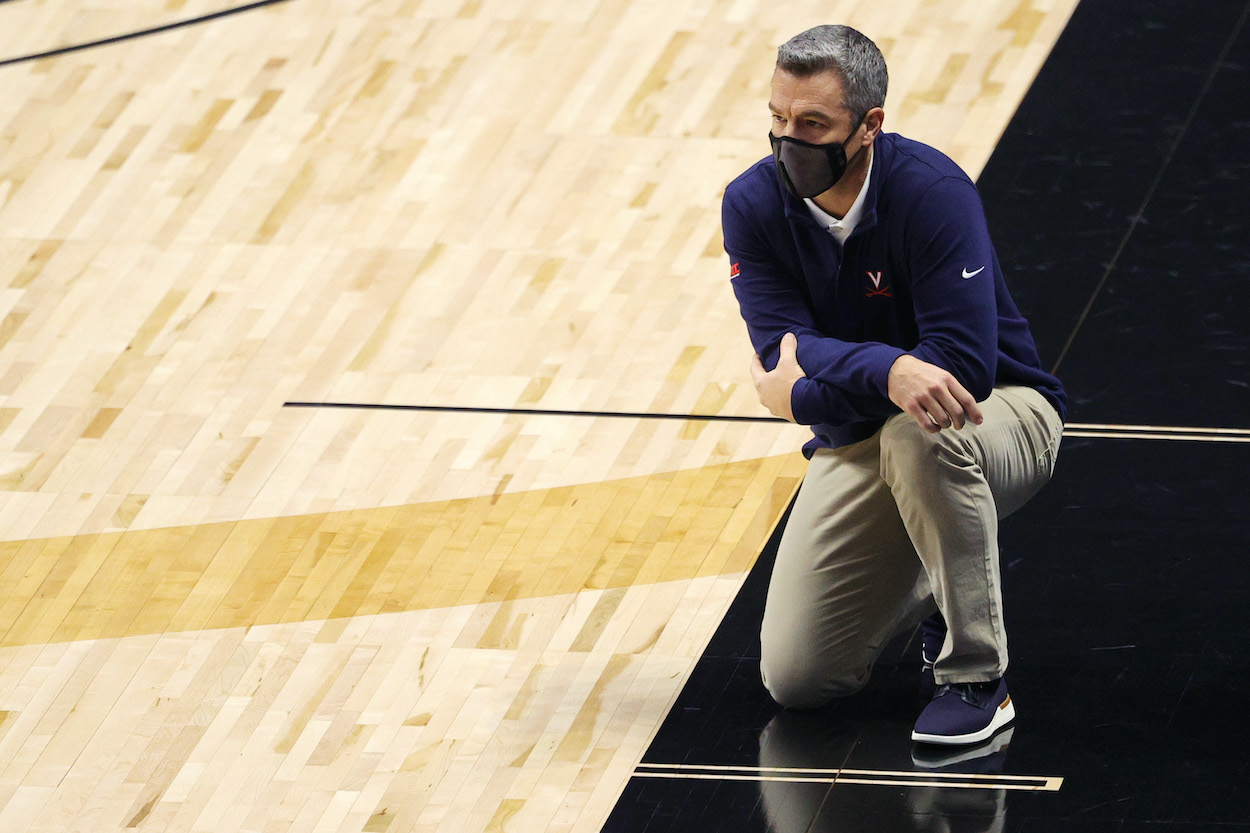 The NCAA Tournament Is Dangerously in Peril After Numerous COVID-19 Scares
The NCAA Tournament is scheduled to begin this weekend, but numerous COVID-19 scares has fans nervous about March Madness.
Last March was one of the darkest months for sports fans in a long, long time. After Rudy Gobert jokingly touched the hoard of microphones during his infamous press conference and tested positive for COVID-19 shortly after, professional and collegiate sports came to a screeching halt. The NCAA Tournament was later canceled for the first time in its 82-year history, leaving fans lost and bracket-less.
Ahead of its highly anticipated return this March, the NCAA Tournament is already giving fans a sense of déjà vu. Two top seeds have been stricken by COVID-19 just days ahead of the first round, and now multiple officials have been sent home from the Indianapolis bubble due to a positive coronavirus test and contact tracing.
Please, basketball Gods, don't rob us of March Madness again.
Virginia and Kansas dealing with COVID-19 issues ahead of NCAA Tournament
The 2021 college basketball season seemed to be coming in for a smooth landing after an up-and-down year due to COVID-19. Multiple top programs dealt with COVID-19 pauses throughout the season, but every tournament team was healthy and cleared for their conference tournaments.
That changed in a big way when Duke, Virginia, and Kansas all had players test positive during their respective tournaments. All three teams were eliminated from their brackets and sent home to quarantine. Duke wasn't in the mix to earn an at-large bid to the NCAA Tournament, but both Virginia and Kansas were staring at top-four seeds in the Big Dance.
The selection committee still included the Cavaliers and Jayhawks in the NCAA Tournament bracket, but both teams will be shorthanded for the first round if they are eventually cleared to play.
Will Virginia and Kansas be able to play in the NCAA Tournament?
So, what's next for Virginia and Kansas? For the Jayhawks, that answer is much more positive. Kansas made its way into the Indianapolis bubble on Monday with all but three players. David McCormack and Tristan Enaruna, who both tested positive before the Big 12 tournament, were left behind, as well as an unnamed player who tested positive during the tournament. All three can join the team in the bubble after recording seven straight negative tests.
Virginia, on the other hand, is more of a question mark. After a player tested positive for COVID-19 during the ACC tournament, a majority of the team was forced into quarantine due to contact tracing. The Cavaliers won't be able to enter the bubble until Friday, just one day before their first-round game against Ohio, but only if they continue to test negative. Virginia will be able to play in the NCAA Tournament as long as it has five available players.
Fingers crossed both teams get the green light to play in the tourney.
NCAA Tournament suffers another COVID-19 scare from the bubble
As players, coaches, officials, and media members pile into the Indianapolis bubble for the start of the NCAA Tournament this weekend, one can only hope the isolated area stays COVID-free. Well, so much for that.
On Monday, Jeff Goodman of Stadium reported that six top-tier officials were sent home from the bubble after one tested positive for the virus. The other five were removed due to contact tracing.
"The NCAA has replaced several officials for March Madness because of a positive COVID-19 test. One official tested positive March 15, and five other officials the person interacted with the day before were identified as exposure risks due to prolonged close contact," the NCAA said in a statement.
The NCAA can't be thrilled with the uncertainty surrounding the first round of the tournament already, but it still has a few days to sort everything out and hopefully right the ship.