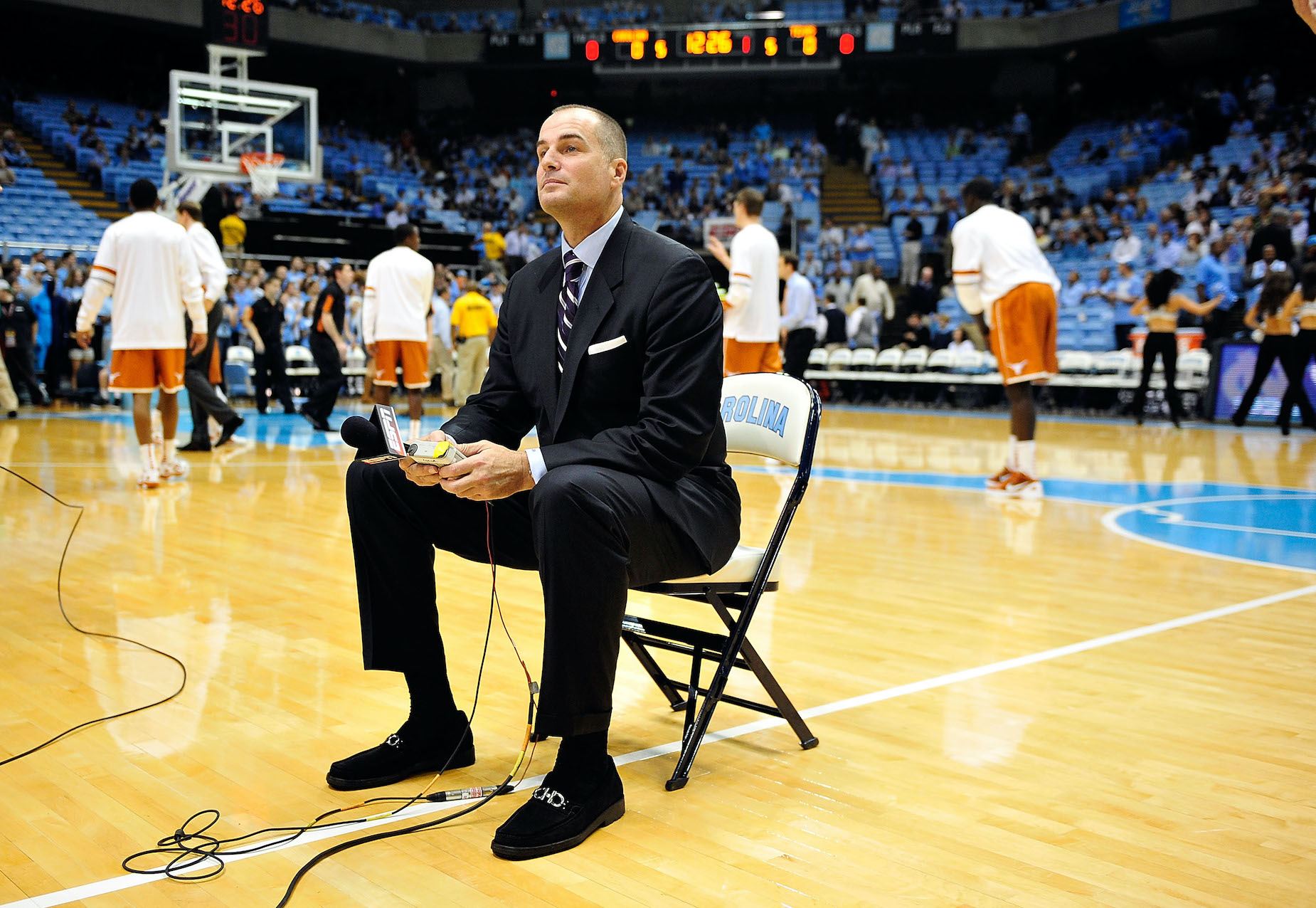 Was ESPN's Jay Bilas Any Good As a Basketball Player?
These days, Jay Bilas is a fixture of ESPN's college basketball coverage. Before ever picking up the microphone, though, he hit the hardwood as a player.
If you're a fan of college basketball, you're probably well acquainted with ESPN's Jay Bilas. While he's proven himself to be a respected analyst with the worldwide leader, that isn't his first experience with basketball. Longtime Duke Blue Devils fans will remember that Bilas' spent for seasons in Durham, hitting the hardwood at Cameron Indoor Stadium.
Given that it's been more than 30 years since his Duke career ended, though, plenty of fans will only remember Jay Bilas as an ESPN analyst. With that in mind, let's take a look back at his playing career.
Jay Bilas was part of Duke University's first big recruiting class
Especially in recent years, Coach K hasn't had a problem bring big-time recruits to Duke University. That's not a new phenomenon, though; it started in the 1980s with Jay Bilas and the rest of his recruiting class.
Bilas played his high school ball in California but agreed to move to North Carolina to play his college basketball at Duke. The big man arrived in Durham and, alongside fellow freshman Johnny Dawkins, Mark Alarie, and David Henderson helped change the course of Blue Devils history.
While that class of 1982 never managed to win an NCAA title—they made it to the championship game in 1986 but fell to Louisville—they still helped Duke basketball plant its flag near college basketball's metaphorical summit. Perhaps more crucially, they also gave a young Mike Krzyzewski a new lease on life; if Dawkins, Alarie, Henderson, and Bilas didn't pull the Blue Devils, the coach could have lost his job.
The center played professionally but never made it to the NBA
After graduating from Duke, Jay Bilas was selected by the Dallas Mavericks in the fifth-round of the 1986 NBA draft. The center, however, never played professionally in the United States.
Bilas' career didn't end there, though. He spent some time in Europe, where, according to his law firm profile, he proved to be a pretty potent scorer in both Italy and Spain. The former Blue Devils then returned to Durham in 1990, both joining Coach K's staff and attending law school.
After a few seasons on the bench, though, Bilas moved into the media. He started out calling Duke games on the radio before joining ESPN in 1995. He's since made a name for himself on the network and, in addition to his TV work, still practices law.
Was Jay Bilas any good as a basketball player?
Since he never made it to the NBA, it's easy to let that reality summarize the entirety of Jay Bilas' basketball career. Taking a deeper look at the stats, however, confirms that he was a solid, if somewhat unremarkable, player.
During his four seasons with the Duke Blue Devils, Bilas started a total of 105 games. Despite standing a (relatively) modest 6 feet, 8 inches tall, he slotted in as the team's center and averaged 8.4 points and 5.4 rebounds per game.
As mentioned above, though, Jay Bilas still had a solid basketball career beyond the box score. He was a part of a key period in Duke basketball history, helping the Blue Devils begin their reign as a national power; without him, it's possible that Coach K would have lost his job and found success elsewhere.
Bilas also found plenty of success after his playing career ended, winning two NCAA titles as an assistant coach before becoming a key part of ESPN's college basketball coverage. He might not have been a star player, but that's still quite the resume.
Stats courtesy of Sports-Reference