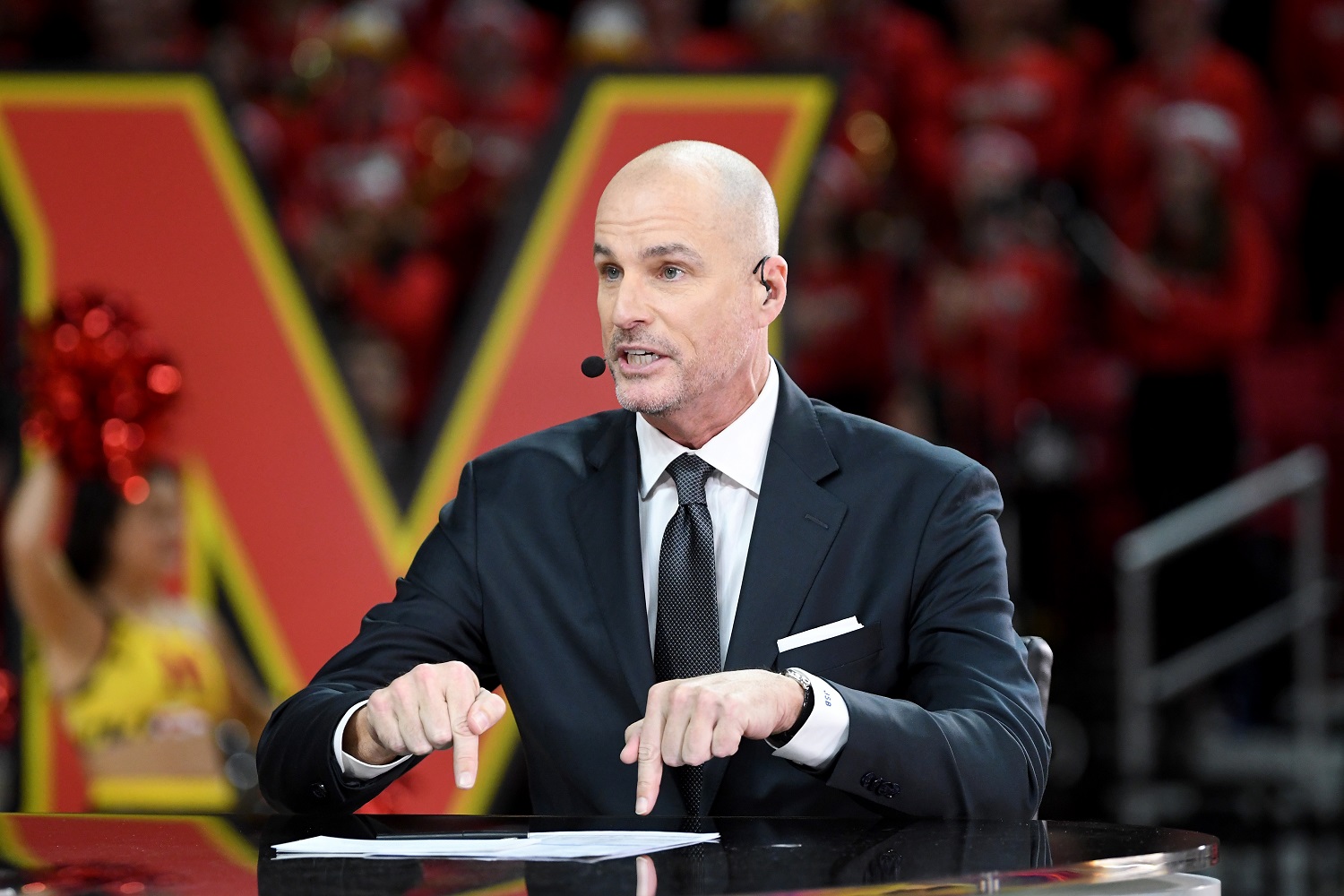 ESPN's Jay Bilas Matched a Jim Boeheim Cheap Shot With 1 of His Own
ESPN college basketball analyst Jay Bilas invoked Jim Boeheim's name in a discussion of 'coded language.' However, the Syracuse coach didn't use any of the words that riled Bilas.
College basketball has frequent "hold my beer" moments, and two big names in the NCAA added another such incident to the pile. ESPN's Jay Bilas compounded Jim Boeheim's blunder by misrepresenting what the longtime Syracuse University coach said about a player, adding another black mark to the sport.
Boeheim comes out of the dust-up looking bad. Bilas looks worse for unnecessarily dragging Boeheim's name into insinuations of racism.
Add Jim Boeheim and Jay Bilas to what's wrong with college basketball
Division I college basketball is waging what might be a losing battle to get through its season so that it can conduct its lucrative NCAA Tournament, which was canceled in 2020 when the COVID-19 outbreak exploded. To be fair, the NFL struggled this past fall, the NBA and NHL are having safety issues of their own, and MLB is on deck.
However, the NCAA membership has plenty else to answer for. College basketball has produced some of the worst gambling-related scandals since the Chicago White Sox threw a World Series. Also, the pandemic has helped people forget that multiple schools still have to answer allegations of recruiting fraud connected to shoe company money.
Add the proliferation of one-and-done "careers," for which the NBA is certainly complicit, and a postseason schedule that in normal years takes players out of their classrooms for weeks, and it's a pretty ugly world.
Syracuse University coach Jim Boeheim made it a little bit worse last week by criticizing a Duke University player for looking out for his own best interests. And then Jay Bilas made the situation worse by connecting Boeheim to racism-tinged "coded language" that the coach never uttered.
Jim Boeheim reacted strongly when Jalen Johnson left Duke
Duke freshman forward Jalen Johnson announced on Feb. 15, 2021, that he was leaving the Blue Devils to focus on his health and prepare for the NBA draft. The timing was odd because there were only six games left. But the pandemic has made for plenty of oddities this winter as postponements have led to some teams going weeks between games.
Also, Johnson's move wasn't unprecedented. College football experienced attrition for the same reasons last fall. Syracuse University lost so many players to opt-outs that calling the Orange a Division I football team almost strained credibility. Thus, it was interesting that Syracuse basketball coach Jim Boeheim used his weekly radio show to fault Johnson for hurting his team. He then turned around to say Duke is "much better now without him."
"He was just doing some things and keeping other people from playing that are good," Boeheim said. "They've had two monster wins since he's opted out and they're playing good basketball."
ESPN analyst Jay Bilas refuted part of Boeheim's argument by correctly pointing out that beating North Carolina State and Wake Forest did not constitute a heavy lift.
Bilas, who consistently attacks hypocrisy in college sports over issues like coaches jumping from school to school without penalty while players typically sit out a year after transferring, understandably supported Johnson's right to decide what's best. After all, he signed scholarship papers at Duke, not a multi-million-dollar contract.
ESPN basketball analyst Jay Bilas went too far
Jim Boeheim was not the only person critical of Jalen Johnson for exiting the Duke basketball team, but he was arguably the most visible figure. That's where ESPN analyst Jay Bilas went very, very wrong. Though his phrasing may have been intended to separate the Syracuse coach from what others said, Bilas dragged Boeheim's name into what Bilas framed as a racial issue.
"The idea that somehow (Duke is) better without Jalen Johnson, I think, is patently false," Bilas said, according to The Sporting News. "But the other thing that disturbs me, and this is not just Jim Boeheim . . . The idea, somehow, that his family is considered a 'camp,' there are undertones to that, that are really disturbing."
Separately, Bilas tweeted that "Jalen Johnson does not have a 'camp,' 'people in his ear,' or a 'posse.' He has a family. He has a mother and father helping him, with his best interests in mind, making decisions. We can differ with the decision, but the undertones of the criticism of Johnson are concerning."
Therein lies the problem. "Posse" is frequently assigned by observers to Black athletes. "Camp" and "people in his ear" can be weasel words used to suggest a non-existent or low level of family involvement – again, a characterization pinned disproportionately on Black athletes.
Mentioning Boeheim while calling out "coded language" constituted an injustice by Bilas. There are about half a dozen reasons to be critical of Boeheim's take on Johnson, but the coach never came close to injecting race into his remarks.
Whether on Twitter or ESPN, Bilas needs to clean up that mess to be fair to Boeheim.
Like Sportscasting on Facebook. Follow us on Twitter @sportscasting19.